GEAR GUIDE FOR LONG HAUL ROAD RIDES
Wondering what the right fit is for your road cycling kit? From shoes to bib shorts and jerseys, this guide has all you need to know to stay comfortable on the road.
WHY FIT MATTERS IN ROAD CYCLING
The joy of road cycling is that you get to spend hours on the bike discovering new places and unwinding in beautiful countryside, often many miles from home. But all that time in the saddle will take a serious toll on your body if you're not wearing correctly fitting cycle clothing and footwear.
You might not be chasing the yellow jersey or lining up for a time trial, but you still need bike kit with a snug, body-hugging fit. That's because cycle apparel that is too loose and baggy can cause a host of problems, from chafing and blisters, to simply not letting the breathable fabric do its job of keeping you warm and dry when you're working hard. While ill-fitting cycle shoes will limit pedal efficiency and make your feet feel sore.
HOW SHOULD ROAD CYCLING SHOES FIT?
Road cycling shoes should be snug enough that you feel stable on your bike. This helps increase the power transfer to the pedal, allowing you to cycle as efficiently as possible, which is further helped by the stiff plate in the midsole.
Exactly how tight should cycling shoes be? Your foot should not be moving back and forth, as this can cause blisters, numbness and foot pain, but the shoes shouldn't be so tight that they're putting pressure on your toes or the top of your feet. We recommend you size up for this product, so if you usually wear a size 7 then order a size 7.5.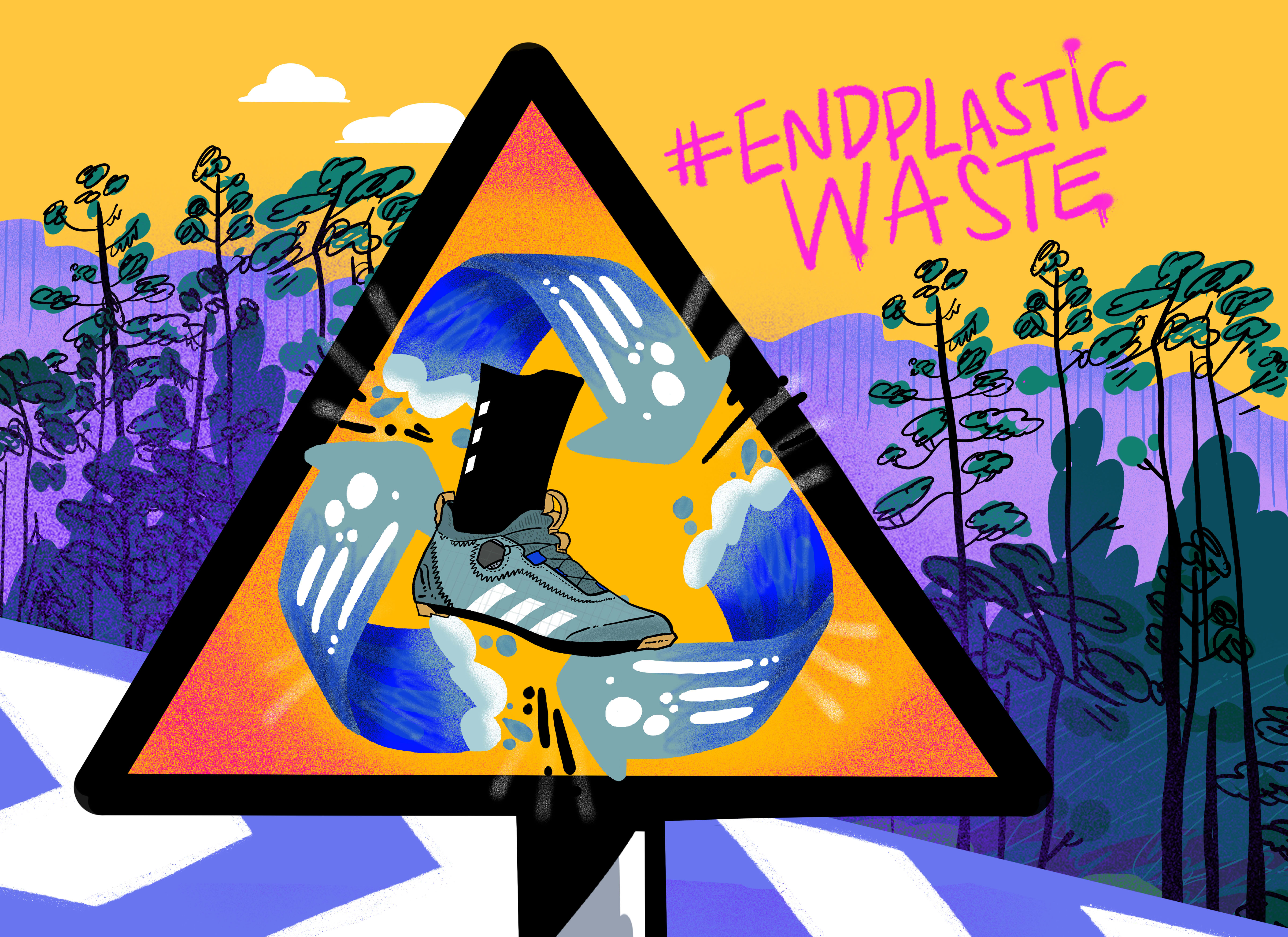 WHY WEAR CLEATS?
Cleats can seem like a bit of a faff at first, but cyclists adjust to wearing them very quickly and start singing their praises in no time. Cleats let you pedal faster while putting in less effort, which is especially useful for conserving energy and staying fresh on longer rides.
The adidas Road Cycling Shoes feature the three-bolt cleat system which are easy to click in and compatible with most road pedal systems.
HOW SHOULD ROAD CYCLING BIB SHORTS FIT?
If you're not used to them, the idea of cycling in bib shorts with straps like a pair of gentleman's braces might seem strange. But most cyclists wear bib shorts religiously, because they're comfortable, which is the prime concern on longer rides. Bib shorts should be worn tight to reduce wind-resistance, particularly on speedy descents, and to ensure the fabric doesn't bunch, which can cause it to chafe against your skin.
The straps should be worn under your jersey, though on top of your base layer or sports bra if you're wearing one. It's important to wear gender-specific bib shorts, which are designed with women's and men's different body shapes in mind.
DITCH THE UNDERWEAR
It might seem weird at first, but the rumours you've heard are true, you should wear bib shorts without underwear. The in-built padding is designed to wick moisture away quickly and prevent friction, and if you add in a layer of underwear, it's more likely to gather and cause painful rubbing.
The padding should rest between your sit bones and the saddle. To find the perfect spot grab the padding at the front with your left hand and the padding at the back with your right hand, then pull it up into place so it's taut.
The bib pants sizing is true to fit, and the men's bib pants are available in standard and tall sizes.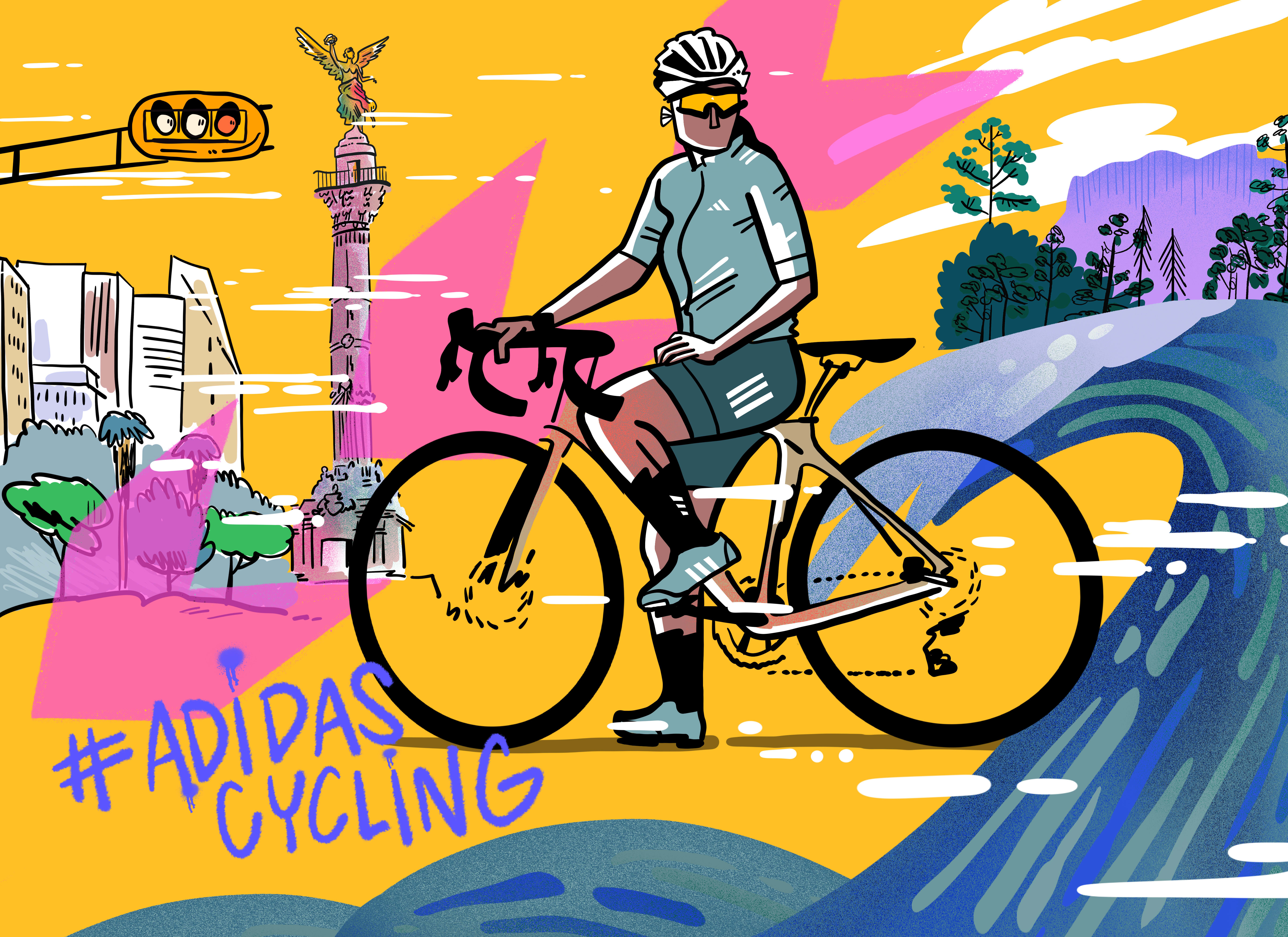 HOW TIGHT SHOULD A CYCLING JERSEY BE
adidas cycling jerseys are designed for performance fit. This means the sizing is tighter than a T-shirt but not as snug as a base layer. The fabric is soft, breathable and stretchy, and you want the jersey to feel comfortable under the arms, allowing good freedom of movement and a natural feel, without being too loose, as that could cause chafing.
The sleeves are longer than a regular T-shirt to provide extra warmth, wind-protection and because it's more aerodynamic. And the back is longer than the front so that the jersey keeps you covered when you're leaning forward on the drops. The zipper is at the front for instant ventilation while you're on the move, or so you can zip up quickly when you're feeling cooler on descents.
We recommend you size up for this product, so if you usually wear an M then order size L.
WINDBREAKER JACKET SIZING EXPLAINED
The cycling windbreaker is made with WIND.RDY fabric to block out windchill. For best results, the jacket should be worn close to your body, especially around your torso, to ensure maximum breathability and protection from the elements, but not so tight that it restricts your ability to indicate left or right. The jacket is lightweight and designed to be easily stashed in a pocket, and it features a mesh panel on the back to guard against unwelcome flapping on fast descents.
We recommend you size up for this product, so if you usually wear an M then order size L.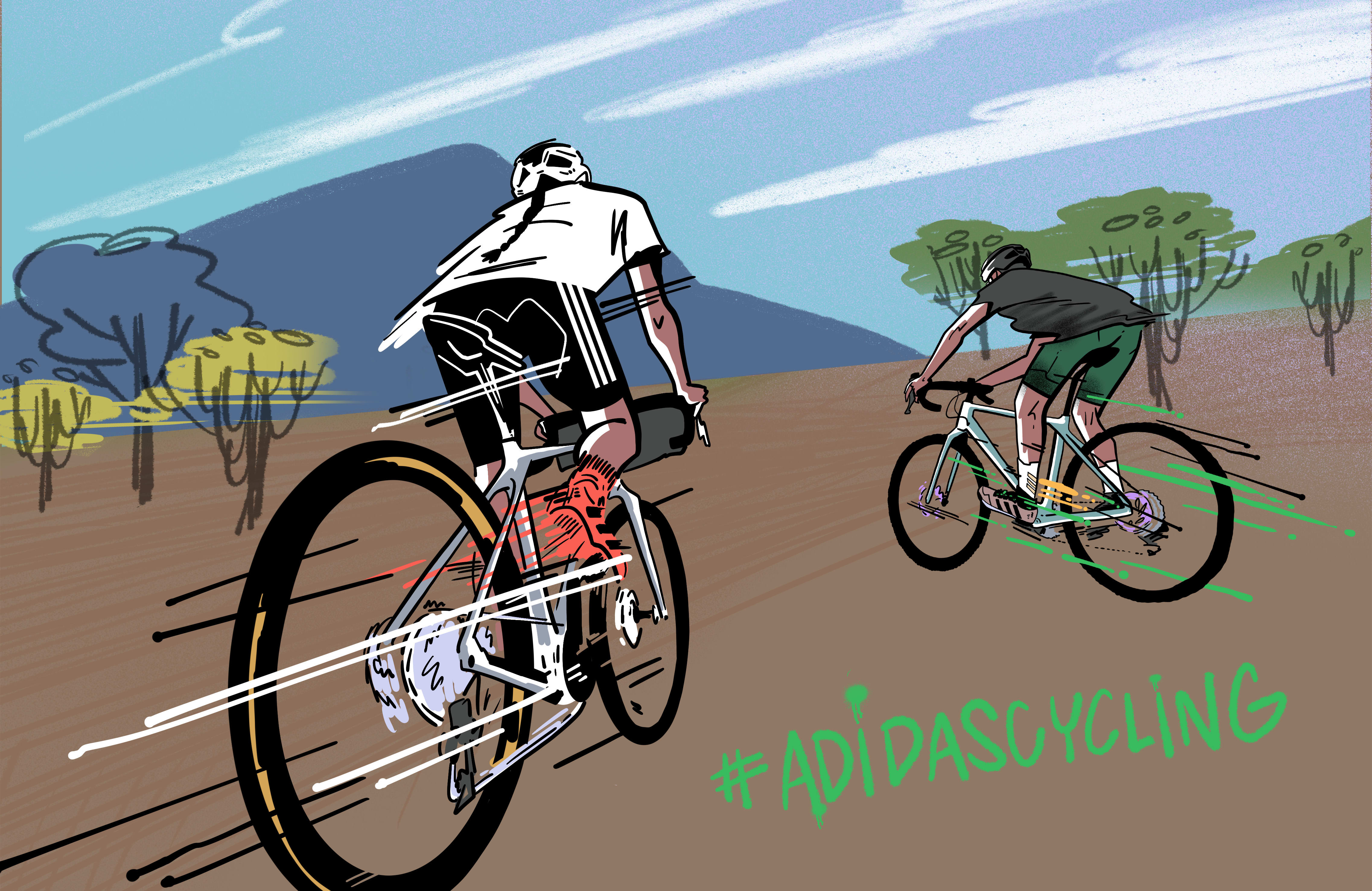 FINDING ADVENTURE, HOW SHOULD A BIB PANT FIT?
When it comes to bike clothing for off-road riding, the right sizing is crucial. We break down all you need to know to ensure maximum comfort on those long, gravel rides.
WHY FIT MATTERS IN GRAVEL CYCLING
Nothing will kill the mood on a remote off-road adventure like saddle soreness from badly fitting cycle clothing. So, checking that everything fits comfortably before you head out on a gravel ride is key.
Gravel bike clothing is designed to be extra-durable and tough to withstand the more challenging and variable terrain. The fabrics are mud and wind-resistant and the shorts have additional padding to keep you feeling good for those extra hours in the saddle.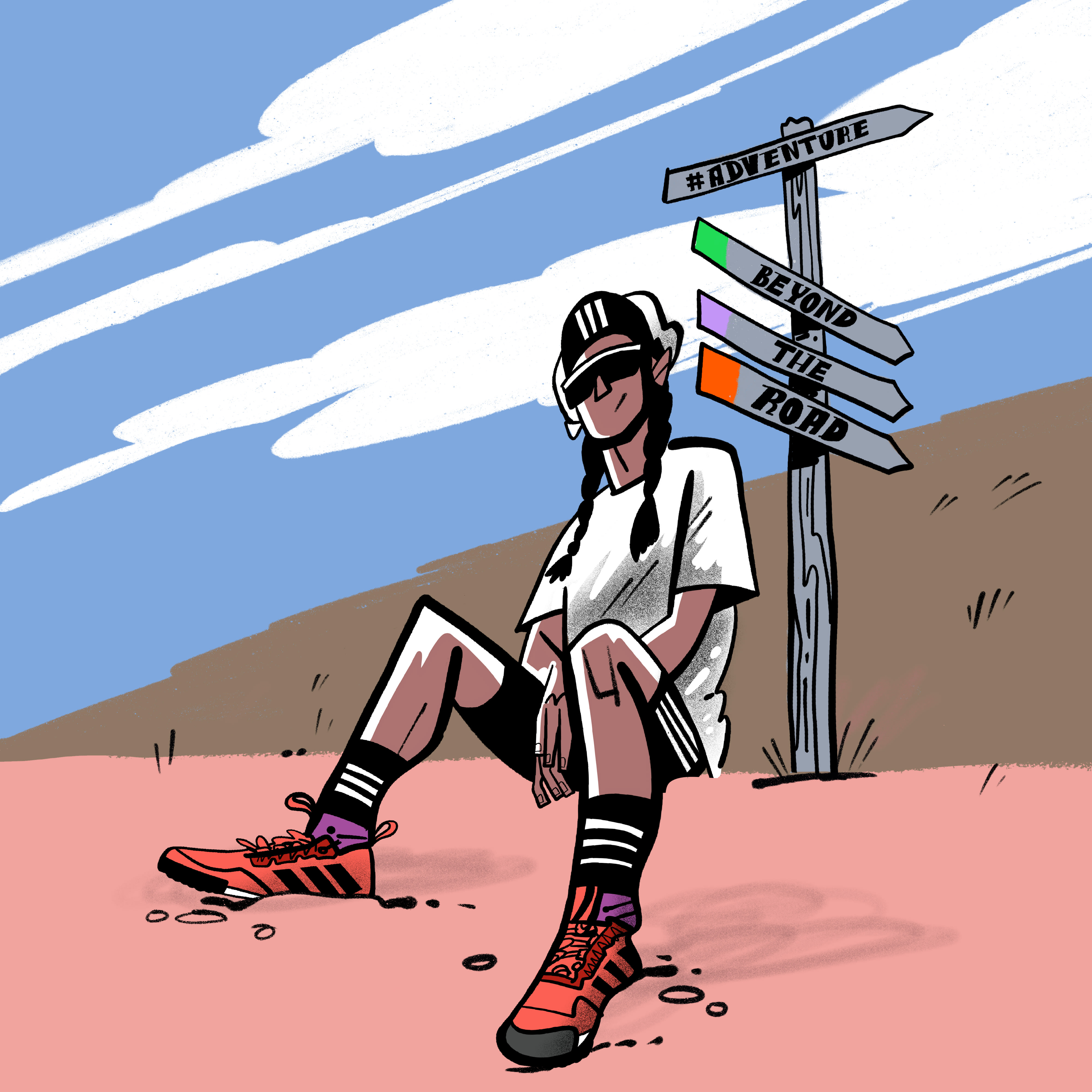 THE PROS AND CONS OF STRAPLESS CYCLING SHORTS
Many cyclists favour bib shorts when it comes to longer rides, but there are plenty of advantages to going strapless. You have a wider range of movement when riding for a start, it's one less layer on a hot day and calls of nature are a lot simpler, especially for women cyclists, who can also suffer from big straps digging into their shoulders at the same point where their sports bra sits.
On the downside, going strapless may mean you're more prone to chafing on your torso, and your cycling jersey can rise up leaving your midriff exposed to the elements. The waistband can also get sweaty and dig into your stomach uncomfortably, which could be a problem on longer rides.
In terms of fit, your cycling shorts should be snug, and they shouldn't move at all when you ride. The cycling shorts sizing is true to fit.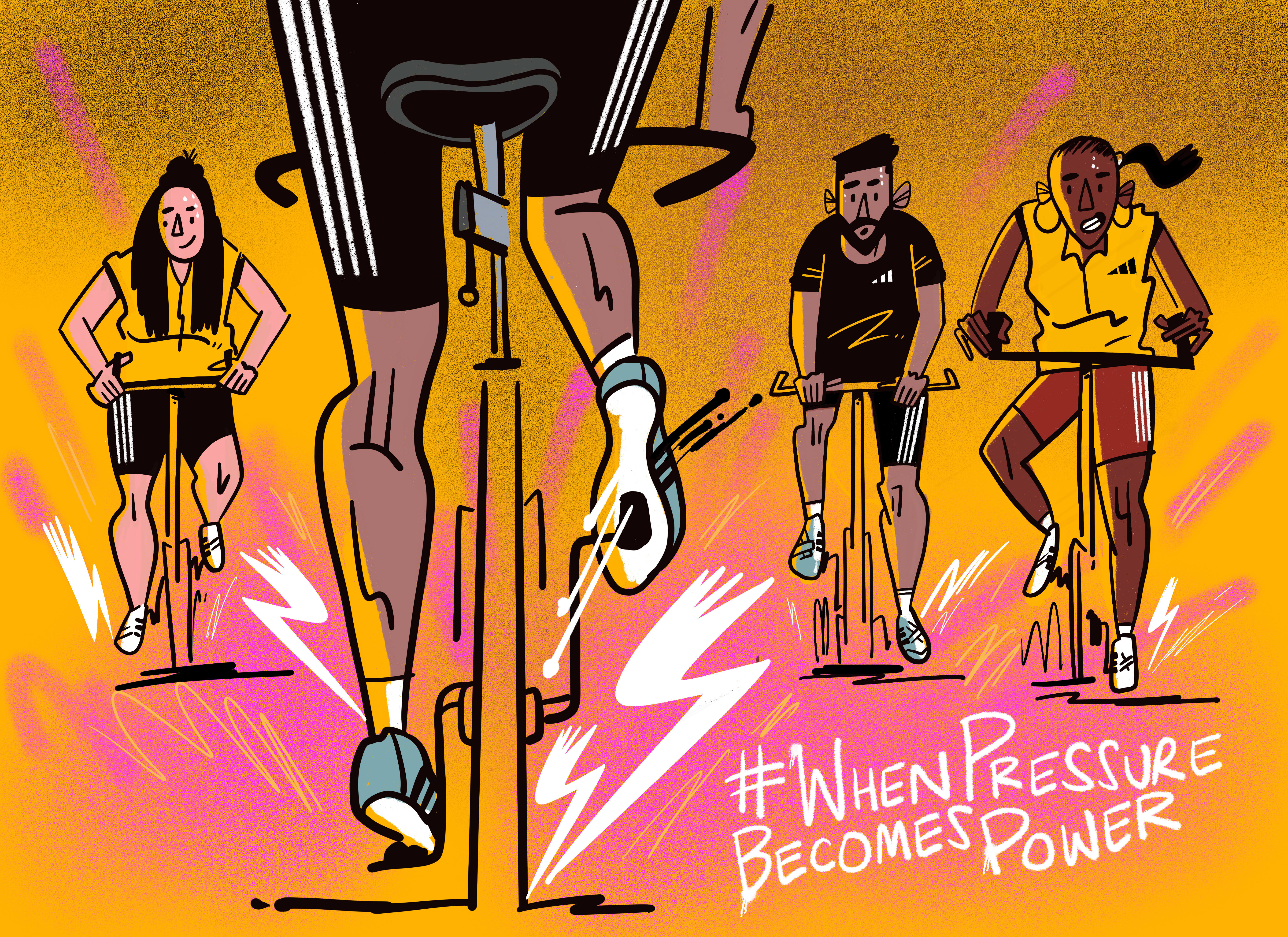 A CLOTHING GUIDE FOR GETTING INTO INDOOR
When you're riding indoors, you still need proper cycling kit. This guide will help you work out what you need, and how it should fit.
WHY FIT MATTERS IN INDOOR CYCLING
Indoor cycling is less about long hours in the saddle and more about short, high-energy workouts, but that doesn't mean you can wear any old gym wear and trainers to do it. Wearing indoor specific cycle clothing and footwear, and getting the sizing right, is super-important for all-round comfort, from heat and sweat management to avoid chafing and foot pain.
HOW SHOULD CYCLING BIB SHORTS FIT FOR INDOOR USE?
Normal gym gear won't cut it but wearing outdoor cycling kit is not the answer either, as you need a lightweight fabric to keep you cool and dry, with high breathability and moisture-wicking properties, as opposed to something that will protect you from the elements.
Enter the Primeknit Cycling Bib Shorts. They have discreet light padding, so you can walk down the street looking normal, but also protect your sit bones during intense workouts or spin classes, which are typically shorter than an outdoor ride. A breathable back panel helps keep you feeling extra fresh when you up the intensity.
The bib shorts are designed to be body-hugging to prevent the fabric gathering, which can cause painful rubbing. While the high-rise waist creates a sculpted, shapewear effect. The sizing is true to fit.
INDOOR CYCLING SHORTS: GETTING THE RIGHT FIT
Cycling shorts are designed for compression fit, which means snug against your skin, but not so tight that you can't move freely or that you feel like the bands on each leg might cut off your circulation. A thick waistband adds support and coverage, but again it shouldn't dig so deeply into your stomach as to be uncomfortable.
You need to be sure there are no folds or bunching of the fabric, which can cause painful rubbing. And as with the bib shorts, you should not wear underwear with your cycling shorts as this will cause extra friction.
WHY CYCLISTS NEED SPECIFIC INDOOR SHOES
High intensity indoor bike sessions generate a lot of heat, especially in your feet, and outdoor cycle shoes, which are designed to keep out the wind and the cold, simply don't have sufficient ventilation for indoor use. The indoor shoe has two big open mesh windows to achieve the best possible airflow circulation and breathability. And you can wear them with or without socks for extra breathability according to what you find the most comfortable.
The lacing system needs to be tight enough to hold your foot in place, and ensure pedalling efficiency, but not so constricted it gives you pins and needles.
DO YOU NEED CLEATS FOR INDOOR CYCLING?
Lots of riders prefer to wear cleats when riding at a high intensity indoors, as cleats help hold your heel in place and stop your foot slipping off the pedal when you're really pushing it. Cleats ensure efficient pedalling so you can keep working harder for longer, and the Indoor Shoe features the three-bolt cleat system, which are easy to use and compatible with most road pedal systems. The sizing is true to fit.
Stay Updated
Be the first to know all about stories, launches, and events.