How to Choose Mountain Bike Shoes
Before you hit the trail, get the lowdown on choosing the right mountain bike shoes so you can ride with comfort and confidence.
CHOOSING MOUNTAIN BIKE SHOES FOR YOUR RIDE
Whether you're new to the sport or well-versed in the many styles of mountain biking, the right gear takes your ride to a whole new level. With only two main points of contact for control on the bike, mountain biking shoes play a crucial role in your experience, and this guide will walk you through the ins and outs of how to choose bike shoes for all kinds of mountain trails.
If you're new to mountain biking, you can wear running shoes or skate shoes with a grippy rubber bottom. These are fine for easy-going trails, but if you're looking to dive into trickier terrain that comes with rocks, roots, jumps, and wet weather, you'll need better protection. That's why wearing mountain bike shoes makes a difference, because they're made for the conditions you'll encounter during your ride. Even though some versions look just like skate sneakers, they are designed specifically to grip the pedal and protect your feet through rough terrain, making it more comfortable and safe in a pair that's meant for the bike.
CLIPLESS OR FLAT: WHICH IS RIGHT FOR YOU?
The two main types of mountain bike shoes are:
• Clipless: Stiff-soled shoes that have a cleat that easily clips into the bike pedal. Before these became popular, shoes used to have a toe clip that secured to the pedals. With the new 'clipless' design, it clips onto the outsole beneath the ball of your foot for easy access to the pedal.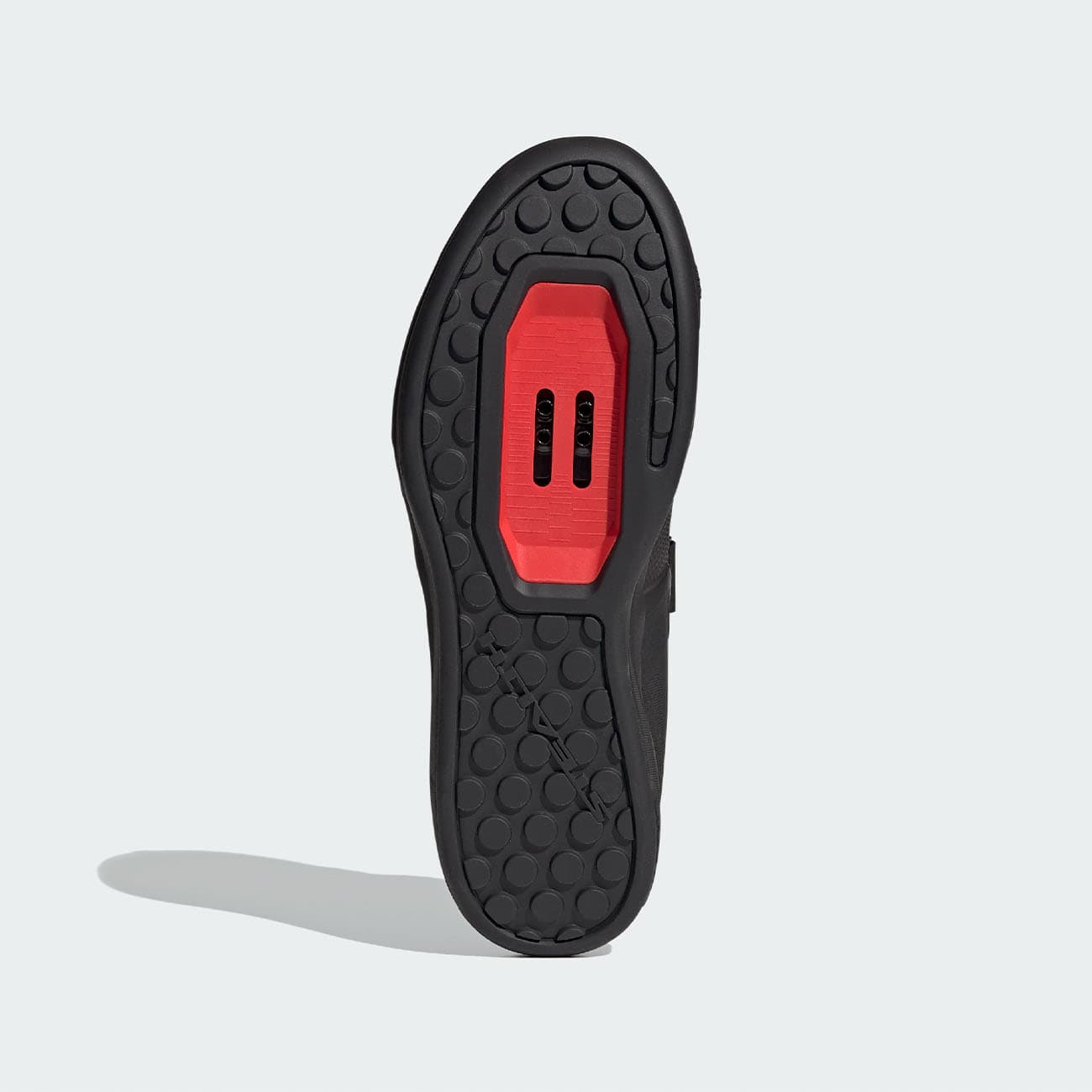 • Flat: Resembles flat-soled hiking or skate shoes, but has durable rubber that grips to the flat pedal spikes. The flex of the sole can range from stiff to flexible, but generally flat shoes will provide more bend around the pedal than a clipless shoe.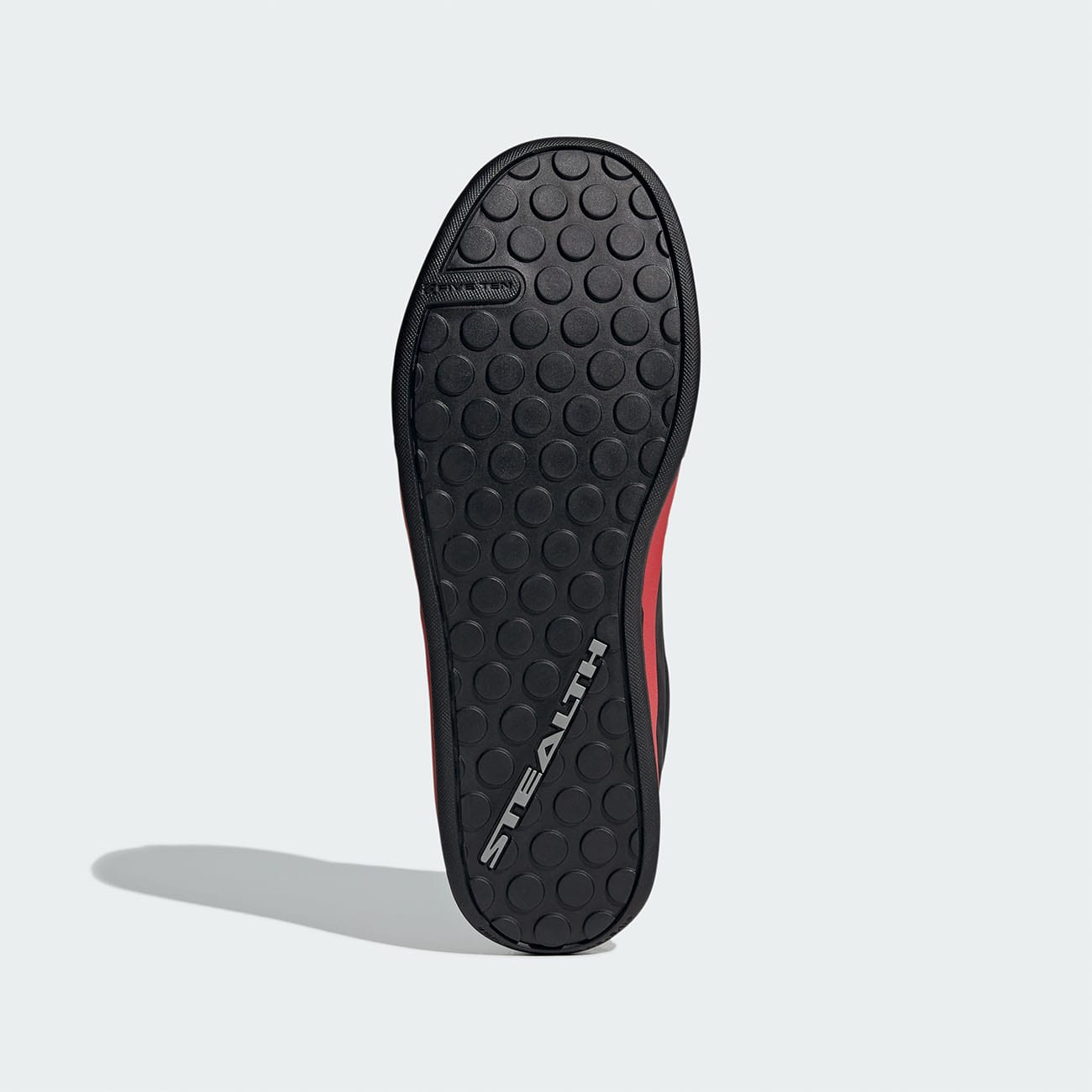 The debate between flat versus clipless pedals ultimately comes down to personal preference and riding style. Simply put, with clipless shoes you have a bit less freedom on the bike, but that also comes with more stability. Neither is better than the other, but depending on what kind of riding you're doing, you'll probably form a preference. Newer riders will most likely want to try flat shoes and pedals, and once you get more comfortable on the trail you can try clipless.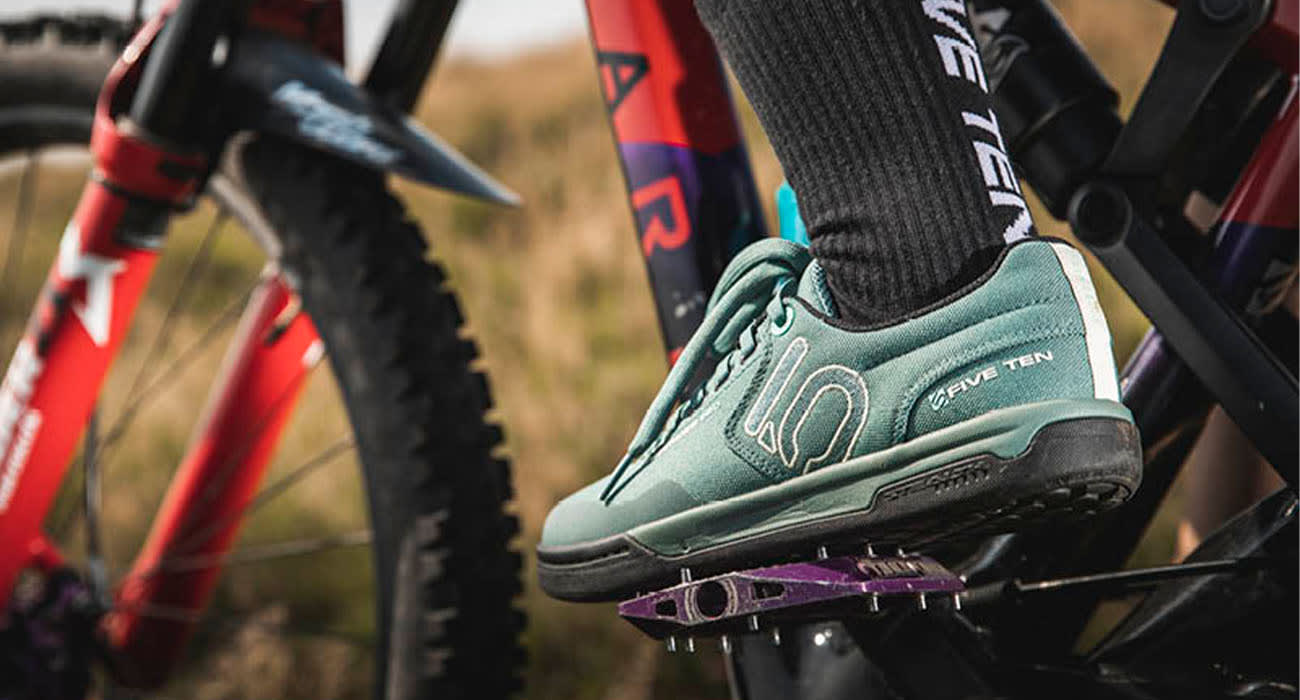 CLIPLESS BIKE SHOES PROS AND CONS
Pros: Clipless shoes will help you conserve energy when going uphill by harnessing more power. With your foot connected to the pedal, your stroke becomes more circular, allowing you to push and pull to generate power through the whole pedal stroke. Clipless shoes will also help you stay planted on the bike when going over jumps, lending a more solid feel overall.
Cons: When going over slippery roots or challenging areas, you might feel uneasy being clipped in. Although they are easy to eject, this can be unsettling if you're a new rider. You also need to find the clip and be sure you are secure before taking off.
Useful for: Trail riding, technical trail, cross country, and enduro.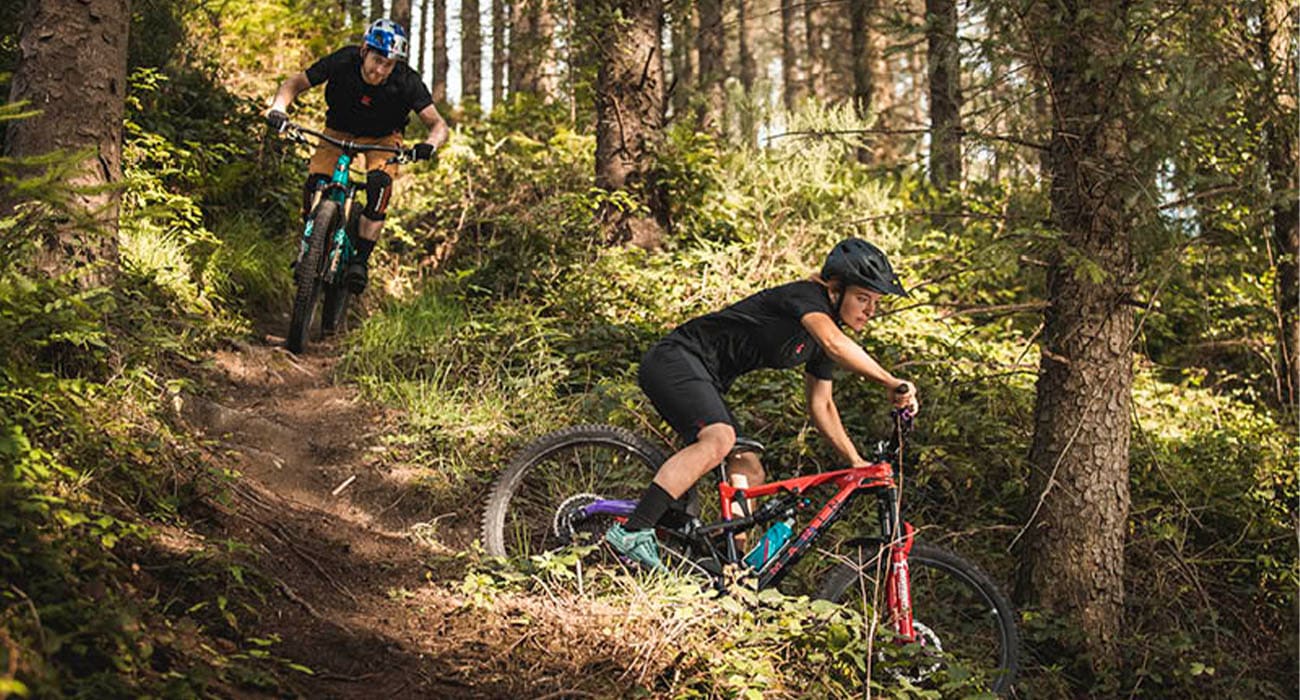 FLAT BIKE SHOES PROS AND CONS
Pros: Flat shoes have high-traction outsoles and flat pedals have small spikes and a wide platform so you will feel gripped to the pedal. When going around turns or over rocky areas, you'll easily be able to take your foot off the pedal to gain balance. Right when you put your foot on the pedal, you can take off on your ride. Good for new riders.
Cons: Going uphill will take extra energy since you have to use an up-and-down motion to keep your foot on the pedal while pushing. You also have more likelihood of your foot shifting or coming off the platform through bumps and jumps. Focus on dropping your heels to keep them from bouncing around, and you'll feel solid in your ride.
Useful for: Freeriding, dirt jumping, pump tracking, and all-mountain.
Now that you know the difference, it's time to choose your shoe.


FIVE TEN MOUNTAIN BIKE SHOES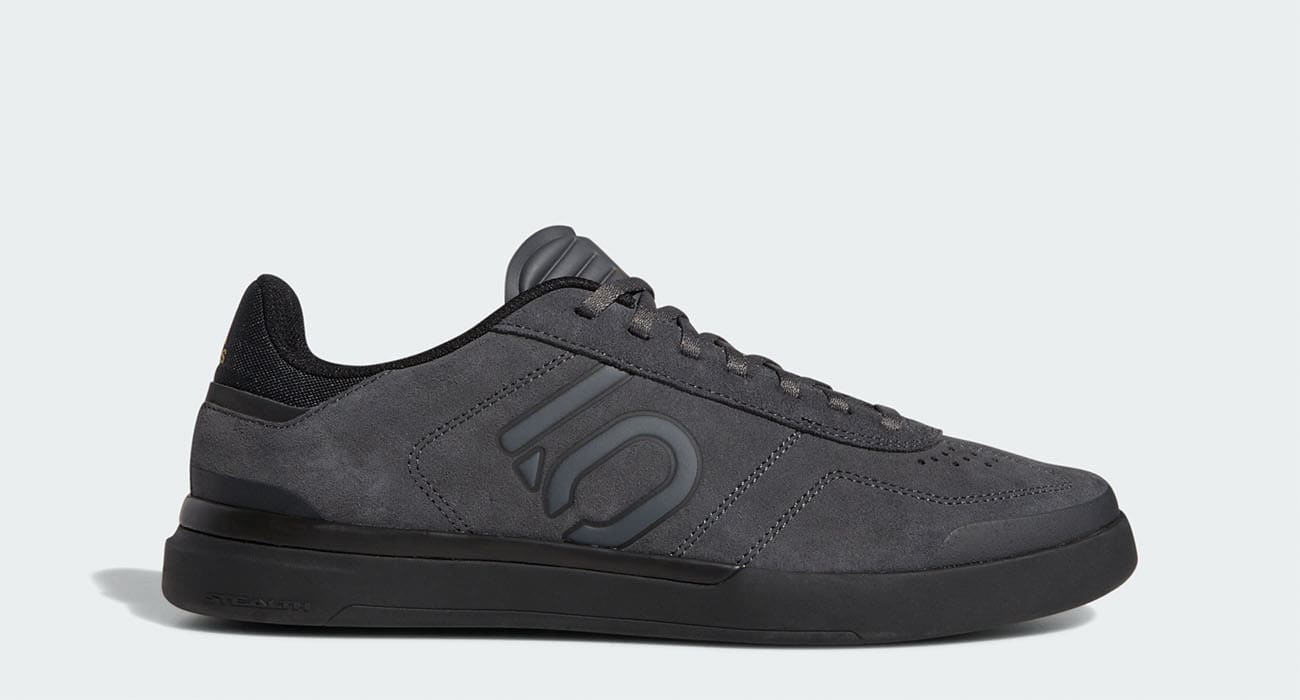 Slink through the trees in the lightweight Five Ten Sleuth DLX. Just as at home on the street as it is on the pedals, this shoe offers versatility for MTB riders. Non-marking Stealth® Phantom rubber delivers grip and modest flex so you can make your ride your own. Its toe cap and water-resistant upper allows adventure and keeps up from the city to the singletrack.
Great for: Dirt Jumping, street, slopestyle, pump track, trail. Available in men's and women's sizing.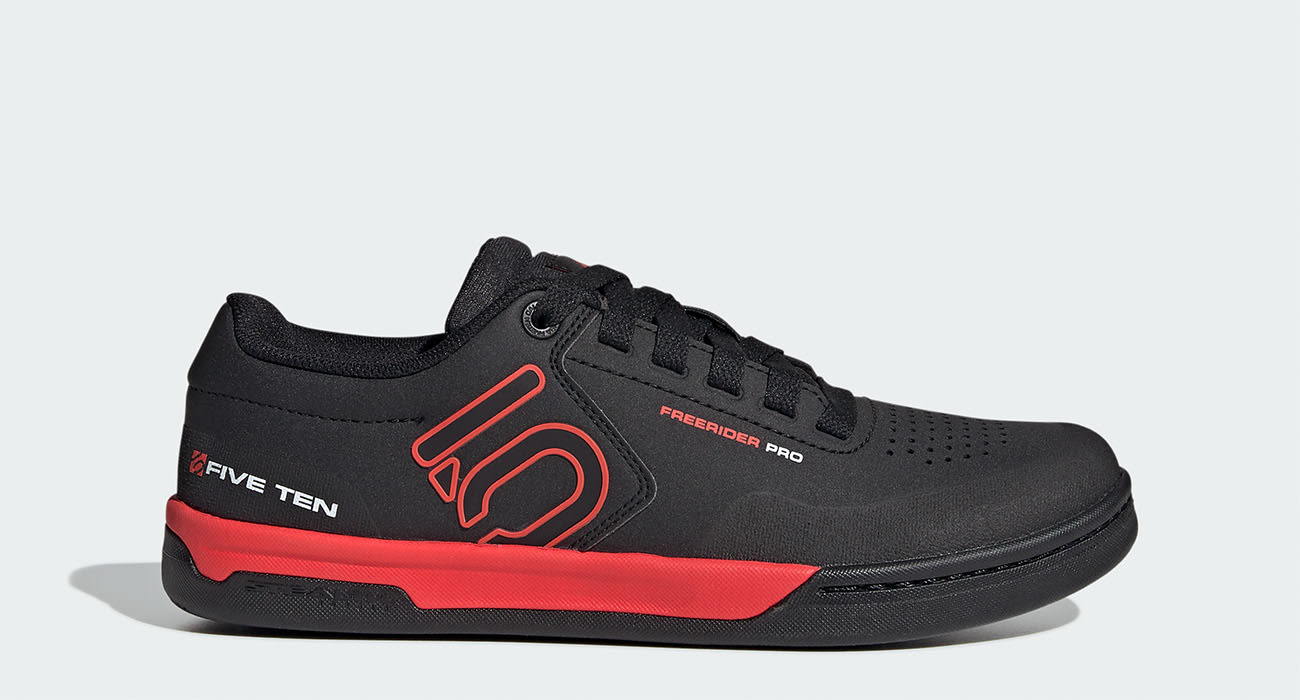 The Five Ten Freerider Pro delivers maximum grip with a Stealth® S1™ Dotty rubber outsole that will keep you anchored to the bike with legendary pedal control. The midsole is stiff but still lets you feel the pedal. Combined with a cushioned midsole and impact-resistant toe box, you'll stay comfortable on long rides. The Ortholite sockliner delivers support when you slam your foot down on tight turns. The quick-drying upper says yes to all-weather biking, but can make the shoe a bit more toasty if you're riding on a hot day.
Great for: All Mountain, Enduro, and Downhill riders. You'll get locked in support and comfort with unrivaled protection and durability.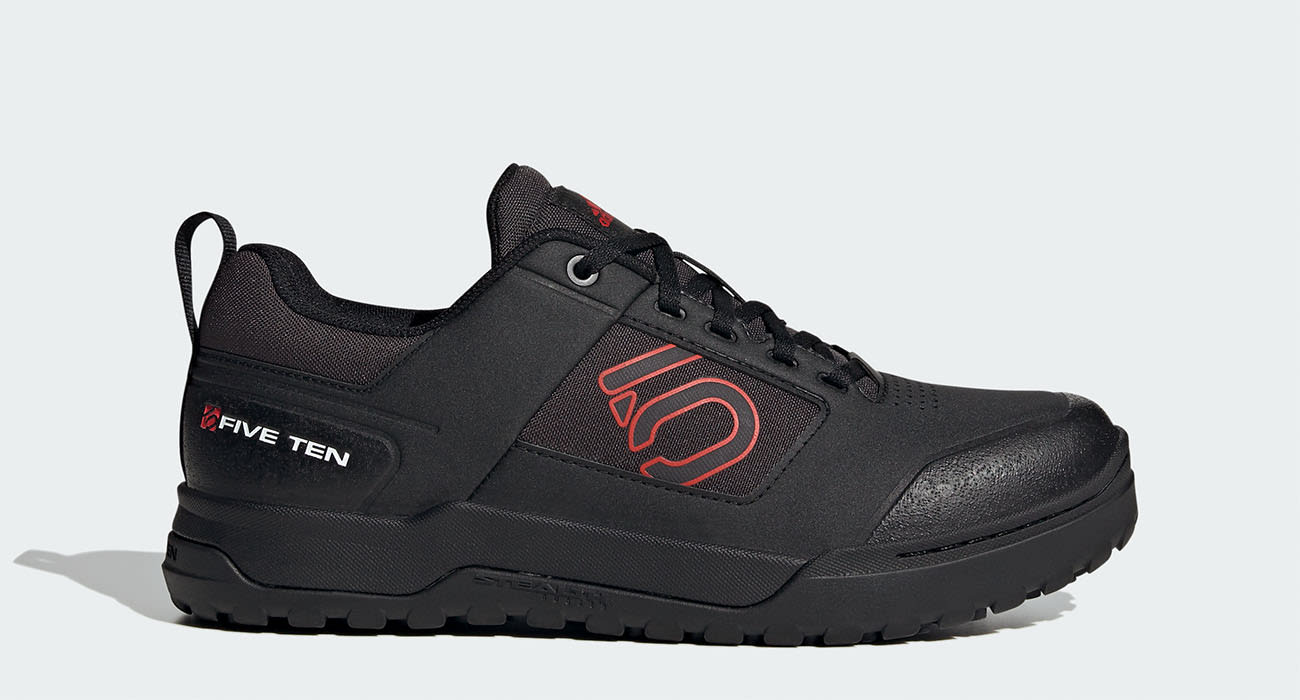 In the Five Ten Impact Pro, you not only get the Stealth® S1™ rubber for unmatched pedal grip and durability, but also a stiff and wide midsole that translates to a more aggressive ride. With a reinforced toe box upfront, you'll be able to send it without worry. With all of this protection, this shoe will feel bulkier and warmer than lighter options, but this is an advantage for those who want ultimate support and all-weather protection. If you're looking to dig your heels deep and let gravity take the wheel, this is the shoe for you.
Great for: Aggressive all-mountain and gravity riders. Think of this as a battle boot that will keep you glued to the pedal and protect you when things get gnarly. Available in men's and women's sizes.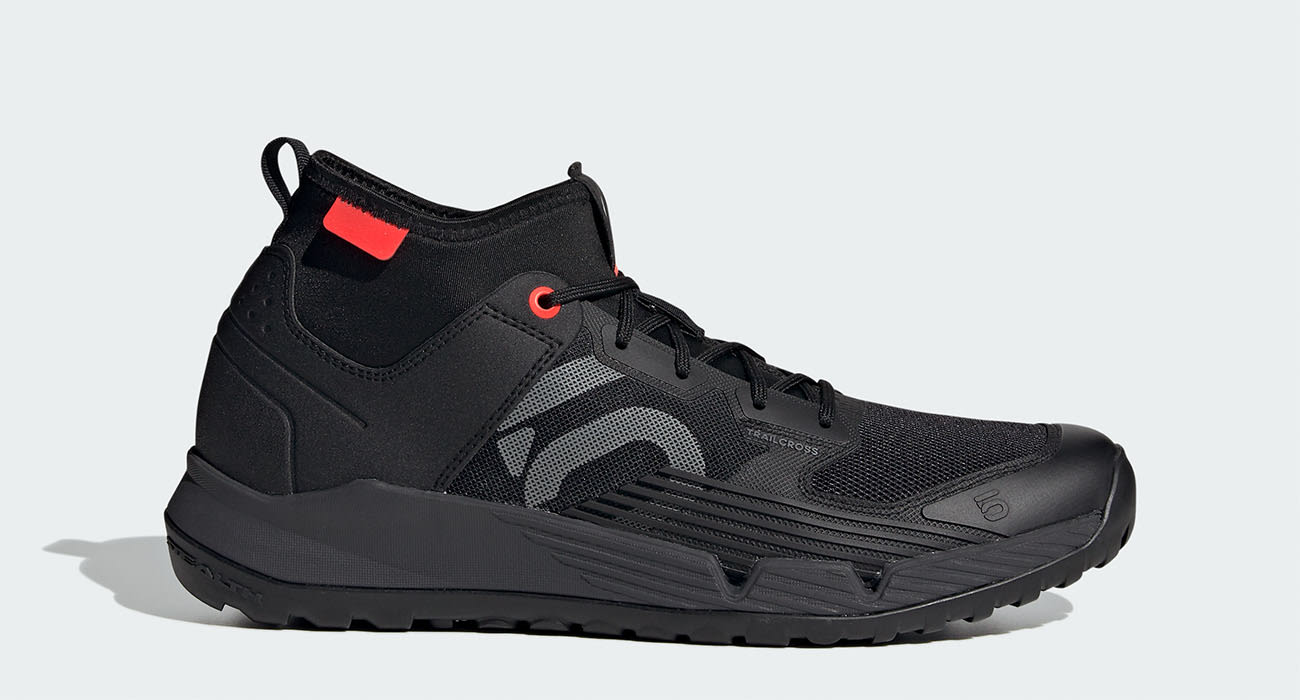 The lightweight Five Ten Trailcross XT Mountain Biking Shoe can do it all. From hiking the trails to hitting the singletrack, these shoes are made to dominate rugged terrain. With the look and feel of a modern trail running shoe and the pedal-gripping power of a flat mountain bike shoe, you get the best of all worlds. Stealth® Phantom Dotty™ outsole provides high-friction grip to keep you locked in through the rough stuff, while giving enough flex to feel good off the bike. Midsole drainage lets water escape, and a neoprene cuff keeps debris out of the shoe.
Great for: Switching between hiking and biking, trail riding, off-road touring. Available in men's and women's sizing.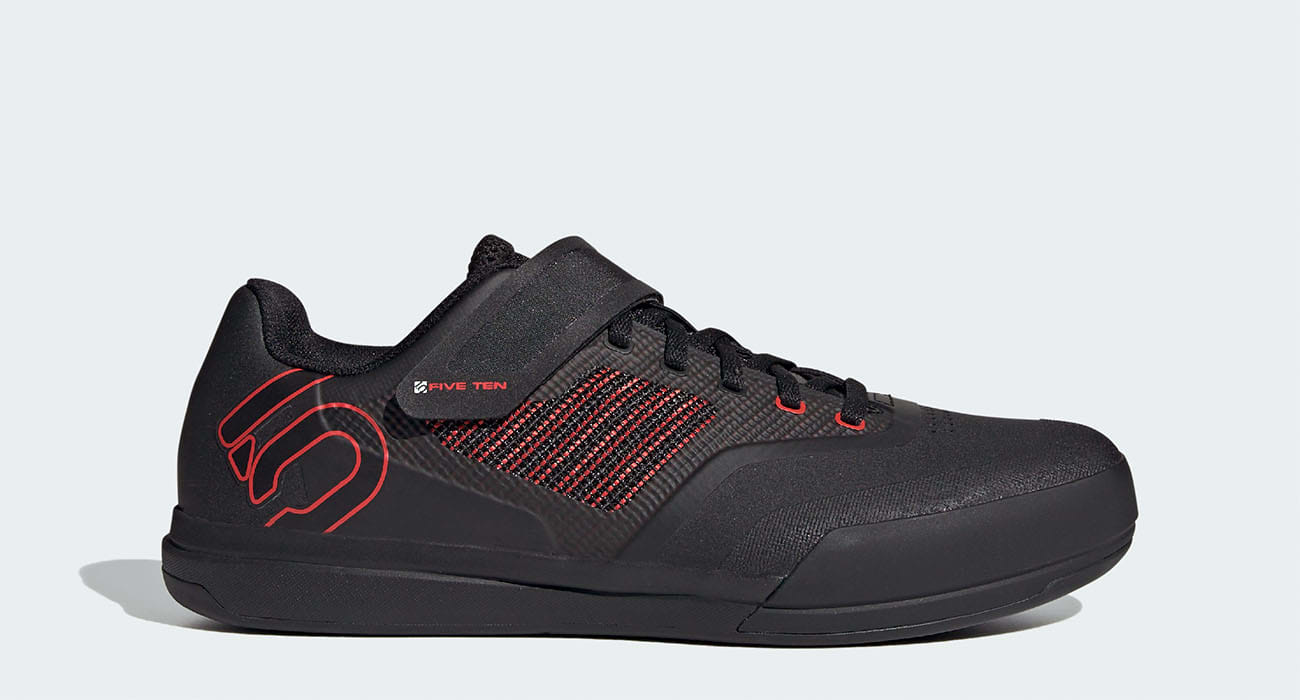 Lightweight and breathable, the Five Ten Hellcat Pro rides through wet and dicey conditions with the protection you want, keeping the mud and water on the trail where it belongs. This clipless-compatible shoe locks you in and provides a wide and stiff enough platform for full pedal control. Plus it's comfortable and flexible enough for walking, and casually transitions into the city after the ride is done.
Great for: Aggressive enduro and downhill riding. This light and durable mountain shoe gives stiffness for clipless support with flex for comfort and off-bike adventure. 
HOW SHOULD MOUNTAIN BIKE SHOES FIT?
Your mountain bike shoes should fit true to size. Too loose, and your foot won't get the support it needs to dig into turns. Too tight and you'll lose circulation, and bumping your toes against rocks will hurt even more when your feet are cramped for space. Find your true adidas size by using the
official size guide.
TIME TO SEND IT
 Overall, whether you choose flat or clipless, rugged or lightweight, low-profile or chunky high-tops, your mountain bike shoes are there to support your unique riding style. Just like picking your line on the trail, it's all about what looks and feels the best to you, and having fun the whole way through.
Stay Updated
Be the first to know all about stories, launches, and events.