6 Soccer Agility Drills
Can you keep up? Take your soccer agility and training to new heights with professional soccer star Ali Krieger.
WHY ARE SOCCER AGILITY DRILLS IMPORTANT?
Soccer agility drills are important because they teach players how to create space for themselves and move quickly in any direction. In the game, there are constant fast bursts of speed and quick directional changes, and speed and agility workouts for soccer are a certified way to make sure players come to the field prepared to play. We teamed up with pro athlete Ali Krieger to teach us six essential speed and agility drills for soccer.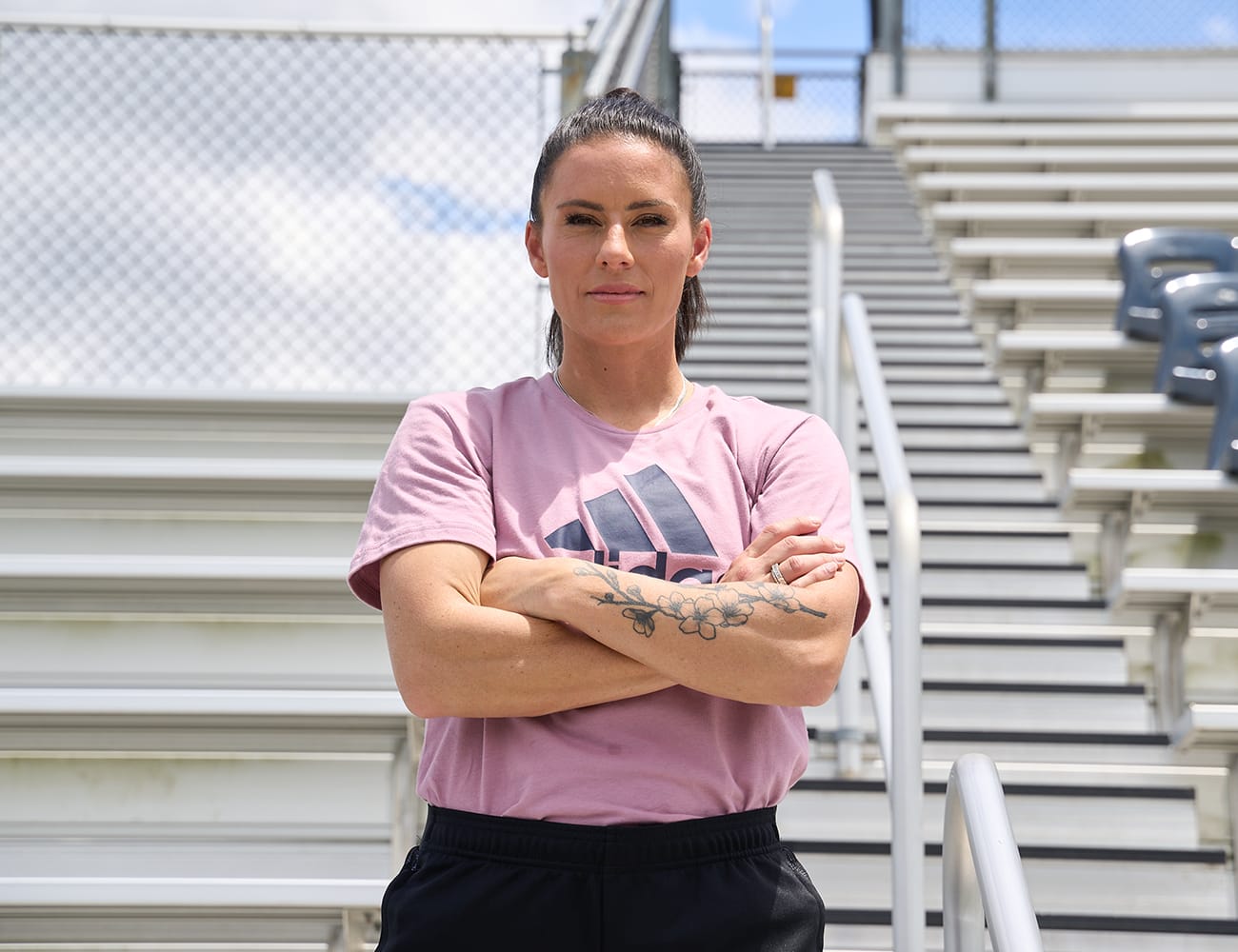 ESSENTIAL SOCCER AGILITY DRILLS
Soccer agility and speed should always be part of your practice routine. Understanding and knowing how to put these skills in play during a game creates indispensable and hard-to-beat players. These speed and agility soccer drills will help soccer athletes level up their balance, quickness, coordination, and ability to change direction in the game.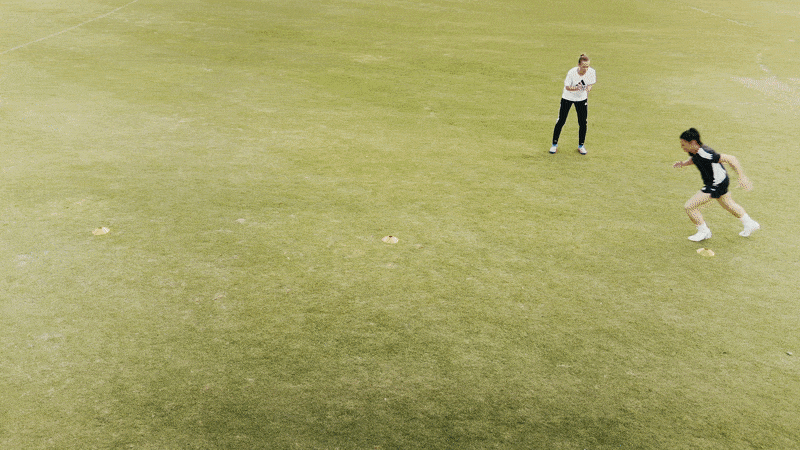 1. SHUTTLE RUNS
Equipment: Cones
Instructions:
Set up three cones in a line five yards apart.
Start at the first cone and run to the center cone.
Plant your foot at the center cone and pivot back to the first cone.
Lastly, sprint to the end cone. If you want an extra challenge, sprint all the way back to the first cone like Krieger demonstrates.
Reset and repeat.
Focus: The shuttle run builds explosive power, agility, and endurance. All three of these are key in soccer.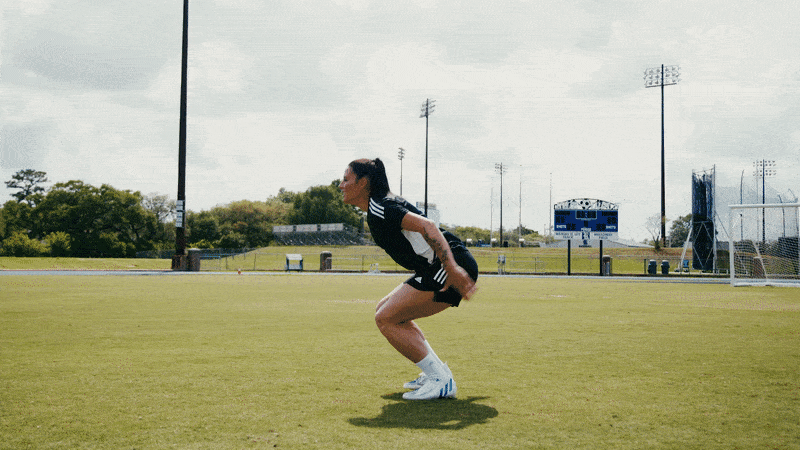 2. TUCK JUMPS
Equipment: None
Instructions:
Start standing shoulder-width apart.
Lower your body into a squat.
Jump up by tucking your knees up into your chest.
Land on the balls of your feet in a squat position.
Reset and repeat.
Focus: Tuck jumps are a great drill to enhance explosive speed and power.
3. SLALOM
Equipment: Cones or poles
Instructions:
Set your poles in a line three feet apart from each other.
Weave through the poles as fast as you can while dribbling the ball.
When you get to the last pole, sprint back to start in a straight line.
Reset and repeat.
Low-Impact Modification: You can run this drill without a ball if it's too challenging.
Focus: The slalom drill enhances your dribbling skills and your soccer agility and speed.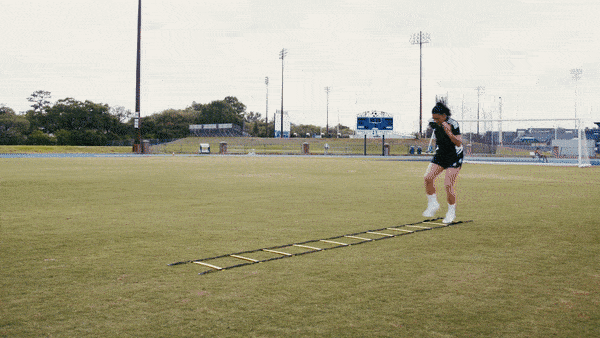 4. LADDER SHUFFLE
Equipment: A ladder or cones
Instructions:
Place a ladder on the ground. You can use cones if you don't have a ladder.
Shuffle in a zig-zag diagonal pattern between each ladder square.
Keep one foot in each square space at all times.
Go through the ladder as many times as you can.
Focus: The ladder shuffle is a great soccer agility drill to enhance fast footwork and agile feet.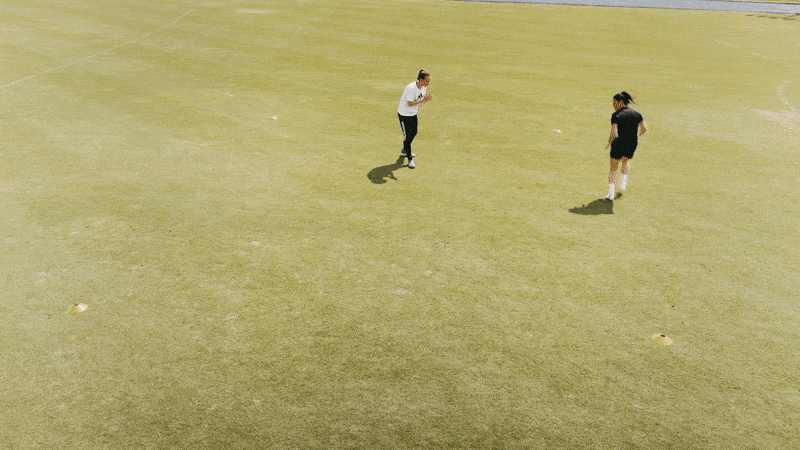 5. BOX DRILL
Equipment: Cones
Instructions:
Set up four cones in a large square about 10 feet apart.
Start at the top right cone.
Back pedal to the bottom right cone.
Then shuffle sideways to the third cone.
Sprint forward to the fourth cone, then shuffle sideways back to the starting cone.
Reset and repeat.
Focus: The box drill helps strengthen your mutli-directional speed and agility for soccer.
6. LADDER SERIES
Equipment: A ladder or cones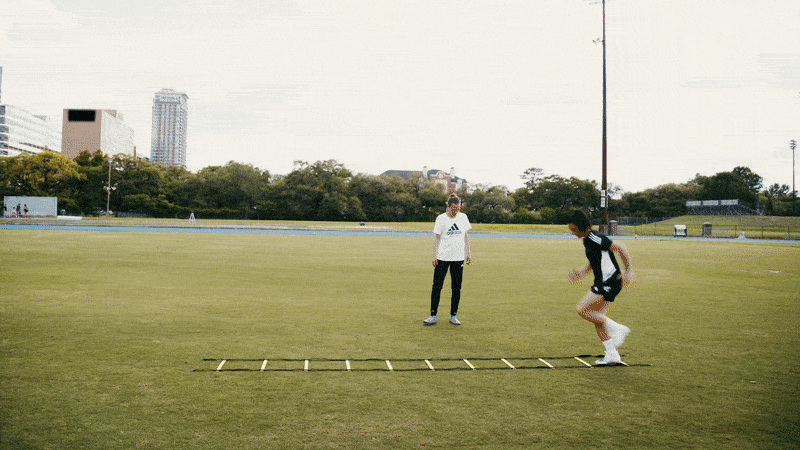 Single-Leg Hops
Start in a shoulder-width stance.
Lift one of your legs to your chest.
Using your planted leg, quickly hop through each square.
Go through each square and then do the same movement on your opposite leg.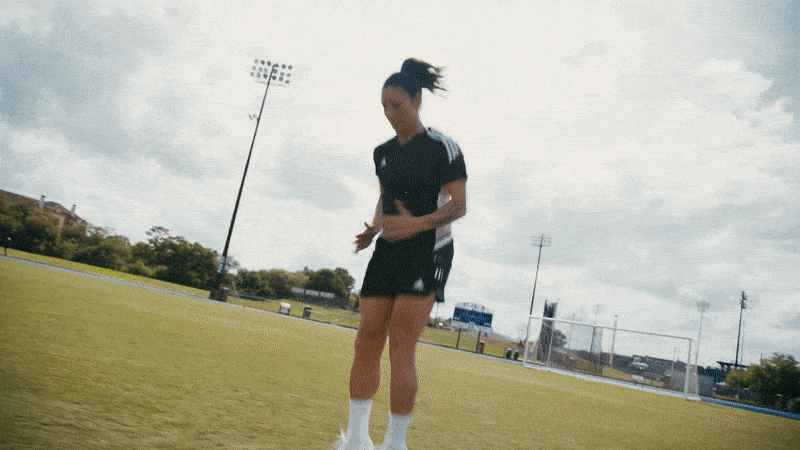 Two-Leg Hops
Start in a shoulder-width stance.
Hop with both feet shoulder-width apart into each ladder square.
Land on the balls of your feet and stay agile.
After you hop through the ladder, reset and start again.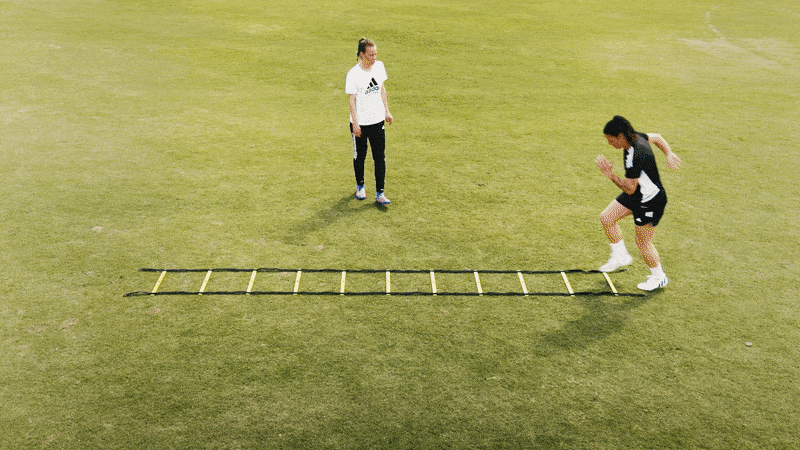 Quick Feet
Start in a shoulder-width stance.
Run through the ladder, quickly tapping one foot into each box.
After your run through the ladder, reset and start again.
Focus: This ladder series drill is a fantastic way to practice fast footwork and precise foot placement.
TAKE CONTROL OF YOUR OWN TRAINING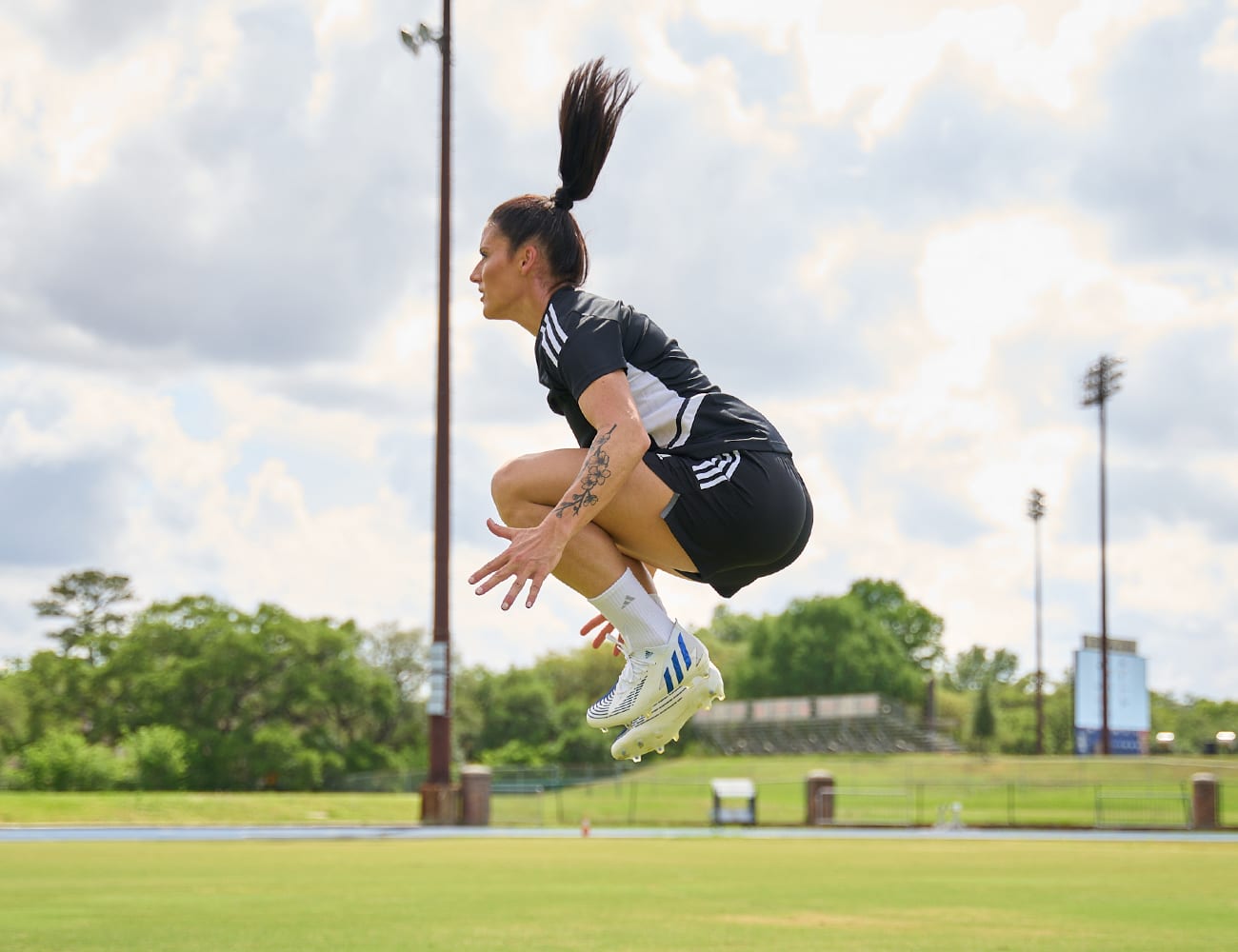 Lean in whenever there is an opportunity to work on your soccer agility! There will be times when you're tired or not mentally present but push through. "There are some days that you do not want to show up for work, or you're just too tired, mentally exhausted, or maybe you're not doing well," said Krieger. "Those are difficult moments. Those are moments where you have to fight through the adversity and continue to show up." Remember that on the other side of discomfort is growth and success. Continue to put in the work to enhance your speed and agility skills, and you'll see and feel the results in due time. Learn more skills from our soccer series on
dribbling
,
shooting the ball
, and
goalie drills
on the adidas blog.
Stay Updated
Be the first to know all about stories, launches, and events.