FREE SHIPPING & RETURNS | JOIN NOW

ARTIFICIAL GRASS (AG)
Designed for playing on artificial grass, this sole reduces both impact and the chance of injury.
Artificial Grass soccer cleats
[6]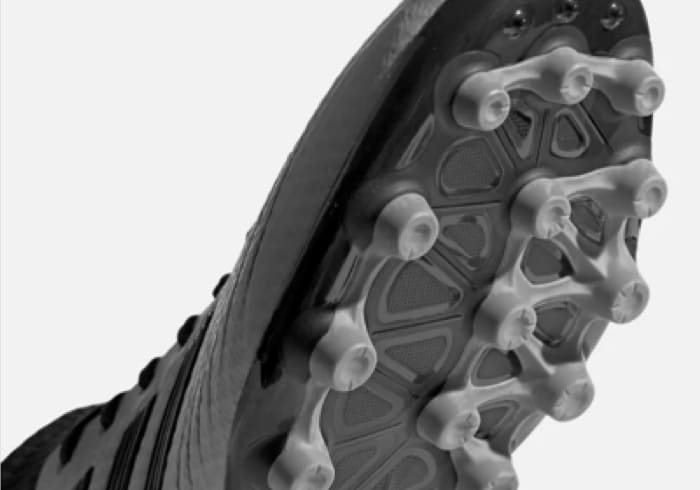 Artificial Grass is hotter and more abrasive than natural grass. With less surface to penetrate, these soccer cleats rely on short conical studs for grip and mobility. This design also improves the weight distribution of your foot across the entire cleat, softening impact to help prevent injuries.
adidas Artificial Grass Soccer Cleats
Lace up adidas artificial-grass soccer cleats and get in the game. Featuring a fixed stud pattern, these soccer cleats grip artificial turf and grass surfaces so you have the traction you need to get to the ball first. Artificial grass mimics real grass with longer stems that allow cleats to dig in, while turf is flat. Artificial grass cleats and turf shoes are suitable for synthetic grass surfaces, though cleats are not recommended for turf. Using cleats on turf can tear up the field and create uncomfortable pressure into the bottom of your foot. Whether you're on a breakaway, cutting out passes or making a goal-saving tackle, artificial-turf soccer shoes support your game with secure footing.
Choosing the right cleats for you
Combining style and security, the adidas artificial grass soccer cleats feature classic lace closures and a supportive mesh upper combined with a sock-like fit to securely lock you in. The result is secure, wraparound comfort optimized for full control when passing and shooting. The distinctive designs are centered on an elegant, foot-fitting form with a minimalist approach. Some artificial grass cleats also have a flexible, lightweight mesh upper with a low-cut Clawcollar to keep your feet feeling fresh and in control while you stand out from the crowd. On some models, contrasting textures are provided by a premium K-leather upper with innovative Fusionskin leather treatment, and a knit textile collar for a skin-hugging fit. Wrapping snugly around your foot for maximum comfort, you'll also benefit from a lightweight Sprintframe outsole (made from long-bladed synthetic fibre) developed especially for playing on artificial grass.
Redefine your play with adidas
Break past defenders before they even know you're gone in X Ghosted+ and Nemeziz+ soccer cleats. Lightweight flexibility keeps you fast and ahead of other players. Control the field with Predator soccer cleats featuring Demonskin 2.0 rubber strike zones to deliver superior ball control. Raised texture across the upper allows for an enhanced touch when passing, shooting and receiving. Play every ball with confidence. Whatever your position, you can take off to stay agile and quick with artificial-grass soccer shoes. Shop artificial-grass and artificial-turf soccer cleats at adidas and show everyone how you take over the field.