HOW TO PREVENT CHAFING
To even the most seasoned miler, running can sometimes feel like a chore. For most of us, it takes a little push to get us out the door: an upcoming race, a new playlist or a semi-nice day. While a routine does wonders for our motivation, it's just as easy to get derailed by painful distractions. One of the most uncomfortable parts of running? Chafing.
Thigh chafing, armpit chafing, blistered feet—running can be tough on skin. Add sweat, heat and a scratchy seam and your entire run can get derailed. Nearly anyone that has gone for a run could speak to the mental and physical benefits of running, so it's worth figuring out. Rather than scrapping your goals, dressing right for your workout will help prevent chafing for a more comfortable run.
Here's what you need to know:
1.) Skin-tight layers are your friend.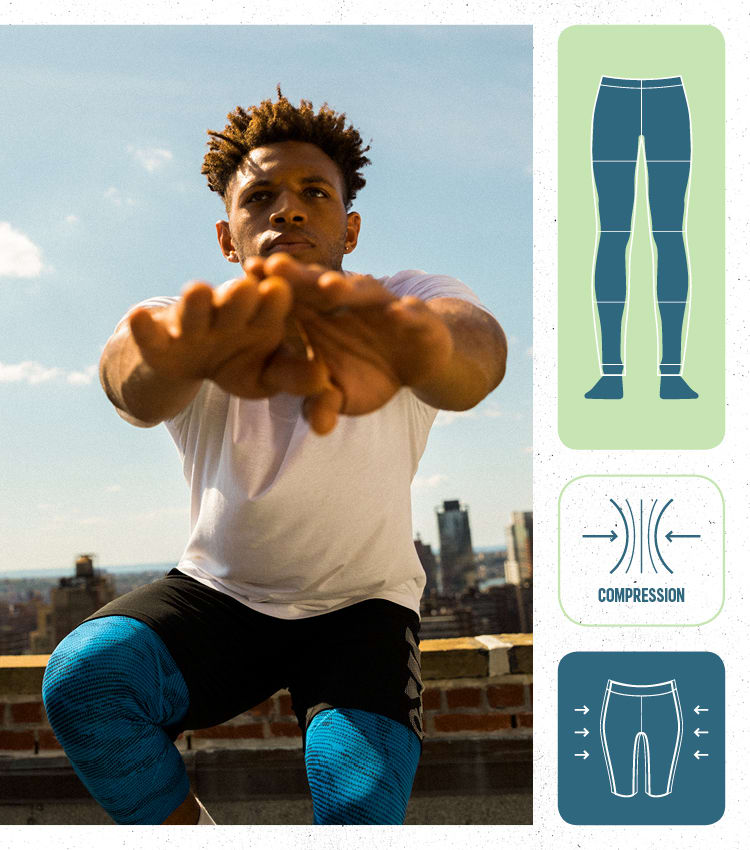 The best way to prevent chafing is to reduce friction on your skin. Tight, fitted layers provide a barrier, so skin doesn't rub against other areas of skin or loose fabric. Especially important in areas you most often chafe, compression-fit running tights, shorts, sports bras and tees keep their shape and don't stretch out as you sweat, keeping friction to a minimum. 
2.) Moisture is not.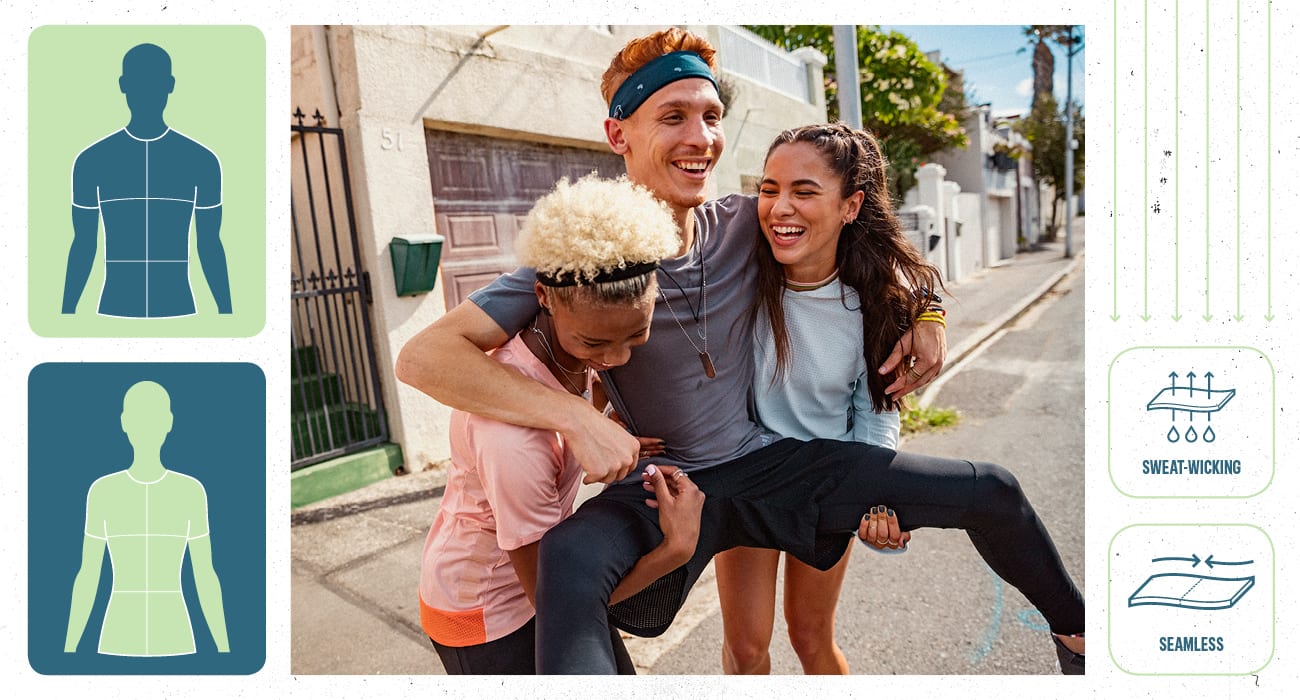 Another key to prevent chafing is keeping moisture away from your skin. Wear sweat-wicking fabric that moves moisture away from your body for quick evaporation. This keeps you as dry as possible, reducing friction. Avoid pure cotton or other absorbent materials that hold onto moisture.
3.) Dress first for sweat, second for the season.
Wearing big, roomy shorts or T-shirts as you log miles in the summer heat makes sense from an airflow perspective, but all that fabric can irritate skin. While it may seem counter-intuitive, fitted base layers made for breathability do more to help prevent chafing than bare skin. Feel free to get strategic with it: If you primarily struggle with thigh chafing but have no problem up top, wear running tights and a looser tee, or layer sport shorts or skin-tight boxers under your running shorts. If you mostly deal with chest or armpit chafing, wear a skin-hugging tee made with sweat-wicking material.
4.) Prevent thigh chafing with running tights and shorts.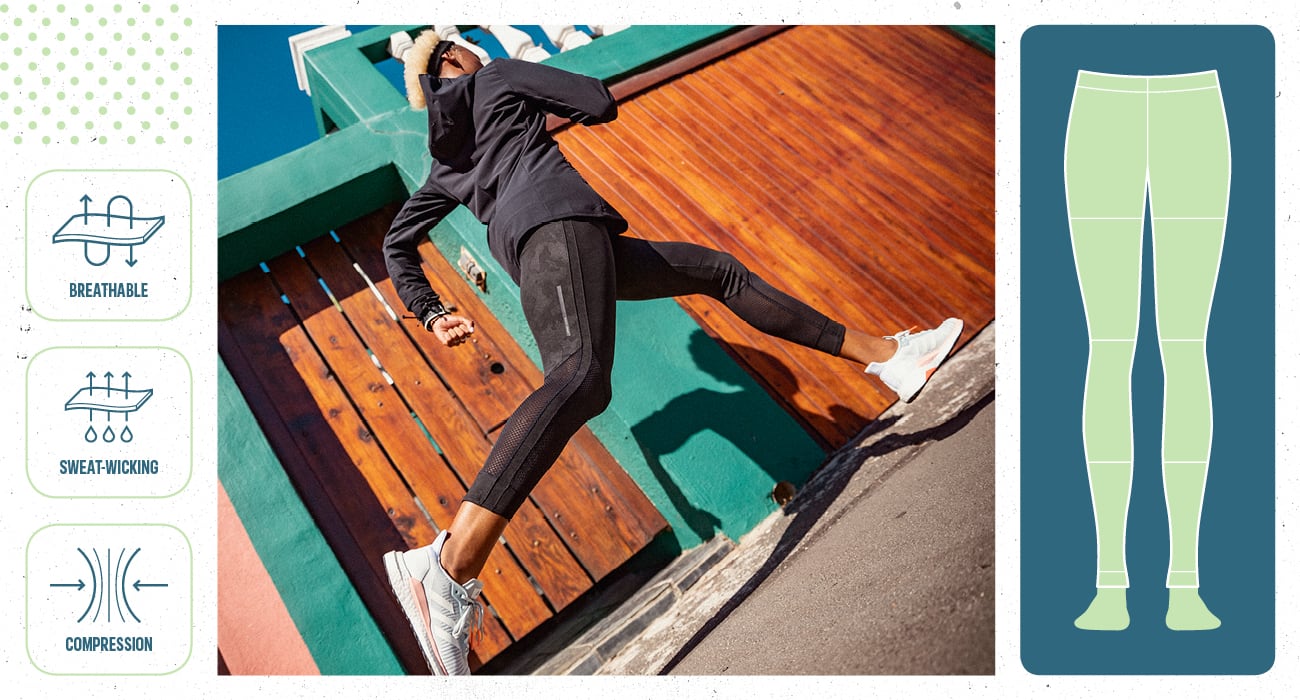 The repetitious movement of running can be especially trying on the skin on your inner thighs. Reduce the dreaded thigh chafing with compression-fit tights, leggings or shorts. This is especially important the more miles you log. Choose longer boxer briefs or performance underwear without seams on the inner thighs.
5.) Keep your armpits chafe-free with a fitted tee.
To prevent armpit chafing on those long slow distance days, look for soft, fitted tees that don't bunch. Running shirts designed to prevent chafing wrap the body in sweat-wicking material and act as a much-needed barrier. Some running tees include mesh inserts to allow airflow, but anything with a close fit will keep your armpits free of irritation. 
6.) Avoid breast and nipple chafing with compression-fit sports bras and tees.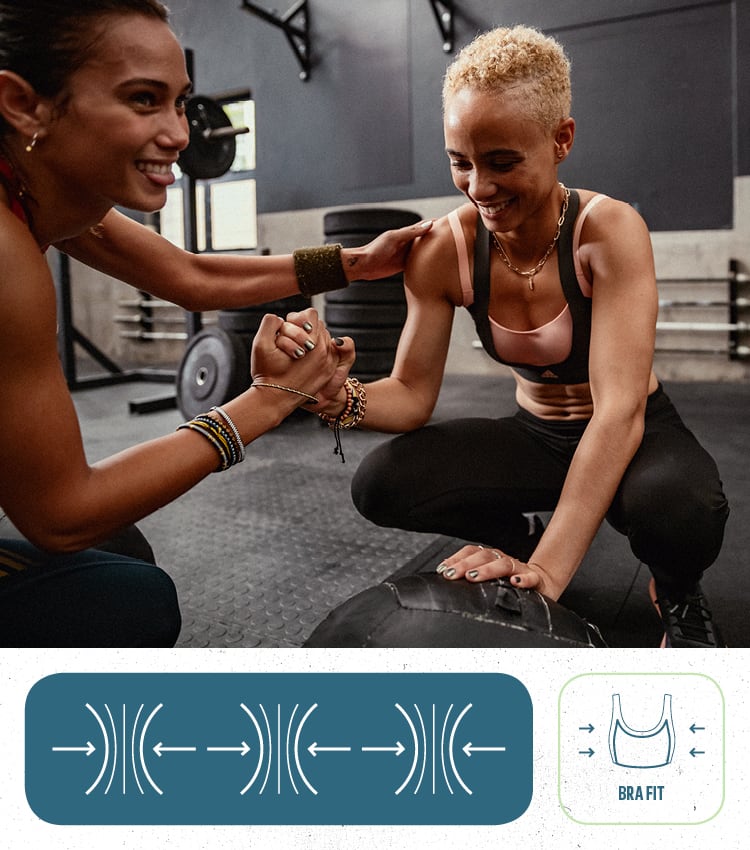 Though most sports bras naturally provide chafe-preventing compression fit, wearing the correct bra size helps you prevent chafing on nipples and breast tissue. A too-tight sports bra can dig in and irritate, while a bra with extra room creates room for friction.
For men or anyone not used to the protection sports bras provide, nipple chaffing is a real thing. A truly compressive T-shirt will help stop nipple chafing for a much more comfortable run. In a pinch, take the low-tech route and protect your nipples with regular grocery-store bandages. 
7.) Stop hotspots with seamless (or flat seamed) gear. 
Running can rub you the wrong way if you're not in the right clothes. As one of the most repetitious sports, a lot of high impact running can turn up hotspots on the skin. These little rashes often come from a tag, seam or other fabric irregularity scratching against skin over and over. Avoid these by wearing running clothes made with flat seams or cut to be completely seamless. 
8.) If all else fails, get some glide.
Many runners swear by it, and why not? Products like Body Glide® reduce running chafing by protecting your skin with a thin, sweat-resistant layer. The balm dries, forming an invisible barrier that works with your clothing to cut chafing and keep skin from rubbing. Apply wherever you feel rubbed the wrong way—from your neckline and underarms to your groin, inner thighs and feet.
9.) Don't forget your feet.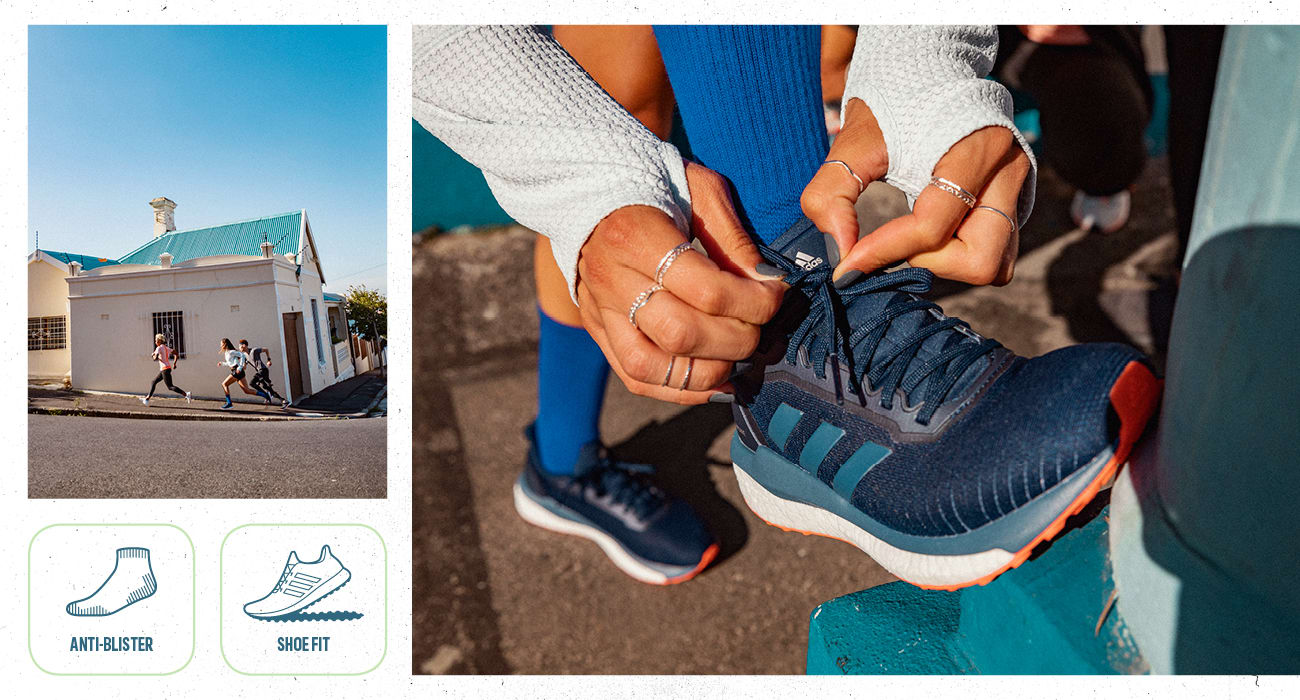 Your feet are the first to meet the pavement, so protecting them with properly fitting footwear is essential to preventing blisters. Start with socks made with sweat-wicking material. The same rules apply here—you want to reduce friction with a soft, form-fitting layer. Next, check that your running shoes are not too small, allowing for extra space in the toe box. Try a half size larger if you feel your shoes pinching on a downhill or rubbing on a long run. If you suspect your gait is causing you blisters, try supportive running shoes that adjust for overpronation. Take care of your feet by keeping several pairs of running shoes in rotation (allowing sensitive spots to heal faster) and replacing when they wear out.