We may play the same sport, but no two feet are the same. Find the perfect match for your foot and take on the season-long grind.
Serve looks while you serve on the court in adidas volleyball shoes. Designed to give you power in every step.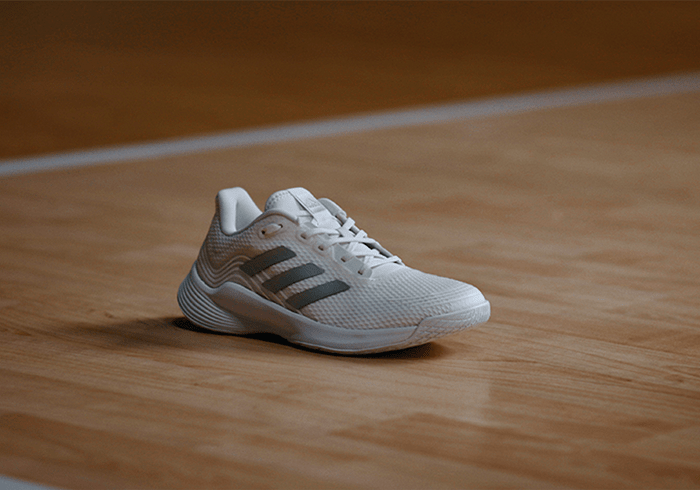 adidas Novaflight Volleyball Shoe
Learn more about the adidas Novaflight Volleyball Shoe and it's feature and benefits.
adidas Volleyball Shoes
If you take volleyball seriously, you have to take your shoes seriously. When it comes time to handle business on the court, adidas volleyball shoes can be your secret weapon. They're built for comfort and performance, so you can put your best foot forward every game without fail. Lightweight and breathable mesh uppers make you feel uninhibited, with midfoot lockdown that gives you the rock-solid stability you need to charge through any obstacle on the court. adidas Crazyflight volleyball shoes have an energy-returning adidas Boost midsole that sits within a stabilizing EVA frame to provide ignition for big jumps and cushioning for graceful landings.
No matter what your opponents dish out, you'll be ready to handle it in volleyball sneakers from adidas. Responsive cushioning and flexible outsoles will help you bring new energy to the court and spark your best play. Some shoes have a supportive mid-cut design that hugs the ankle, providing a stable platform for twists, turns and side steps. Save the game one serve, leap, and block at a time. in adidas indoor volleyball shoes. You'll be prepared for every launch and touchdown, with grippy rubber outsoles that help you move confidently in all directions. Browse adidas for volleyball shoes that take you to new heights.
Volleyball Shoes Frequently Asked Questions
The choice of shoes for volleyball players can vary depending on personal preference and playing style. However, many top volleyball players opt for specialized volleyball shoes that offer specific features to enhance performance. Volleyball-specific shoe models provide excellent traction, stability and cushioning. These shoes often have features like gel cushioning, breathable uppers and non-marking outsoles designed for quick movements and optimal grip on indoor court surfaces. It's important for volleyball players to find shoes that fit well and provide the necessary support and agility for their unique needs.
High top shoes can be a personal preference for volleyball players, as they offer certain advantages. But they may not be suitable for everyone. High top shoes provide additional ankle support, which can be beneficial for players with a history of ankle injuries. They can provide a sense of stability during quick lateral movements. However, some players may find high top shoes restrictive or bulky, affecting their agility and range of motion. Ultimately, the choice between high top and low top volleyball shoes depends on individual comfort, playing style and any specific ankle support needs.
A volleyball court shoe is a specialized athletic shoe designed specifically for playing volleyball. These volleyball shoes are engineered to provide the necessary support, stability and traction for the fast-paced and dynamic movements involved in the sport. Volleyball court shoes typically feature non-marking rubber outsoles that offer excellent grip on indoor court surfaces, cushioning in the midsole for impact absorption and lightweight construction for agility. They often have features like breathable uppers, lateral support systems and enhanced toe protection to cater to the unique demands of volleyball players.