What To Bring On a Hike: 12 Hiking Essentials
The outdoors awaits. Pack up with 12 essential hiking supplies everyone needs, plus get the scoop on how to layer and pick hiking shoes from adidas.
They call it a nature bath for a reason. It's time to take a break from your screen and cleanse your mind in the fresh air of the outdoors. But before you venture out there, take a look at the 12 essentials to bring on a hike to be sure you're prepared for a great day.
WHAT TO BRING ON A HIKE: SUPPLIES AND APPAREL
If you're planning on taking a day hike, here's a list of essential hiking supplies to pack with you. Whether it's a quick escape just outside the city or a day-long excursion through the wilderness, these items will come in handy to make your adventure more comfortable. You might look at this list and think, "an emergency shelter? But I'm only going for a two-hour hike." Think of the emergency items like a spare tire in your car. It's always there, and most of the time you won't need it, but when you do it's a lifesaver. Most of these essentials can live in your hiking backpack so you're always ready to go.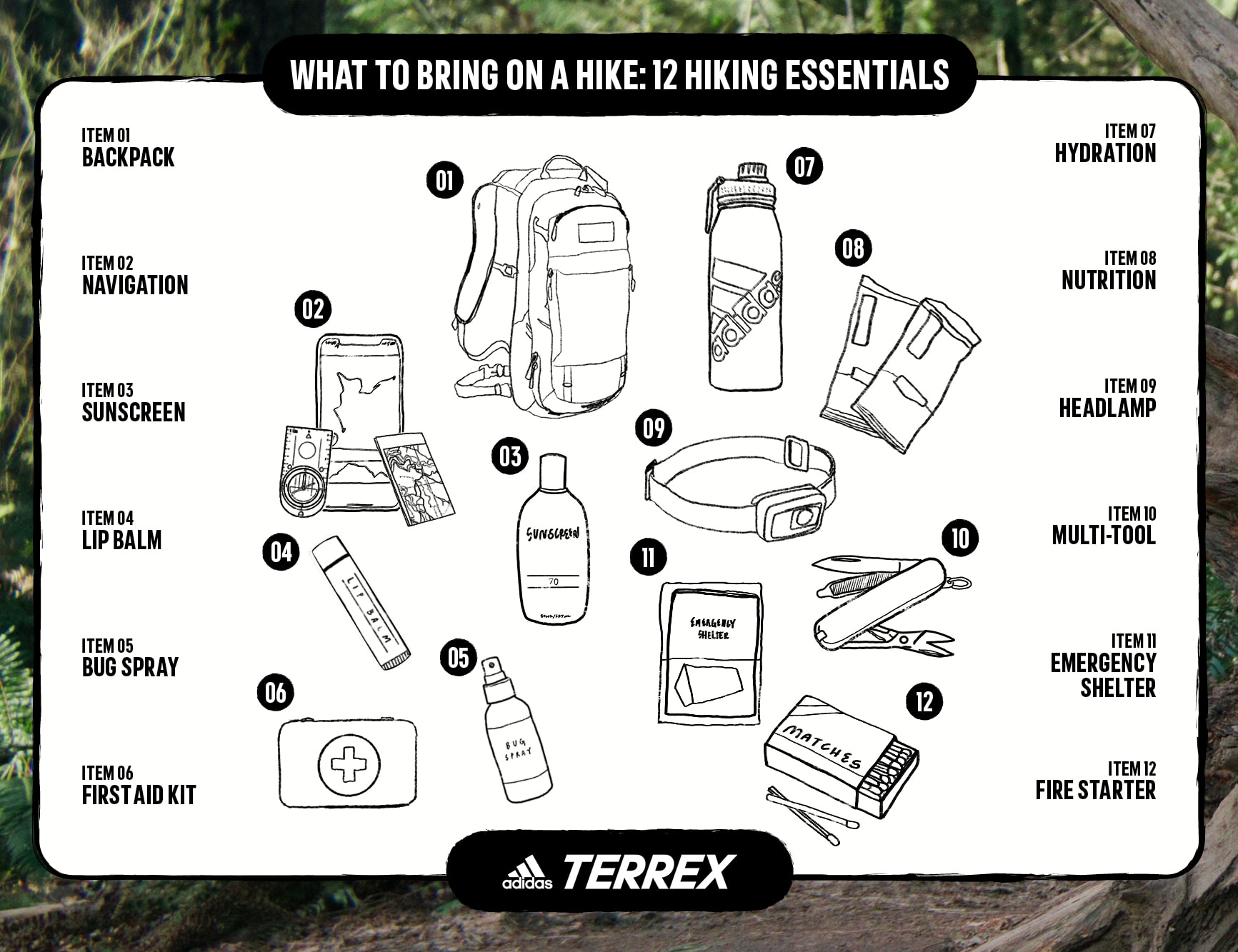 01. Backpack
A good backpack for hiking is the first necessity to hold all your belongings. One with padded straps and a chest clip will keep the pack comfortable under a heavier load. You can even find a hiking backpack with a bladder and a straw to make staying hydrated on the go even easier.
02. Navigation (by phone or map + compass)
Most often a phone will be the easiest tool to find your way. Download a map of the trail in case you lose service. It's also a good idea to have a physical map and compass as a backup.
03. Sunscreen
You know the drill—sunscreen all day, any day, even if it's cloudy. Use a minimum of 30 SPF and reapply every two hours.
04. Lip balm
Just like the sunscreen, keep those lips hydrated and protected with SPF.
05. Bug spray
It's nice to have on hand in case you become the snack.
06. First aid kit
Find a small first aid kit with all the tools to tend to scrapes, blisters or bug bites. This should live in your bag. Even if you're going on a quick easy hike, a first aid kit can come in handy.
07. Hydration
Pack a half-liter of water per hour of hiking. It's better to have more water than not enough, so pack extra if you can, and carry some water purification tablets in case of emergency.
08. Nutrition
Every hiker needs fuel to munch on while taking in the view. Pack ample snacks with good sources of protein, fats and carbs like fruit, trail mix, and protein bars. If you're on a long hike, pack a substantial lunch like a sandwich that's easy to transport. Make sure to pack out what you pack in and don't leave any trace of food on the trail.
09. Headlamp
In case you find yourself hiking before or after the sun is up, a headlamp will light the way. Check the battery before you go!
10. Multi-tool
The all-mighty multi-tool, a hiker's saving grace. It's your mini scissors, knife, pliers and more all in one tiny package.
11. Emergency shelter or large garbage bag
This can be an emergency blanket sold from your local outdoor store. It can also be as simple as a large garbage bag, which is also handy to store wet muddy gear after the hike's over.
12. Fire starter
Most day hikes don't involve making a fire, but this is still essential to have on hand in case of emergency. This can be a container of waterproof matches, a strike igniter, or a lighter, plus some tinder.
WHAT TO WEAR ON A HIKE
Follow the layering rule of three when dressing for a hike. With the weather in your area, the specifics of these layers might change, but the basic formula is tried and true. Check out our article about
layering for the cold
if you're embarking on a winter hike.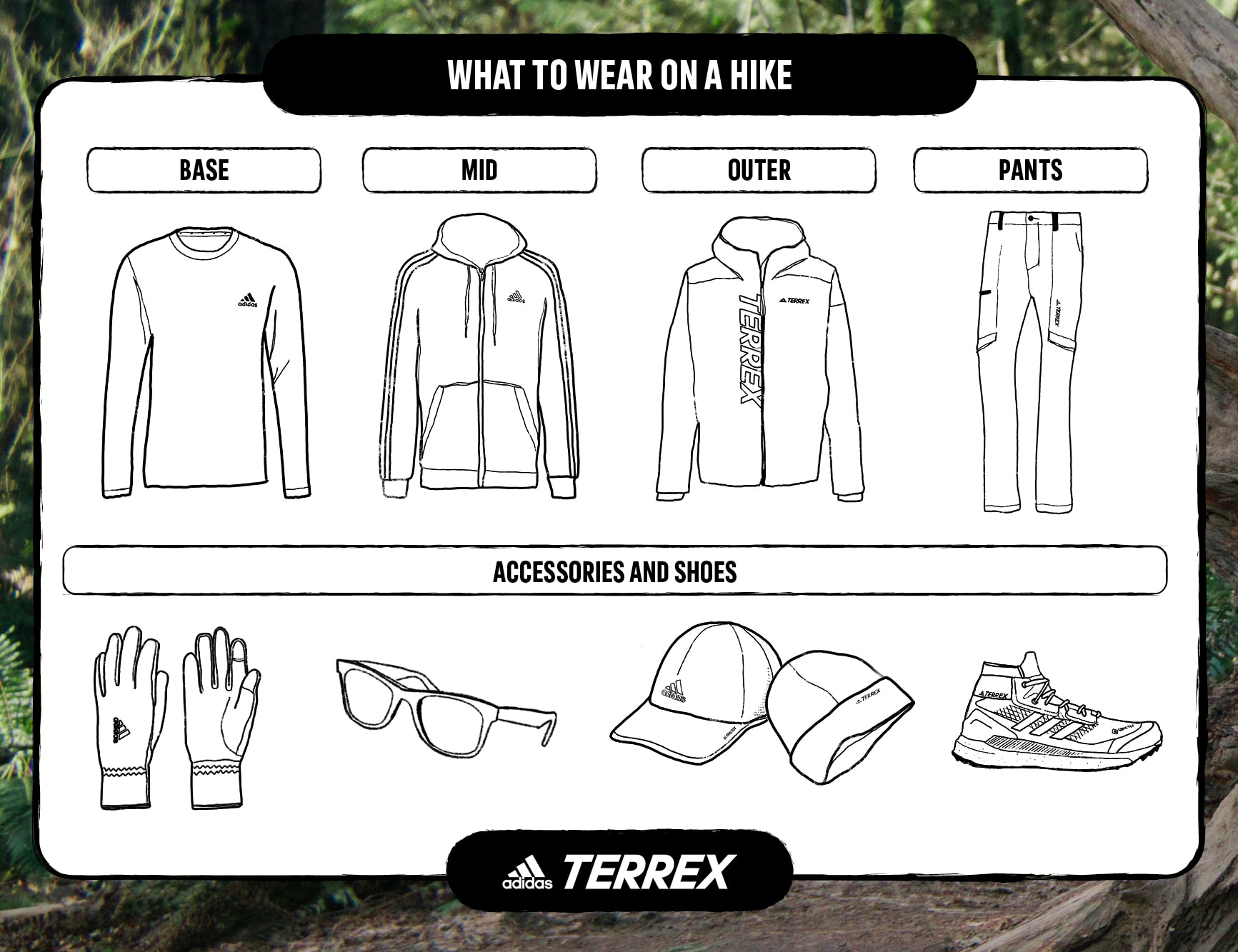 01. Base Layer
Start with a sweat-wicking, breathable base layer. This could be a tank top or t-shirt in hot weather, or a long sleeve in the cold.
02. Mid Layer
Next, add a layer of insulation. This can be a thick hoodie or a lightweight zip-up. This will keep the warmth close to your body under your outer layer, and will keep your body warm enough if you wear it on its own.
03. Outer Layer
Finally, choose an outer layer for the weather you're in. If it's freezing cold, an insulated puffer will keep warm air in and is lightweight if you need to shed it as you heat up. If you're hiking up a mountain, be sure to bring a warm outer layer since the temperature can be much colder at the peak of the hike.
Rain Jacket
A prepared hiker always packs a rain jacket. It rolls up small and is ultra-lightweight in your backpack, but will go a long way if you're caught in a downpour.
Accessories
Hat: Bring a beanie, sun hat or a baseball hat. It's handy to either keep warm or shield the sun or tree branches from your face.
Socks: Wear sweat-wicking socks that come up higher than your shoes to protect from blisters.
Gloves: Either for warmth or protection against rocks if you're using your hands to scramble up a steep path.
Sunglasses: Protect those eyes! And look super cool, obviously.
HOW TO CHOOSE HIKING SHOES
Comfortable hiking shoes will make the biggest impact on your adventure. Running shoes work for most day hikes, but if the trail has uneven or rocky paths, a hiking shoe will offer better traction, support and comfort for your feet.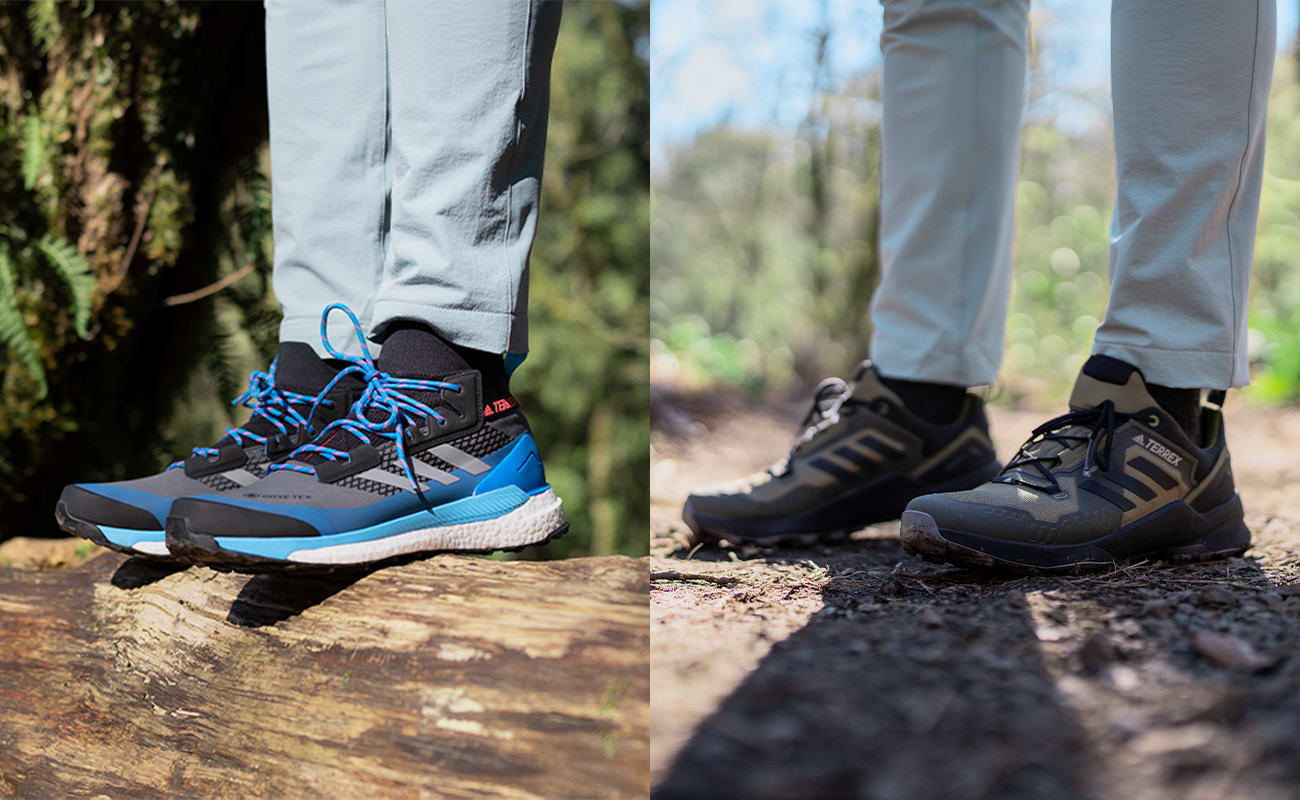 Terrex Free Hiker
The adidas Terrex Free Hiker has Boost cushioning to keep every step comfortable and energized, along with a breathable Primeknit upper for a sturdy yet soft feel. It's a versatile boot that you can take anywhere, from long, multi-day hikes to quick ones just outside the city.
Terrex Swift R3
The adidas Terrex Swift R3 takes inspiration from trail running shoes, so it has a more flexible, lightweight feel, but will also offer a lot of stability and protection for your hike. Available in a low-top and mid-top, you can choose the level of ankle support you'd like.
How To Choose a Low-Top vs. Mid-Top Hiking Shoe
A low-top shoe will offer more flexibility and quickness on the trail. A mid-top shoe will offer more protection around the ankle and more support over uneven terrain. Both are solid options for any hike, and it comes down to personal preference.
READY TO TAKE A HIKE?
If this list feels daunting ahead of your first hike, keep it simple and bring what you have at home that is close to this list—think flashlight instead of a headlamp, or some bandages and disinfectant for a basic first aid kit. For Adam Edwards, a local hiking enthusiast, it's first and foremost about enjoying nature rather than having expensive gear.
"I think it's important for folks to remember that you don't need fancy gear to get out and enjoy the outdoors, you just have to go give it a try," said Edwards. "For anyone who's intimidated about getting into nature, it can actually just be as simple as going to a local park and enjoying the sights and sounds of your urban green space."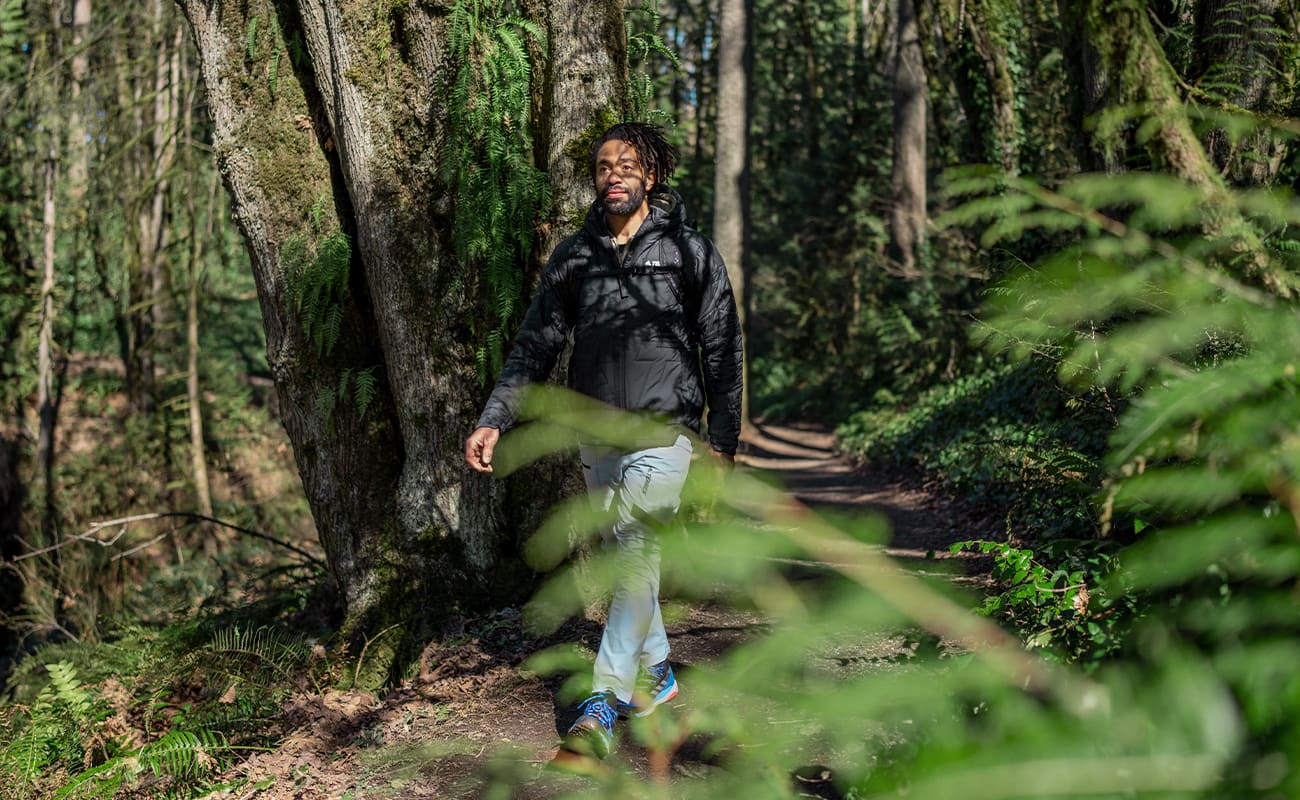 Download the adidas hiking essentials checklist so you have a handy list as you're packing up, and pick up some fresh adidas Terrex gear to make your hike a good one.
Stay Updated
Be the first to know all about stories, launches, and events.