Everything You Need to Know Before Buying a Raincoat
Long gone are the glory days of the hard, clunky PVC shells—today's rain jackets are functional and fashionable.
When you've chosen your rain jacket wisely, rainwater is the least of your worries. Whether you're planning on commuting across the city or hiking through the great outdoors, here's what to look for in this wet-weather wardrobe essential.
The right raincoat is really a game changer.
— Alejandra Padin, Global Apparel Designer for Outdoor at adidas
WATER: REPELLENT VS. PROOF
Don't get caught in a severe thunderstorm wearing a water-repellent jacket, which is most effective at wicking away a steady stream of droplets (think light to medium precipitation), thanks to a technology treatment called Durable Water Repellent (DWR). It's a hydrophobic surface coating that makes rainwater bead up and roll right off the fabric. But—it can only repel so much. If you need additional coverage, look for waterproof alternatives. They're also treated with DWR, according to rain jackets expert Vash Zhu, Global Senior Apparel Designer for Outdoor at adidas. But here's the difference: "Every part of the jacket (including zippers, snap buttons, pockets, stitching and seams) is taped and sealed to keep your clothing underneath completely dry even in the heaviest downpour."
Important to remember: There's rarely rain without accompanying gusts of wind. Terms like wind-resistant and wind-proof are exactly as their respective names sound.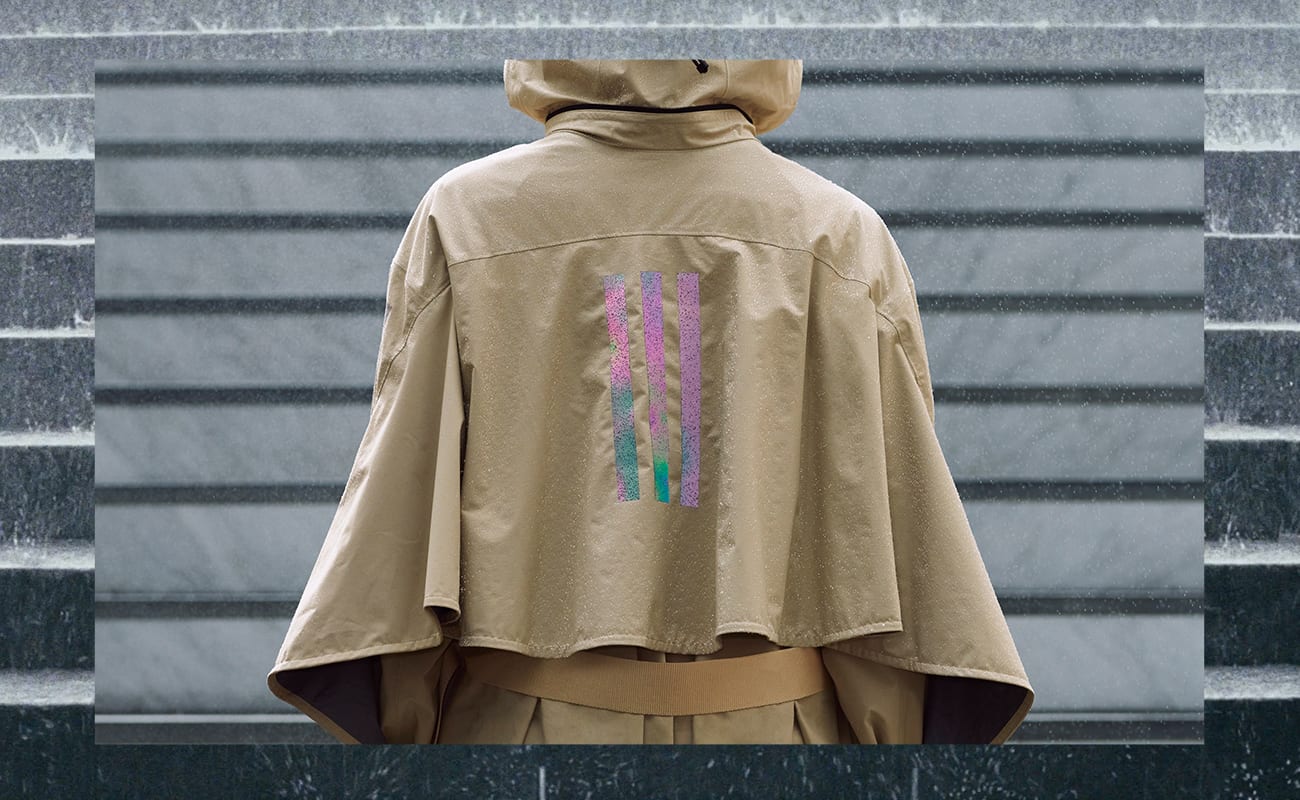 MATERIAL MATTERS
Look closely at the textile label on the jacket's interior. Nylon or polyester with a DWR coating are the most common fabric blends, but for even more protection from the elements, check for patented technologies like GORE-TEX and adidas' own RAIN.RDY, best described as a waterproof, breathable membrane that actively funnels water away from the garment to keep you feeling dry.
FIND WHAT FITS
Keep in mind that all rain jackets don't—and shouldn't—fit the same. "It's not only about function or fashion," says rain jackets specialist Alejandra Padin, Global Apparel Designer for Outdoor at adidas. "Consider your lifestyle to help you choose the right shape and silhouette."
Case in point: If you reside in a typically cold-weather climate, a longer A-line raincoat that covers your bottom can help keep you even warmer in inclement weather while accommodating chunky clothing underneath. Or, if you regularly partake in intense outdoor activities, a rain jacket that stops at the hips is less restrictive to give you more flexibility to move around.
The type of jacket matters as well. "Water-repellent garments can feel more comfortable to wear, because the DWR coating is on the outer surface of the fabric," explains Vash. "On the other hand, waterproof rain jackets can be sturdier, because they're constructed with a lamination lining that acts as insurance for shielding your clothing from rainwater."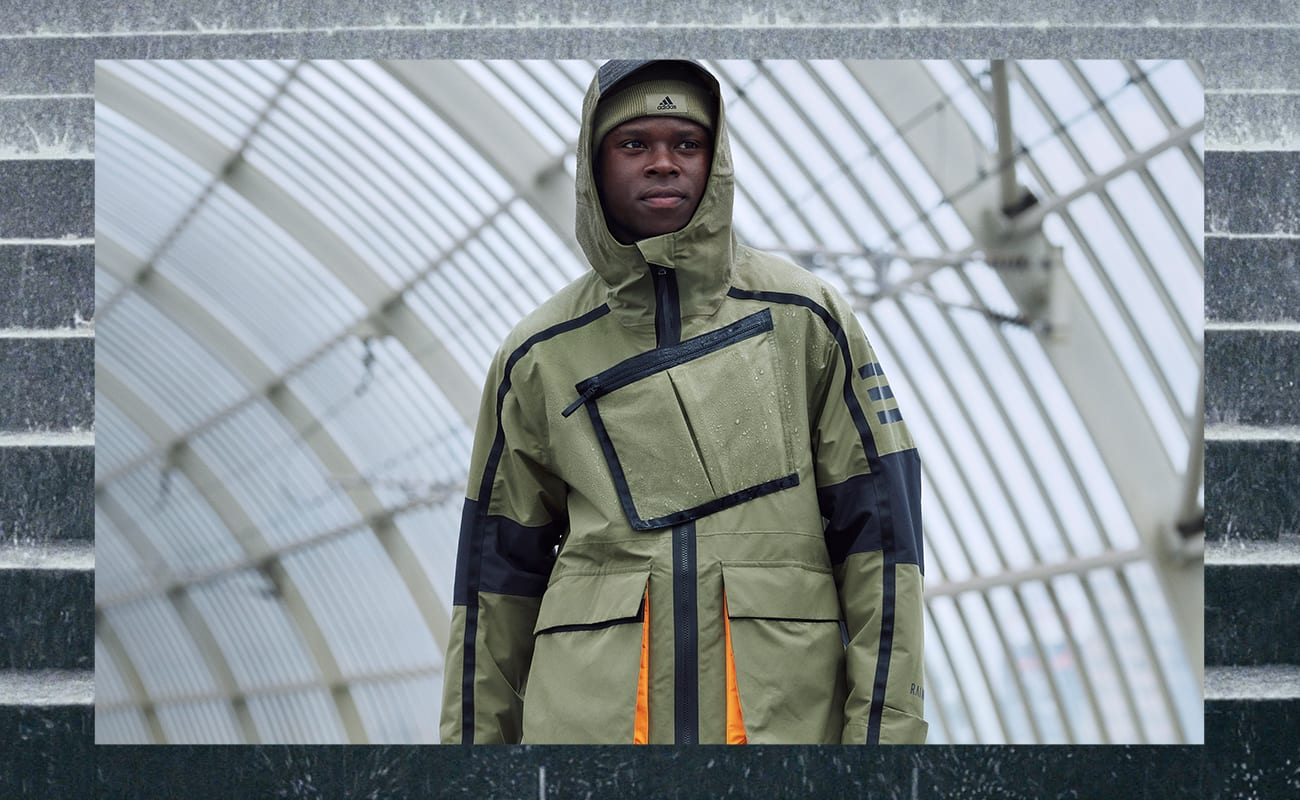 LAYERED UP
"There are three types of layering construction," adds Vash. "They all deliver different types of benefits." Think of them as levels: 2-layer, 2.5-layer, and as expected, 3-layer is the most durable. Generally speaking, rain-ready outerwear is comprised of a combination of the following: a DWR-treated outer layer, a polyurethane lining that doubles as a shield for the middle layer, and a mesh, sweat-wicking catchall insert for the innermost layer.
TIME TO VENT
Here's the biggest trick—you'll want a jacket that keeps the rain out, while ensuring a little bit of air flow still gets in, so your skin doesn't feel sticky and clammy. The technical term for this challenge is breathability. Ventilation is the answer. But Vash says it's not just air permeable fabrics that are a factor here—it's all down to the details.
"You're most likely to sweat underneath the arms or on your back, so concealed openings like zippered armpit slits and back panels offer even more ventilation to help keep the body feeling dry." Another pro tip? Also check for adjustable hemlines, cinchable hoods and VELCRO® wrist cuffs. These features can be tightened for added protection and loosened for extra airflow.
READY TO WEATHER THE STORM?
Stay Updated
Be the first to know all about stories, launches, and events.