How To Wear Stan Smiths
Need some outfit ideas for how to wear your Stan Smith sneakers? Get inspiration fresh from the closets of six adidas employees.
Nothing feels quite like a fresh white sneaker, and few are more classic than the adidas Stan Smith. A shoe that has stayed true to its roots, the Stan Smith is always sleek and crisp, with a dash of effortlessly cool charisma that no other sneaker possesses. Now the Stan is looking a little more green by incorporating modern, more sustainable design choices, like a Primegreen upper featuring 50% recycled content. We asked six adidas employees why they love their Stans, along with a little outfit inspiration from their closets.
Carolyn Carullo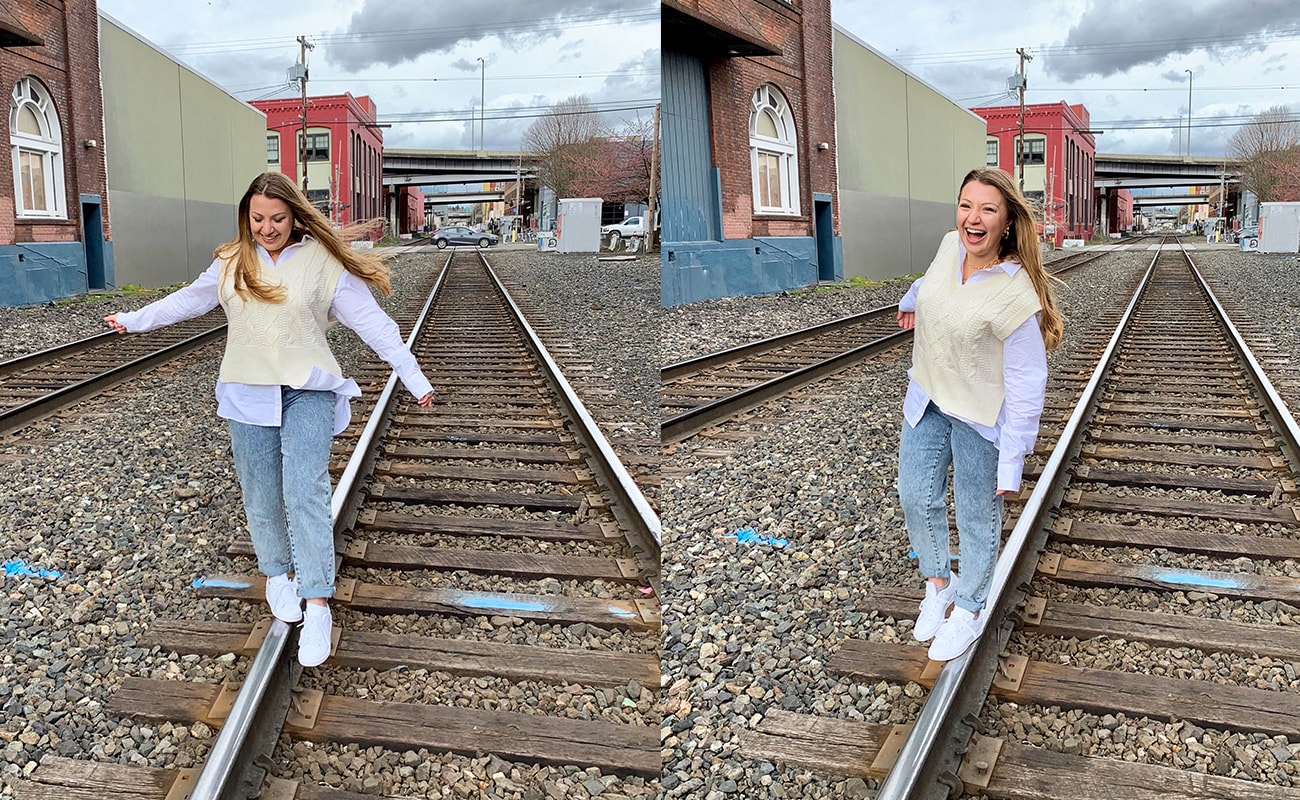 Carolyn knows her classics, but isn't shy to try out the latest trends. Whether she's creating a look made of modern timeless pieces or trying out something new, it always feels comfortable and complete when paired with her trustworthy Stans. Her outfit of straight-leg light wash jeans, a white button-down and a cream box-fit sweater vest is playful yet sophisticated, just like the Stan Smiths she paired it with.
Carolyn's Fashion Advice:
"Fashion risks and new trends are never as daunting when you pair an outfit with classic adidas shoes."
Nicolle Nicosia-Polanco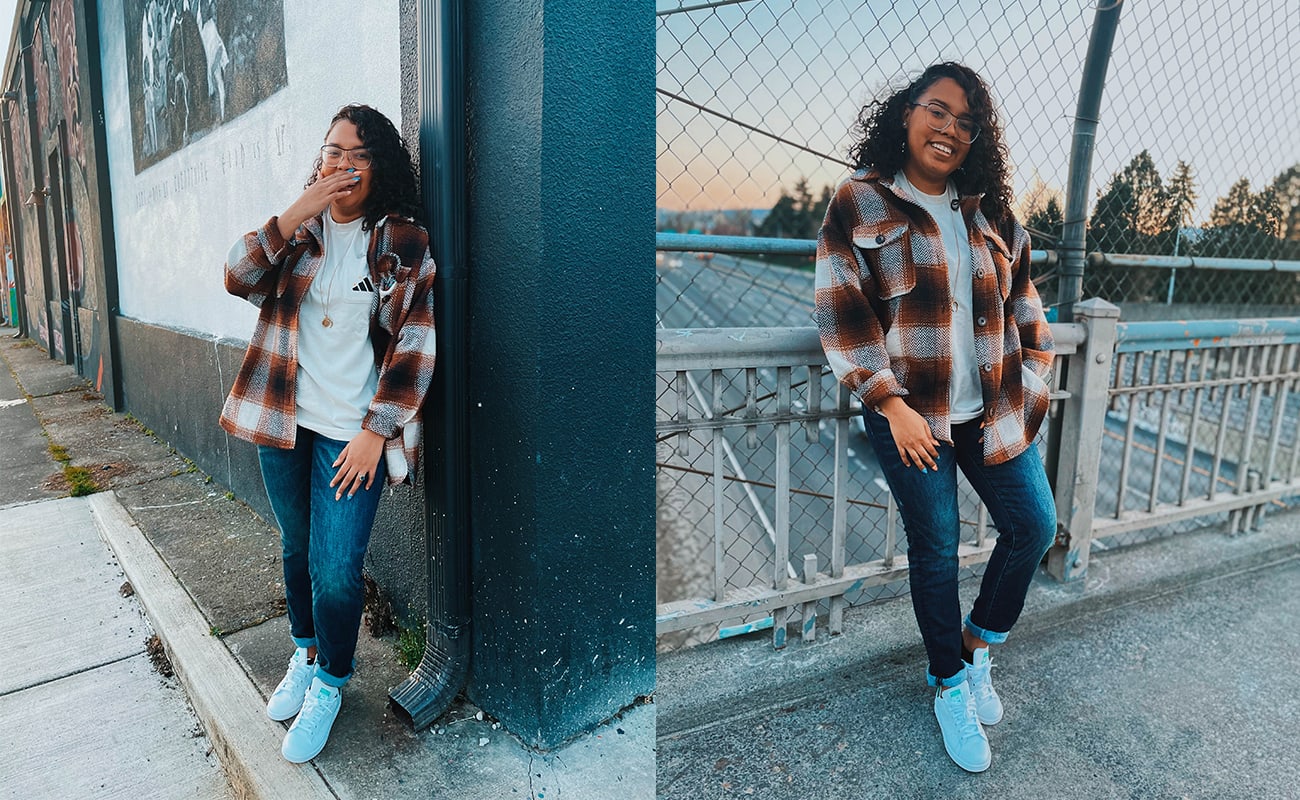 "I'm a sucker for a good flannel," said Nicolle. Her photo is an example of one of her go-to looks — a pair of crisp blue jeans, an oversized tee and a cozy flannel shirt to throw over it. "I'm all about comfort in my clothes before anything else." A fan of oversized pieces and sneakers of all kinds, she loves sporting a fresh pair of sleek Stan Smiths to trot around town with.
Nicolle's Fashion Advice:
"Go with the beat of your own drum. Go with what makes you feel good on the outside, but most importantly on the inside. Style is one of the major ways of showing self-expression and what you choose to do with it is beautiful because it's authentically you."
Matthew Youngquist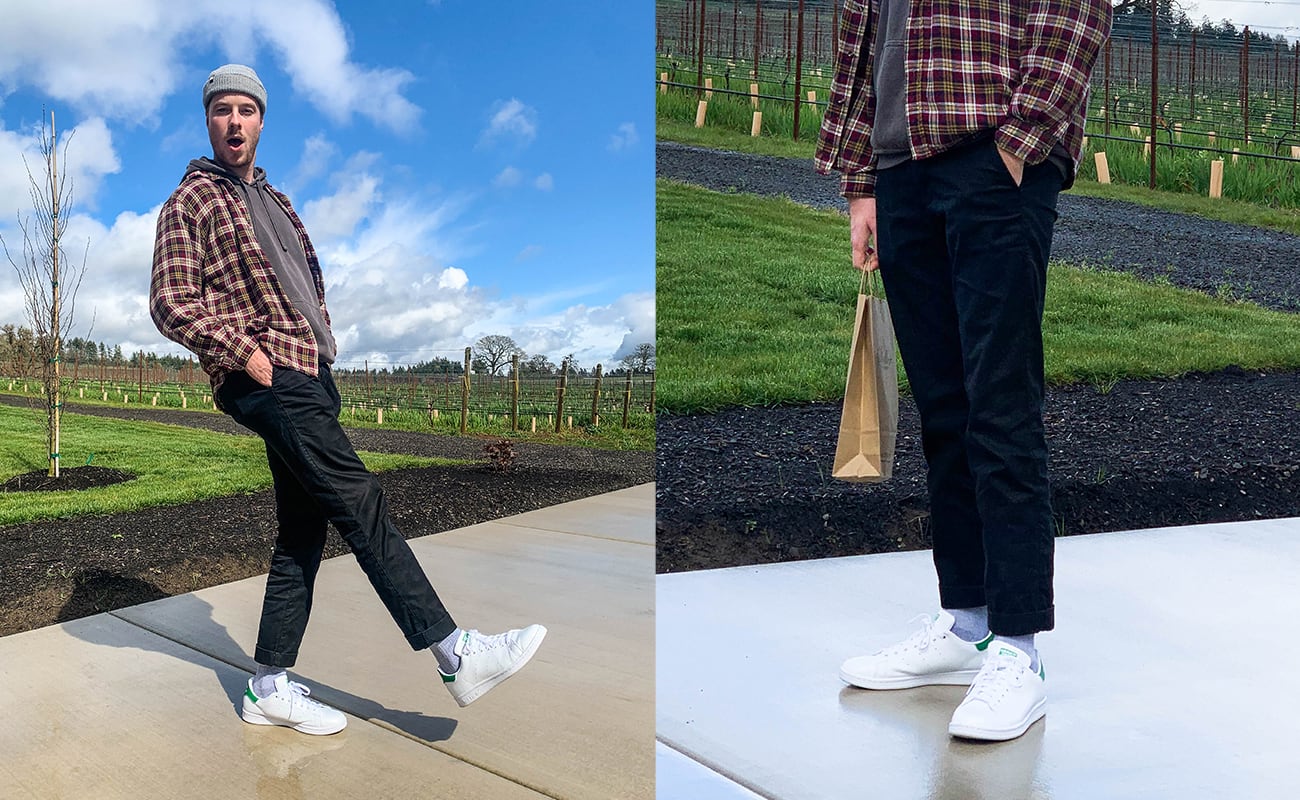 In transitioning seasons, layers are a key component to Matthew's smart casual style. "I love the look of a flannel over a hoodie to add color," he said, which he threw together over different shades of grey for a cohesive yet effortless result. He finished it off with a fresh pop of white Stan Smiths. "It's a shoe that looks good and can be styled with pretty much anything."
Matthew's Fashion Advice:
"Stan Smiths are classics for a reason. They can be dressed up or dressed down — just wear them with confidence."
Gettis McGhee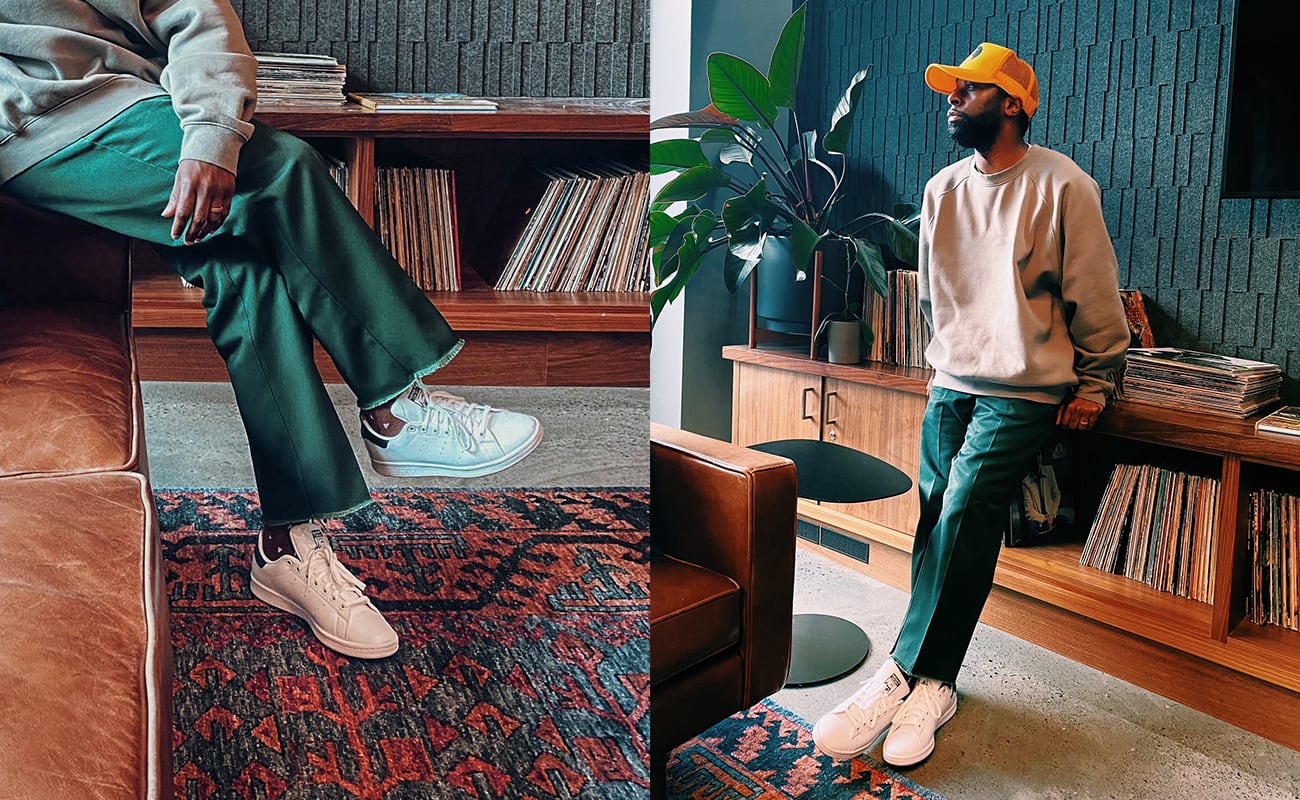 Effortless — that's the vibe for Gettis when he wears his Stan Smiths. "When I slip them on, there's a feeling of freshness and completeness." His laidback personality shows up in his chill aesthetic, which frequently features staple pieces that reflect his current mood in colors from neutral to bold. His outfit consists of a tan oversized crewneck, green pants, a yellow trucker hat and navy accented Stan Smiths for subtle color-blocking.
Gettis' Fashion Advice:
"My advice is to just be yourself and feel confident in your look. Always know, Stans are a versatile and classic sneaker that can tie any outfit together for everyone, regardless of style differences."
Tamara Griffin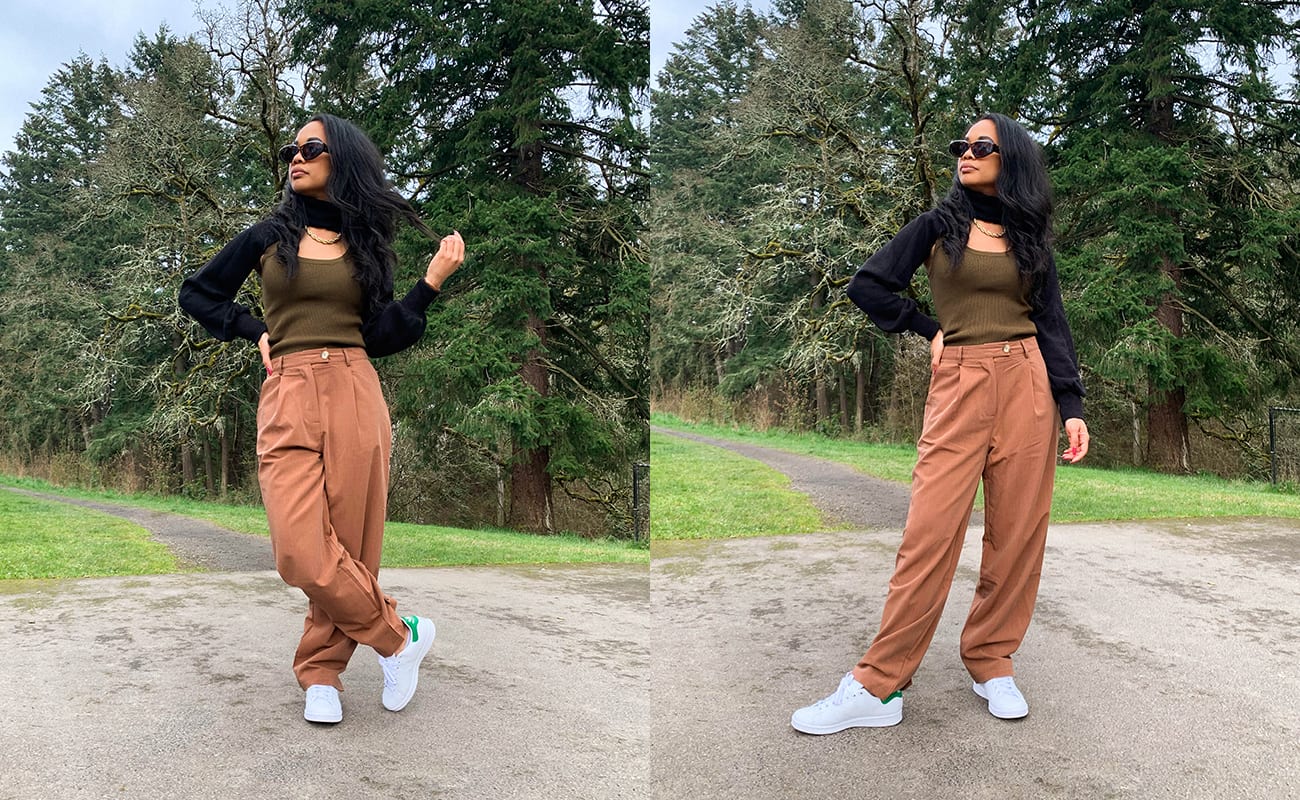 Comfort and fashion can go hand-in-hand, and that's what Tamara's look is all about. "These flowy pleated dress pants are super silky and comfortable but don't have an elastic waistband," said Tamara, who likes to find ways to stay cozy without relying on sweatpants. With a style she describes as worldly, Tamara is inspired by combining vintage thrift finds with modern pieces, and choosing colors, prints and fabrics that bring her joy. adidas Originals' reimagination of archived sneakers complements her old-meets-new aesthetic, and the Stan Smith is a staple in her closet. "It's the original classic tennis shoe. It makes me feel classic."
Tamara's Fashion Advice:
"There is something for everyone. I think women can have a lot of fun wearing sneakers with anything. I like wearing classic shoes with summer skirts or a pair of jeans. Just have fun!"
Emran Behashti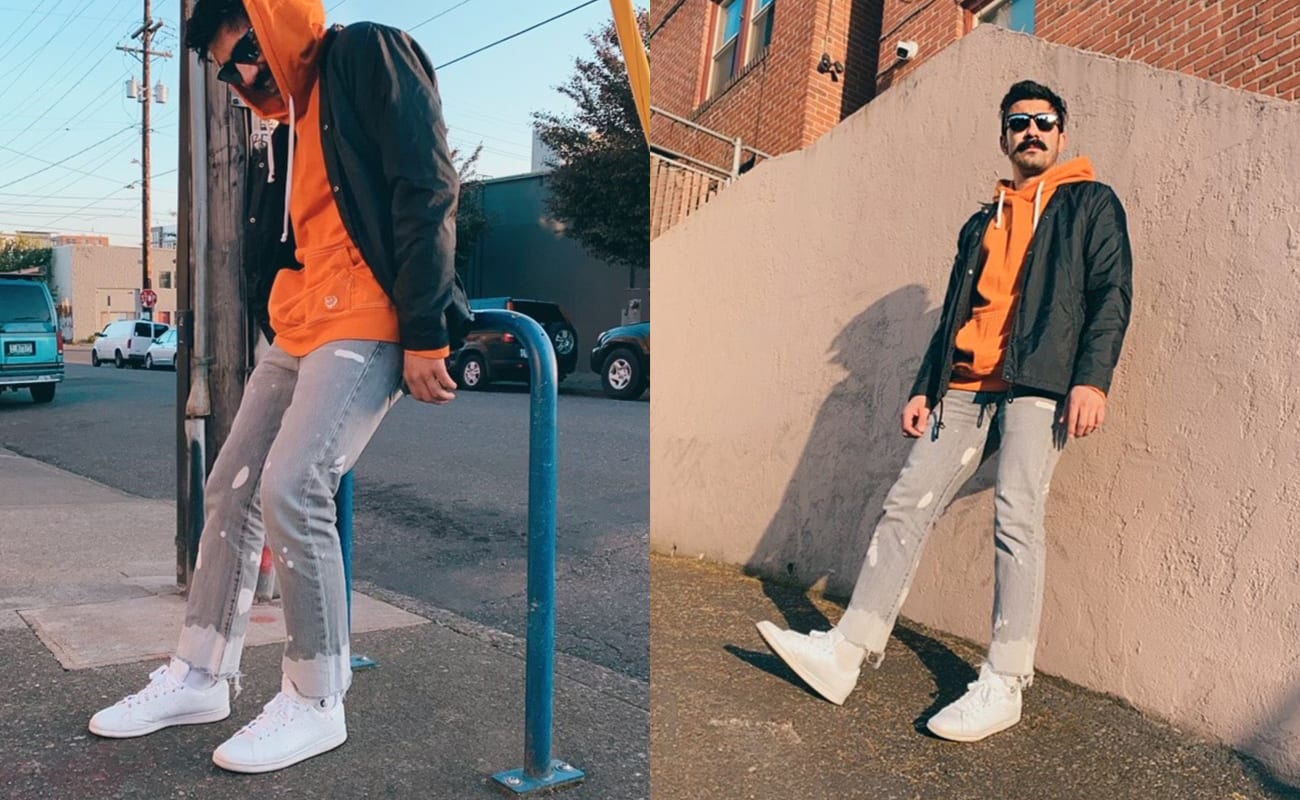 When Emran wears his Stan Smith sneakers, he feels like a rockstar. "They make me feel good and confident. In most cases, they bring my whole outfit together." He describes his style as edgy, with skater and hype influence, demonstrated here by his painted jeans, orange hoodie layered under a casual jacket, and finished off with crisp triple white Stans.
Emran's Fashion Advice:
"Stan Smith is a really easy shoe to style with multiple outfits. Just pick an outfit that you love — shorts, skinny jeans, joggers, anything — and wear your Stans with confidence."
Making Stan Smiths Your Own
With each unique style, Stan Smiths go with the flow. Try customizing them by drawing designs on the white space or
lacing them in a new way
. Get inspired to create your own outfit and tag
@adidasoriginals
so we can see what you put together. If you feel like adding to your sneaker collection, see more ideas from adidas employees for
how to wear Superstars
.
Stay Updated
Be the first to know all about stories, launches, and events.