Why adizero is the key to unlocking your fast.
adizero—the pacemaker in performance racing, empowering every runner who's ready to be faster.
In 2008, Haile Gebrselassie became the first man to break the 2:04hr marathon barrier. What was he wearing in Berlin when he said 'adios' to the old world record? The adizero adios 1. 
With the first of many world record performances, adizero smashed onto the elite racing scene powered by the bold intent to make everyone faster. 
Each iteration of the adizero range is crafted with a unique combination of designers' skill and pro athlete feedback. This constant collaboration and pursuit of excellence helps runners of every pace to chase down their personal best—whether it's their first marathon or a world record. 
A lot has happened in the world of long-distance running since 2008. Much of it defined by adizero. And here's why the different models in the adizero range are still shaping the sport today.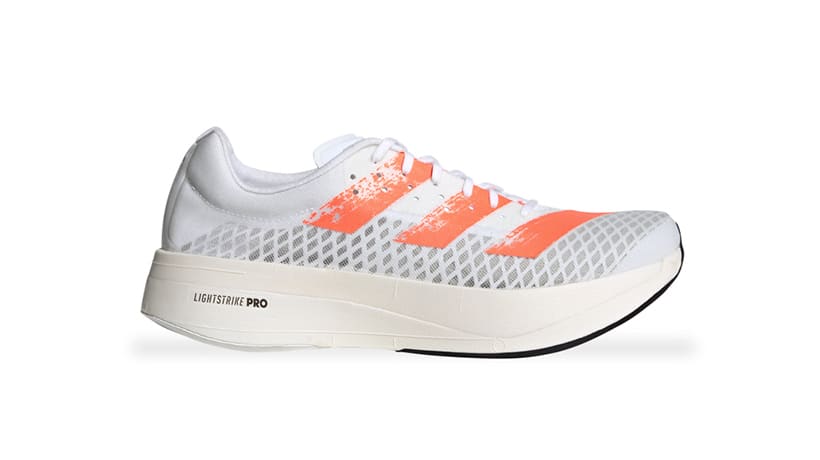 adios pro 
The adios pro represents the pinnacle of decades of dedication and collaboration. It's the most innovative adizero yet. With our fastest running athletes, like Joyciline Jepkosgei and Rhonex Kipruto, we've co-created something that's challenging everything we knew. Lightstrike Pro foam, carbon-infused rods and a carbon heel plate combine to deliver a smooth, snappy transition and optimized cushioning.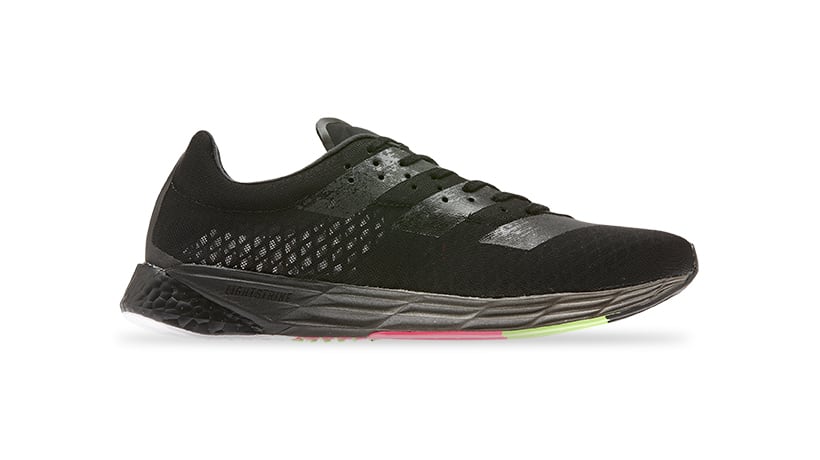 adizero pro
Another model aimed at making the blistering-fast elite even faster. The single-layer celermesh upper gives lockdown where you need it. The Lightstrike EVA midsole is paired with our signature Boost, for a unique ride that gives energy return and comfort while training and racing. A carbitex plate completes the midsole for added takeoff. Finally, the grippy Continental + DSP outsole gives traction across a variety of surfaces.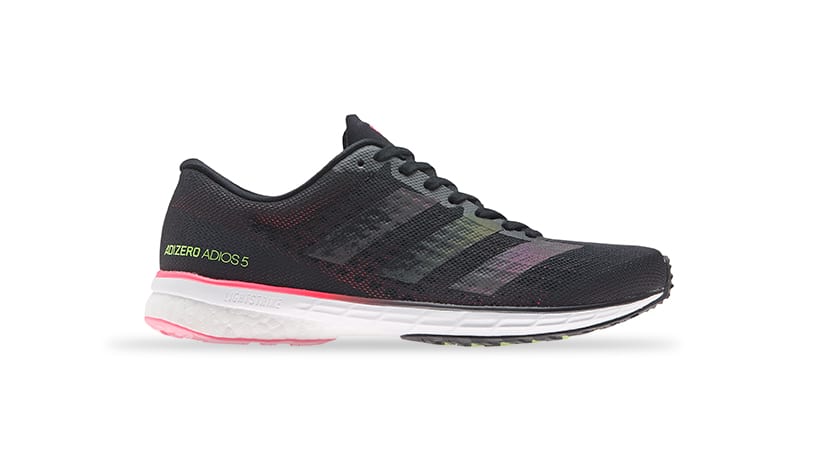 adios 
The successor to the very shoe that propelled Haile Gebrselassie to his 2008 world record success. The upper provides a new, compressive fit. The Boost midsole pairs perfectly with a Lightstrike EVA rim for a snappy ride and quick toe-off. The outsole is Continental rubber and adiwear grip at key abrasion zones, for traction that fuels propulsion.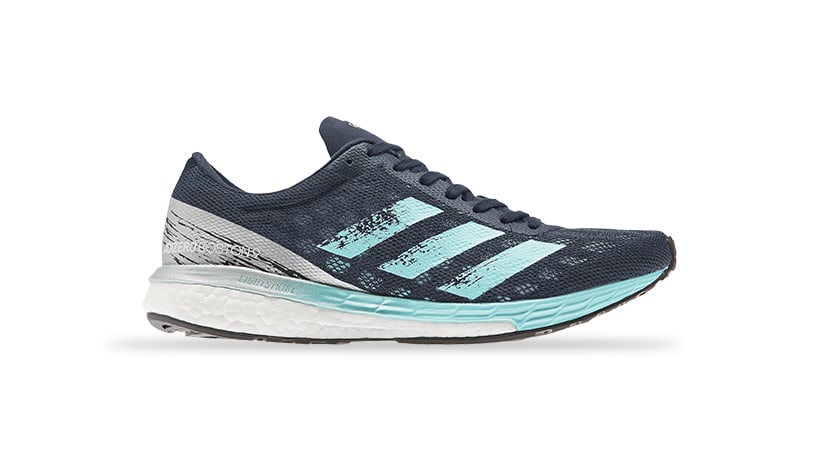 boston 
As you'd expect with a name like Boston, this adizero shoe is crafted for racing marathons. It's also ideal for tempo runs. Boston is a neutral shoe with a lightweight mesh upper that gives both support and breathability. The Boost midsole provides energy return all the way through your run. Continental rubber on the outsole provides traction in a variety of conditions.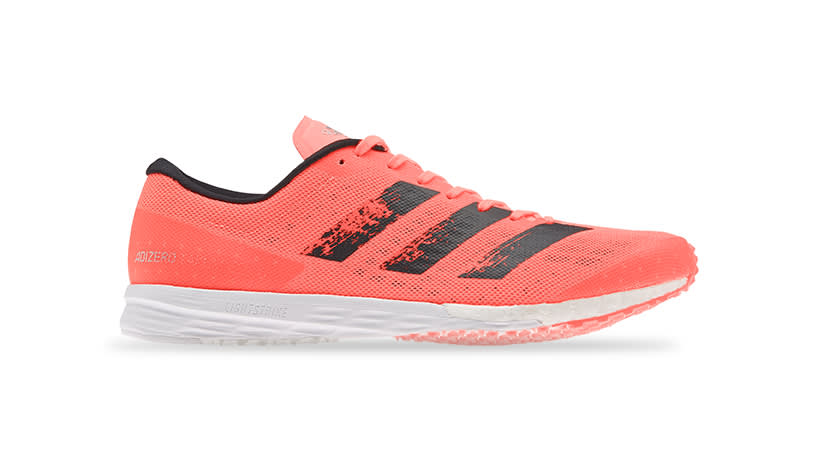 takumi sen 
Rhonex Kipruto breezed to a world record 26:24 in 2020 wearing adizero takumi sen. At less than 200g, the takumi sen floats like a feather—minimising weight without losing that premium adizero upper fit—and the new midfoot internal fit system hugs the foot at toe-off. The Boost and Lightstrike EVA midsole make for feel-great energy return and the Continental and DSP outsole gives dependable grip.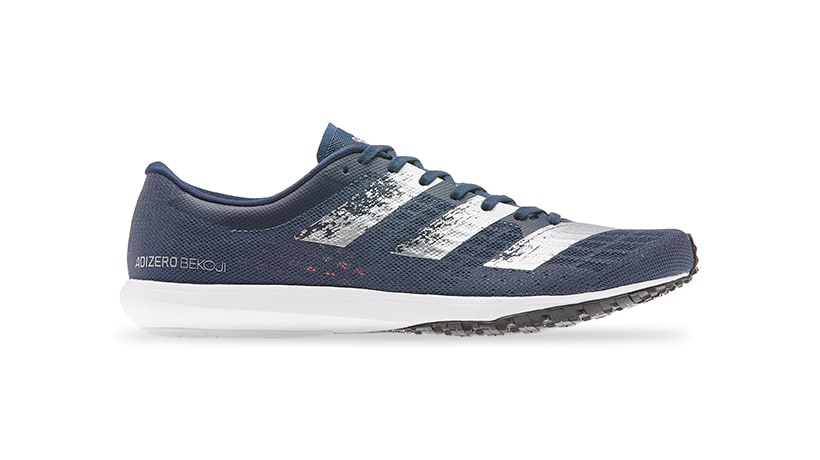 bekoji 
Built for aggressive running and racing, bekoji is super-lightweight with the technical precision that you'd expect of 5k track spikes—the inspiration for this shoe. The celermesh upper and bounce midsole conduct a seamless flow from landing to toe-off, whilst the adiwear outsole ensures abrasion resistance, impact after impact.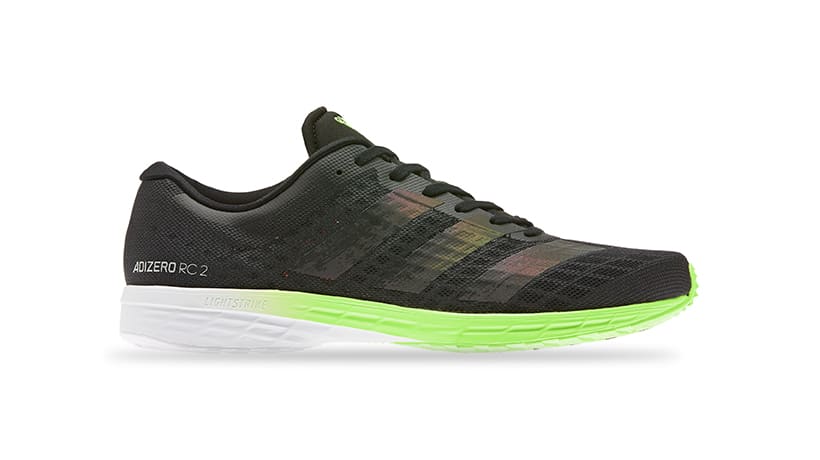 RC 
adizero RC is an ultralight racing shoe. Internal reinforcement locks down the fit, whilst the single layer celermesh upper also allows for natural movement. A high-grip outsole helps propel you forward, whilst the responsive cushioning of the Lightstrike EVA midsole gives a snappy feel.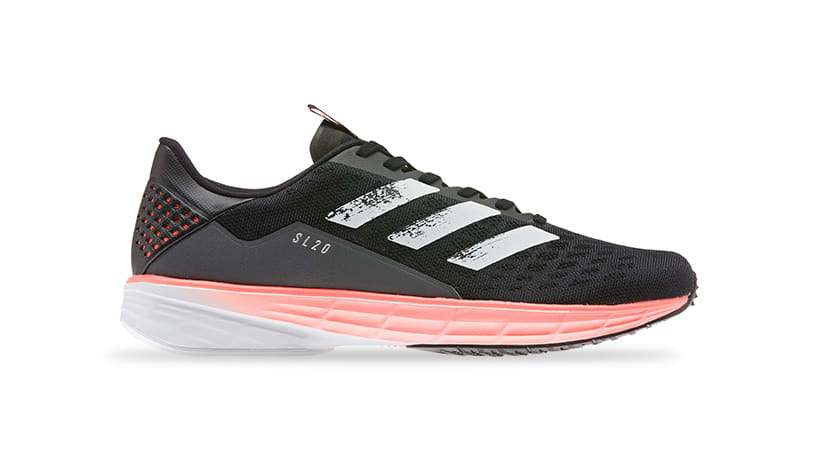 SL20 
Not every day is race day. That's why the SL20 makes the list. Not in the adizero range, the SL20 is still perfect for everyday training—offering comfort that lets you focus on the run. A double-layer upper ensures a close fit without sacrificing breathability. The full Lightstrike EVA midsole balances cushioning and lightness. Finally, underneath, the Continental outsole gives excellent grip.
For the mid-range runner 
Flying through mid-distance runs? Aerospace engineering inspired the adidas solar range. Comprising various mid-soles like Boost and Bounce, the range is consistent in its unique mesh upper for support and moldable fit. 
For those starting to pick up the pace on their run journey, the adidas supernova range offers a responsive and responsible run. Cushioning at the forefoot and the heel provides comfort, whilst the mesh upper provides breathability. What's more, these shoes are built using recycled materials, including Primegreen.
Ready for speed 
adizero has always been about bettering your best. Ever since their record-breaking debut, they've only got better. And, with each innovation, every athlete is empowered to push past what was possible.
Time to unlock your fast.