The Only Ultraboost Sizing Guide You'll Ever Need
Upgrade your runs with the adidas Ultraboost. Read our size guide to discover the differences between each Ultraboost version to find perfect the size for you!
SO WHAT SIZE ULTRABOOST SHOULD YOU GET?
The answer depends on what you're doing with your shoe. Looking for comfortable streetwear, or a workhorse for marathon training? The difference matters, so here are a few tips to figure it out:
Work out your true shoe size. Use our guide to get a precise measurement.
Measure in the evening because feet tend to swell up after being put to work all day.
In between sizes? You might go one size down for a tight fit, or one size up to go loose.
With every release in the Ultraboost line, each feature is tuned for optimal fit, response, and performance during runs of all distances – from 1Ks to marathons.
Let's see how Ultraboost sizing breaks down for each version.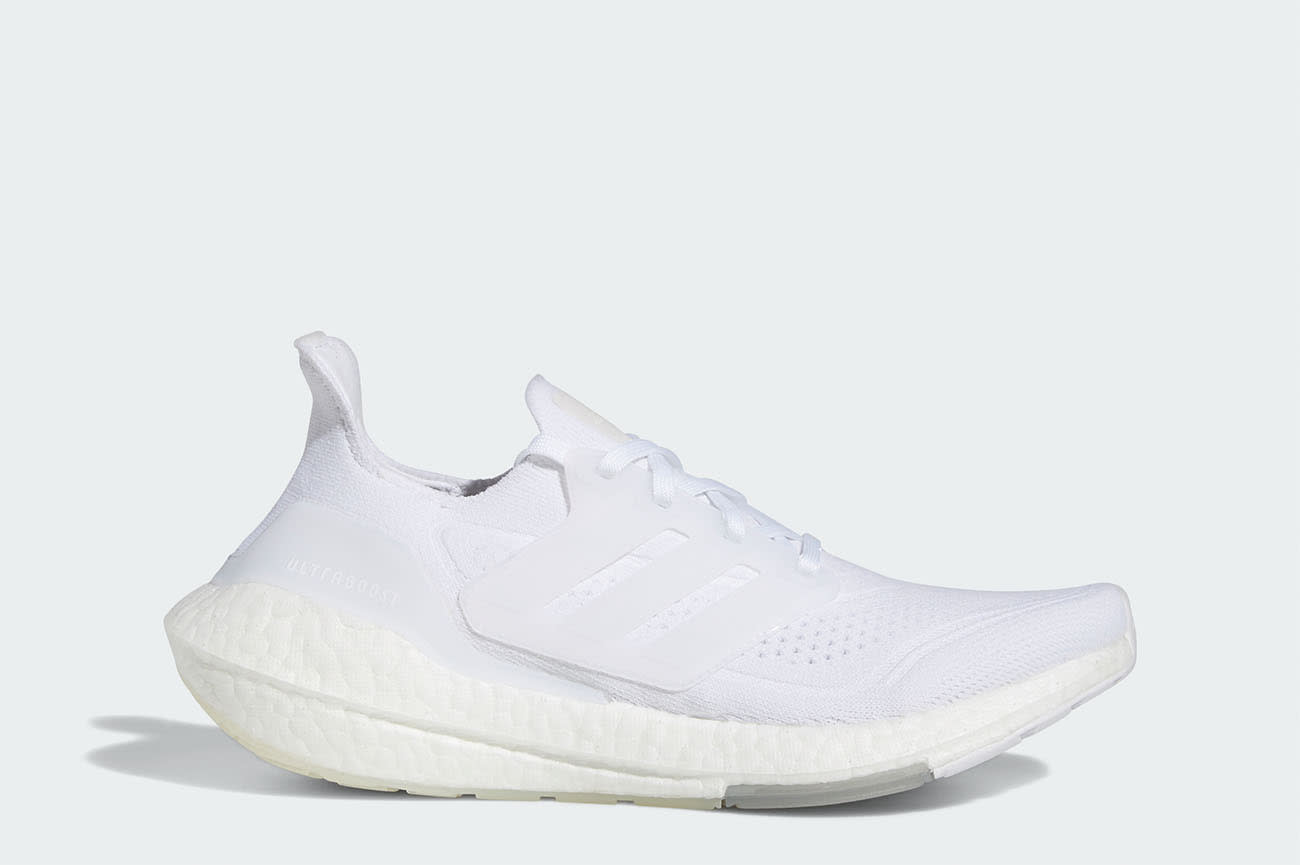 ULTRABOOST 21 SIZING: INNOVATION AFTER INNOVATION
 In hot pursuit of the ultimate running experience, Ultraboost 21 is designed to harmonize three key factors in running footwear: weight, cushioning, and responsiveness. With 6% more Boost capsules in the midsole than Ultraboost 20, these shoes are built to maximize energy return each time your foot hits the ground.
How it fits: The Primeknit+ FORGED upper is optimized for stretch only where you need it, while also providing allover support. Internal heel pillows in the midsole are strategically placed to prevent your foot from slipping –– enhancing the secure, sock-like fit of Ultraboost 21.
How to pick your size: Like previous iterations, Ultraboost 21 is designed to fit true-to-size.
ULTRABOOST 20 SIZING: SAY GOODBYE TO GRAVITY WITH THE ULTRABOOST 20
Like its predecessor, Ultraboost 20 features a midsole with 20% more Boost capsules than previous versions, fine-tuned torsion spring, and coreless 3D heel frame –– plus some new features, like precisely-placed Tailored Fiber Placement (TFP) stitching in strategic areas of the Primeknit uppers.
How it fits: The shoe features Primeknit with TFP stitching to provide an optimal balance of sock-like fit & support exactly where you need it in every stride. In addition, a new heel construction provides enhanced padding around the Achilles for improved heel fit. Combined with the iconic Boost midsole and Torsion spring from the UltraBoost 19, UltraBoost 20 will help you chase your personal best on every run. 
How to pick your size: Ultraboost 20 sizing is true to size; tip: if you have wide feet go a half size up.



ULTRABOOST 19 SIZING: RETHOUGHT.RECODED.REBOOSTED.
Ultraboost 19 takes an innovative approach to running footwear by focusing on four key features: seamless fabric, improved energy return, fine-tuned torsion, and re-engineered heel support. "We went back to the drawing board for Ultraboost 19," explains Sam Forester. "It was challenging, but we knew that runners around the world would be better off for it."
How it fits: The shoe features Primeknit 360—a seamless 3D knit upper woven to offer a fit so close it's hard to feel where your foot stops and the shoe starts. But the tech onslaught doesn't stop there—the coreless 3D heel frame keeps your foot firmly in place during even the most strenuous workout.
How to pick your size: Ultraboost 19 sizing is true to size, and the precision fit of the 3D knit upper means just about anyone will feel right at home wearing their measured size.
ULTRABOOST 4.0 SIZING: IMPROVING ON GREATNESS
Adaptive, comfortable, energizing. Through painstaking attention to detail and constant collaboration with users, the 4.0 built on every release before it to become the one running shoe to rule the road.
How it fits: The 4.0 brought back the extra-breathable mesh from early Ultraboost models and evolved the heel counter to give the Achilles even better support. Set atop the stretchweb outsole, it delivered on comfort, traction, and energy feedback for lengthy runs.
How to pick your size: Wider-footed runners should go a half size up. Those with normal or narrower feet should stick with a true-to-size fit.
ULTRABOOST 3.0 SIZING: EXPANDED COLORS, EXPANDED FIT
The 3.0 blew up the style potential of the Ultraboost with a surge of midsole color options. Sneaker collectors went wild, and besotted run crews from cities around the world helped the shoe make an indelible mark on the running landscape.
How it fits: This was the first Ultraboost with an entire upper constructed of Primeknit. With the 3.0, the Ultraboost went from feeling like a sock to something approaching a second skin, thanks to motion weave technology enhancing the overall stretchiness of the upper.
How to pick your size: With an even more flexible construction, the 3.0 should be a true-to-size fit for just about everyone.
ULTRABOOST 2.0 SIZING: THE GREATEST EVER, AGAIN
The second Ultraboost drop was the continuation of a running juggernaut, incorporating user input to significantly up the comfort factor of the upper.
How it fits: Subtle updates to the weave improved how the upper hugged your foot, while the same Primeknit comfort and breathable mesh that made the 1.0 (OG) such a solid shoe allowed you to run without any discomfort.
How to pick your size: Ultraboost 2.0 is similar to the 1.0 (OG), so go with your regular size, unless you have wide feet. In that case, go a half size up.
ULTRABOOST 1.0 (OG) SIZING: A GAME-CHANGING, HIGH-PERFORMANCE FIT
In 2015, the first Ultraboost bridged the gap between form and function with a silhouette that caught the attention of world-class runners, force-of-nature celebs, and sneakerheads alike.
How it fits: "While we mostly got attention from users for the midsole, during development the fit was our quiet obsession," said Ultraboost Senior Development Manager Sam Forester. That fit was achieved through the sock-like comfort of the Primeknit-laden upper and the highly breathable perforated mesh of the tongue. 
How to pick your size: Ultraboost 1.0 (OG) sizing is TTS (true to size), so for most people their measured size is the way to go. For wider feet, go a half size up. 
ULTRABOOST UNCAGED SIZING: REFINED TO THE ESSENTIALS
The Uncaged was designed for minimalist runners who were cutting the cage off their Ultraboosts. But the Ultraboost team didn't just cut away tech here. They reinforced the upper to ensure it could handle long stints on the road without the cage.
How it fits: "Our top priority was a high-performance, supportive fit without a cage. To accomplish this, we had to internally reinforce the weave of the Primeknit upper," explains Matthias Amm. The result feels like an ultra-strong sock that fully supports the midfoot.
How to pick your size: The Uncaged is true to size, so most people will be happy with their measured size. Go a half size up if you have wide feet.
Stay Updated
Be the first to know all about stories, launches, and events.