THE ESSENTIAL THREE-MINUTE WARM-UP ROUTINE
If you fail to prepare, you prepare to fail. It is often said that planning is just as important as execution. This article offers helpful and fun routines offered by a fitness expert to help you get ready for your workout in 180 seconds. On your marks, get set!
Finding 30 minutes or more in your day for a workout can be tough in itself. Trying to squeeze in a warm-up session before that can be tricky. But don't fret: You can adjust your warmup and still reap all the injury-preventing benefits, as long as you alter it in the right way.
So, what's the least amount of time you can get away with spending on the warm-up? "Three minutes", says Jordan Brown, Performance Specialist at EXOS.
In three minutes, you can increase your core temperature, activate the muscles you'll need for your workout, and prep the nervous system (the cells and nerves that carry messages from your brain to your muscles). All of these things can help you to be stronger, faster, and more powerful during the actual workout portion of your workout.
No matter what activity you plan to do - like run, lift, dance, box, cycle, whatever - start your warmup with a 70-95 metres jog to get your heart rate going', says Brown. That should take you less than 30 seconds, so no excuses! Then, move on to some dynamic movements like the ones below. "If you have time for all of them, that is best as they will get you fully prepared for activity since they're full-body exercises that target major muscle groups," explains Brown.
That said, if you're really short on time, choose just two or three of the following moves, opting for ones most similar to the activity you're planning to do. So, leg-based moves if you're going running or doing a lower body strength workout for example.
Move through each exercise one after the next with little to no rest in between. But, take your time during the actual exercises, warns Brown. "Using proper technique is imperative to getting the most out of each movement," he says.

GLUTE BRIDGE – 6 REPS
How to: Lie on your back with your feet planted on the ground and knees bent at 90 degrees. Slowly lift your hips up off the ground until they're fully extended. Pause, then slowly return to start. That's one rep.
Pro Tip: Once you have mastered this move with both feet on the ground lift one foot up and do 6 reps on each side.
Feel it: Working your glutes, and to a lesser degree your hamstrings and lower back.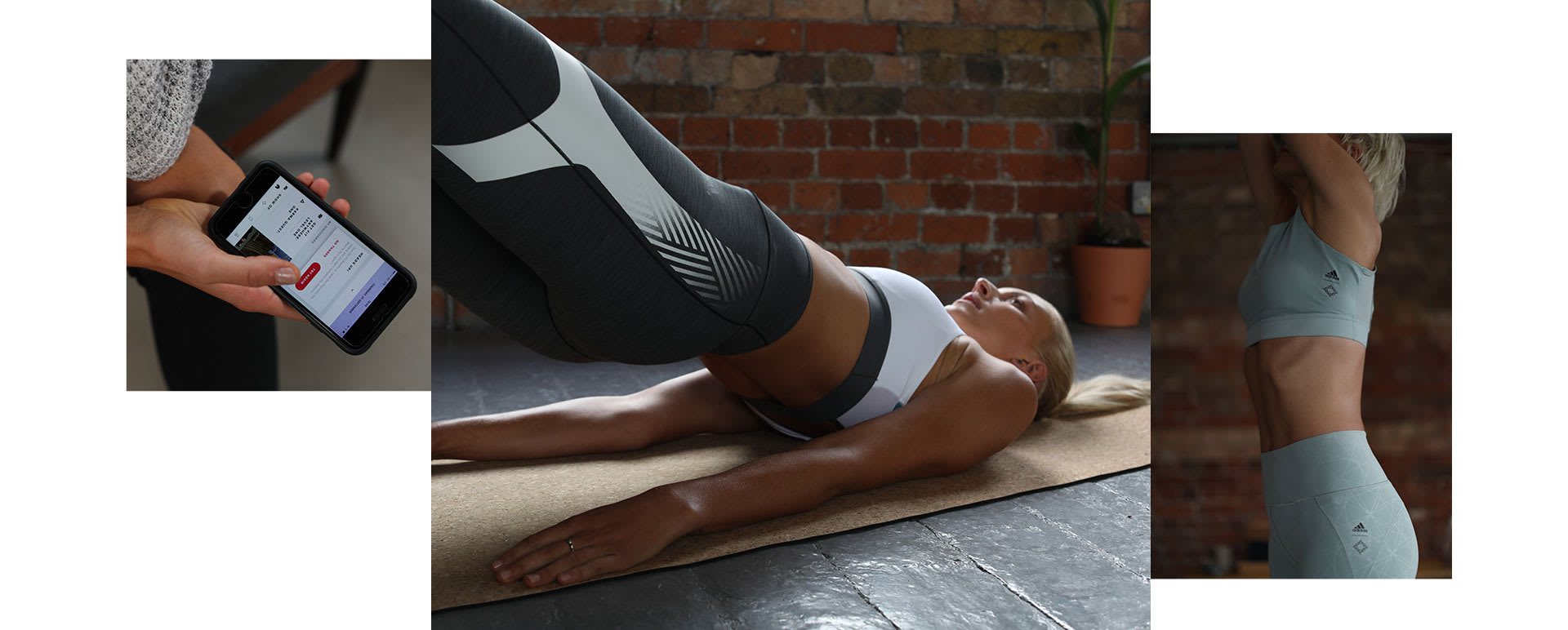 90/90 STRETCH – 6 REPS EACH SIDE
How to: Lie on your side with your knees bent to 90 degrees. Rotate your chest and right arm to the right, trying to place your back on the ground. Hold for two seconds before returning to the starting position. Repeat for all 6 reps. Then switch sides.
Feel it: Stretching your torso, middle and upper back.

KNEE HUG – 6 REPS EACH SIDE
How to: Lie on your back with both legs straight. Lift one knee to your chest, giving gentle assistance by grabbing the knee and pulling it closer to you. Exhale and hold for 2 seconds. Relax and return to the starting position. Complete the set on one side before repeating with the opposite leg. Continue until you've done 6 reps on each.
Feel it: Stretching your glutes, hamstrings, and hip flexors.
REVERSE LUNGE WITH ROTATION – 6 REPS EACH SIDE
How to: With your left foot, step back into a lunge. Place your left hand on the ground and your right elbow to the inside of your right foot. Hold this stretch for 1 to 2 seconds. Rotate your right arm and chest to the sky. Hold again for 1 to 2 seconds. Bring your right arm down and reach it across your torso to the opposite side as you place your right hand outside your right foot and push your hips to the sky. Return to the starting position, switch sides, and repeat.
Feel it: Stretching the hip flexor of your back leg and working the glute of your front leg.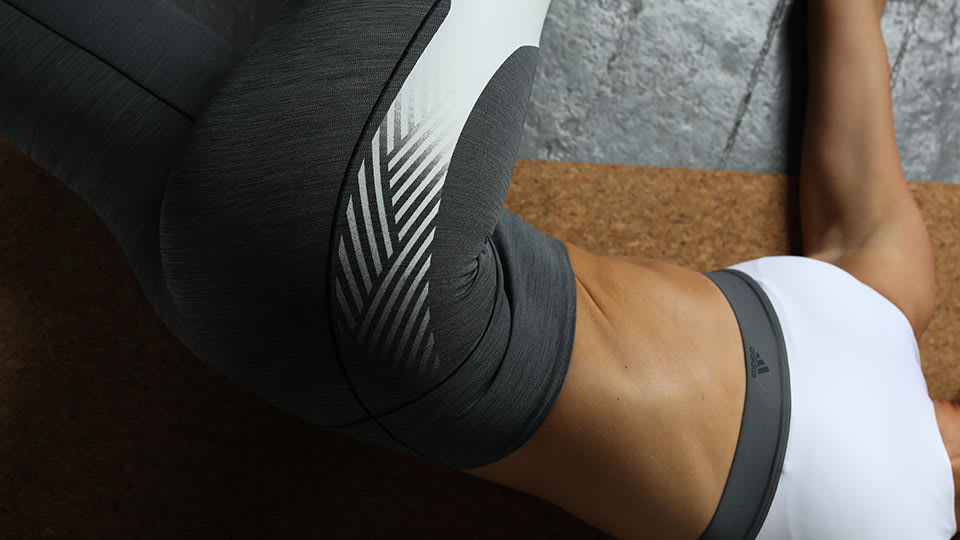 DROP LUNGE – ALTERNATING – 6 REPS EACH SIDE
How to: Start standing tall with arms at your sides. Then, reach one foot back behind you and across your other foot. Square your hips back to the starting position, and then sit back and down into a squat. Stand and return to the starting position. Repeat in the opposite direction. Continue alternating.
Feel it: Stretching the outsides of your hips.

LATERAL SQUAT – LOW – 6 REPS EACH SIDE
How to: Stand with a very wide stance, then shift your weight to the right, bending your right knee and keeping your left knee straight, and hold for two seconds. Keeping your hips in squat position, slide them to the left side and repeat stretch with your right leg straight. Continue alternating sides.
Feel it: Stretching your glutes, groin, hamstrings, and quads.
HEEL TO GLUTE – WITH ARM REACH – 6 REPS EACH SIDE
How to:
Start standing with feet together and reach back to grab your right ankle with your right hand and pull heel to glute as your left hip and ankle extend. Step forward with your right foot and repeat stretch on the other side. Continue alternating.
Feel it:
Stretching your quadriceps and hip flexors
Stay Updated
Be the first to know all about stories, launches, and events.