If you want to graffiti your shoes, do it. Own who you are. But if you want them looking pristine, this is how you keep 'em clean. Cause taking care of your shoes, whether they're a brand-new drop or your favorite everyday pair will help them hold their look or perform longer.
TYPES OF SHOES
Looking fresh helps you feel confident out on the streets, on the court, the pitch, the diamond or the gridiron. Get your look dialed in and make sure your shoes are performing at their best by knowing how to keep your shoes clean.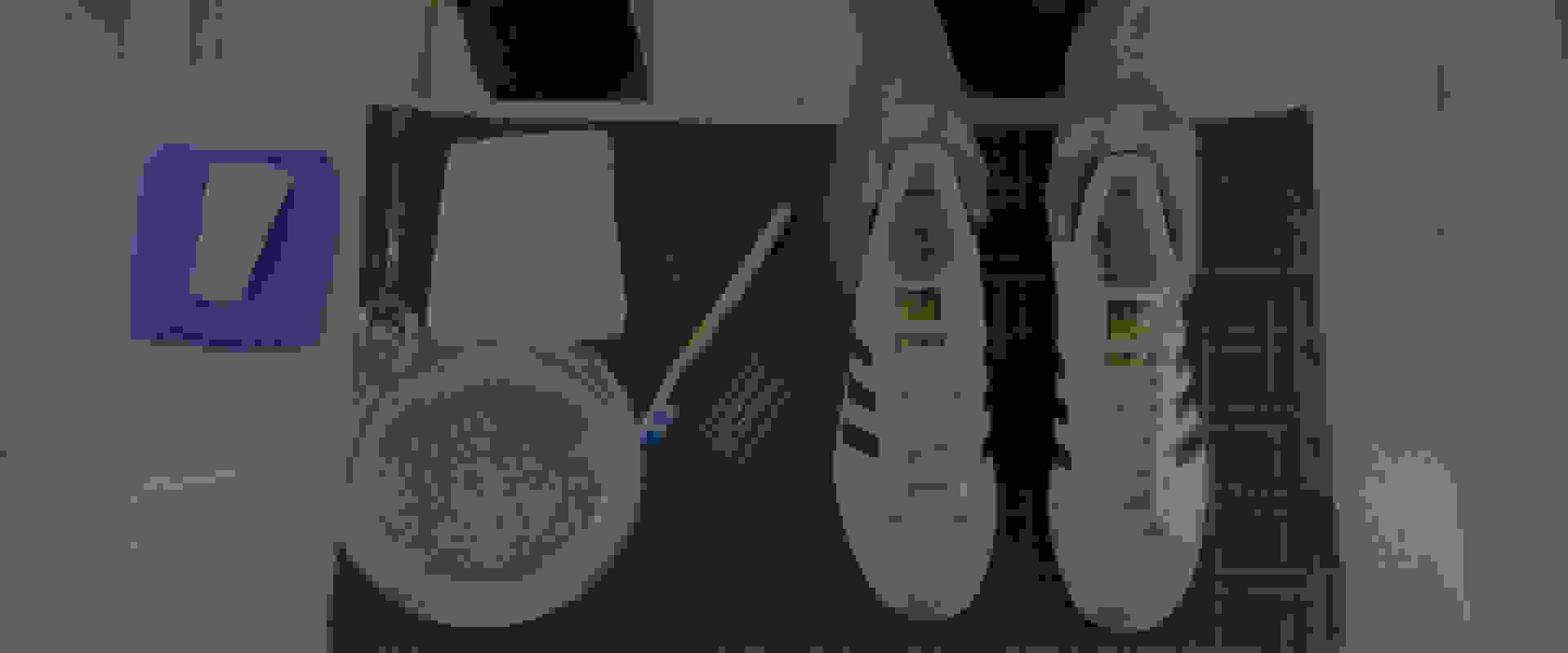 HOW TO CLEAN SNEAKERS
There's no better feeling than a new pair of kicks. But how do you keep them looking fresh? Check out these tricks of the trade.
Step 1
Remove dirt by banging the soles together. Then use a toothbrush to scrub away remaining dirt.


Step 2
With a washcloth soaked in warm water and a mild liquid laundry detergent, gently wipe away stains.


Step 3
Rinse wash cloth in warm water and remove excess soap and suds on the shoes. If necessary, use a soft bristle toothbrush to clean white outsoles.


Step 4
Air dry indoors at room temperature.


Step 5
Remove laces and insoles (if possible). Place them inside a pillowcase and then run them through a washing machine on cold / delicate with laundry detergent.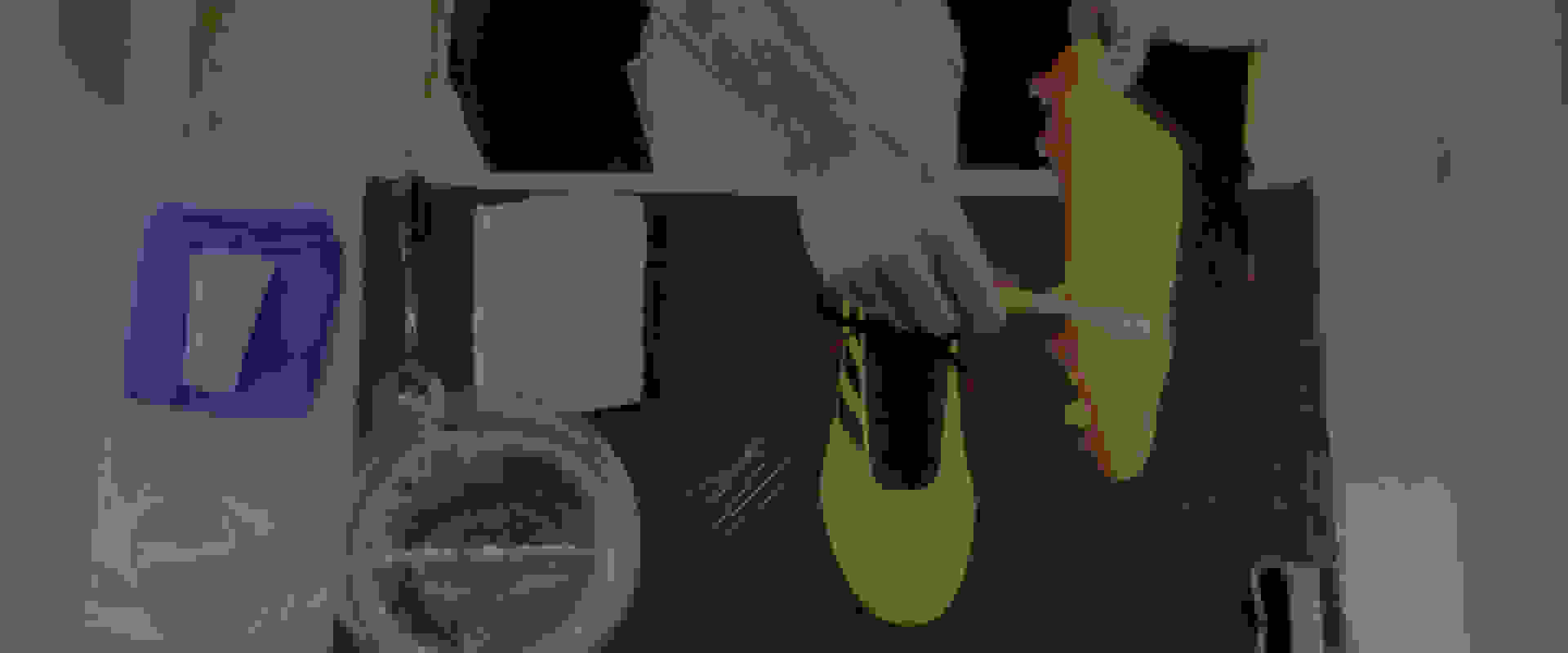 HOW TO CLEAN SOCCER CLEATS
In soccer, conditioning is a vital part of the game. Whether we're talking about a player's ability to sprint into the 90th minute or we're talking about keeping soccer cleats in mint condition. Here's how it's done:
Step 1
Once mud has dried, knock cleats together - sole against sole - to remove excess dirt, grass and mud. Remaining dirt should be scrubbed away with a soft brush.


Step 2
Mix mild, eco-friendly liquid laundry detergent with water and apply it using a wash cloth to remove stains.


Step 3
Dip the washcloth in warm water and remove excess soap and suds found on your cleats.


Step 4
Air-dry at room temperature.


Step 5
Place laces and insoles inside a pillow case and run them through a washing machine set to cold / delicate with laundry detergent. This also helps eliminate bad odors from the insoles.
CAN YOU PUT SHOES IN THE WASHING MACHINE?
Yes, the good news is that most shoes can be cleaned in the washing machine. The bad news? If you're not careful, you could cause permanent damage to your shoes. So, here's the steps you need to take to make sure your sneakers come out looking fresh and ready for the streets, and not the trash can.

Washer Friendly Shoes: canvas, pleather (fake leather), rubber, plastic, knit. NOT Washer Friendly Shoes: suede, real leather.
Step 1
Remove the laces, place them in a pillowcase or mesh wash bag. This ensures grime doesn't get caught underneath the laces and the shoes won't get tangled.


Step 2
Use a soft brush to remove as much excess dirt and scuffs as possible.


Step 3
Toss shoes, the bag containing laces/insoles and a few old towels into your washing machine. The towels will balance the load and protect the shoes from banging around inside the machine.


Step 4
Add a small to medium-sized dose of liquid detergent (powdered can get stuck in the shoes). Run the washing machine with cold water on a delicate cycle with an extra rinse to remove lingering soap residue.


Step 5
ALWAYS air dry and avoid direct sunlight because it could change the coloring on certain shoes or shrink them. Placing a dry cotton towel inside each shoe will also help them retain their shape as they dry. Never throw them in the dryer or use a hair dryer because the high heat can warp the soles.
Knowing the proper way to clean your shoes and cleats ensures you'll have each pair for years to come. By performing routine maintenance and cleaning, you won't have to run out and buy a new pair of shoes every year or every season. Instead, they'll be ready the moment you need them. Like any piece of equipment, shoes and cleats last longer and perform better if they're taken care of.