GRABBING THE CHANCE
Brooke Raboutou did not expect to qualify for Tokyo. But having made the team, can she now use her youthful passion for climbing to blow up the competition?
Brooke Raboutou is the classic wild card. A high-energy, new kid on the block, who was still doing the youth climbing circuit the year before Tokyo qualification. She had just started college, but having earned herself a place on the US National Team she suddenly found herself in contention, aged just eighteen. After a powerful performance at the 2019 World Championships, Brooke became the first American climber to earn their spot.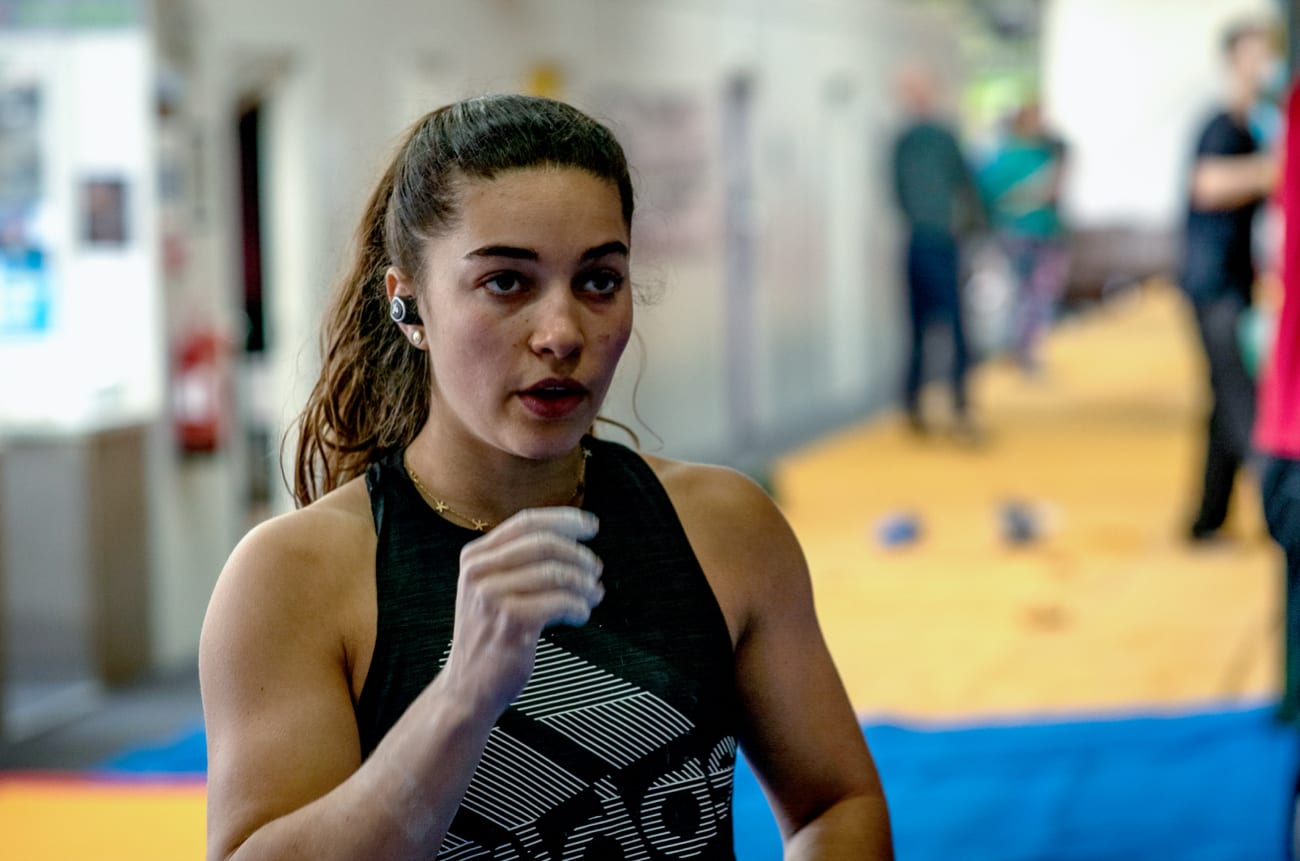 To say she was shocked would be an understatement. "It's crazy," she said at the time. "I didn't expect it at this point. I'm super-psyched but I definitely wouldn't have been disappointed if it didn't happen." Unlike the other climbers who'd been targeting this competition with a laser-like focus for years, Brooke found herself in the privileged position of having very little expectation on her shoulders.
Climbing is set to be an electrifying watch when it makes its debut in Tokyo, drawing in new fans from all over the world. Young athletes with nothing to lose are always exciting prospects, unless you're a favourite who is having to face them, in which case their presence is terrifying. Can Brooke tear up the status quo by channelling her youth and rookie mindset into a world-beating performance? Or will the more established athletes use their experience to prevail?
A CHILD OF CLIMBING ROYALTY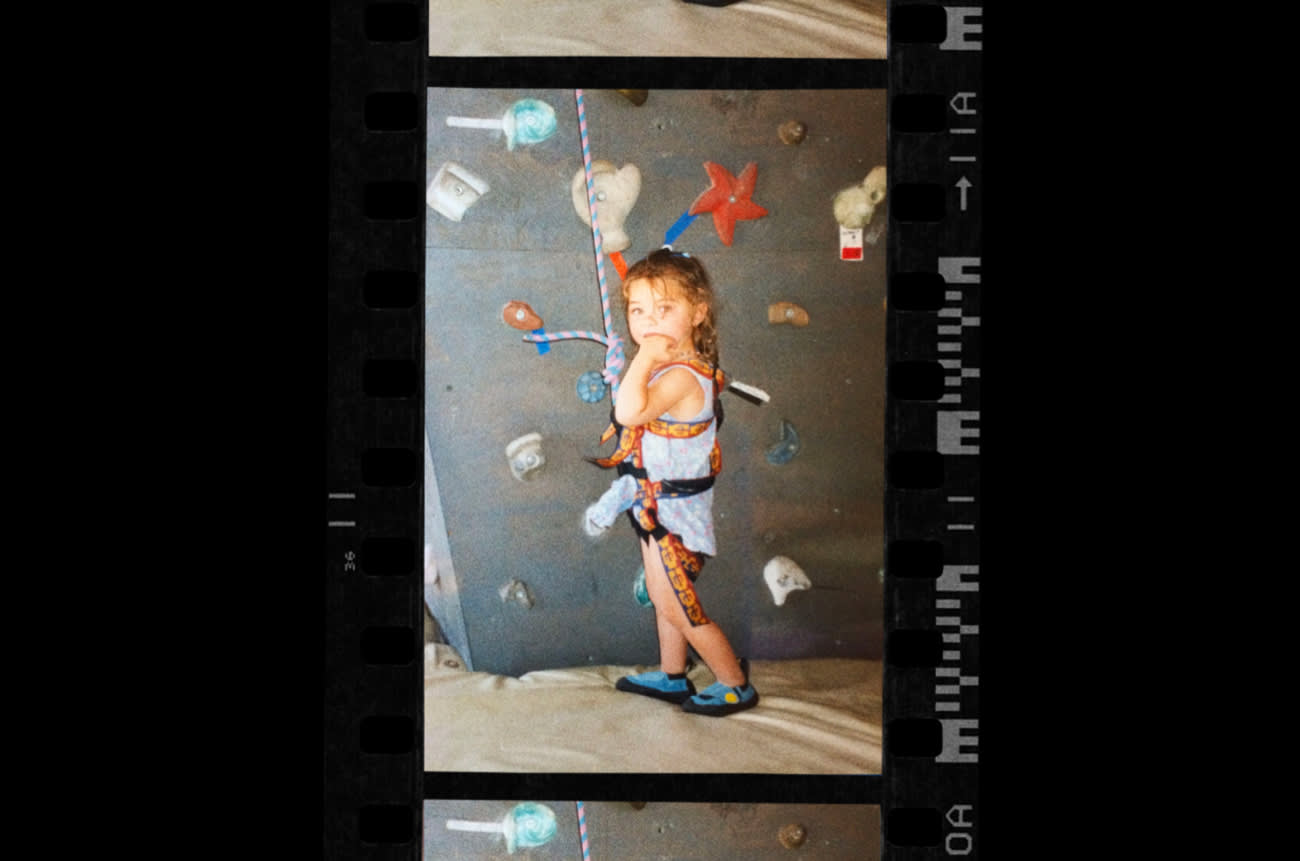 Brooke was born in Boulder, Colorado, a fitting birthplace given the sport she would become so talented at. Both her parents had been climbing World Champions, with her mum a real pioneer in the women's sport, at a time where there was scant gender equality on the scene. It's no surprise that Brooke and her older brother were introduced to the sport at a young age: There are photos of Brooke roped up to climb while still wearing nappies, and it didn't take the siblings long to excel.
I was born into it, so I've had to be good.
Aged nine Brooke was breaking records and climbing bouldering routes with difficulty gradings many proficient adults would struggle to complete. Then in her teens, she began to perform well at youth climbing contests, with a speed and precision to her movement that belied her age. "I was born into it, so I've had to be good," Brooke laughs.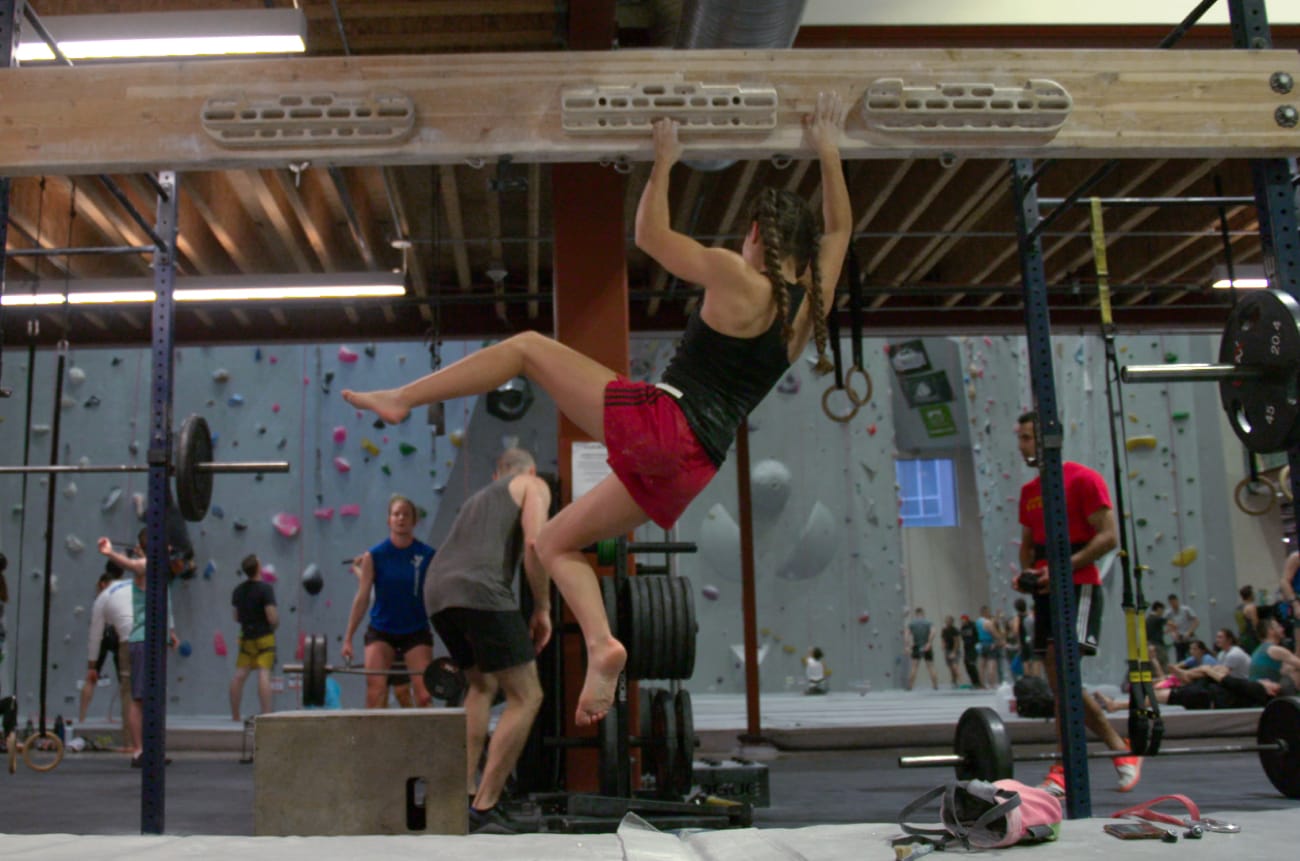 It's easy to imagine that having professional climbers for parents would be a burden, the ultimate hothousers in a new Olympic sport that has moved a long way from its roots, but Brooke only sees the benefit. "Having my parents as World Champions makes me excited and proud," she says. "They've been a big part of getting me here, and having their wisdom is really nice in these competitions. They've been really helpful with my mental game as they have so much experience. My Dad always says: 'Climbing is just you and the wall... just focus on what you need to do.'"
Most of the time before a competition I can't sleep because I'm so excited to see the new climbs.
With their help, Brooke doesn't dwell on the pressure of a given situation. Instead she instinctively channels her energy into finding what she is really capable of. "Most of the time before a competition I can't sleep," she says. "Because I'm so excited to see the new climbs and to be able to try my hardest."
FINDING BALANCE
Helping Brooke with the mental side of contests is one thing, but her parents have also nurtured something far more important in her: a deep love of climbing that stretches far beyond how she performs on indoor walls. "As a kid, I didn't train," she said. "I just climbed. And I still mostly climb for my training."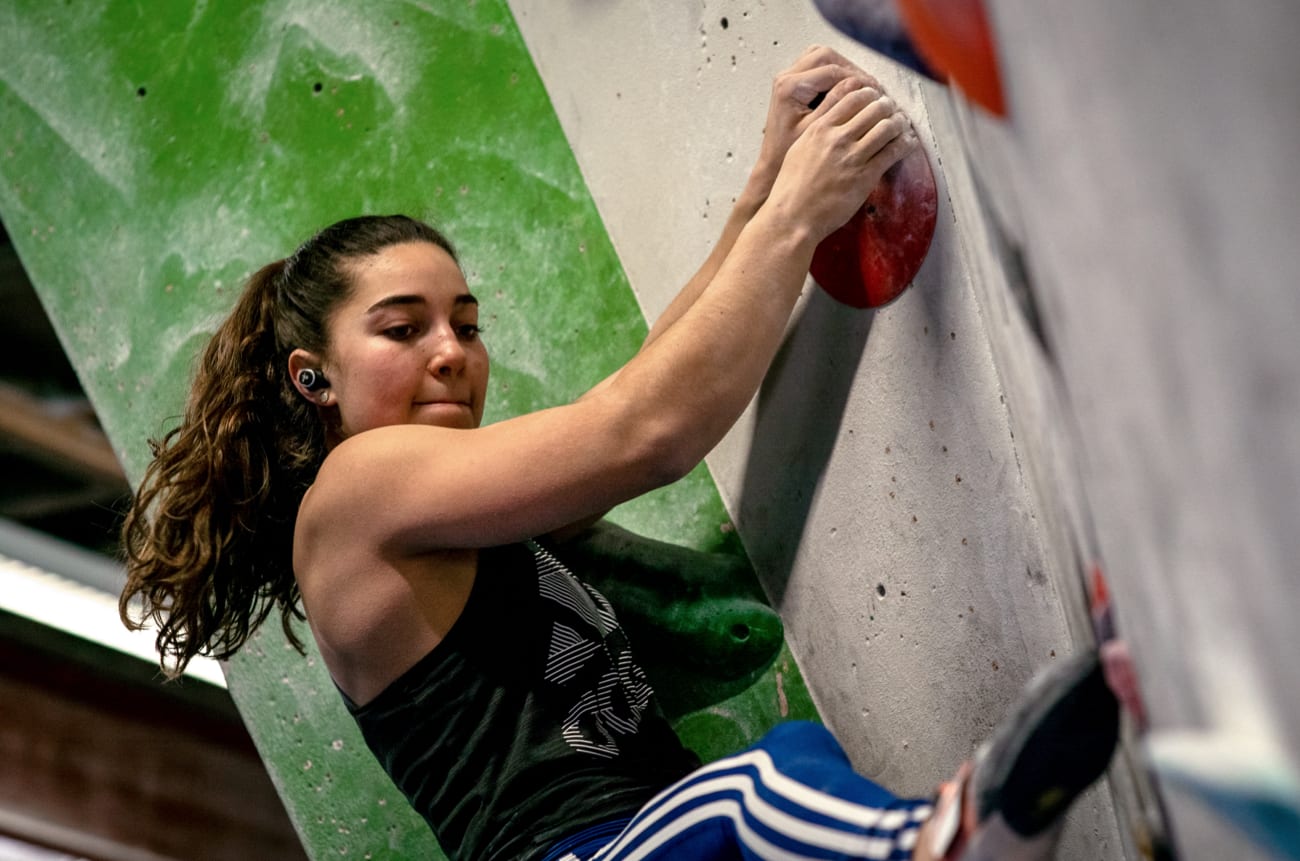 Unlike many of her competitors who spend endless hours cross-training in the gym or doing repeat drills on the wall, Brooke is all about bringing the fun. She's either trying out fresh parkour-inspired sequences indoors, perfecting fist bumps while doing one-handed pull ups, or taking off with a girlfriend to a National Park for a weekend of Bouldering away from the neon plastic handholds. This develops her physical strength of course, but also keeps her mind flexible and agile and her training exciting. It is a nod to her inherent youthfulness, which makes her a force to be reckoned with.
We weren't a beach vacation family, we just climbed, which I loved.
Outdoor missions are a particular highlight for Brooke. Her dad is French and her passion for climbing outside was forged during the long summer holidays the family would take in France. They would stay in the countryside near Toulouse and climb there immersed in wonderful nature all day long. "We weren't a beach vacation family, we just climbed, which I loved," she says.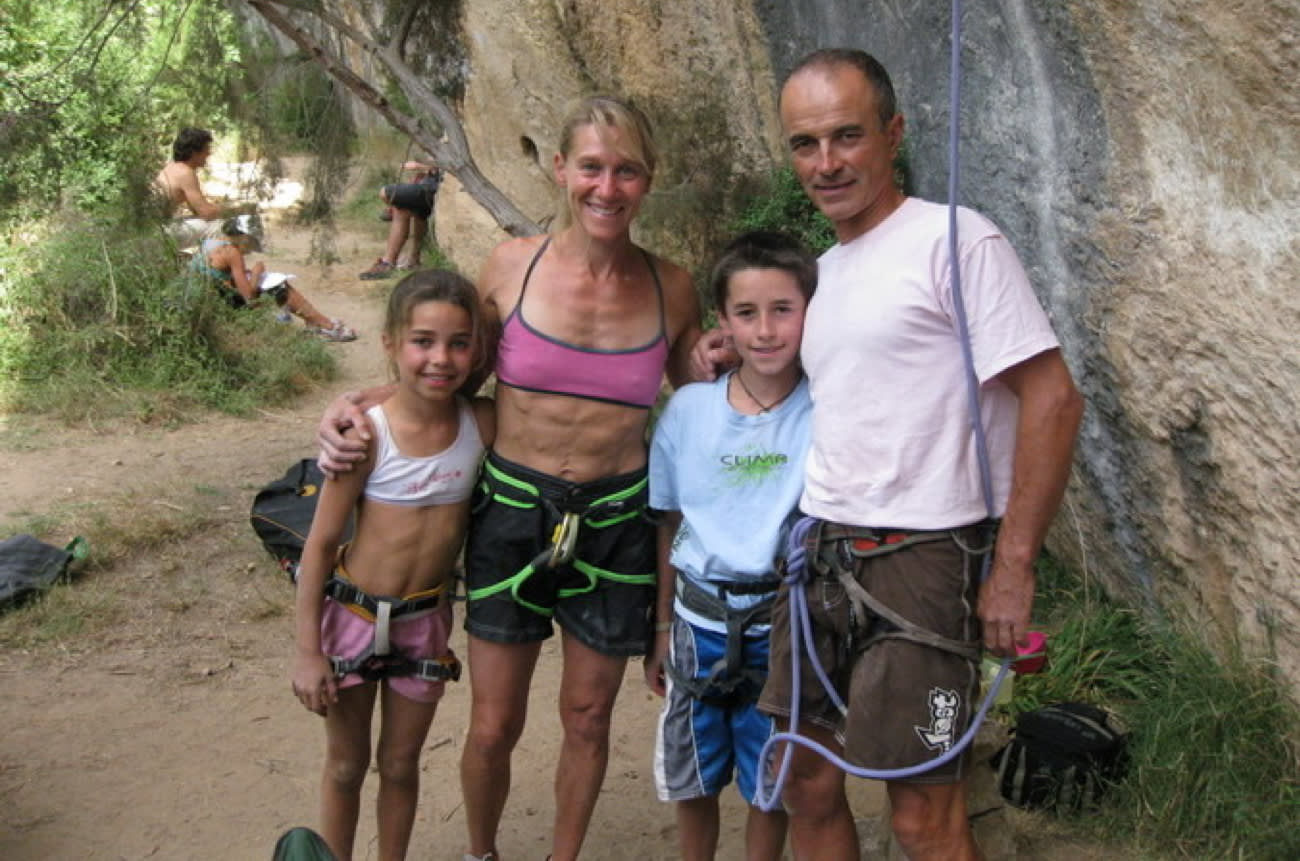 For Brooke, contest climbing was always just one part of the sport. "That's one of the big things I love about climbing, it's not just competing," she says. "Since I love the outdoors, I feel like it gives me the chance to accomplish so many other things."
COPING WITH POSTPONEMENT
Brooke had a shaky experience at the start of the pandemic in March, when she feared she'd be stranded in the UK. She'd just placed third at a contest, an hour from where her mum bagged her first World Cup win in Leeds in 1989, when the US imposed a ban on inbound travel. She found the experience of getting home through crowded airports with the virus raging "scary and overwhelming".
But she's a positive person, and within a week Brooke had picked herself up and begun filming her own brilliant takes of the "action sports athlete quarantining at home" genre, which saw her using stairs as hanging bars, a stone fireplace as a boulder wall, and her kitchen worktop as an overhang. Clips she clearly enjoyed making, and which no doubt provided a helpful distraction when days later it was confirmed that the Olympics would be postponed.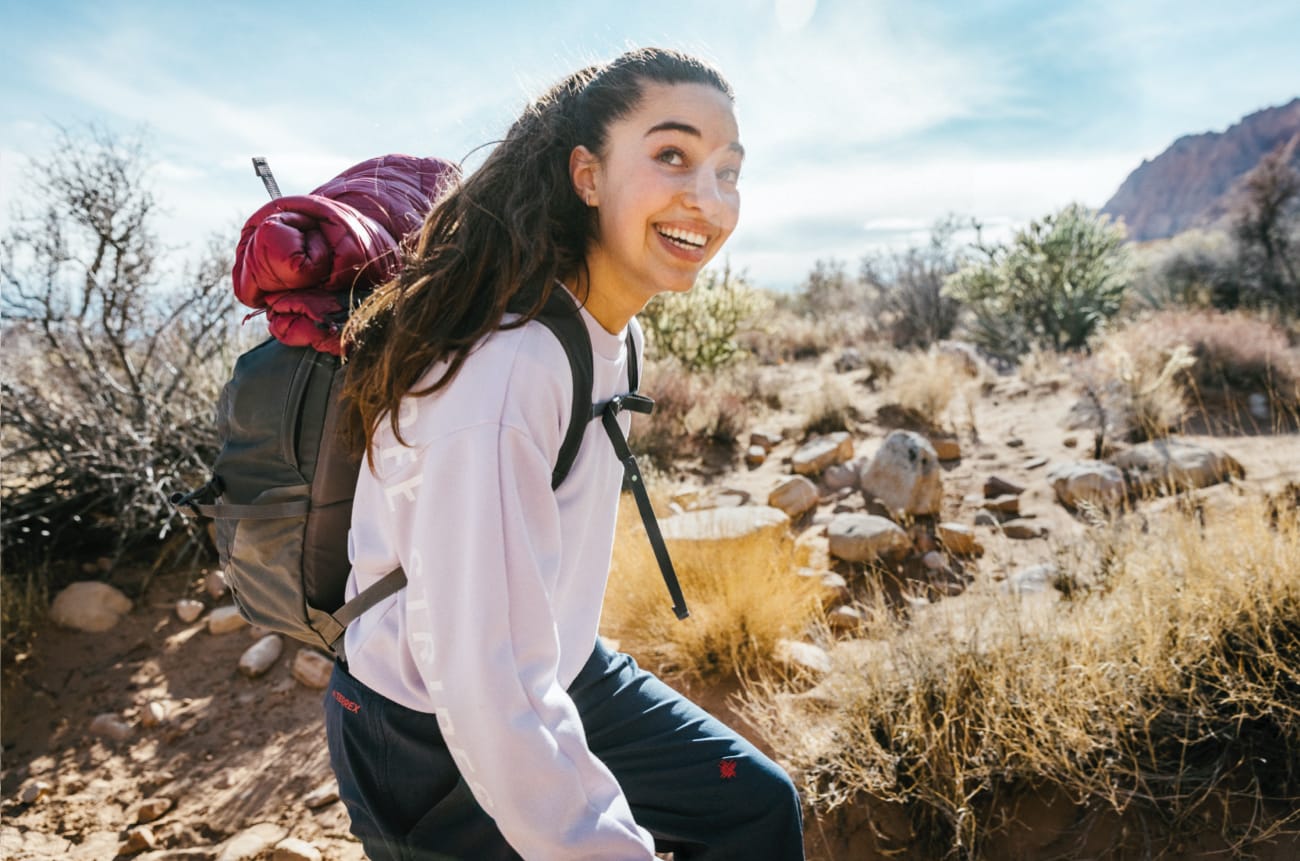 Brooke has stayed focused during this past year, keeping up with her business studies and making the most of that extra year of preparation for the Games by doing lots of climbing, indoors and especially out. She took on some epic adventures including a bruising trip to Red Rocks in Nevada to try some tough boulder lines, an experience she describes as"a straining couple of weeks of failure…", from which she walked away "without much on my tick list," as she put it candidly on Instagram.
Brooke isn't afraid of failure though, and is already planning a trip back. Whether she's thinking about her contest career or mastering new challenging boulder sequences on rock, she says: "I'm just beginning the journey, there's a lot to come."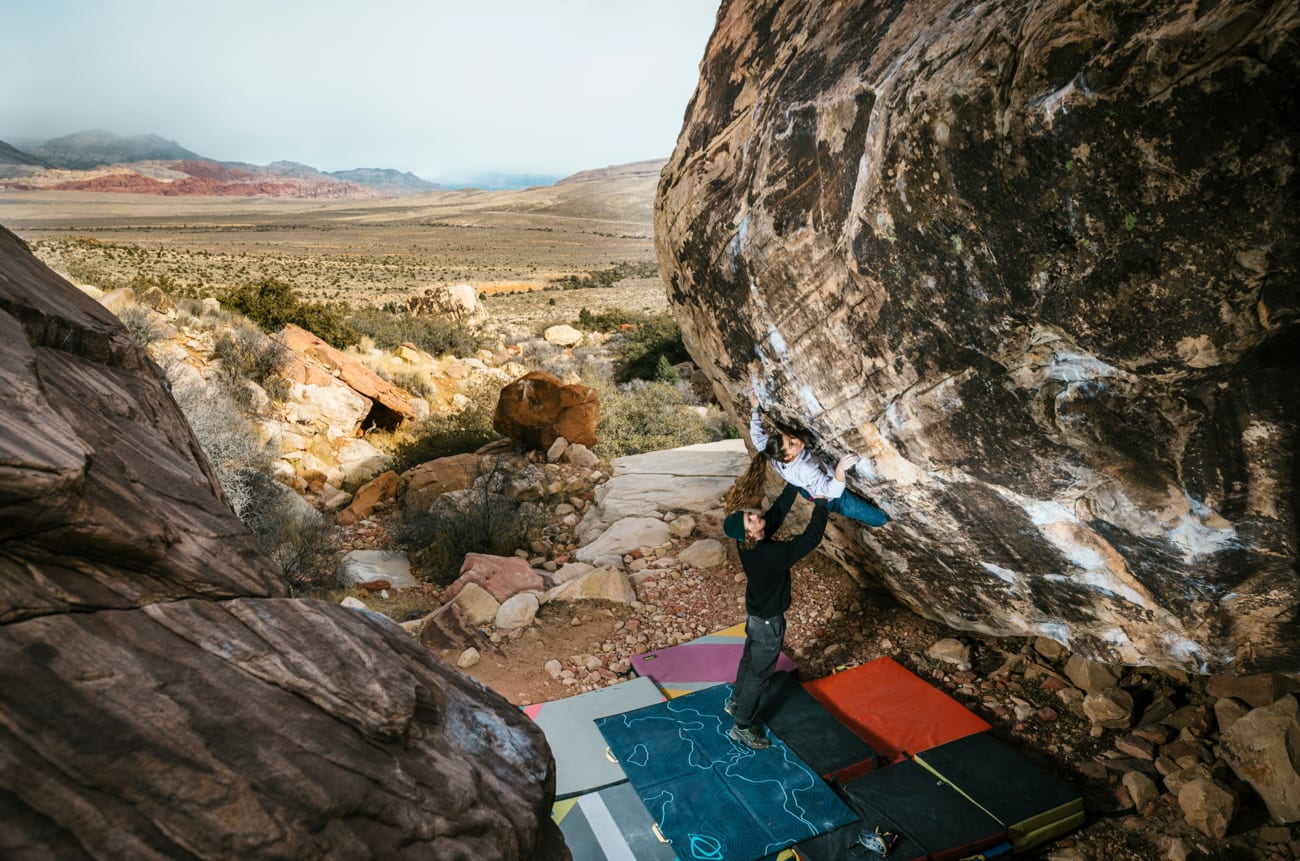 MAXIMISE YOUR CLIMB
The adidas Climbing collection is designed to help you make the most out of every single climb, no matter what life throws at you. Explore it now and maximise your climb.
Stay Updated
Be the first to know all about stories, launches, and events.