GIVE YOUR GEAR A FUTURE
You might be done, but your gear's not. Get rewarded for giving out-of-use shoes and clothes–from any brand, in any condition–the chance to be resold or reused. Join adidas membership to get started, and choose to give back on the adidas app.

Choose to give back exclusively on the adidas app. You must have version 4.18 of the app.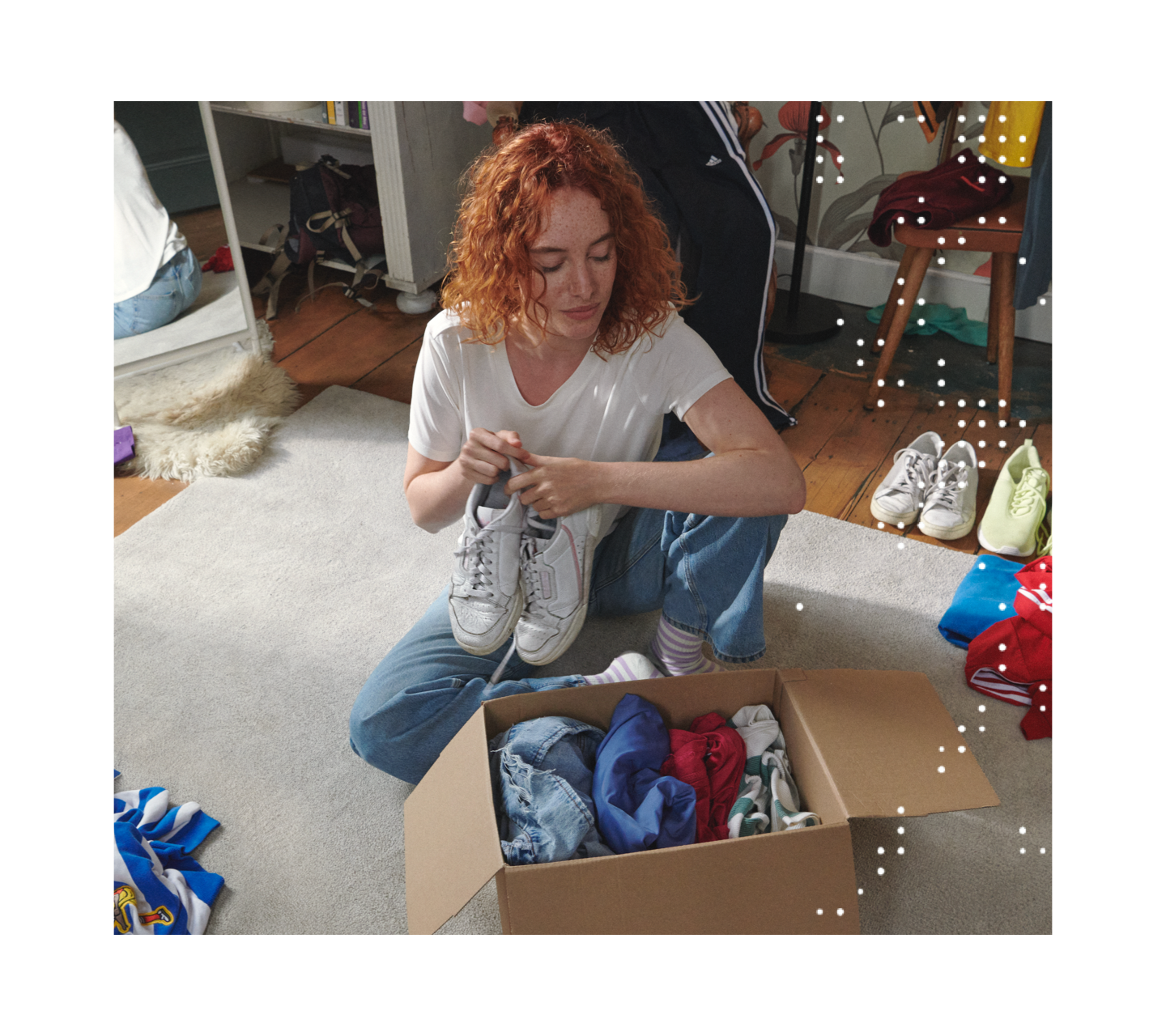 CLEAN UP, 
CLEAN OUTS
We've partnered with thredUP to keep gear out of landfills because plastic materials like polyester, nylon, elastane, and others are extensively used in our industry.
FAQ
Start from the account tab in the adidas app, which you can find
here
. Just follow the instructions, print and attach the prepaid shipping label, ship, and you're done!
We recommend washing before sending because we have real-life humans waiting to sort through your gear. So send your out-of-use shoes and clothes the way you would like to receive them.
The more we reuse the better, so we recommend reusing what's already around the house. Something like an old shoe box or packaging from your last online order. As long as you can seal it securely, and it's no bigger than 60 x 60 x 60 inches, you can use it as packaging. Just keep it under 30 lbs.
Yes! We accept all the shoes and clothes you're done with.
We take all shoes, clothing, and accessories in any condition.
This is to help us make the most out of every shipment. It's about receiving as many out-of-use items as possible, using the least amount of packaging and transport as possible.
Send gear you no longer need to the Give Back service for good karma, a more sustainable future, and adidas rewards.

You'll earn 200 membership points and adidas vouchers depending on the quality and quantity of the items:

The voucher is calculated using the highest quality item(s) you send. For example, if 1 x Like New item and 4 x Gently Used items are sent, the credit will be based only on the Like New item. Meaning, this would result in a $20 voucher.

LIKE NEW
6+ Items = $40 in total
1-5 Items = $20 in total

GENTLY USED
6+ Items = $15 in total
1-5 Items = $10 in total

SIGNS OF WEAR
1+ = $5 in total
Once you've shipped your unwanted gear to adidas, you should see the status "Shipped" in the Give Back tab on your profile within a few days. If you haven't received a confirmation in over 15 days, please get in touch with us on: 1-800-982-9337 5:00am - 8:00pm PT, Mon-Sat, or use the chat app on adidas.com
Synthetic materials like polyester, nylon, elastane, and others are extensively used in our industry. These plastics can take centuries to break down, so by reusing out-of-use gear, we hope to reduce plastic waste in landfills. Also when we extend the life of gear, and grow the reuse market, we can prevent some of the environmental impacts associated with making products in the first place.
Donation bins vary from city to city and bin to bin, so it can be difficult to know what can and can't be accepted. adidas aims to simplify all that by taking care of all the shoes and clothes you send.
adidas accepts all out-of-use gear. It doesn't matter what brand or what condition the item is in, we sort through everything and determine if it can be resold or reused. Made To Be Remade products require their own return service because the remaking process is streamlined to suit the exact materials within each Made To Be Remade product.
We're committed to phasing out virgin polyester where possible and switching to recycled polyester by 2024. By 2030, we aim to reduce our carbon footprint by 30%, and hope to achieve climate neutrality by 2050.
Yes. The service can only be accessed via the adidas app because it needs to be linked to your adidas profile. It's how we work out the prepaid shipping label and how we send adidas rewards if an item is resold.
Click here to check it out.