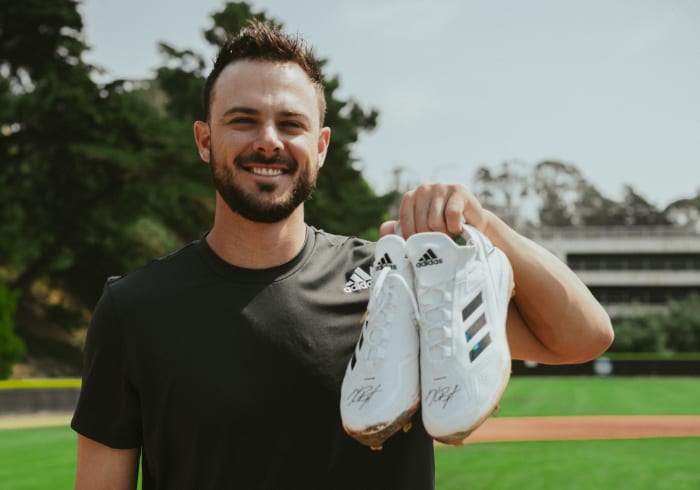 THE SHOWTIME SLUGGER
A beast behind the bat with a championship under his belt, Kris Bryant has earned his way to becoming one of the league's most exciting outfielders. Play with power in KB's favorite cleats, training gear and accessories.
KRIS BRYANT: THIRD BASE
Considered the best hitter in his draft class, Bryant quickly emerged as one of the most consistent and dependable hitters of all time. Putting on the number 17 jersey for Chicago, KB set a record for most RBIs by a rookie in 2015. He's won awards as the best amateur player, best minor league player, rookie of the year and most outstanding hitter. Bryant energizes the game by making clutch plays with his glove and at the plate. In big moments, the Northsiders in blue shirts put their confidence in Kris Bryant and he delivers.
THE CLUTCHMASTER
Kris Bryant is known for consistent hitting and clutch playmaking ability. With runners on base late in the game, there's no one the team trusts more to put the ball in play and bring home the winning run.
ADIDAS BASEBALL CLEATS: ICON BOOST
Bryant creates game-changing energy with his bat, and adidas Icon Boost cleats return energy with every swing. With the responsive cushioning of Boost midsole technology, the more energy you give the more you get back, for competitive edge over the competition even in late innings. A breathable mesh upper with TPU overlay provides a lightweight yet snug fit, while the Protrax 5 x 3 cleat configuration delivers enhanced traction on dirt or grass. The sneaker-inspired Icon Boost cleats with Gum Pack sole detail combines gameday performance with streetwear style.