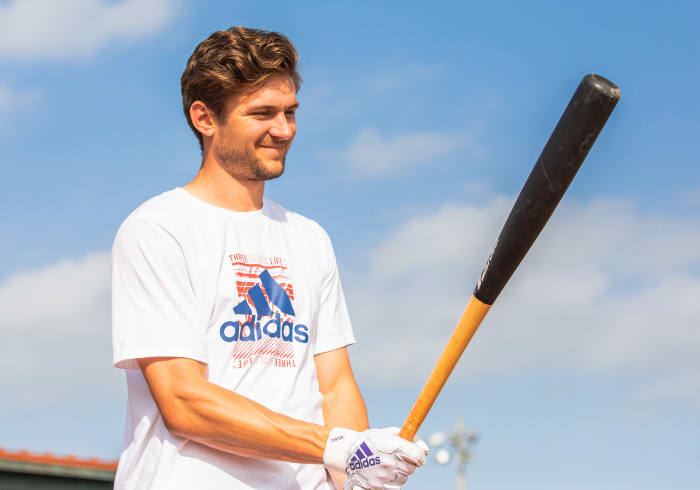 TRIPLE THREAT
A blur on the diamond from base to base, Trea Turner makes grand slams look easy. Whether he's hitting, fielding or running, he dominates the diamond with unmatched speed. Browse Trea's favorite training gear and burn your own base paths.
TREA TURNER: SHORTSTOP
In college Turner tied a conference record of five steals in a single game, then he tied a franchise record of four in a game for Washington. It's no surprise that his first hit in the pros came by running out an infield grounder. With a dependable glove and patient approach at the plate, Turner is a true team player and consistent playmaker. He fields his position, bats for average and never misses an opportunity to stretch a base hit.
THE FLASH
Known as one of the fastest players in the big leagues, Trea Turner impacts the game with pure effort and sensational footspeed. Wearing jersey number 7 for the capital city, he's a blur on the base paths and one of the top steal threats in the game.
ADIDAS BASEBALL CLEATS: ADIZERO AFTERBURNER 5.0
Trea relies on his feet to take extra bases, run down grounders in the hole and create opportunities for his team. adidas Afterburner cleats are the lightest shoes in the game, helping Trea take his speed and quickness to the next level. Shop Afterburner 5.0 cleats in options like Trea's Club colorway or the electric Afterburner Dipped and Afterburner Gold Pack—with just the right amount of flash to match your game. adidas Afterburner cleats feature a snug, sock-like fit in the upper, a Litestrike midsole for lightweight cushioning with every step and outstanding traction from the Sprintframe baseplate. Take the extra base with confidence in Afterburner baseball cleats by adidas.