Solarboost Shoe Collection
[3]
Get long-distance supportive running shoes to harness your all-terrain drive — push the pace with adidas Solarboost, built with focused cushioning to comfort feet on the move.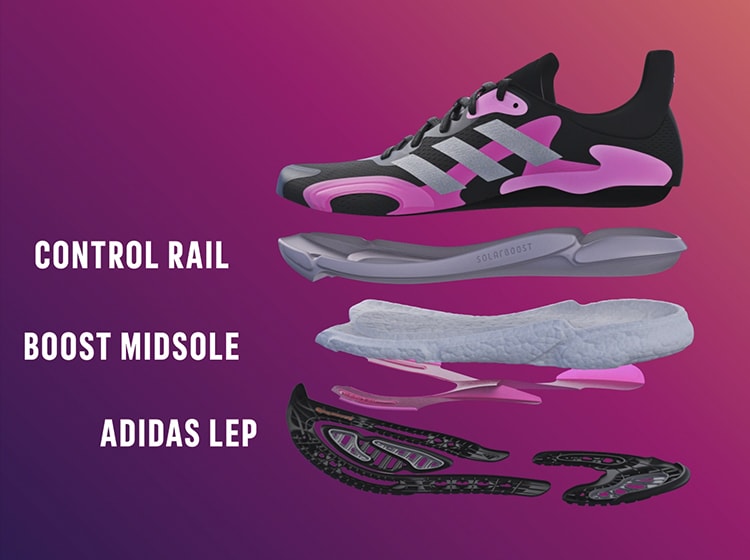 Define your ritual with Solarboost 3. Everyone has their rituals, ours just burns more miles. Run with a fully surrounding Control Rail, Boost Midsole and adidas Linear Energy Push. Tech you can trust for a run you can trust.
Go the Distance in adidas Solarboost Running Shoes
Take your run that extra mile with the support and comfort of the adidas Solarboost distance running shoe. A lightweight, flexible upper is fine-tuned with targeted reinforcement to create a supportive running shoe that can match your endurance. Responsive Boost cushioning keeps you moving by returning energy with every step. The outsole flexes with the natural movement of your foot while still giving you traction to grind out your mileage. Find adidas Solarboost distance running shoes online to go further on your long runs.
Frequently Asked Questions About adidas Solarboost Shoes
What is the difference between Solarboost and Ultraboost?
adidas Solarboost shoes are neutral running shoes built for distance training and racing, from 5Ks to marathons. (Neutral means they're good for runners whose feet don't tend to overpronate, or roll inward.) Ultraboost shoes are everyday performance runners. Ultraboost is a good cross-training shoe for people who are just getting into running, as well as a great recovery running shoe for more advanced runners. Both Solarboost and Ultraboost use Boost cushioning for maximum energy return year round.
Is adidas Solarboost a stability shoe?
The adidas Solarboost ST is a stability shoe for distance running or training at the gym. The shoe's mesh upper has stitched-in areas of reinforcement for precisely calibrated support. In the Solarboost ST, the dual-density Boost cushioning is firmer on the medial side to guide the foot for a smooth, confident ride.
Are Solarboost shoes good for running?
adidas Solarboost shoes are neutral running shoes built for distance training and racing. It's a workhorse runner that's durable and responsive for hard training. Its mesh upper, inspired by NASA technology, lets the foot breathe and expand. At the same time, its precise stitching reinforces the toe box and amplifies the shoe's responsiveness.
Learn tips on how to breathe while running at the adidas blog.