United By Summits
"Run the trail you're on": How Abby Hall embraces the path as it is.
All athletes are united, no matter their pace. Amateurs are connected to pros like Abby Hall by the sole purpose of finding the right paths. To Abby, it's not about the end result; it's about being shaped by the process of pursuing a goal and uncovering our truest selves along the way.
Abby Hall is a professional trail runner for adidas TERREX and lives in Flagstaff, Arizona. The 31-year-old started running when she was 12 and never stopped, continuing through the rest of her school years.
As a kid, I struggled with perfectionism. For years, I would go into my races with unrealistic expectations and be heartbroken when these dreams didn't come true. I always felt like I underperformed and that there was this deep well of potential I couldn't access.
But beyond the desired result, she fell in love with running, the community and the ability to be part of teams in school that pushed her to become her best.
The day after college ends, there's no more practice to go to or races on the calendar. So, what did I do the next day? I laced up my shoes and kept running.

Except over time, Abby noticed something different. She noticed with the self-applied pressure for results removed, she was fueled purely by the joy of running.
I lived in Chicago and Los Angeles and was working as a graphic designer. Every night after work, I'd go for a run. I'd explore the trails, paths and sidewalks of the city. I wouldn't bring a watch and barely knew the distances I was running. It was nothing super far, but I was going because I loved the rhythm of it. Looking back, this was a formative time. I've always felt that the moments that make us are the ones where no one is watching.
At the time, Abby was starting to make more trips to the mountains on the weekends. Hungry to join a like-minded community of outdoor enthusiasts, she moved to Boulder, Colorado where she signed up for a summer of ultramarathons and started going to every group trail run she could find. But now, she had a new mindset.
I was there because I loved it. I began to let go of what I thought my path as a runner would look like and embraced the path that unfolded as it was. I never thought I would end up toeing the lines at such long and mountainous races. But the journey that's taken me to and beyond those races has been one of the favorite I've ever gone on. There is no perfect path and there never will be.
Abby fondly recalls her first trail race. She slept in her car at the start line the night before and remembers waking up that morning to the bustle of runners gearing up for the race ahead.
I remember sensing that what I was about to do was going to change my life. I felt like I was there for a reason, like there was a big chapter of my life that was about to begin.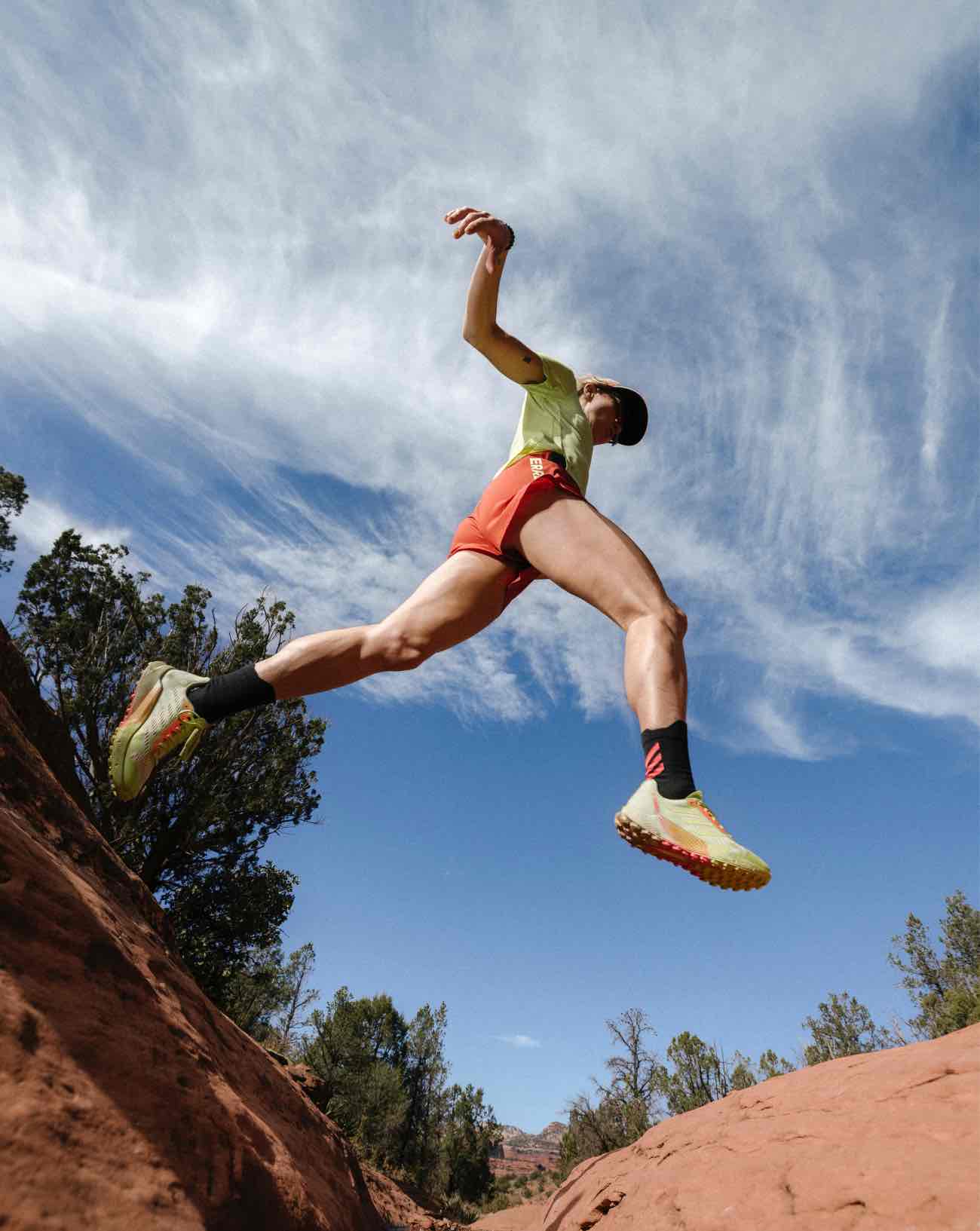 While she felt terrified about the challenge ahead, she was calmed by the community of those around her and knew she wasn't alone.
Thinking about these people coming together with a unified, sole purpose of finding their own summit, each with different goals in mind and obstacles to overcome, is what makes us all "united by summits." It's about embracing the process of pursuing a goal and uncovering new journeys on foot and within ourselves along the way.
Over the past 5 years, Abby has been racing all over the globe - ranging from attempting the FKT on John Muir Trail, finishing second in the prestigious 2021 UTMB-CCC race and finishing WSER within the top 30 athletes.
Abby always goes for the big goals that inspire her most, and openly talks about the resulting highs and lows along the way. She sees them as part of a process to becoming her truest self and as an opportunity to show running how much she loves it, as though the sport she loves were a friend of hers.
The path along the way has not been this perfect trajectory of performances. I've had plenty of moments where I'm crying on the side of the trail or feeling like my own superhero as I stride down a mountain, but both of those moments are critical. Leaning into my weaknesses as much as my strengths has helped me let go of perfectionism and embrace who I already am.
Your own reason for going out for a run is as unique as the routes you take and the goals you tackle but be assured that you are never alone on this journey. The path is shared, but the summit is yours. Remember Abby's will and love to run, the next time you are on the trails.
It's about doing everything I can to be my best. But in order to be your best, you have to be already content with who you are as a person.
No matter your level, the TERREX AGRAVIC FLOW 2 will help you in your quest to find your summit. Conquering the mountains in a group or on your own – this shoe is designed to bring you further on your personal summits. More comfort and breathability through the mesh upper, solid protection and stability through a promoderator foil and yet a lightweight cushioning thanks to the lightstrike EVA foam. Abby Hall trusts the TERREX AGRAVIC FLOW 2 on her never-ending quest for the next personal summit:
I could go to the mountains for a month, bring only this shoe and feel ready for all occasions. The FLOW 2 makes it easy to feel prepared for wherever the path takes me.
From setting your mind right to the celebrating the trail you're on to finishing with a new record, join Abby Hall on her journey to find new summits. She will inspire and motivate you via @adidasterrex on Instagram.
You don't have to get the FKT to inspire people. You don't have to win to inspire people. You inspire people by how you move through things, not by what you do.

Stay Updated
Be the first to know all about stories, launches, and events.