Basketball Speed and Agility Drills for the Court
Looking for more quickness where it counts? Join WNBA athlete Chiney Ogwumike in five agility and speed drills for basketball.
Fans of basketball love the game for its collaboration, quick improvisation and stellar dunks. With these rapid plays, scoring points comes down to you reacting a beat quicker than the player next to you. For Chiney Ogwumike, a center for the LA Sparks, fast reactions turn into big buckets.
"Right now the game is position-less. So you have to be able to move on the perimeter. You have to be able to challenge people in the paint. You have to be able to go coast to coast. So speed and agility's important for all players, not just for certain positions," said Ogwumike. Speed doesn't come overnight, and drills like the ones professional trainer Ashley Corral put together are the type that players like Ogwumike practice regularly. "Chiney's speed and agility is top-notch. She's one of the best players in the league," said Corral, noting that Ogwumike's natural talent is supported by her dedication to consistent progress.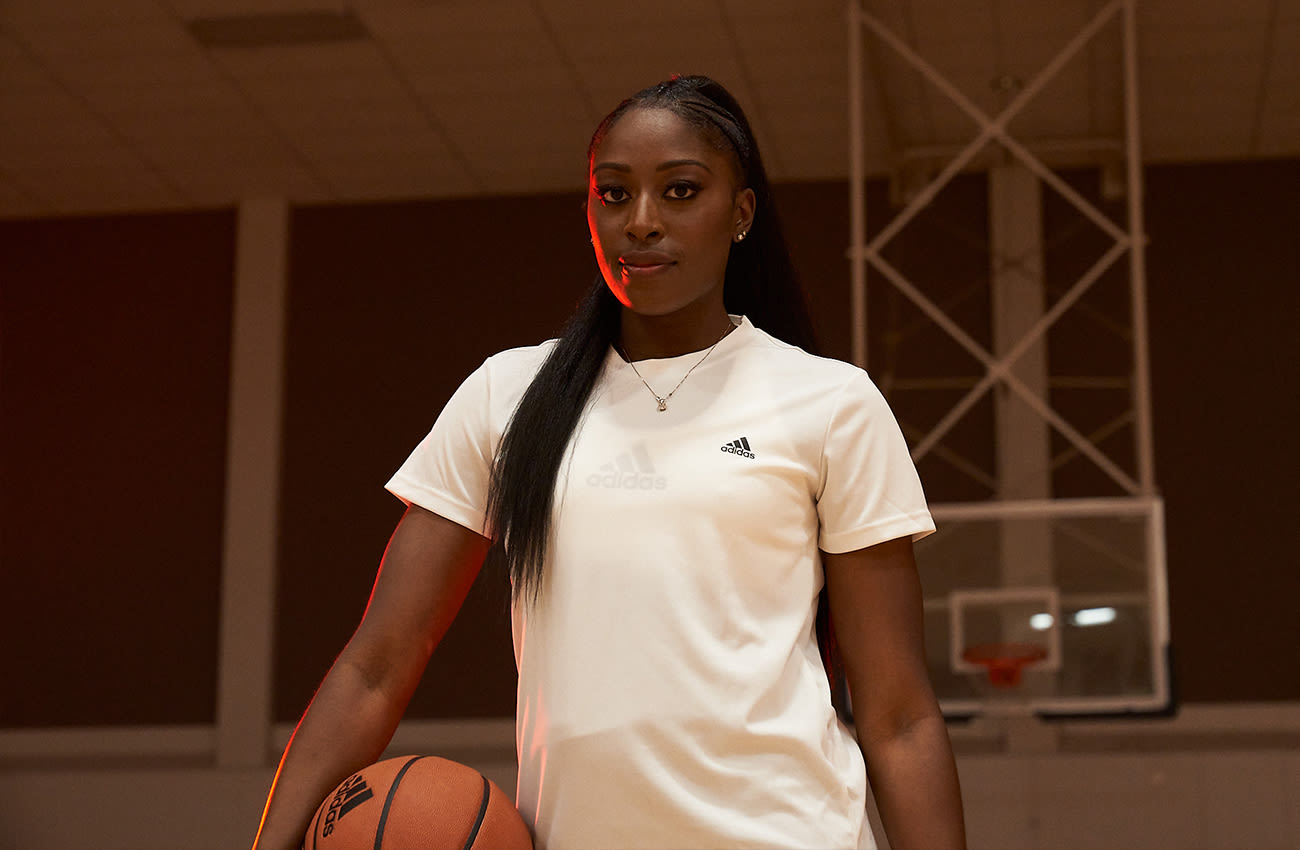 Practicing is a grind, and as a player who has come back strong after injuries, Ogwumike knows the power of staying patient and consistent. "The best way to improve your speed and agility is just taking it day by day, step by step and working on the basics," said Ogwumike. "I was not perfect at all when I started, but it was that repetition that allowed me to feel comfortable and learn technique. And then once you master the technique, you'll see progress with how quick and fast you move."
5 Basketball Speed and Agility Drills
Drill 01: KNEE DRIVES
Gameplay goals: Having a strong knee drive is important when sprinting, jumping or playing defense.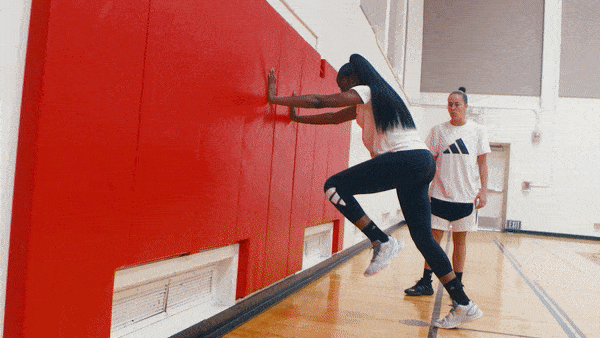 Instructions:
Lean against a wall at a 45-degree angle with hands spread shoulder-width apart, on your toes.
Alternate lifting each knee up, doing three knee drives in a row, then a one-second pause, then repeating.
How many: 20 sets of 3 reps each.
Tips on form: Keep your core engaged and focus on strong and fast feet.
Drill 02: EURO HOP STEPS
Gameplay goals: Being able to jump and land on one foot is crucial in basketball, and this drill can help you learn how to do that safely.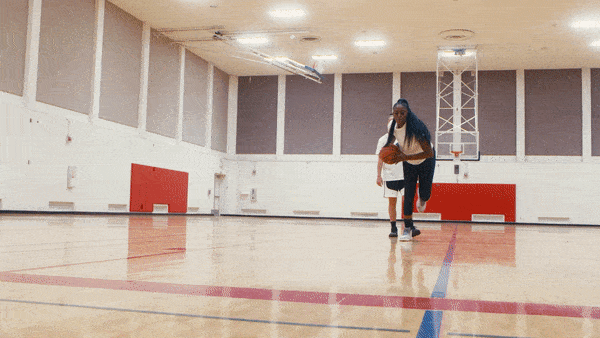 Instructions:
Start on the baseline on one foot, holding the ball on the same hip.
Hop to the other foot, ripping the ball overhead to the opposite hip.
Repeat until you reach half court.
How many: To half court and back, twice.
Tips on form: Aim to jump as far laterally as you can while being able to land on balance.
Drill 03: SINGLE FOOT CROSSOVER
Gameplay goals: Rotational speed and strength are important on defense. This drill works foot speed and hip rotation at a fast pace.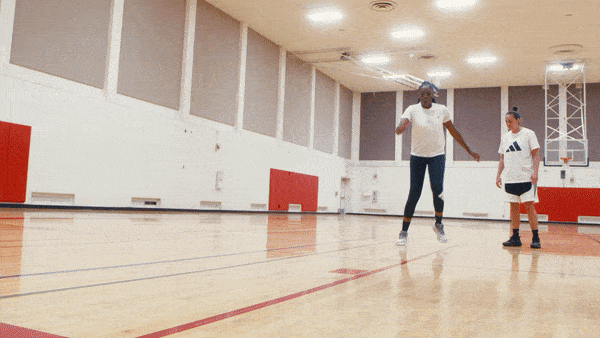 Instructions:
Use the lane line as a ladder. In a "cha-cha" movement, you'll cross one foot over the other and across the lane line.
Go quickly, working on rotating your hips and stabbing your feet.
How many: Twice down the baseline and back.
Tips on form: Use your arms, keep your knees bent, and try to get as many foot stabs as possible.
Drill 04: DEFENSIVE TUNNEL DRILL
Gameplay goals: This drill puts the knee drives and crossover step together to create a game-like situation. We're working on transitioning from a defensive foundation to a sprint quickly.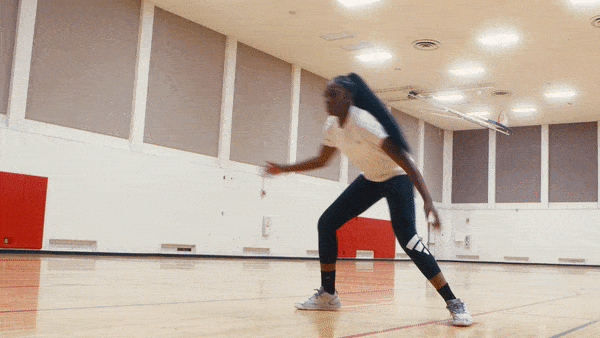 Instructions:
Start in the corner on the baseline in a defensive position facing the baseline.
Defensive slide to the lane line at a 45-degree angle. Once you get to the lane line, turn and sprint at a 45-degree angle to the sideline to cut off an imaginary player.
Repeat movement in a zig-zag motion for the full court.
How many: Two sets down and back full court.
Tips on form: When sliding, stay low and push off your back foot. When breaking into a sprint, drive your knee across your body to switch directions and cut off your player quickly.
Drill 05: REACTION FINISHING
Gameplay goals: This is similar to a live game situation when you don't know which direction the ball is coming from. The goal is to react quickly and creatively finish at the basket.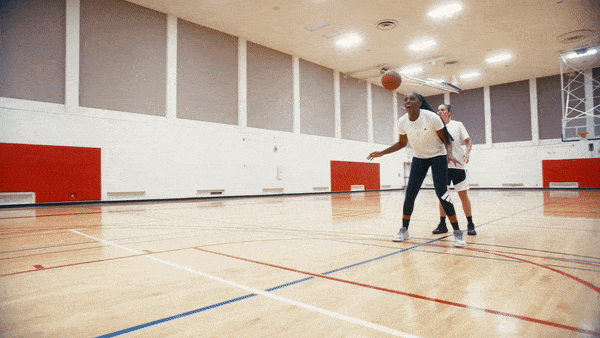 Instructions:
Stand at the WNBA 3-point line facing the basket with quick feet.
The trainer will stand behind you with two basketballs. They'll throw one over your head.
React quickly to grab the ball and finish a shot at the basket.
How many: 10 makes.
Tips on form: React to the ball as quickly as possible to get to the basket.
Drilling Down
Add these drills to your training schedule, and obsess over making each move precise before picking up speed and moving on to the next. Laying the foundation in these moves is what will make a difference in the game. "Once you master speed, your hip movement, and your foot movement, you're able to be more free as a hooper because you can just play the game the way you want it to be played. You don't have limitations," said Ogwumike.
You've got the supplies, now it's time to light the fire and be the best player you can be. Check the adidas blog for more basketball training programs, like basketball
strength training
,
dribbling
, and
shooting drills
.
Stay Updated
Be the first to know all about stories, launches, and events.