How to Dress for Cold Weather: Layering and More
When you know how to dress for cold wet weather, you can stay active outdoors all winter long. Layer like a boss with our guide to winter jackets and clothes.
Cold-Weather Layering Tips To Stay Warm All Winter
Does winter weather keep you cooped up? Even when the temperature drops, going outdoors is a great way to inspire your mood—especially if your clothes are keeping you nice and warm. Rain, snow and frigid temperatures can be either dreadful or exhilarating, depending on how you dress. With a few key pieces of winter clothes, you can still get outside in a storm and even enjoy it. From the outside in, here's how to dress for cold weather.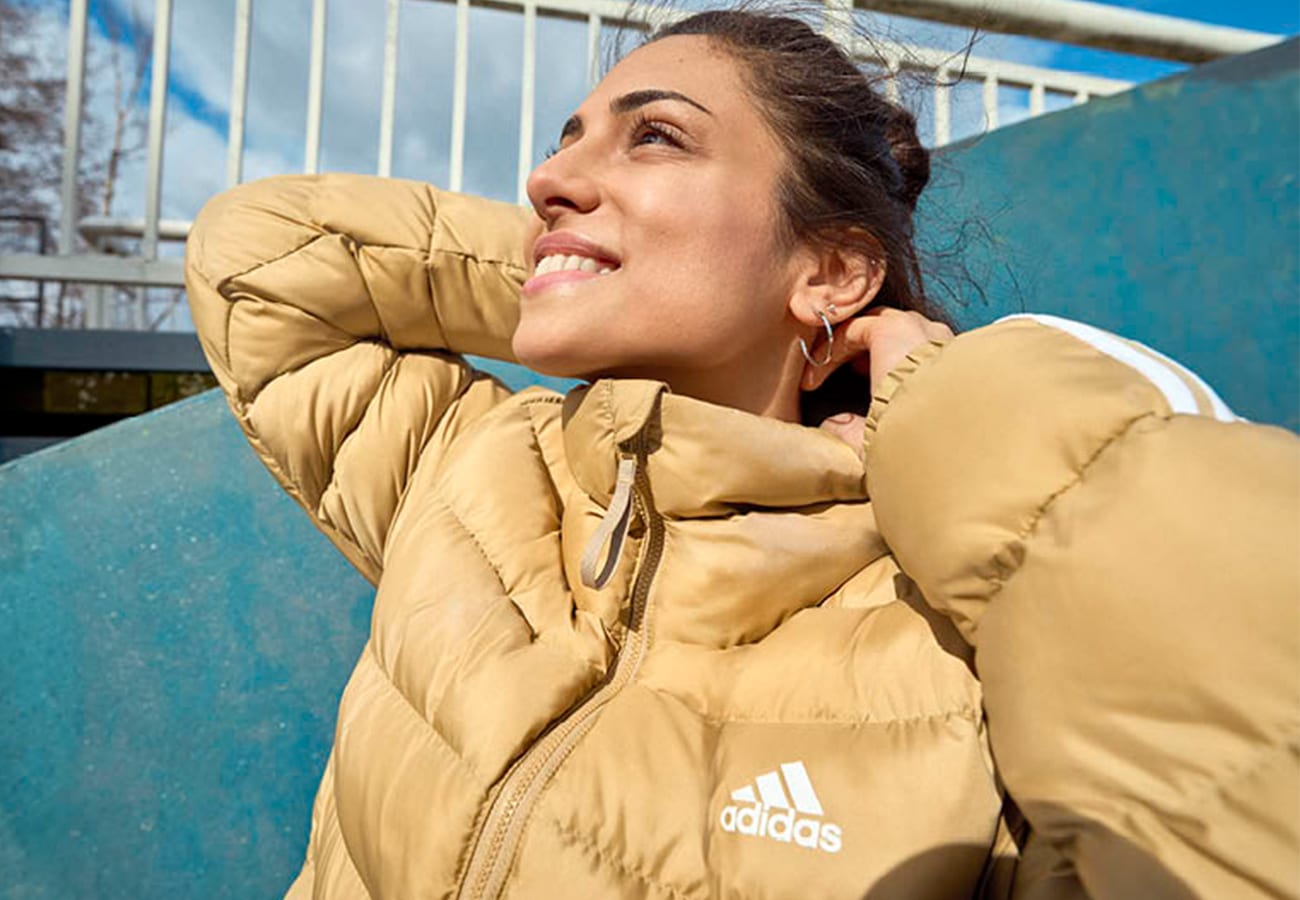 WINTER JACKETS FOR COLD WEATHER
Waterproof Jackets
When it comes to dressing for cold, wet weather, staying dry is just as important as keeping out the chill. Whether you're facing rain and wind or truly icy temperatures, you need a winter jacket that keeps moisture out. Waterproof jackets can be insulated or act as a shell over a couple of layers, but either way, they're keeping the wind and rain at bay.
Insulated Jackets
An insulated jacket—often filled with sustainable materials like recycled down—makes for a great layering piece when the windchill drops. For blue-bird days where the forecast is clear and cold, puffer jackets will insulate your body heat with a lofty, lightweight feel. If the rainclouds roll in, look for a puffer jacket with water-repellent technology like adidas
MYSHELTER parkas
.
Picking the Jacket for You
It's good to have a few winter jacket options in your closet that are good for different needs. An active day on the slopes will call for a waterproof jacket that's insulated, while a winter day in the city might beckon for a trendy puffer jacket or a thick bomber that completes your look. In general, the longer the jacket is, the warmer you'll be, but shorter jackets are great for active days outdoors when movement is your priority. Learn how to layer up underneath to stay warm no matter what you're up to.
THE BASICS OF WINTER LAYERING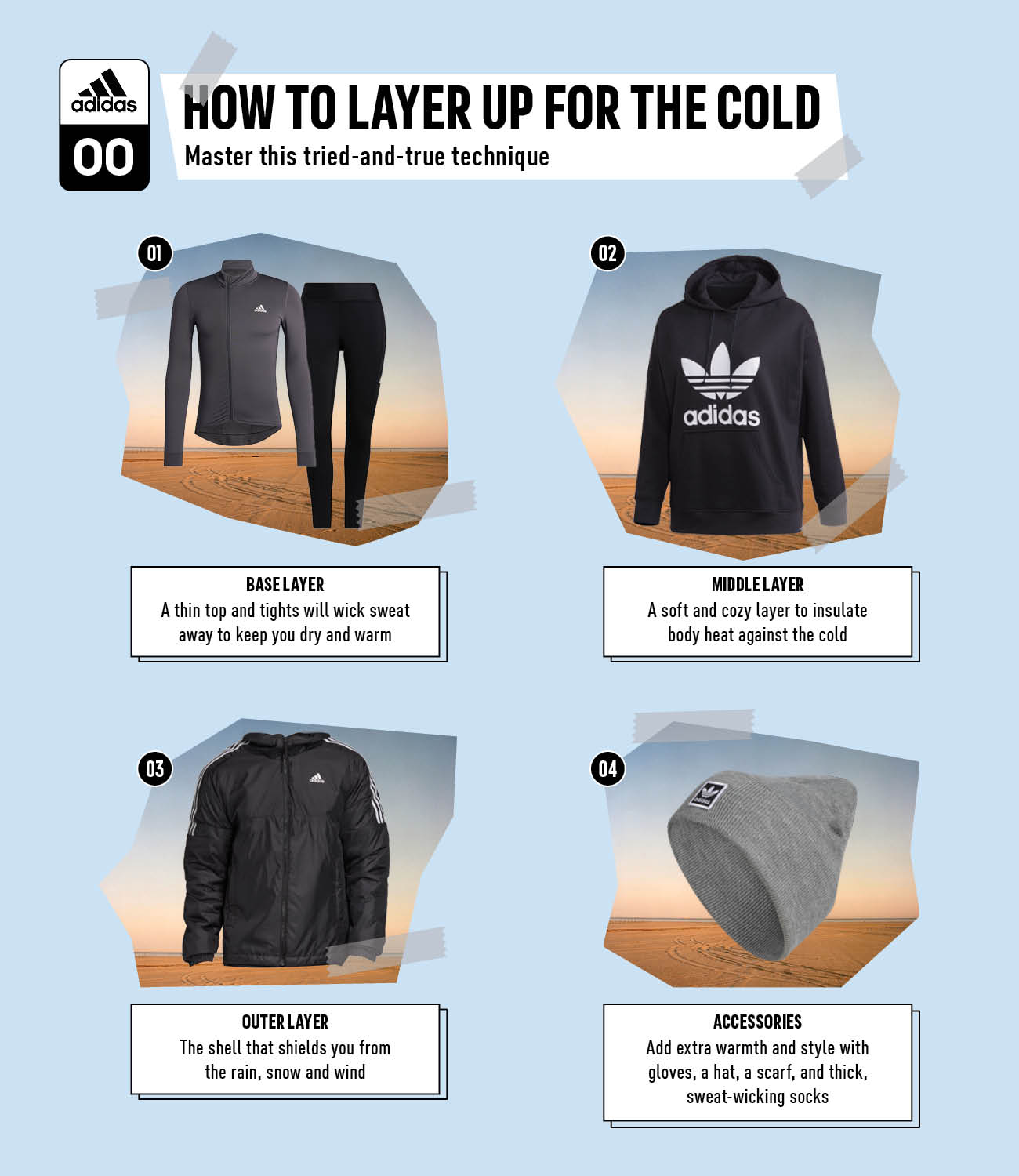 If you're looking for some all-purpose layering that can't be beat, this is a great method to start with. All of these layers can be customized to meet your style needs for the day, but when it comes to layering up for frigid temperatures, four is the magic number:
A base layer to wick sweat away from your skin.
A middle layer to insulate your body heat and add coziness.
An outer layer that defends you from the wind, rain or snow by keeping you dry and warm.
Accessories to fill in the gaps.
Never Forget the Base Layer
True winter enthusiasts know that dressing for cold weather goes beyond outerwear. When you're layering clothes for winter, start with a moisture-wicking base layer next to your skin, like a t-shirt and leggings. Look for tights, tees and tops in breathable fabric, often made with high-tech materials like recycled polyester or whisper-thin fleece. It might not seem like much, but the base layer is a key player in maintaining warmth.
Cozy Up With a Middle Layer
Over your base layer, add a
cozy middle layer
that will keep the heat close to your body. This could be a sweatshirt, a zip-up fleece, or a vest. It can also be a sweater or a thick button-down top if you're going somewhere nice. Having a mid-layer is also handy if the sun peeks out and you need to shed your outer jacket.
Shelter With an Outer Layer
This is where your winter jacket comes in to block out the storm. Pick one for the weather you're in, and don't forget about the pants. For snowboarding and winter treks, waterproof insulated pants protect your legs while you're savoring the outdoors. Wear them on their own, or over a pair of winter tights for insulation in the coldest winter conditions. If you've got an outfit in mind that involves thinner pants like jeans or chinos, layer thin tights underneath for a look that serves warmth and aesthetics.
Add on the Accessories
Scarves, hats, gloves, and socks all play a big part in sealing in the warmth and tying your outfit together. If you have an extra pocket, bring a clean pair of socks when you're headed out for an active day in the cold. It'll be worth it when you swap out your chilly socks for fresh warm ones. Check out adidas
Cold.RDY accessories
, designed specifically for keeping out the cold.
OUTFIT INSPIRATION FOR LAYERING
If you want to get creative with what to wear, we've prepared a handy guide on different winter clothing outfits, depending on the elements you're facing. Whether you're prepping to trek outside on a rainy day or dressing up to hang out on a chilly night, these combinations will keep you covered.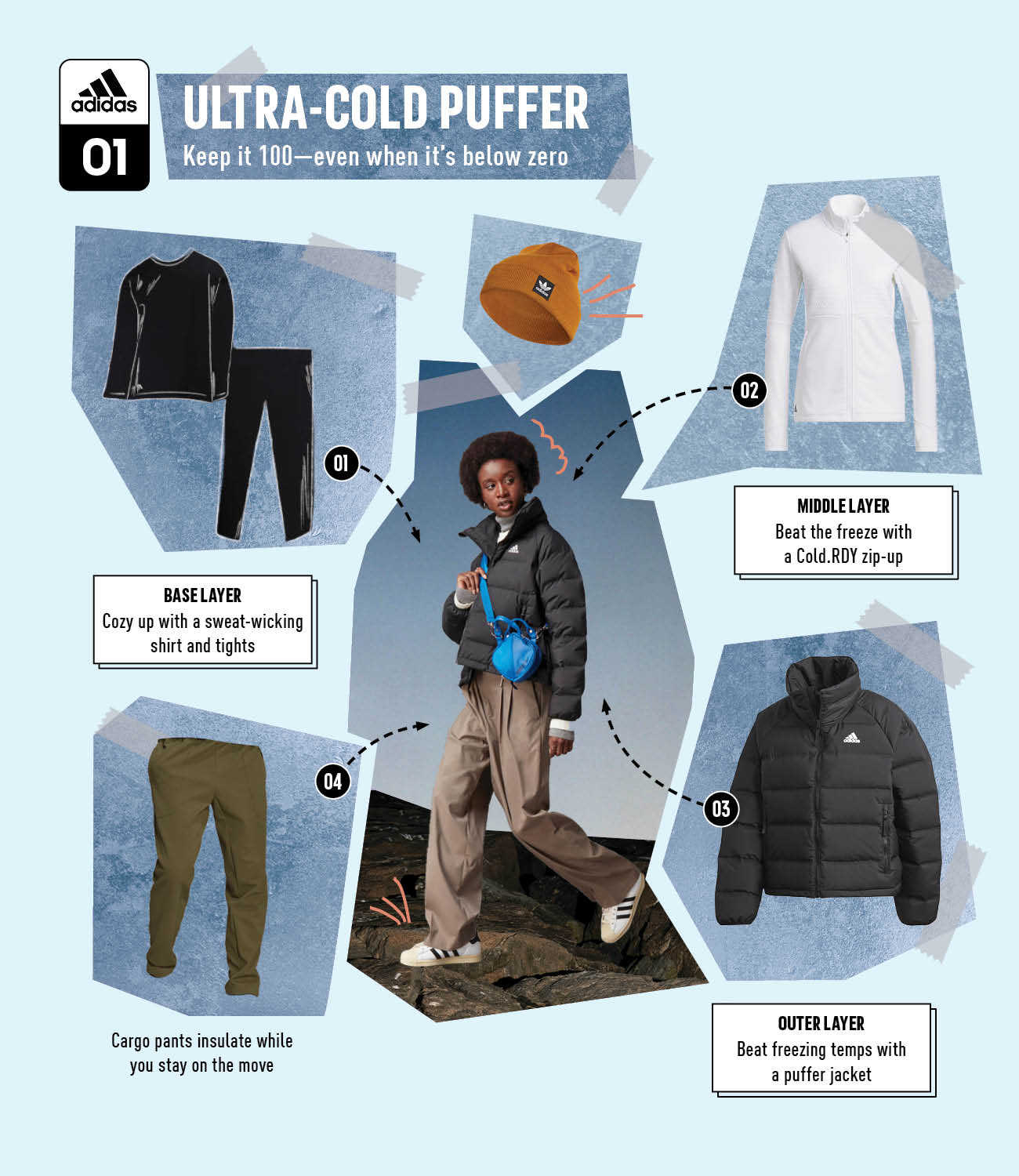 Here's one for those who need to venture out and stay moving on especially frigid days. Stick with a thin top and tights as your base layer, then double up with a crew sweatshirt. The ultimate outer layer for braving near-zero temperatures, though, is the TERREX puffer jacket and pants combo; it's designed to retain warmth while giving you the freedom of dynamic movement.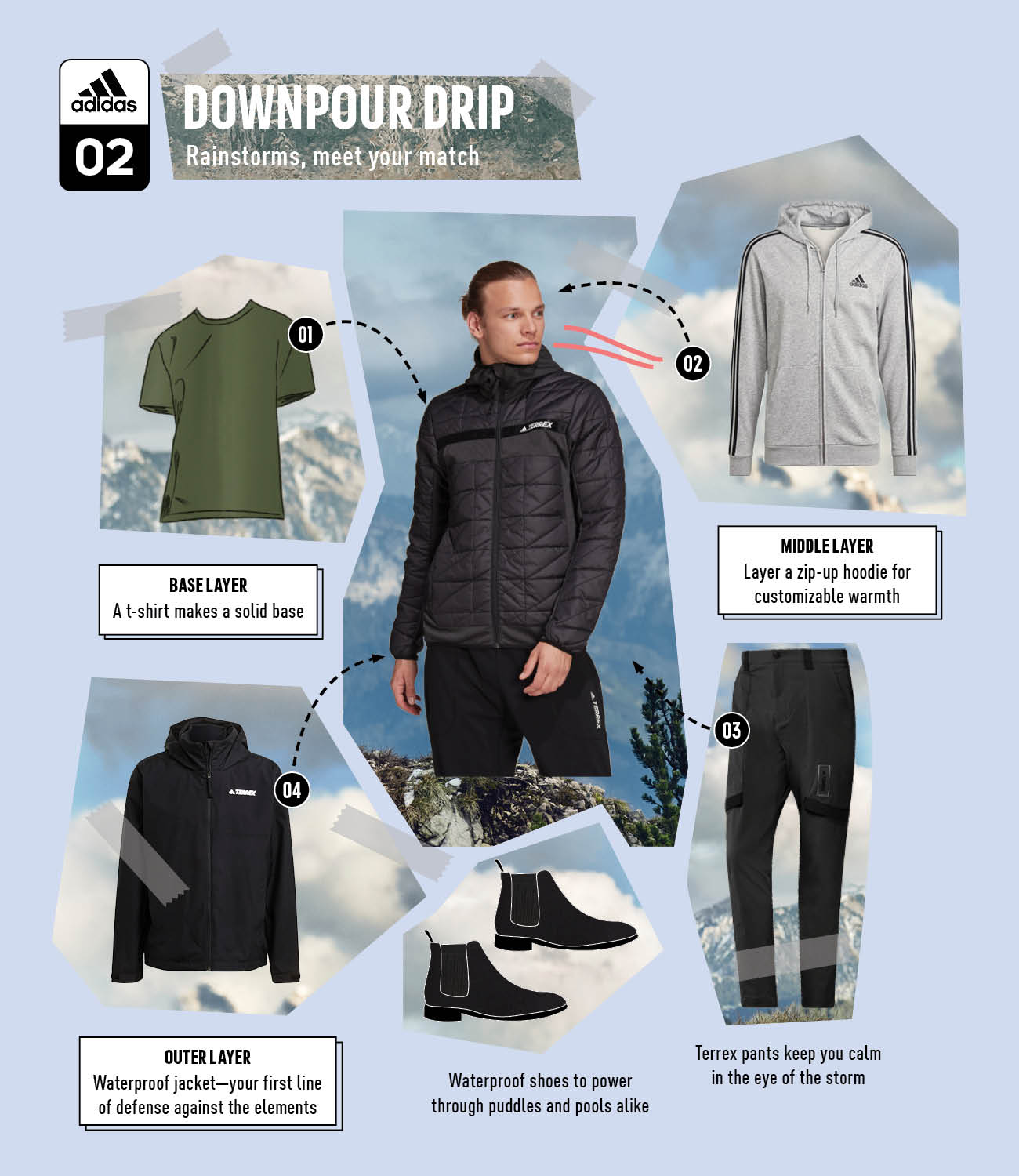 Don't get caught in the rain; if there are showers in the forecast, count on this fit to keep you feeling crisp. We recommend starting off with a t-shirt base layer underneath a classic zip-up hoodie and layering a TERREX rain jacket on top. Top it all off with TERREX pants and rain boots, designed to keep you comfortable (and dry) on the move.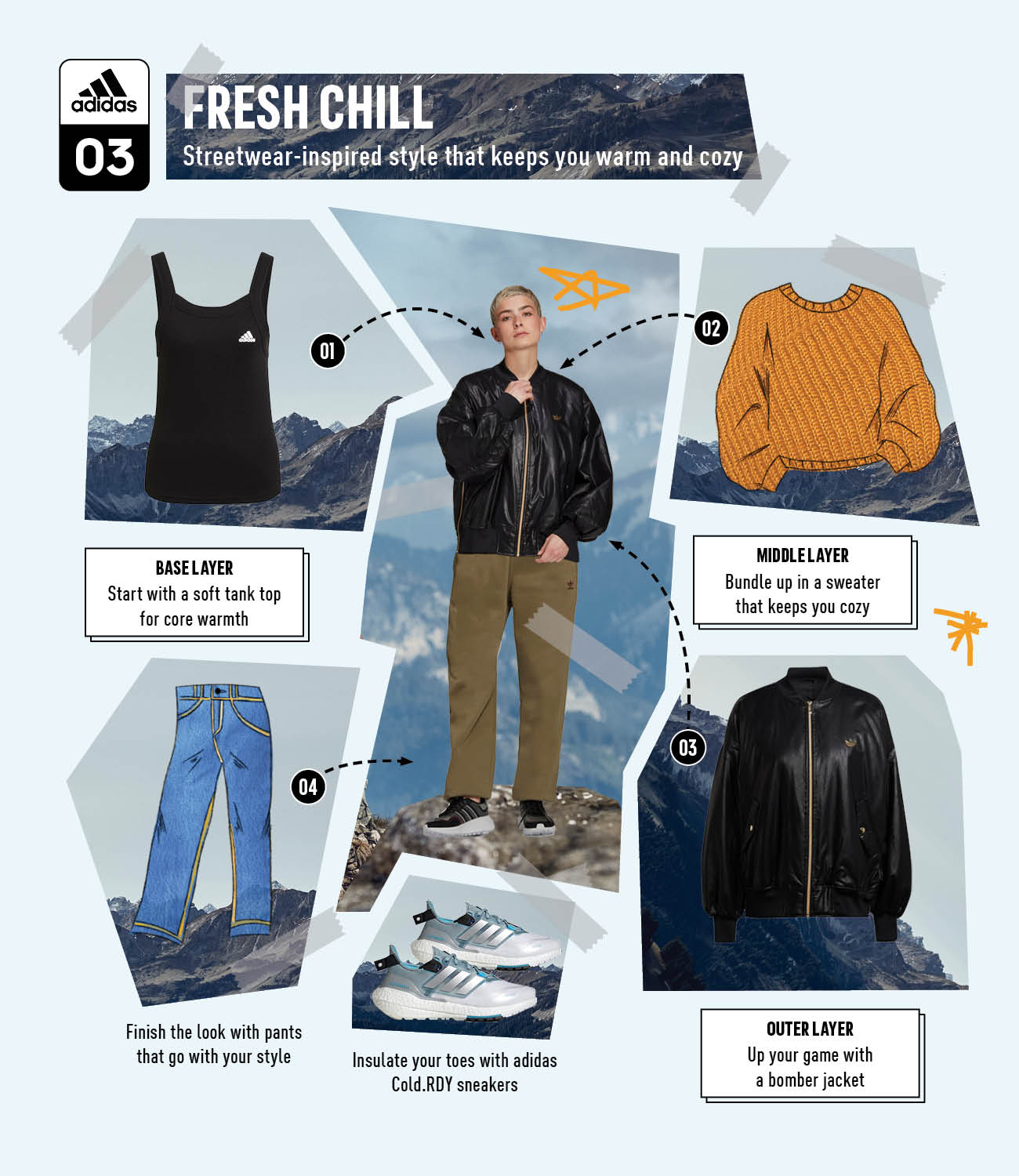 This is a trendier combo to have at the ready for a night out with friends. A tank top keeps your core warm underneath a chunky knit sweater. Make a statement with a bomber jacket as your outer layer, then finish it off with cargo pants or jeans for a classic look. Throw in a scarf or a beanie and you're ready to brave the cold in style.
There are so many good reasons to get outside this winter, and it's easy to get excited about staying active when you're dressed for the weather. Take these ideas and make them your own, and explore winter jackets and cold weather clothes by adidas below.
Stay Updated
Be the first to know all about stories, launches, and events.