Honoring Black Excellence: Vol 4 Winston-Salem, NC & Bronx, NY
adidas Originals joined team members Alexis Douglas and Nathaly Delacruz to highlight exceptional individuals and nonprofits who uplift and empower everyday.
This chapter of the HBE story is told by Alexis and Nathaly as a call to challenge our traditional definitions of Black Excellence. Oftentimes, our society defines that archetype through only the most aspirational figures, like athletes or celebrities, when it's just as important to recognize Black Excellence embodied by individuals in our everyday lives. This spotlight is for the communities and people who show up authentically in the face of continued adversity.​
Black excellence isn't just the exceptional; it's the everyday.
-Alexis Douglas & Nathaly Delacruz​
While HBE Vol 4 shines a light on Black excellence in Winston-Salem and the Bronx, the similarities highlight how excellence is achieved everyday just by being your authentic self. On Saturday, October 16th, a close group gathered in the Bronx at Bruckner Commons mall to dedicate a new mural and highlight Black excellence with Zine and speeches, giving flowers where they're due.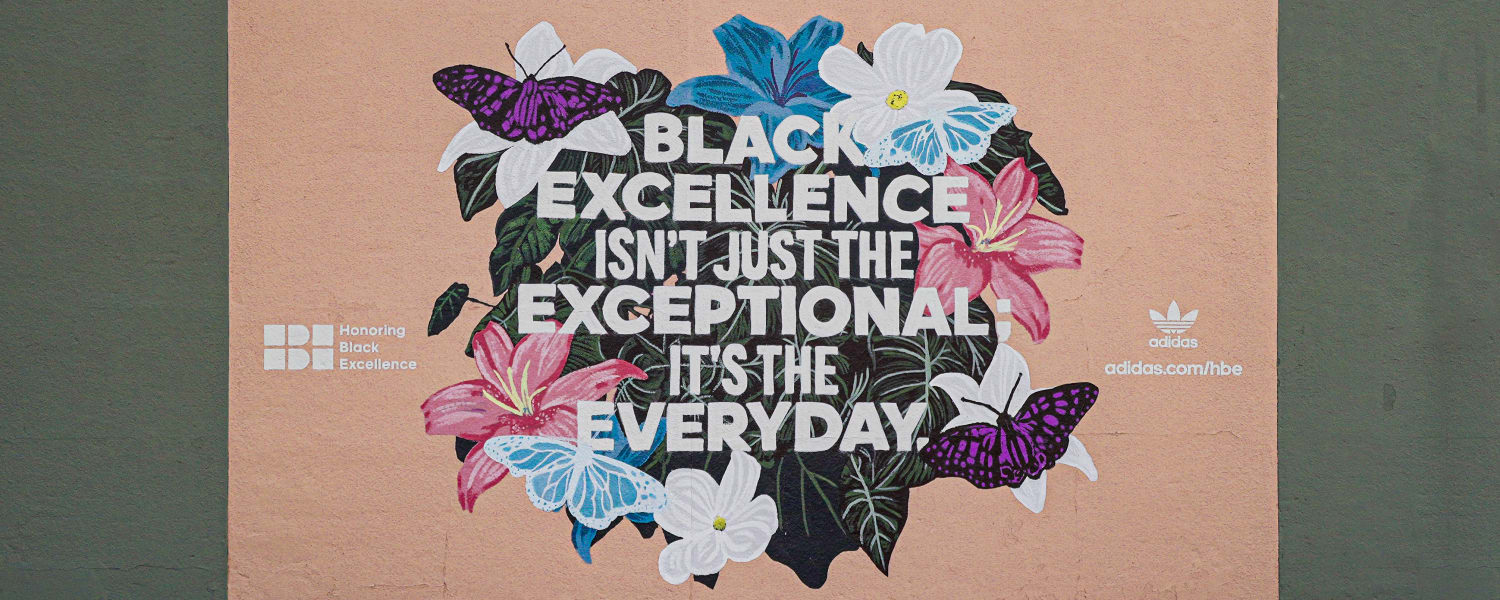 Zines were created to lead with the story of communities, showcasing photography, art, creatives and a nonprofit from each area. Winston-Salem NC includes artist Terry Suave, photographer Bosha Novart and nonprofit Black Philanthropy Initiative. The Bronx focuses on photographer Treysaun McGeachy, the MS 194 student art program and nonprofit Bronx Cooperative Development Initiative.​
​Speeches were started by adidas Director Neamen Lewis and assistant designer Nathaly Delacruz, highlighting the Bronx focus placed on local nonprofit partner BCDI (Bronx Cooperative Development Initiative), their economic programs and the locally owned businesses enriching the community. ​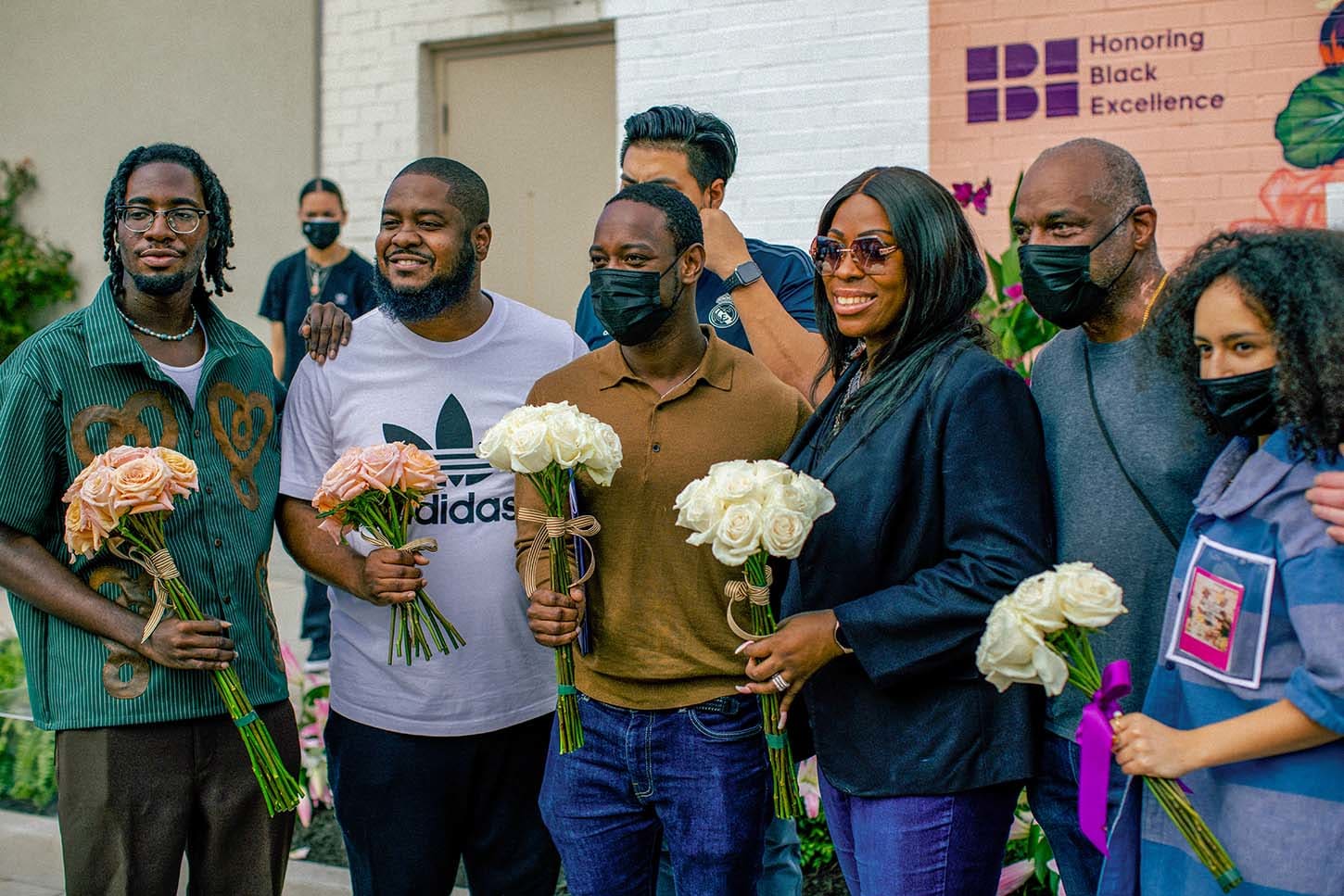 BCDI Executive Director Michael Partis believes that "the Bronx keeps on creating" and explained the program's guiding belief of Economic Democracy, how "every individual can contribute to an economy that not only produces wealth, but produces equity." Using that mission, BCDI works to empower local businesses with education, grants and connections, that in turn create jobs and enrich the local economy. ​
​An important partner BCDI has had on their journey is Councilwoman Vanessa Gibson, who spoke as the first guest, recognizing the innovation and creativity happening in the Bronx today. Having just been elected as the next Bronx Borough President in this year's local election, Vanessa highlighted the economic mindset of opportunity and growth that she looks to prioritize in her role. "As long as we are empowered, have a vision, have a purpose…all we have to do is put the plan together," she said.​
​Next to speak was Daniel Maloney, co-founder of Sol Cacao, New York's first bean-to-bar chocolate factory, and one of BCDI's first MWBE (Minority and Women Business Enterprise) partnerships. By building their 100% black-owned chocolate factory in the South Bronx, the founding brothers hope to bring opportunity, jobs and inspiration to their community while creating a place where people can express themselves through food.​
Last to share was founder of KD Knit, David Lee, who has been manufacturing in the Bronx for over 30 years. He is now leading the charge in sustainable plant-based knitwear as he opens a new design, development and manufacturing center on the peninsula. The future of business involves innovation, worker ownership and new business models, with David, BCDI and the Bronx community ready to lead together.​

Most important in highlighting these two historic communities is contributing to lasting impact. As such, alongside the Bronx Cooperative Development Initiative and the Black Philanthropy Initiative in Winston-Salem, adidas has donated $65,000 each and partnered in support of future community programming. ​
Winston-Salem and the Bronx aren't slowing down anytime soon—and neither is adidas. Please join us in honoring these communities and individuals as shining examples of Black Excellence by learning more, giving flowers and getting involved with our nonprofit partners below!​
Stay Updated
Be the first to know all about stories, launches, and events.