Honoring Black Excellence: Vol 2 CJ and Kelli Stewart
adidas, L.E.A.D. Staff, and Student Ambassadors in Atlanta, GA honored and celebrated the legacy of CJ and Kelli Stewart and the community growth they foster daily.
Although coming from disenfranchised communities, CJ and Kelli have worked tirelessly to foster Black Excellence on-and-off the field. Their passions for baseball and community influence led them to create L.E.A.D. (Launch, Expose, Advise, Direct): a nonprofit organization working to empower through baseball, and teach Black boys in their city of Atlanta how to overcome all curveballs to their success.
This July 12th and 13th we traveled to Atlanta to dedicate a mural honoring CJ & Kelli's ongoing legacy, pledge $65,000 towards L.E.A.D. programming, and celebrate alongside Ambassadors, Leaders, and the entire Community.
The 2-Day Celebration began Monday morning outside the Grove Theater (on Donald Lee Hollowell Pkwy NW in Grove Park), where a small group of L.E.A.D. Ambassadors, Family and Friends all met to honor CJ & Kelli's work and impact with a mural. Hoping to give them their flowers in as many ways possible, guest speeches were made by Lisa Baker, Jahliel Callahan and his Mother Lashandra Clark, with complementary floral arrangement by local designer Full Bloom by Lauren.

A home run derby was scheduled Monday afternoon at the L.E.A.D. Center for Youth Indoor Facility, but first a surprise unveiling. From a sketch to reality, L.E.A.D. ambassadors Amari Jones, Jahad Johnson and Elijah Grant all worked with adidas Baseball to design Atlanta-forward shoes asking, "Who do you play for?" The 'Adizero Grail' and 'Icon 6 Boost Lead To Legacy' Cleats and L.E.A.D. 'Forum Low' colorway all say "Ambassador" on the sole, and they all carry purpose. Following the excitement of surprise Home Run Derby did not disappoint, with this year's winner getting to don the 'Championship Chain'.

Tuesday was one for the history books with L.E.A.D. and Lt. Governor Geoff Duncan co-hosting the inaugural Breaking Barriers Classic at South Forsyth High School. As a kid CJ was told not to enter Forsyth County, with this game looking to highlight and strengthen a historically rocky and race-focused relationship between communities. Giving players from different backgrounds an opportunity to expand their perspectives, Forsyth Georgia Bombers and L.E.A.D. Ambassadors joined forces and mixed teams, with Red team eventually beating Gray on a walk-off base hit.
"Bringing my L.E.A.D. Ambassador team together with the Georgia Bombers team in a setting that has a historically challenging racial context, demonstrates that baseball has the power to overcome difference – this game is mine and Geoff's effort to do just that." –CJ Stewart

L.E.A.D. has an impact in Atlanta like no other, but that had to be built from necessity. From a young age Kelli was determined to empower Black youth by committing to her role as a supportive authority figure, and by stretching the lens of Black Excellence to encompass much more than just sports. Although she had a difficult childhood, it led her to develop an entrepreneurial spirit. CJ was twice drafted by the Chicago Cubs, first in '94 and then in '96. His career came to an end in 1998 and it gave him time to learn the logistics and nuances of coaching from his mentor Joe Logan, soon becoming one of the best coaches and instructors in the country.
Merging CJ's passion for baseball with Kelli's desire to provide positive mentorship, they built for others what they most appreciated in their youth. With an involved parent being the first to put up $60,000 kickstarting CJ and Kelli's vision for L.E.A.D., community acts of selflessness are still what allow them to serve the boys of Atlanta Public Schools with programs and training Free of Charge!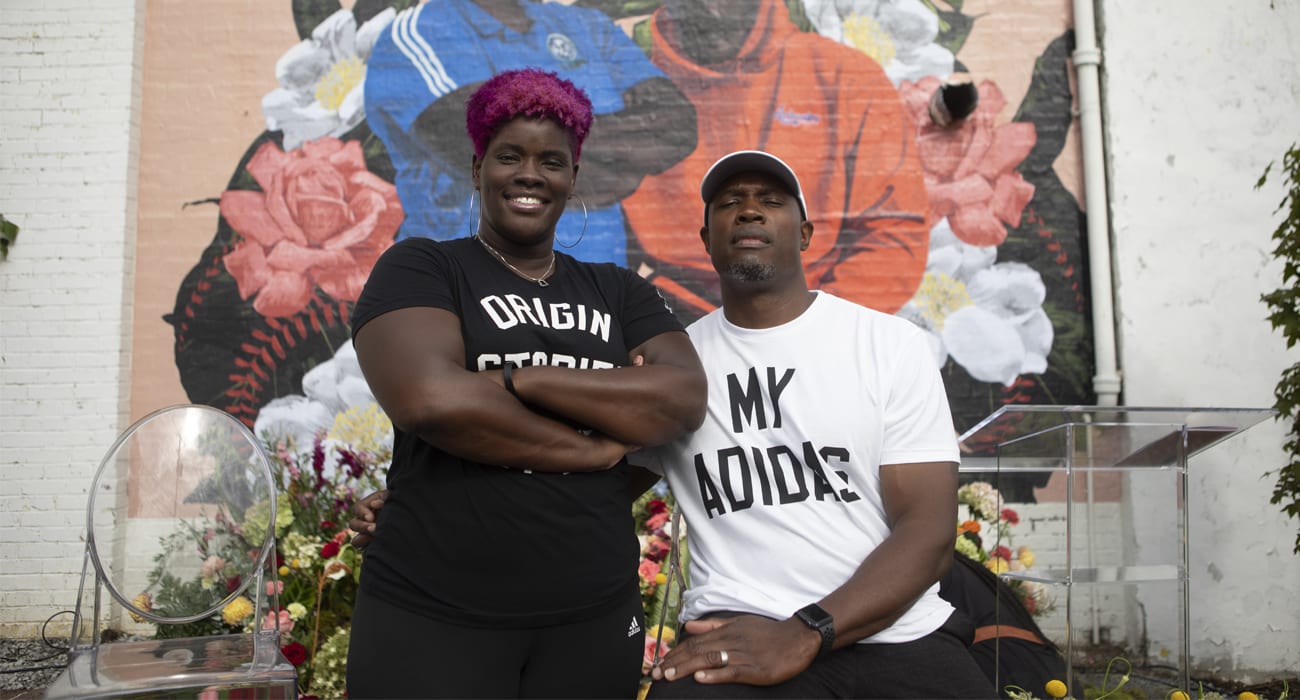 CJ & Kelli Stewart aren't slowing down anytime soon, and adidas is following that lead. Please join us in honoring the Stewarts and L.E.A.D. as true examples of Black Excellence by learning more, giving flowers, and getting involved below!
Stay Updated
Be the first to know all about stories, launches, and events.