Meet the NYC adidas Family.
adidas heads to New York to talk personal style and timeless tonals with our very own Spring Street crew.
Colors that once faded into the background have recently re-emerged, on trend and elevated. From apparel to footwear and everything in between, neutrals and earth tones have become the new canvas for personal expression. And this inspired an idea.
We invited the adidas family from the Spring Street store in New York to share an authentic angle on timeless tonals. Here are the creative souls behind all those convincing sales pitches.
JULIANNE ZIMEI
Consumer Experience Leader of Originals Flagship NYC
@julizimei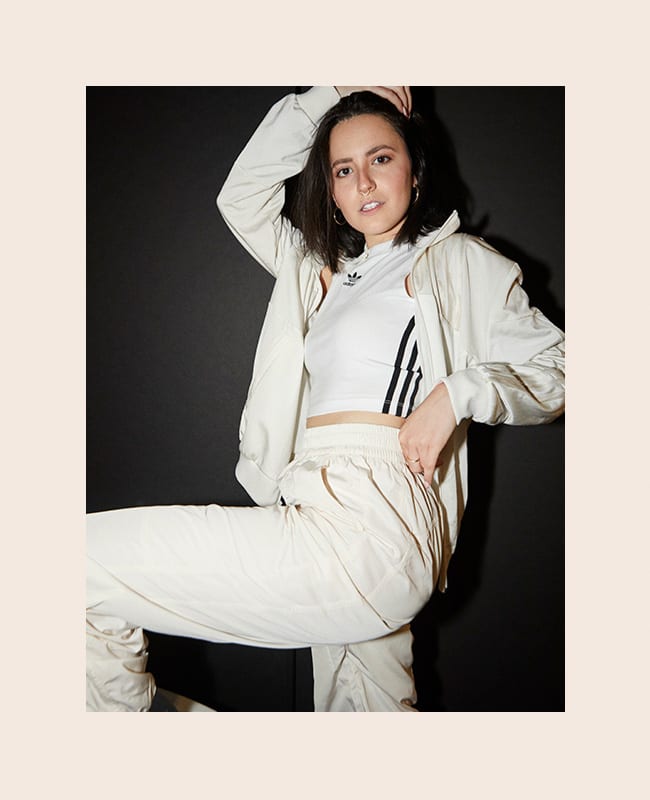 From an outlet store in Florida to our creative and cultural epicenter on Spring Street, Julianne's adidas journey began 6 years ago. And when she tells you she made the move for her love of New York streetwear culture and jokes about being buried in her adidas x Danielle Cathari denim jacket, you get the impression Julianne is right where she's supposed to be.
If you only follow trends, what's your style?
She describes her style as being eclectic and versatile, and colleague Bernadette agrees. "Julianne doesn't dress how you might expect. Her unique outfit choices break perception in all the right ways." And this makes sense. Julianne admits to tracking trends but says she refuses to fall victim to them. Right now, she's into anything oversized… and neutral.
When the conversation turns to the campaign, Julianne becomes visibly excited. In fact, she can't stand still. For her, the opportunity feels like real acknowledgment, and she can't wait for her parents to see the results.
If we get to pave the way for other employees, as ambassadors for the brand, it means more than anything.
Outside of work, Julianne enjoys painting, exploring the city, taking Polaroids, vintage shopping, and eating. Lots of eating. Although never at the same restaurant twice. Proof of her enormous appetite for life!
CODY GOMES
Operations Manager of Originals Flagship NYC
@cody­_gomes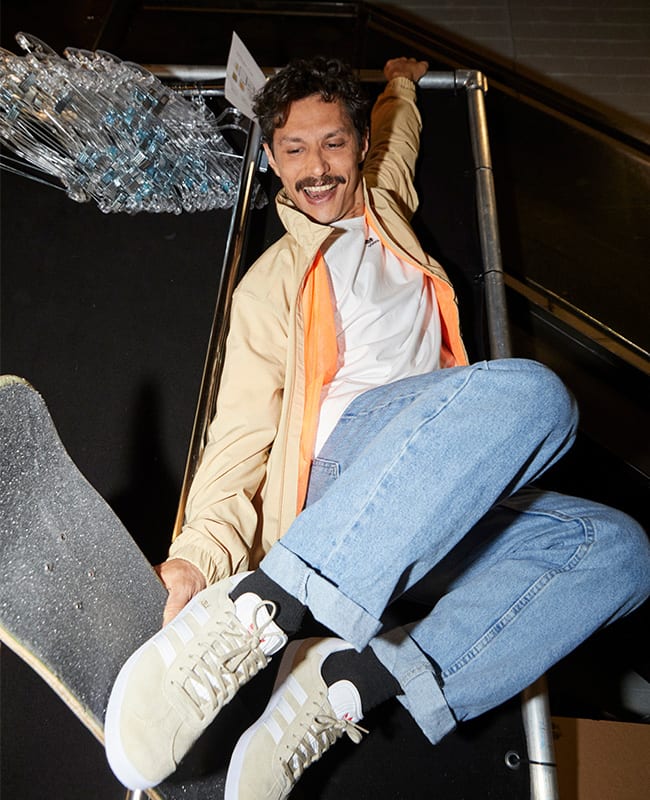 Far from home but back to his roots, Hawaiian-born Cody regularly skates past the building where his Chinese great-grandfather established a new life, a move that consequently influenced his own. Candid but refreshingly optimistic, Cody has a broad perspective on a lot of things. Yet you get the feeling he chooses to focus in on the things that feed his soul. Happily married, and a proud father to British Bulldog Dottie (he's obsessed), Cody tells us he values his friendships, loves rolling around on four wheels, and likes capturing all of the above on his 35mm.
Neutrals are my uniform. Nothing beats a crisp white tee, khaki chinos, and a pair of triple whites.
When it comes to clothes, Cody cannot deny his skater heart. Inspired by the late '80s to mid '90s, his search for unique pieces takes him to New York's lesser-known thrift stores. This being said, you can take the boy out of Hawaii, but you can't take the Hawaiian shirts out of the boy. Especially for parties. On a "normal" day, you'll find him wearing khakis with a graphic tee or comfy, neutral-colored flannel. Or maybe a pair of adidas swishy pants.
Extra kudos to Cody for having to model with a prop. We very much appreciate all the under-pressure ollies.
ARIEL FERNANDEZ
GM of Originals Flagship NYC
@rell_suited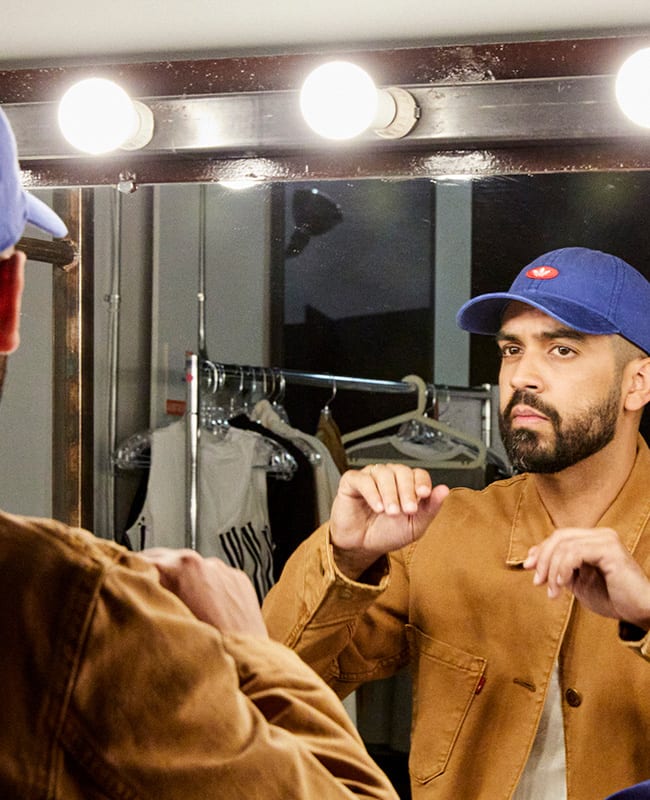 Soft-spoken but sure, General Manager Ariel is nurturing a special culture at the Soho Flagship. In fact, he lists helping his team develop as one of his hobbies. Having grown up in humble circumstances, Ariel is used to making the most of whatever he has. And it's this that seems to have given him a heightened appreciation for the arts, music, sociology, and, of course, his family.
City style is about bending the rules. About being creative and making what you have work for you.
On the subject of clothes, Ariel credits the harsh realities of inner city living with shaping the New York style landscape. When asked about his own wardrobe, he admits to taking a less-is-more approach, choosing quality materials, classic silhouettes, and essentials that will stand the test of time. He was buying neutrals before they were big because they're functional and because they play into the idea of longevity. He believes it's important to be conscious of what we consume.
Chatting with Ariel, it's clear he buys into the campaign color story, but he's more emotional about what the collaboration represents. "I joined adidas 4 years ago, and I feel like my voice is heard. As a leader, I want to extend that sentiment to my team too. This campaign is testimony to the brand attitude."
BERNADETTE ZUNIGA
Retail Professional for Originals Flagship NYC
@13ernadette7­_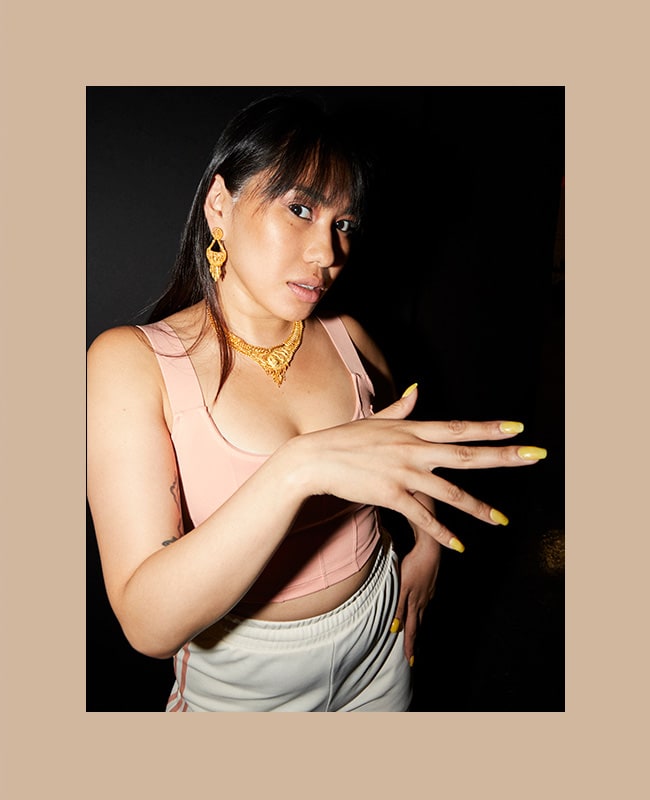 Born and raised in Harlem and poetic and passionate by nature, Bernadette's style is about having a strong sense of who she is. With ideals as bright and shiny as her statement jewelry, Bernadette isn't afraid to wear clothes with a message. She is an untiring advocate for both Black Lives Matter and the Stop Asian Hate movement.
I don't want my voice to be lost in whatever I wear.
Talking trends and work, Bernadette becomes quite philosophical. She sees trends as inevitable, but not something she feels she has to conform to. "I actually wear a lot of my sister's old clothes… because I like the design or they make me nostalgic. I wear them whether people think they're cool or not." To her, neutrals are not transient—they're timeless. And they match both her planet-conscious attitude and her favorite earrings.
On her free days, Bernadette can be found training for an upcoming duathlon, exploring the city, or spending quality time with her loved ones. She's also an aspiring DJ and producer. You heard it here first!
DARYL JERVIS
Consumer Experience Leader of Originals Flagship NYC
@styledbydarylj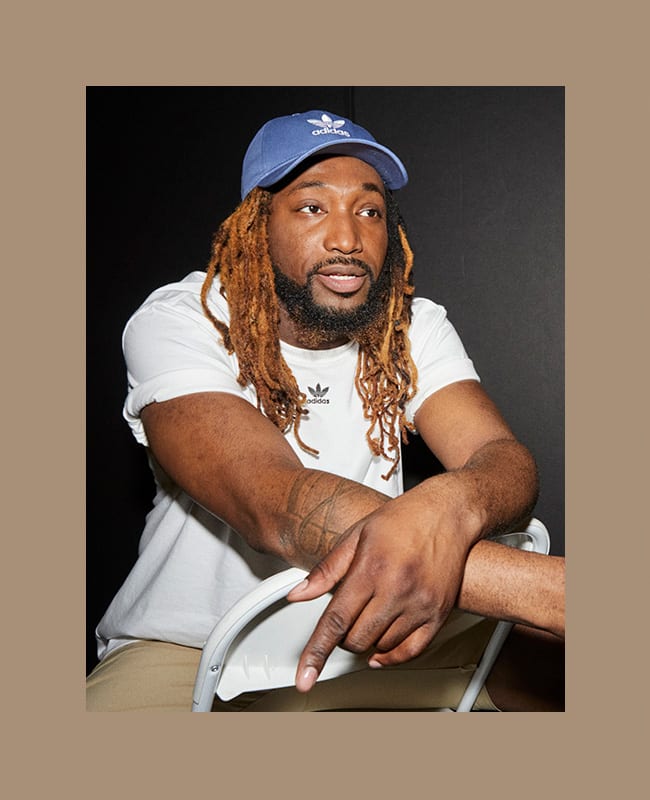 Smile first, outfit second: this is how style master Daryl enters a space. Happiest pairing hype drops with vintage finds, Daryl has a unique dress sense that his colleagues and friends describe as enviable. It's something he says he's developed from his years working in thrift.
I'd describe my style as thrifted, gifted, and fun.
When he's not on the Spring Street shop floor, you'll find him making music (yes, he sings), working as a freelance wardrobe stylist, hanging out with loved ones, or shopping. It's clear to see from his headgear and eccentric outfit that clothes are his passion, but when you ask why, you'll be surprised by his answer. "I'm quite shy and timid, but my clothes can be a talking point. They are the reason I meet lots of cool people." For Daryl, clothes initiate social connections.
When we quiz him on his modeling skills and participating in a global campaign wearing self-styled looks, he laughs. Neutrals are Daryl's playground. He lives in them, and he's not afraid to switch up the game. His advice is greens. And layers. You've got to make these colors your own.
Neutral colors are universally flattering. They transcend culture, race, and everything.
AMANDA LUGO
Retail Professional for Originals Flagship NYC
@stylishviews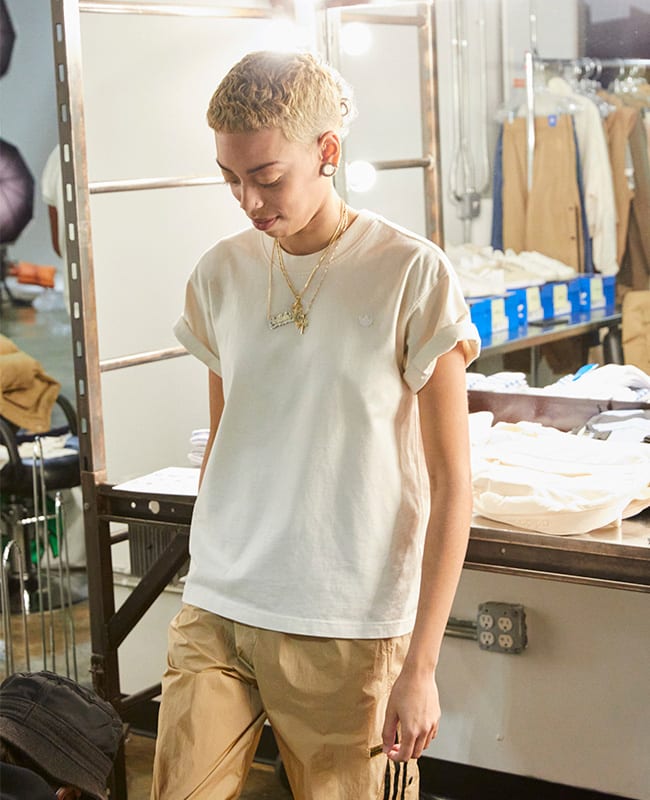 Young, but notably determined and ambitious, Amanda talks to us with an open heart and shining eyes. This native New Yorker clearly lives and breathes everything her city represents, and if we were looking for someone who truly loves their fashion—well, we've found her.
My process? Shoes, shirt, then pants. In that order.
A self-proclaimed sneakerhead, Amanda builds every outfit from the feet up. She describes her style as unique, and maybe a little flashy. Amanda likes exclusive or limited items and knows how to get her hands on them, a cheeky little skill that "Libra twin" and friend Daryl labels as "a lot of wisdom."
Talking about the recent neutrals shoot reveals Amanda's more vulnerable side. She was the first on set and admits to being nervous. But the support of her team and the distraction of all the clothes quickly put her at ease.
Outside of work, Amanda's natural curiosity will take her to museums or obscure places in town. We can also confirm that our little energy bomb doesn't shy away from a good party. Amanda lives life large and laughing.
It was my first time in front of the camera. I'm actually very shy.
"We hope you've enjoyed getting to know the beautiful people behind the brand. We know we did."
Stay Updated
Be the first to know all about stories, launches, and events.