Outfits to Wear with adidas Superstars
Looking for fresh ways to wear a sneaker classic? Four adidas employees model their favorite Superstar outfits and offer tips on how to style Superstars shoes.
Since they first hit the basketball court decades ago, the serrated stripes and shell toes of the adidas Superstar have left their mark on sports, fashion and culture. With so many color and style variations, Superstars can complete all kinds of looks, from buttoned-up to chilled out. These five adidas employees styled their own Superstar outfits featuring their favorite pairs of these iconic shoes.
Danielle Jones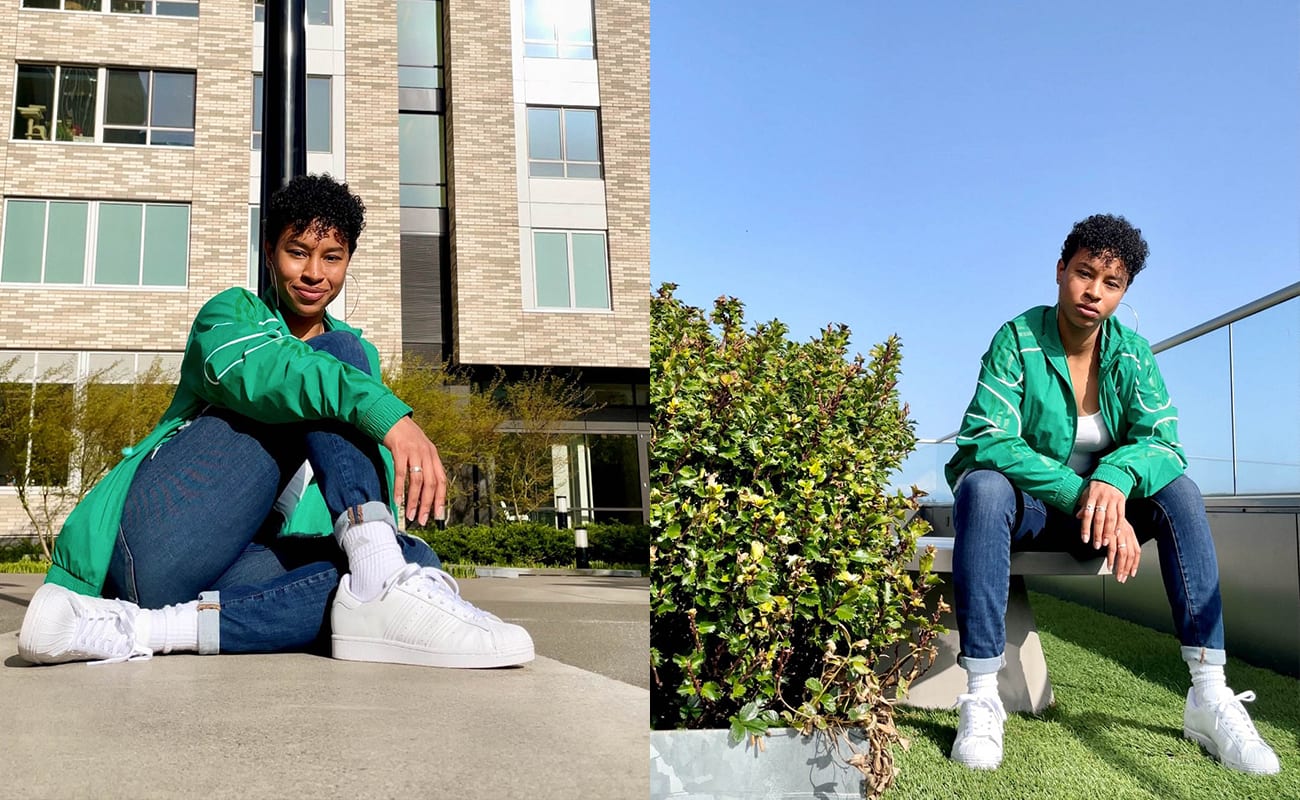 To build her "sporty-with-a-splash-of-hot-girl" look, Danielle Jones paired her all-white adidas Superstars with thrifted jeans and an oversize track jacket in vibrant emerald green: "This jacket is one of my favorite pieces because it's light and airy and adds a pop of color to my otherwise monochromatic closet. The white high socks complement the cuffs on my jeans and the silhouette of my sneakers."
Danielle opts for this outfit when she wants a look that transitions from day to night: "On a day in spring, I'd wear this to a picnic in a park or garden. I can pull the jacket sleeves up to a three-quarter sleeve if it gets too hot. My favorite accessories with this outfit are hoop earrings. Add a nice chunky necklace and a smack of lip gloss and you're ready for a casual night out."
Danielle's Superstar style advice: "Play around with complimenting colorways on your feet, pants cuffed or uncuffed, low socks vs high socks. Feel the vibes of your shoes and match them with clothing items that give you that same vibe."
Ethan Lewellen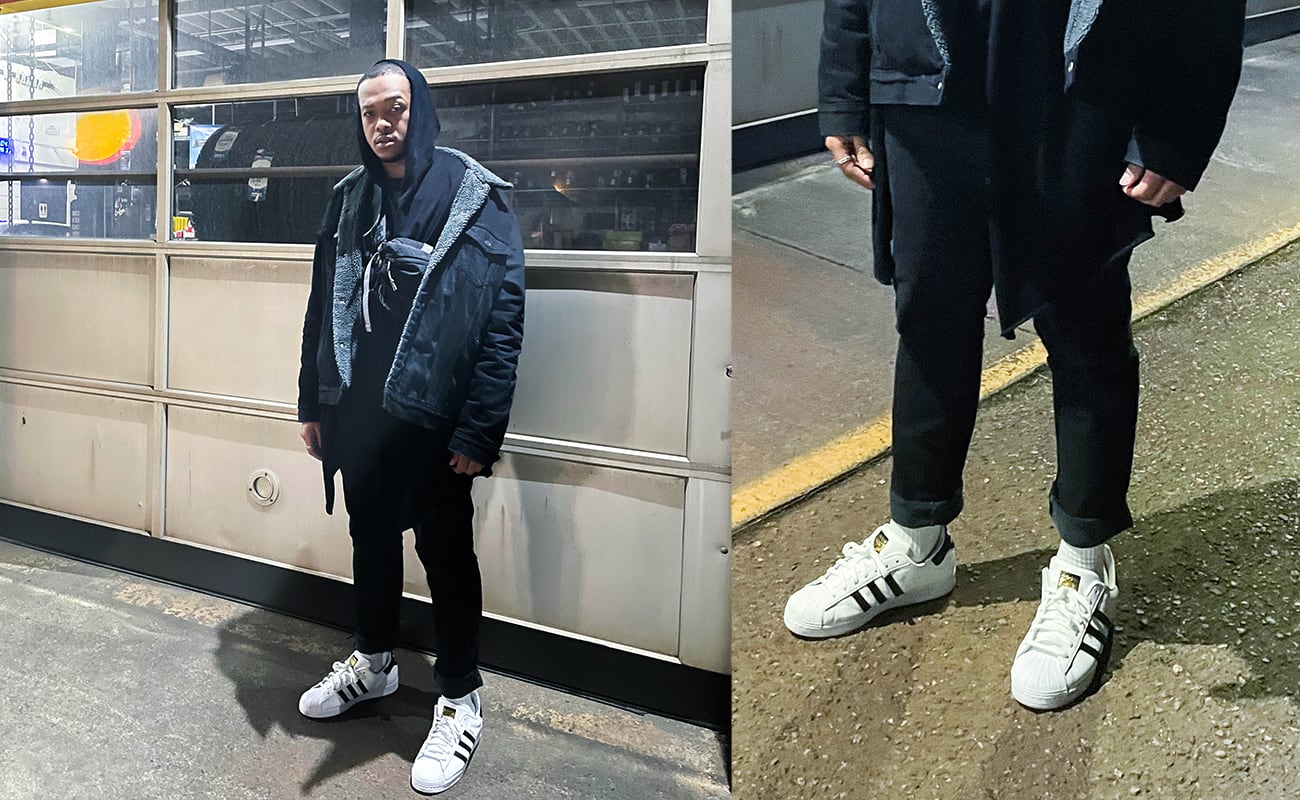 For busy days that fade into long nights, Ethan Lewellen opts for an all-black outfit with his white Superstars. A denim trucker jacket and a black cardigan add a rugged touch to jeans and a plain black tee.
"This time of year, the brisk night air is still a thing, so the versatility of this outfit keeps me comfortable at all times. This is what I wear when I'm preparing for a long night of recording and writing music or catching vibes with two of my good friends." Ethan says that this all-purpose look captures "everything that I feel, yet it doesn't speak in a way that's too bold. Just raw feeling."
Ethan's Superstar style advice: "Take a chance and be you. Doesn't matter who's watching. The boundaries are blurred and the gates are open. Just wear what you want, how you want, when you want."
Halle Russo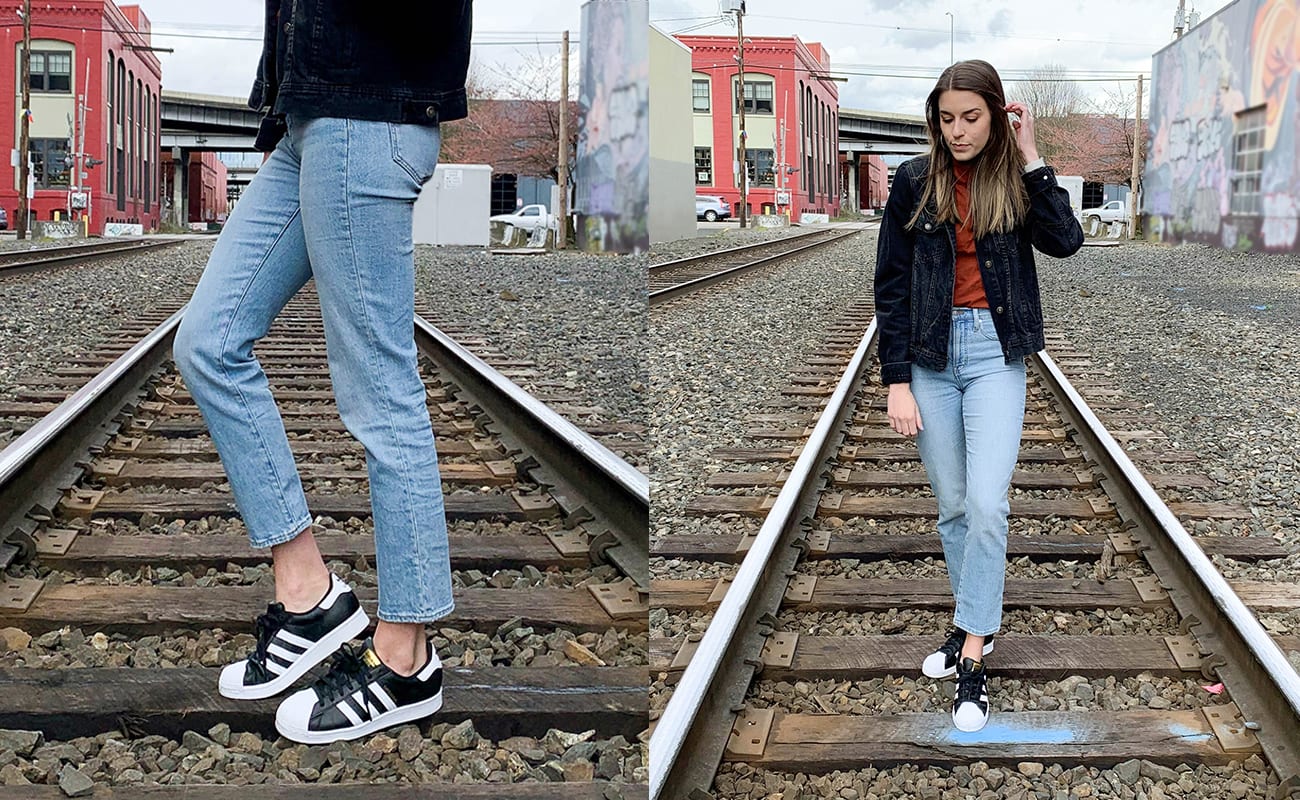 "Casual with a hint of boho" is how Halle Russo describes her look: boyfriend jeans, an auburn turtleneck and silver hoop earrings, topped with a dark denim jacket. Her light wash jeans are slightly cropped — perfect for showing off her classic black Superstar sneakers with white shell toes. This look is Halle's go-to for busy days when she wants to stay comfortable while looking put-together; "From grabbing brunch to running errands, to meeting up with friends for happy hour, this outfit is truly the perfect match for anything."
Halle's Superstar style advice: "Think about what will make the shoes stand out. You can really lean into what complements the shoe, but also shows off your personal style. For example, if you have a simple black or white Superstar, it's really easy to pull in a statement piece like a shirt in your favorite color. However, if your shoes are a bright color, you may want to opt for something a little more neutral."
Hanaa Mohammed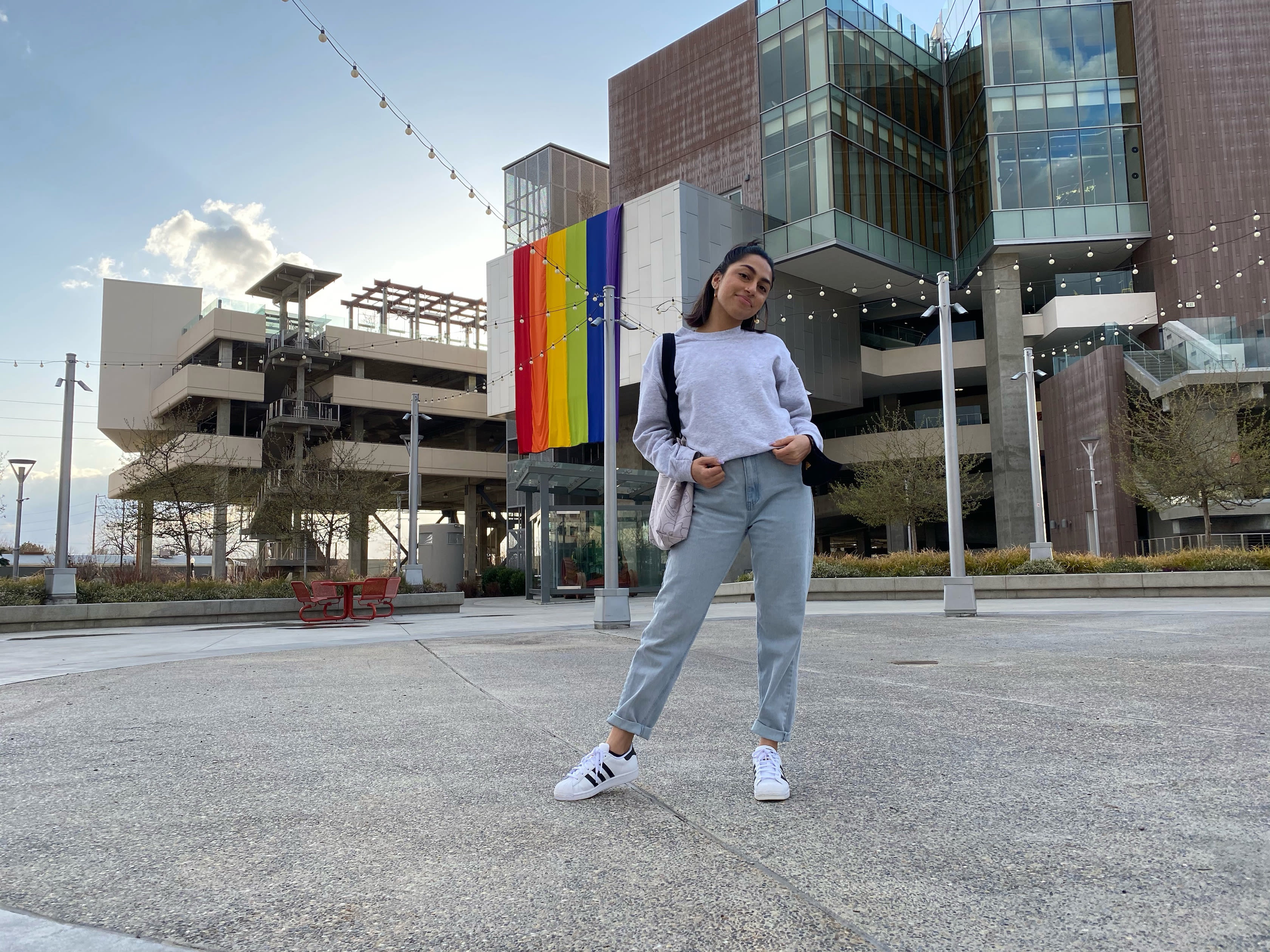 For Hanaa Mohammed, Superstars fit right into her personal sense of style. "I describe it as 'elevated comfort' — outfits that I can wear all day without wanting to change." Hanaa laced up her adidas Superstars with a cozy crewneck sweatshirt and her favorite pair of mom jeans, creating an easy look that's versatile enough to hit the road. "I wore this outfit on day one of a three-day road trip. I wanted something comfy for the car, but cute enough for the locations where we stopped." Superstars are at the top of Hanaa's packing list, she says, "because they go with everything I packed, including loungewear, pants and sweaters."
She loves how the jeans complement her sneakers, especially with the ankles slightly rolled up, and the bright white sneakers elevate this casual look: "My Superstars are so clean and crisp, I feel like it puts my whole outfit on a different level."
Hanaa's Superstar style advice: "These are the shoes that fit any and everything. Play up the classic colors with bright clothing, or go for a monochrome look — it'll all work out!"
Nick Magrone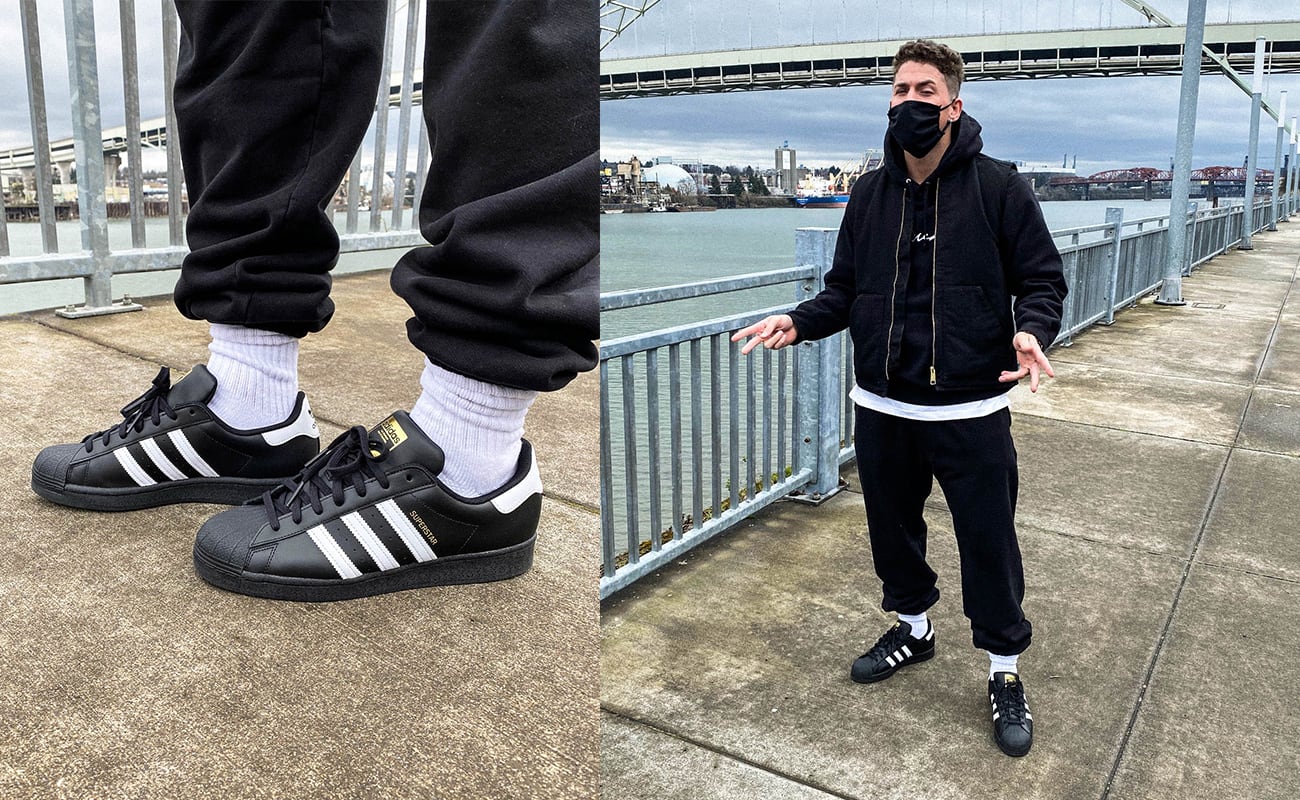 Nick Magrone chose black sweats, a black hoodie and a sturdy outdoor vest to go with his black Superstars, creating a casual men's outfit that's ready for crushing your to-do list in any weather. Describing his personal style as "Guido hype streetwear," Nick gives this look edge with white socks and a layered white t-shirt: subtle pops of lightness that mimic the stripes on his shoes.
One thing Nick loves about his sneakers? "They feel timeless," he says. Over the decades, adidas Superstars have remained style icons as trends come and go.
Nick's Superstar style advice: "There are so many different ways to rock them," says Nick about Superstars, "Take inspiration from others, but always make it your own. Don't be scared to try something new, but don't force it. Your most comfortable outfit should be your own skin."
Channeling Your Superstar Style
Whether you dress them up or down, adidas Superstars are ideal shoes when you want hours of comfort, but you're not willing to skimp on style either. You can experiment with how you accessorize and even
how you lace your sneakers
to add a personal spin to these timeless classics. Create your own Superstars outfit and tag @adidasoriginals to share your unique look.
Stay Updated
Be the first to know all about stories, launches, and events.