What to Look for in Maternity Workout Clothes
Exercise can be a major health boost when you're pregnant, and maternity workout clothes support you through every stage of pregnancy. Here's the adidas guide.
Staying active during pregnancy is more than a healthy choice for you and your baby – it can also be an empowering mood-lifter for moms-to-be. But even though exercise during pregnancy might be a no-brainer, exercise gear for pregnancy can be a little more daunting.
At the gym, at home, or wherever you're working out, maternity clothes built for fitness can help you tackle your pregnancy workouts with maximum comfort and flexibility.
When do you need maternity clothes for your workout?
Wherever you prefer to exercise, there's no hard-and-fast rule for when to start wearing maternity clothes. Every pregnancy is unique, and it all depends on what's most comfortable for you. Nearly everyone finds maternity clothes more comfortable once they're in their second and third trimester, though some women make the switch earlier in their pregnancy.
Another tip: You don't have to retire your maternity workout gear once you've given birth. Sometimes called the "fourth trimester," the time right after your pregnancy brings recovery, healing and more changes in your body. Maternity tees and workout tights from adidas are designed for a flexible, self-adjusting fit – great for post-pregnancy fitness as well.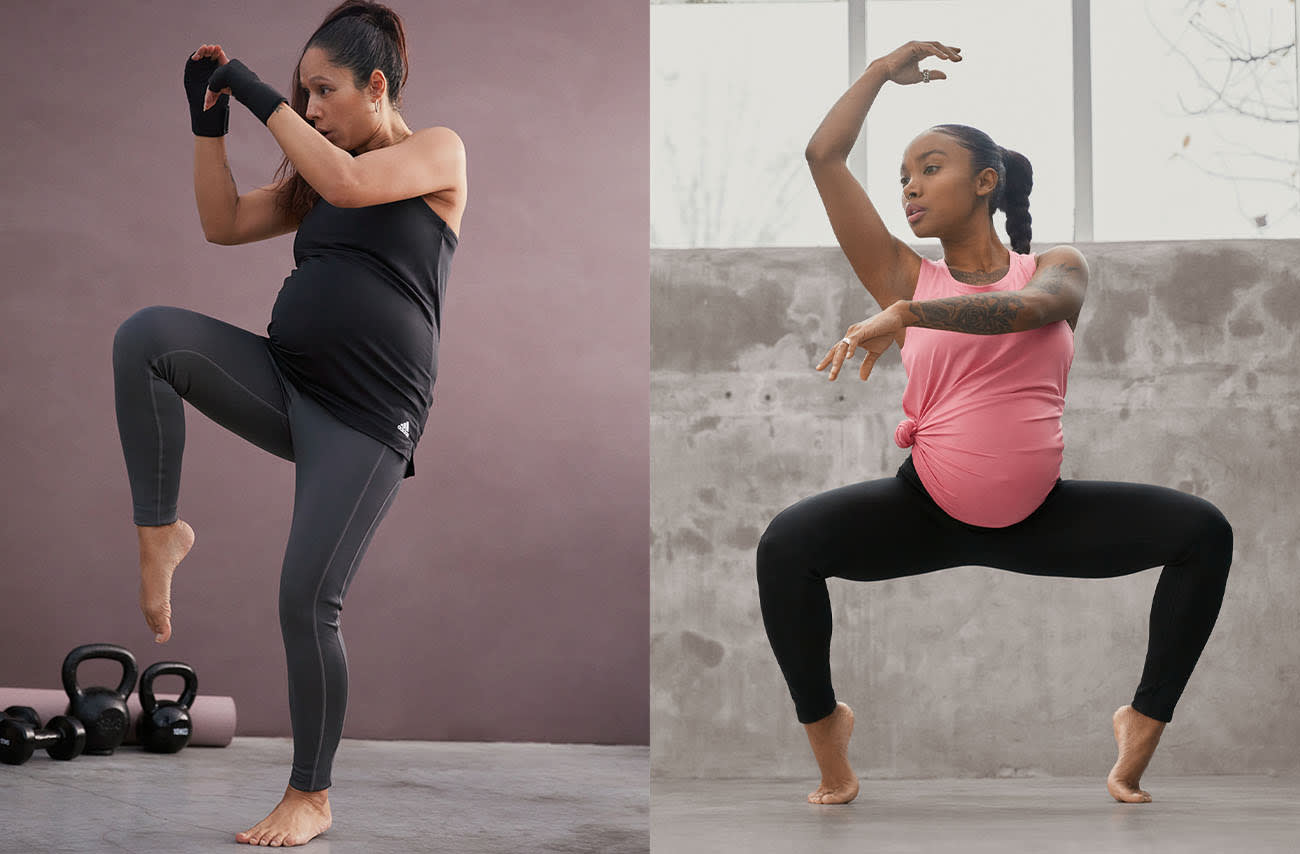 WORKOUT TOPS FOR PREGNANT WOMEN
You don't have to settle for an old oversized t-shirt just because you have a baby bump. Baggy, billowy tops can impede your movement and leave you hot and drenched. Maternity tanks from adidas feature moisture-wicking technology and lightweight stretch, just like any pro-level workout top. The tunic length provides extra coverage that adjusts as your pregnancy progresses, and the A-line shape gives you an expanding fit that gently hugs your midsection without making you feel squeezed in.
SPORTS BRAS
Shopping for a sports bra when you're pregnant can be overwhelming – there's truly no advice that's one-size-fits-all. Pregnancy can be a wild ride for your bra size, but the experience varies a great deal between individuals. For a more flexible fit, try a
light-support sports bra
or any
workout bra that's adjustable
. You also might find that bras with front or back closures are more comfortable than pullover styles.
MATERNITY TIGHTS
There's no need to sacrifice performance when you're looking for
maternity leggings
. High-waisted workout tights provide extra support for your back and your belly, with gentle compression that doesn't constrict. From working out to kicking back, grab a pair of
cotton maternity tights
with a high fold-over waistband, so you can adjust the fit to maximize your comfort – and even wear them after your pregnancy.
SHOES
You may not always be able to see them, but your feet in particular deserve to be pampered when you're exercising during pregnancy. Stability and support are key, but so is comfort. Cross-training shoes with responsive cushioning return impact, to power more energy into each step you take. Lace-up sneakers with flexible knit uppers offer a flexible fit that's easy to adjust. It's a good idea to
measure your feet
(preferably at the end of the day) to double-check your shoe size. You might find it more comfortable to go up a half size or two from your usual size, since pregnancy can often cause feet to swell.
From pro athletes to casual gym-goers, exercising during pregnancy can yield all kinds of benefits. With a few great pieces of maternity workout clothes, it's easier to get excited about your fitness routine, and stay active throughout your pregnancy.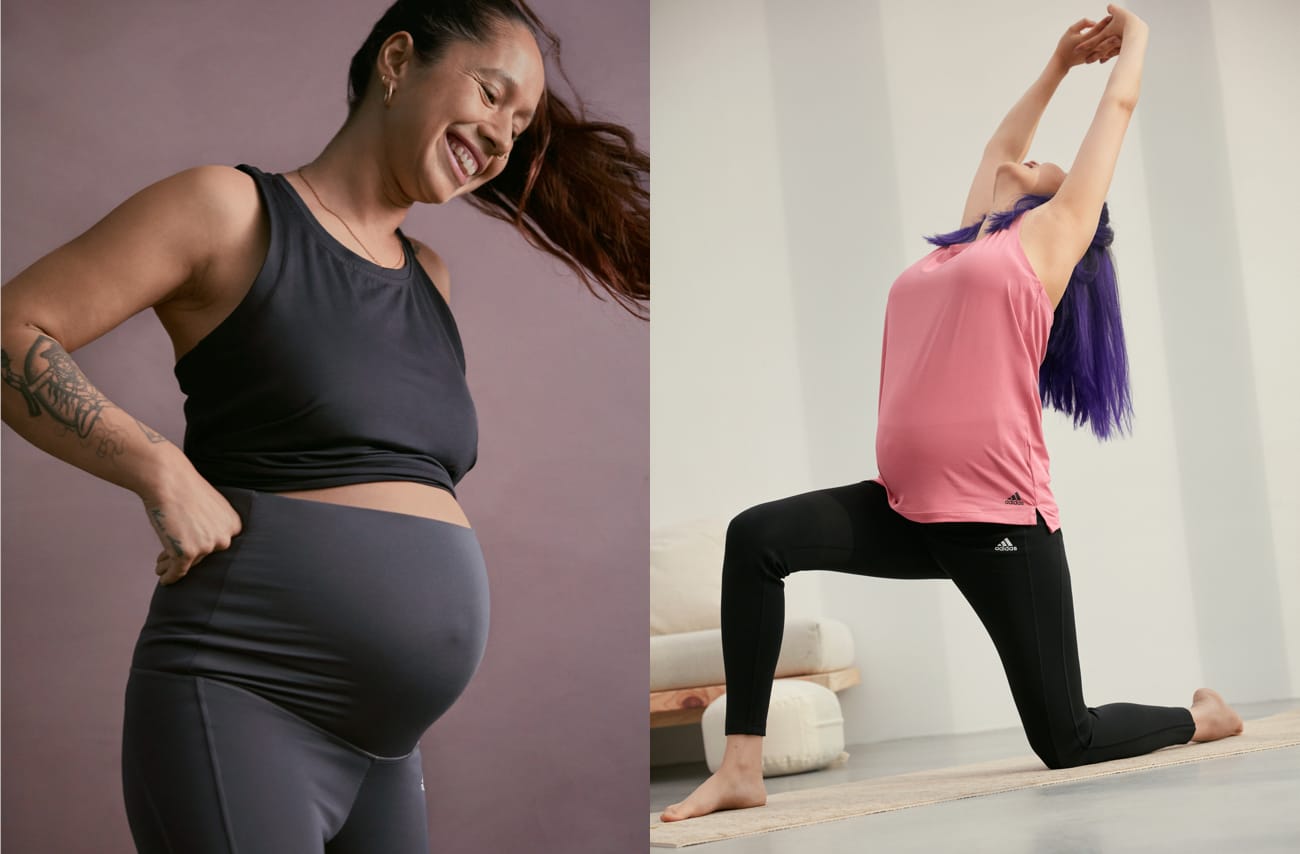 Stay Updated
Be the first to know all about stories, launches, and events.