Sustainable Gifts for Everyone on Your List
Give to friends and family while helping the planet. This is the season to shop gifts made with sustainable materials for everyone on your list for the holidays.
The Perfect Gift To Help End Plastic Waste
Give a gift that not only contributes to a fit and healthy lifestyle, but also invests in a healthier future for the world. This season, explore gifts that are designed with sustainable materials like adidas Primeblue: Made with Parley Ocean Plastic. An innovative, high-performance material, Primeblue features Parley Ocean Plastic made from upcycled plastic waste intercepted from beaches and coastal communities before it pollutes the ocean.
We teamed up with fitness blogger Sara Quiriconi, @livefreewarrior, who is all about teaching people to live a healthy lifestyle while doing their part to protect the environment. Read on to find out more about her favorite picks from the adidas Primeblue collection.
adidas Gifts Made With Sustainable Materials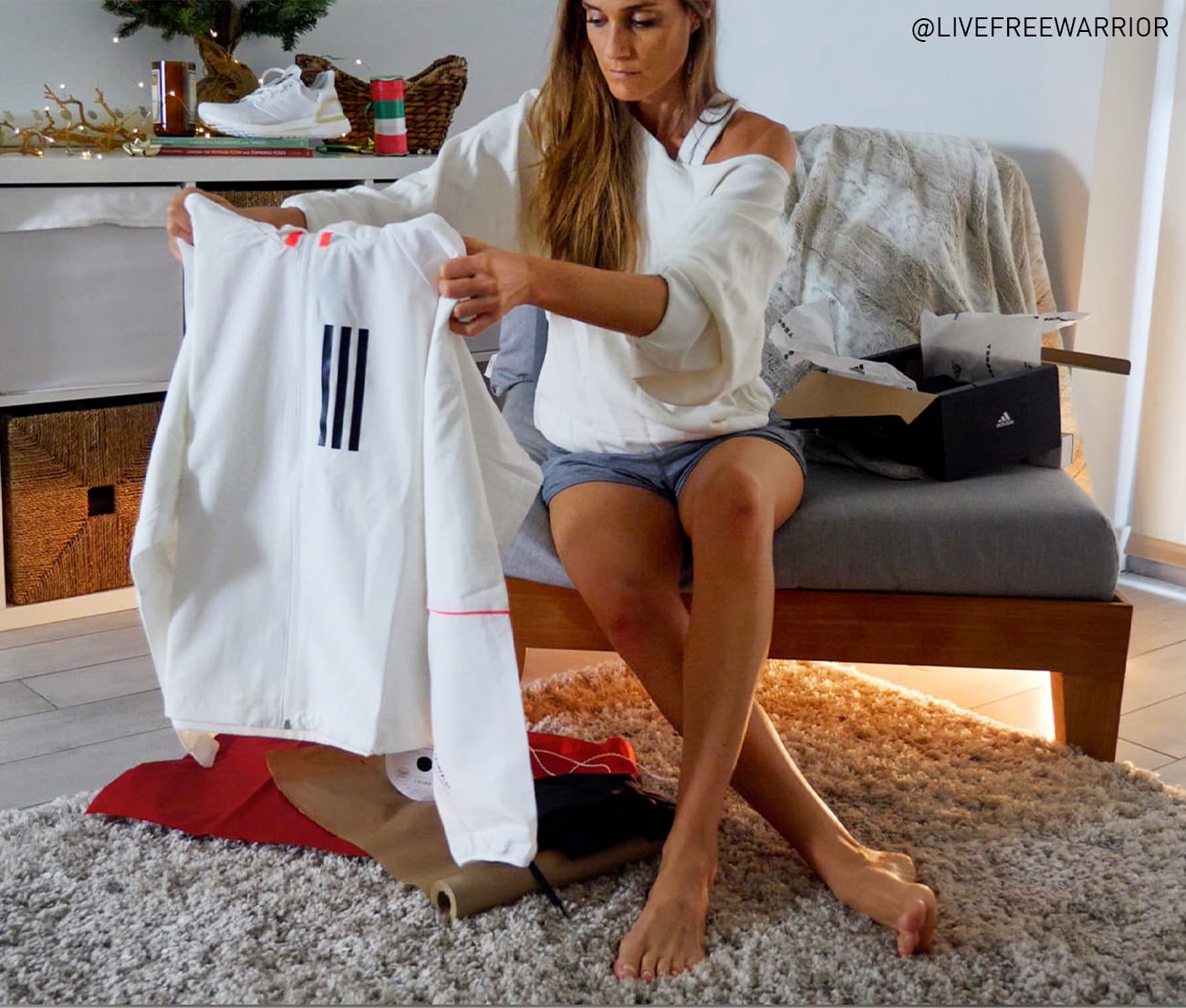 Price: $85
Winter is the perfect time to give the gift of layers. Season after season, this windbreaker blocks the chill. Bundle up with a hoodie underneath, or throw it over a tee when spring comes. Complete with a crisp white color and neon orange accents, this jacket made with Primeblue Parley Ocean Plastic goes from workout to chillout in a snap.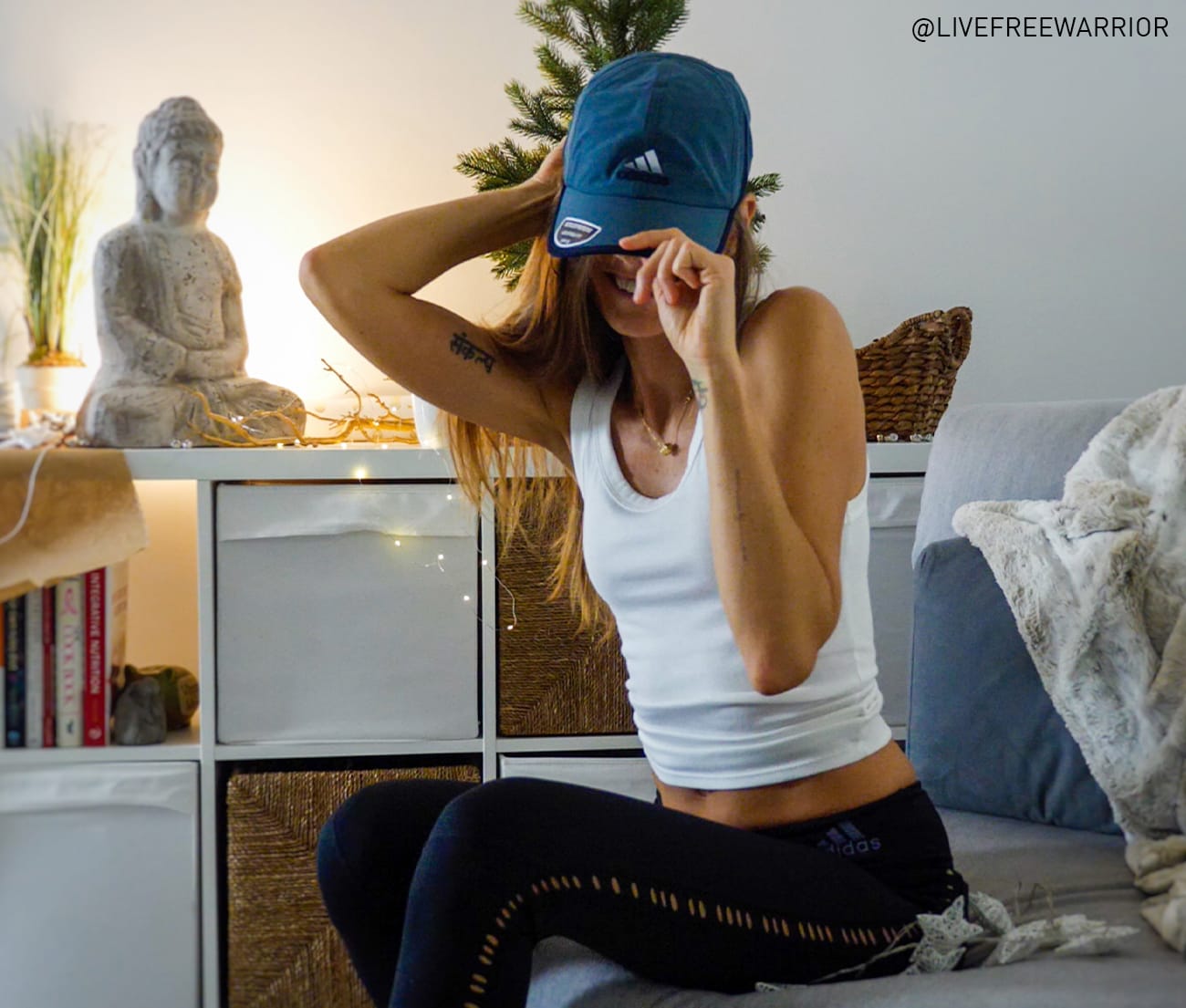 Price: $24
No matter where you're training, sometimes a hat is just what you need to get in the zone. This Superlite Hat lives up to its name, providing a barely-there feel so you can work out distraction-free. A moisture-wicking sweatband and UV protection keep you comfortable, while the hat's 100% recycled polyester material does its part to reduce waste.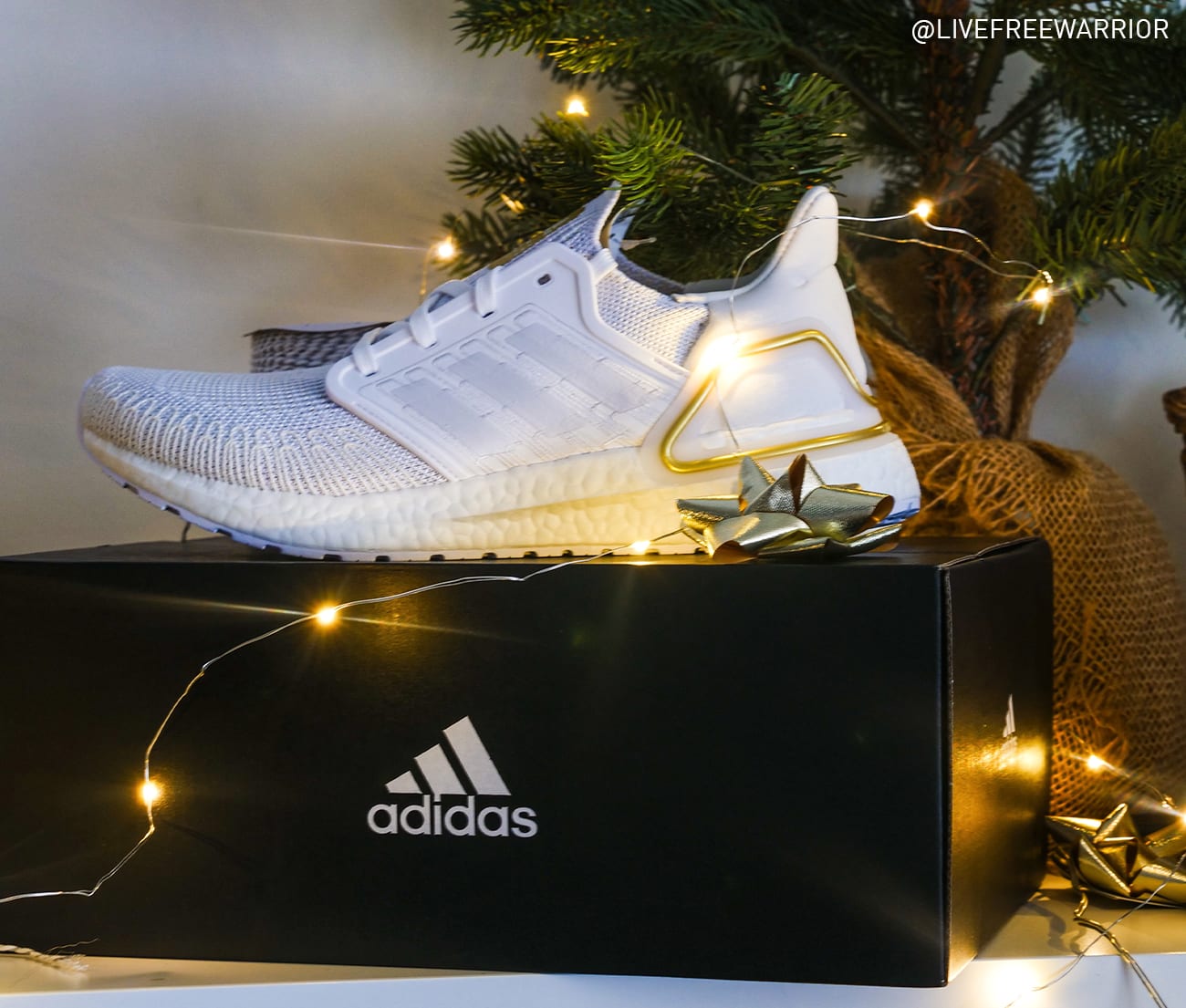 Price: $180
So good, we had to list them twice. These women's running shoes come in 18 different colors and have all the features we know and love, like extra Boost for energized steps and a comfortable sock-like fit. And of course it wouldn't be on this list without being woven with Primeblue made with Parley Ocean Plastic, making these shoes' upper at least 78% recycled material.
More Gift Ideas Made With Sustainable Materials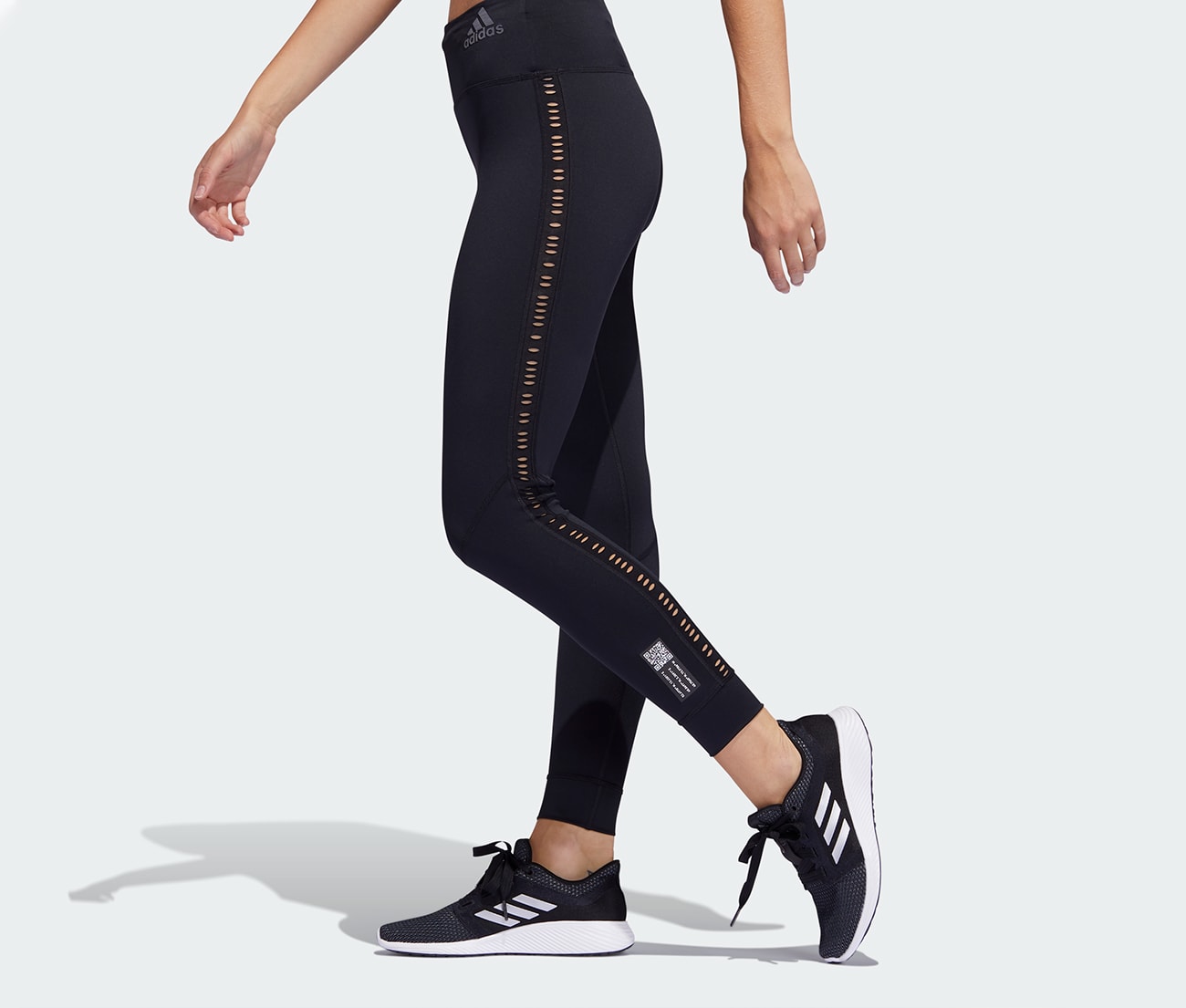 Price: $70
For the runner who loves the outdoors, this is a great two-in-one gift. These tights deliver lightweight comfort with AEROREADY technology to keep your skin dry. Quiriconi loves these because they are made with Primeblue, a high-performance recycled material featuring Parley Ocean Plastic that's helping to change our global environmental footprint. Plus, a QR code on the calf connects you to a running playlist shared by runners around the world.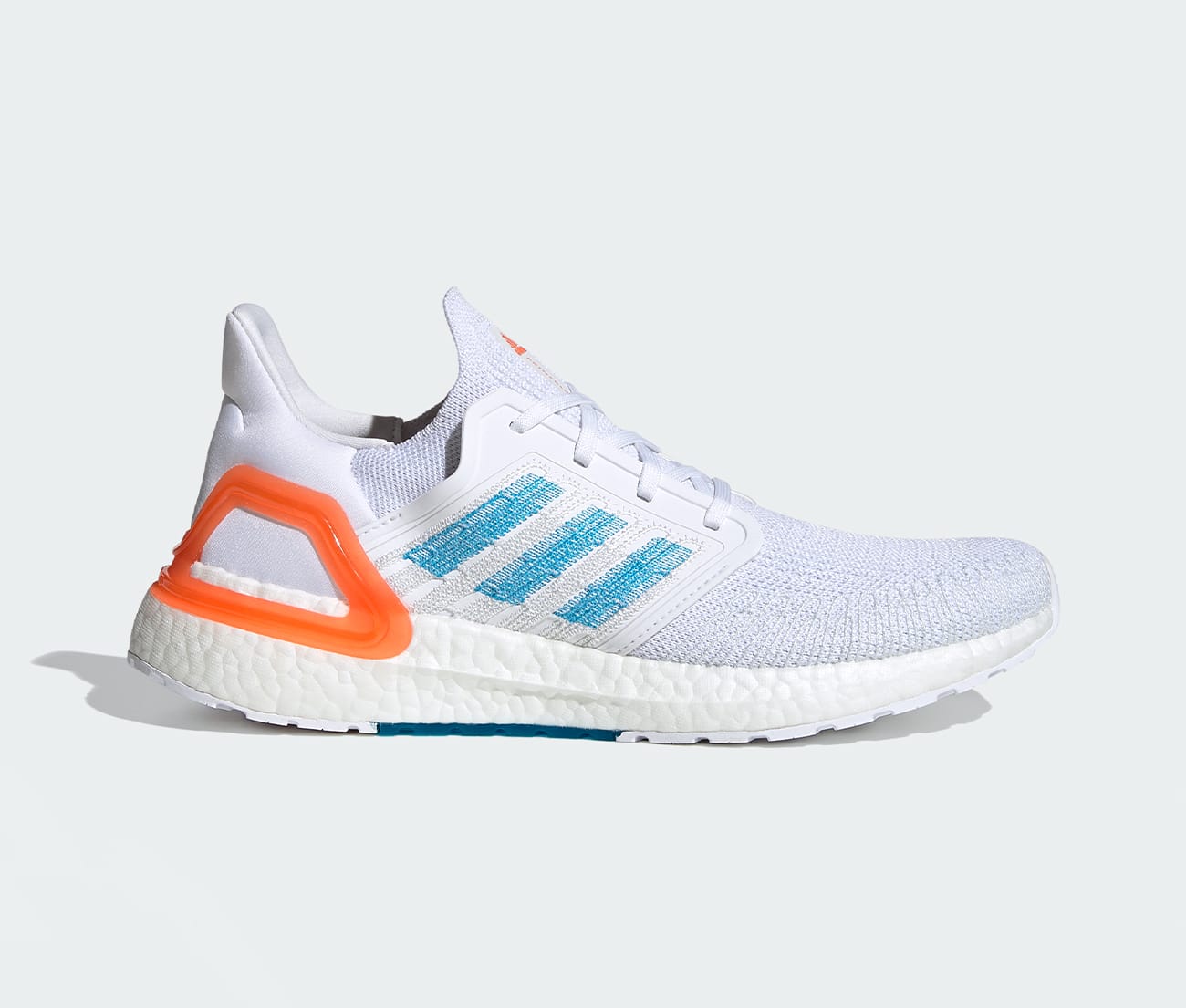 Price: $180
Feel good about your run and the planet. In a fresh white colorway with vibrant coral orange and ice blue accents, these Primeblue Ultraboost 20 running shoes capture the refreshing feel of a plunge in the ocean. Enjoy all the beloved features of Ultraboost—like more Boost cushioning, a supportive heel and a sock-like fit—but with the added benefit of our recycled high-performance Primeblue in the upper.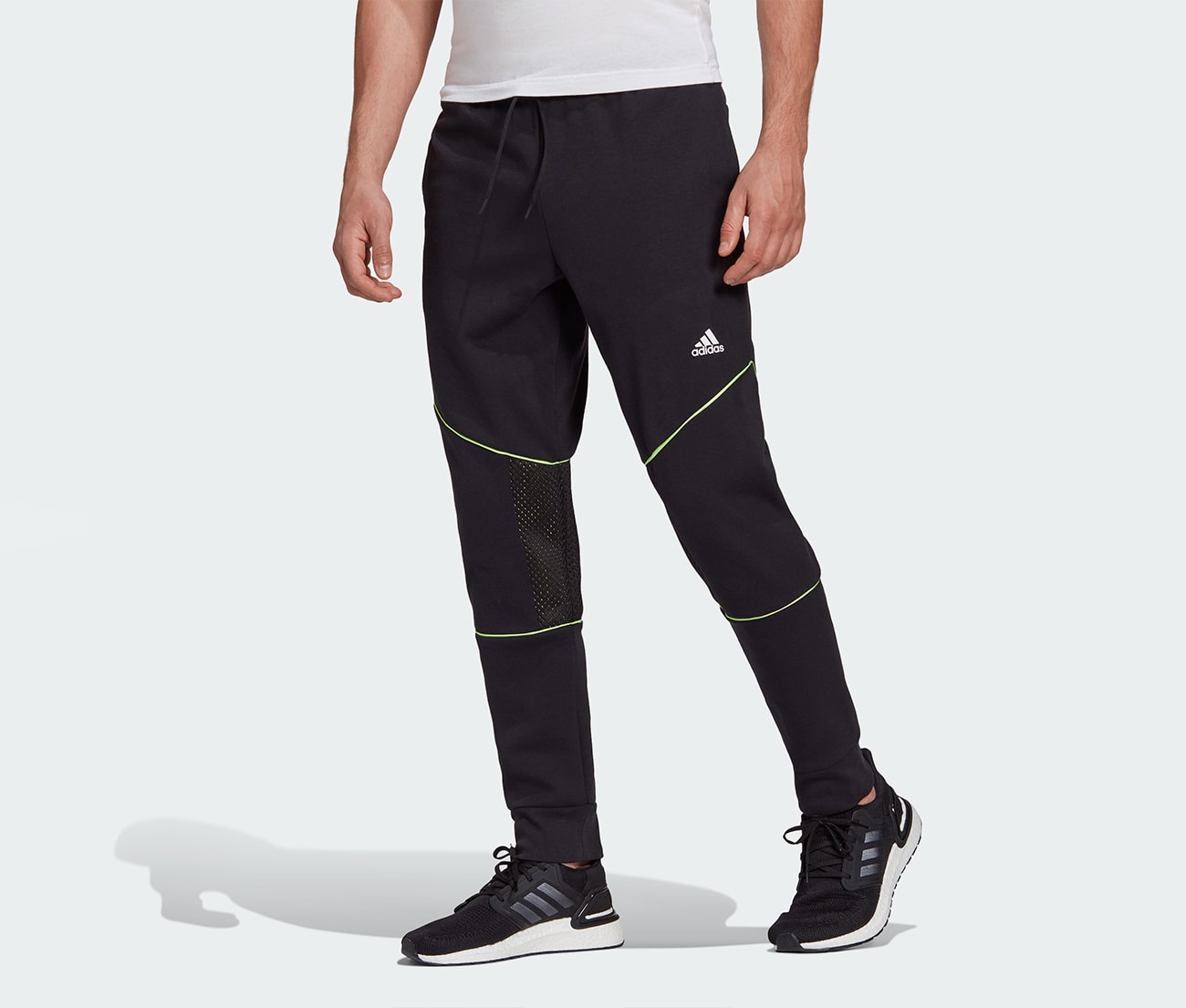 Price: $60
If the guy on your list often mixes fashion with comfort, then these pants really are must haves. Whether he rocks them to the gym or to chill out at home, he can move and relax in Primeblue pants made in part with Parley Ocean Plastic. Mesh panels on the knees keep the airflow moving while adding some attitude to these too-cool track pants.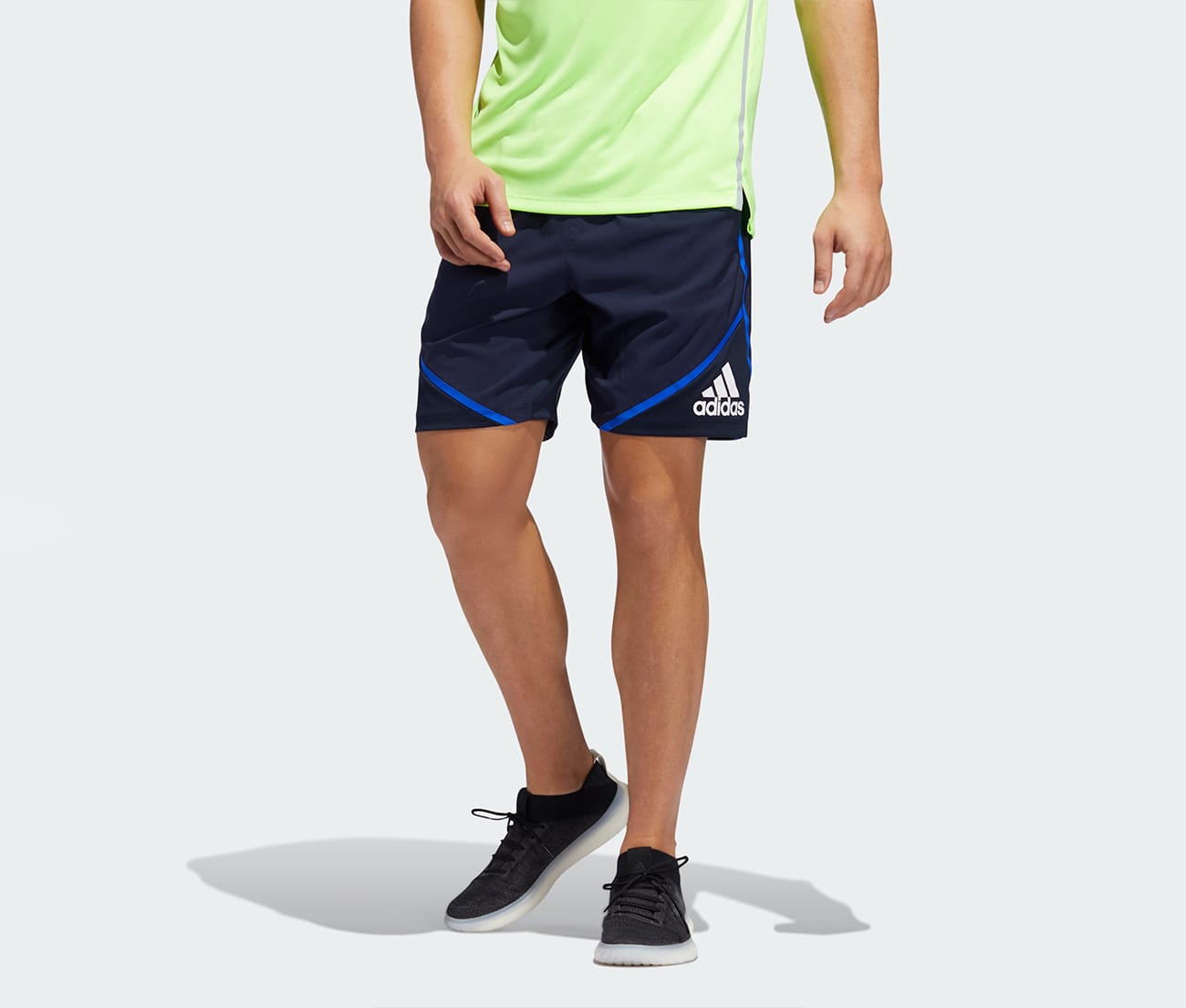 Price: $48
Train without limits in clothes that work hard when you do. These shorts let the fitness-focused guy on your list move freely through weights, endurance training and HIIT. By repurposing plastic waste into high-tech materials, Primeblue takes a problem and spins it into performance, making these a stellar gift in more than one way.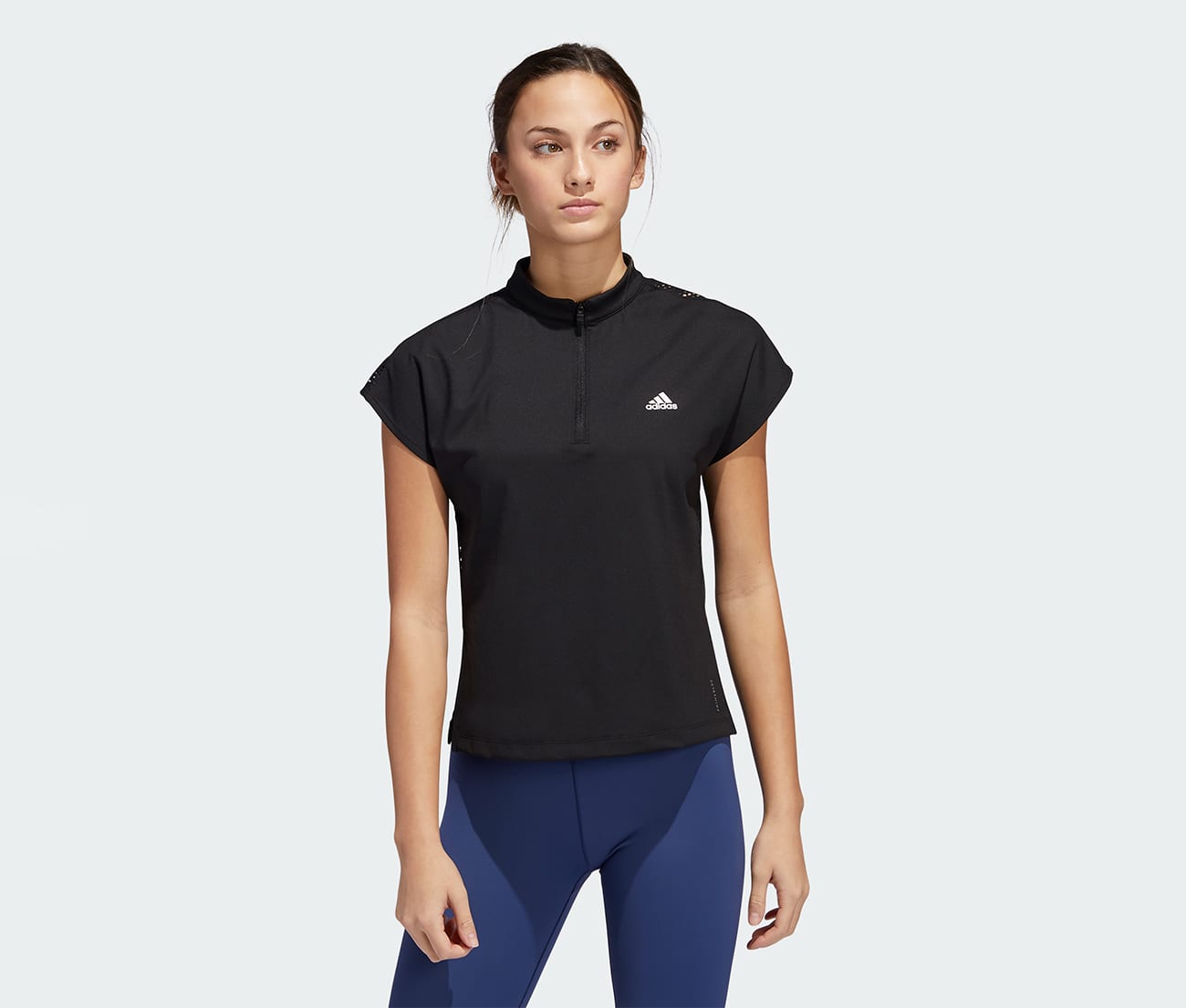 Price: $45
This half-zip style can handle whatever she has planned. With lightweight Primeblue fabric containing Parley Ocean Plastic, this high-performance top will wick sweat away and keep her focused. A chic tee that steps above the basics, this super breezy top is complete with a full-mesh back for breathability during tough workouts and style for everywhere else.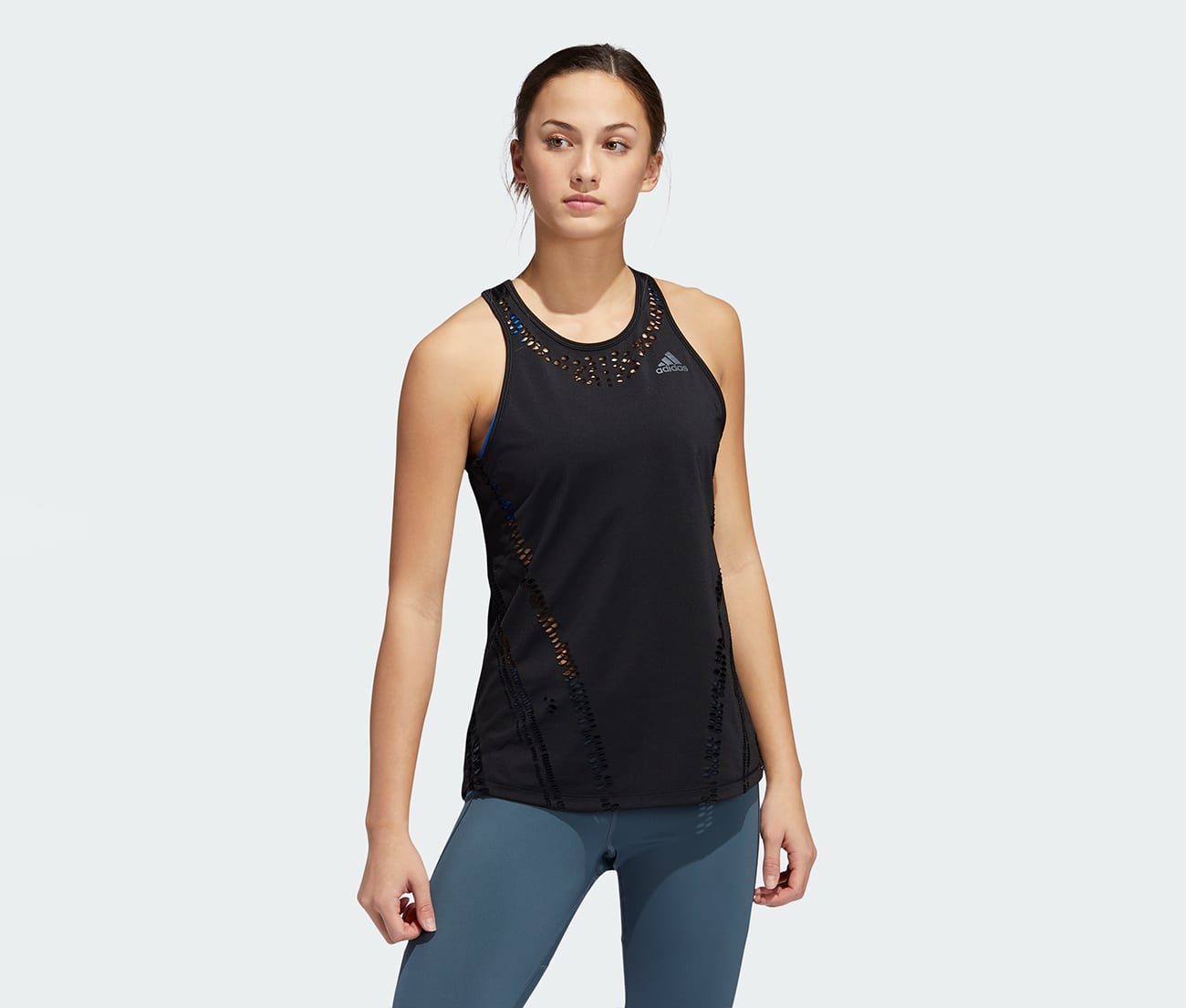 Price: $40
Every run is a chance to beat yesterday's stats. With a slim fit and AEROREADY technology, she'll stay cool and dry through the miles, while a QR code will have her stepping to the same beat as runners around the world. Plus, she can run knowing her tank top is made with upcycled plastic waste.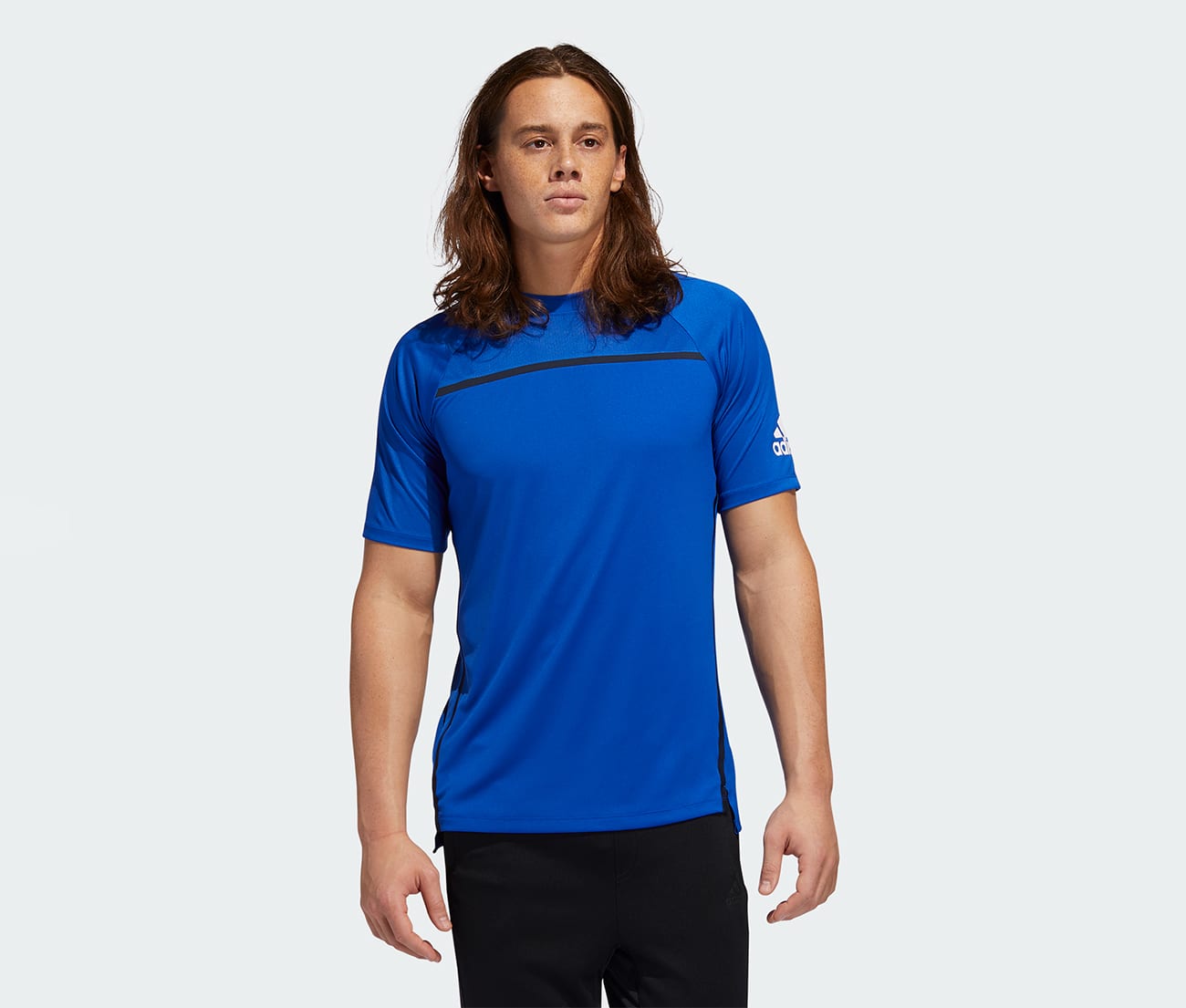 Price: $42
Comfort, style and helping the oceans all combine in this light and stretchy workout tee. He'll feel unrestricted throughout his workout and stay cool with 100% recycled polyester mesh sleeves. Available in three bold colors, the Primeblue Tee is a strong choice for the guy on your list.
Make A Difference
Explore more Primeblue and Primegreen gift ideas on our website, and make a choice that makes a difference to our planet. Aside from giving sustainably-minded gifts, consider Quiriconi's other tips for rounding out your environmentally-friendly present.
• Repurpose adidas sneaker boxes and tissue paper as the packaging for your gift. You can even get creative with it and decorate the outside so you don't have to use wrapping paper.
• Ship orders in bulk when possible to avoid excess transportation for your items.
• Purchase gifts from sustainably responsible companies like adidas who are making products that reduce, reuse and recycle.
Stay Updated
Be the first to know all about stories, launches, and events.