WHAT TO WEAR FOR A MARATHON
Rain or shine, the marathon will go on, and so does your training. What you wear for those 26.2 miles can define the entire experience.
The world of distance running has changed with the pandemic, but runners everywhere are training with as much dedication as ever. Whether you're running a virtual marathon or following a marathon training schedule to reach new personal best, the right gear can help you take those 26.2 miles in stride. So how do you know what to wear on the day of the race? 
Marathons, half-marathons, or shorter races: they happen no matter what the weather. Rain or shine, your race day clothes should keep you dry and comfortable mile after mile.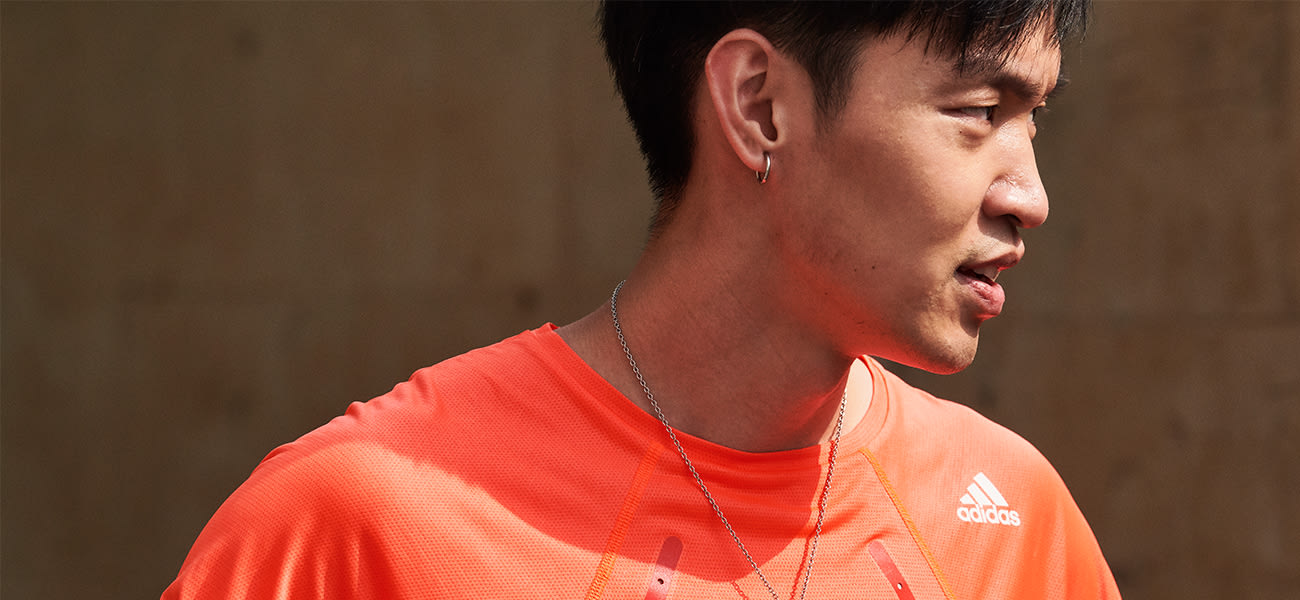 WHAT TO WEAR DURING A MARATHON: TRAIN LIKE IT'S THE BIG DAY
When you're training for a marathon, you can be extra prepared by training in similar conditions that you expect for race day. If your race has hills, train with hills. If there could be rain, run in the rain.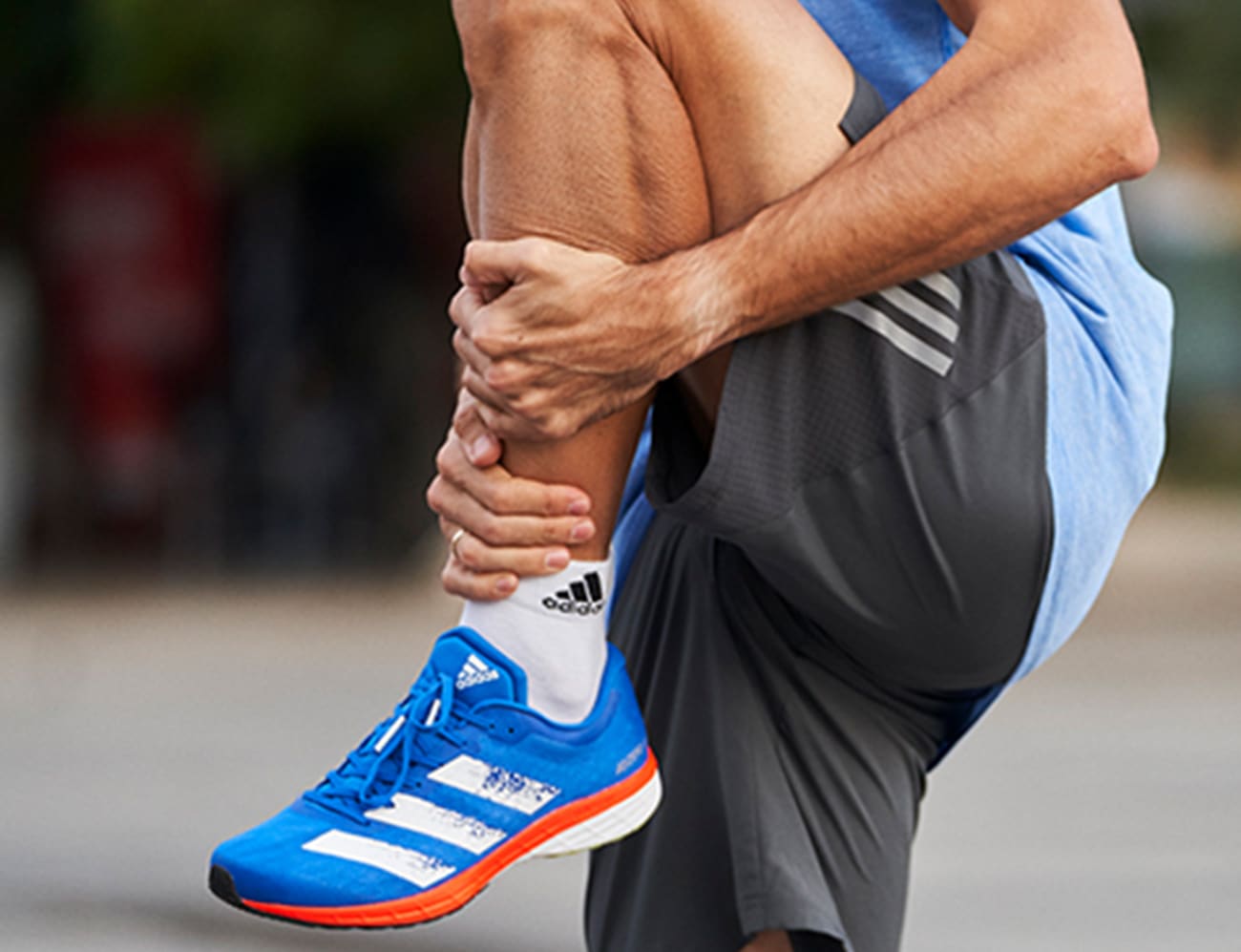 ESSENTIAL MARATHON RUNNING GEAR
Keep our list of basics handy for building out your running wardrobe rain or shine. The key is having lightweight tech layers that can come off before the race, or during, and be packed or transported easily while you run.
BEFORE AND AFTER RACE ITEMS
Bag for your gear
Sunscreen
Jacket/warmups before the race begins
Body Glide 
Supplements and or a pain reliever
Water or drinks with electrolytes 
Towel
Bandages
MARATHON GEAR OR LONG-DISTANCE RUNNING GEAR
RAINY DAY MARATHONS
"I love running in the rain," says Pete Bergeron, a color and materials designer for the Running category at adidas North America HQ in Portland, Oregon. Bergeron runs marathon distances of 20-40 miles per run every week. A lighter drizzle, in moderate temperatures is common in the Pacific Northwest and can help to lower body temperature, which typically rises 10-15 degrees while running. If you run long-distances in the cold and rain, your body will eventually start losing heat production as you become more tired. That's where smart choices in the type of clothing and layers can preserve heat, avoiding a longer recovery or the risk of hypothermia. Wearing performance, sweat-wicking fabrics moves moisture away from the body creating a pocket of air next to the skin that retains warmth.
For cooler, wet climates Bergeron says he starts his layers with "a t-shirt up top, as long as it's not cotton, I'm good. I wear Supernova most [of the] time. I prefer really soft loose-fitting t-shirts." He wears a beanie and running tights when it's 35°F or below for warmth and doesn't recommend waterproof running shoes when running for long distances in the rain. As a running materials expert, Bergeron explains that you don't want to accumulate water in or around your shoes because it can add weight to your long-distance run. Extra weight can slow you down.
TIPS FOR PRE-MARATHON RUNNING
People getting ready for their first marathon commonly want to know:
1. Should I practice in my marathon gear? 
Answer: If you trained in all the potential conditions of the race day, then your body will be acclimated to whatever weather that might happen. This means that the type of gear you train in should be the same type of gear you race in.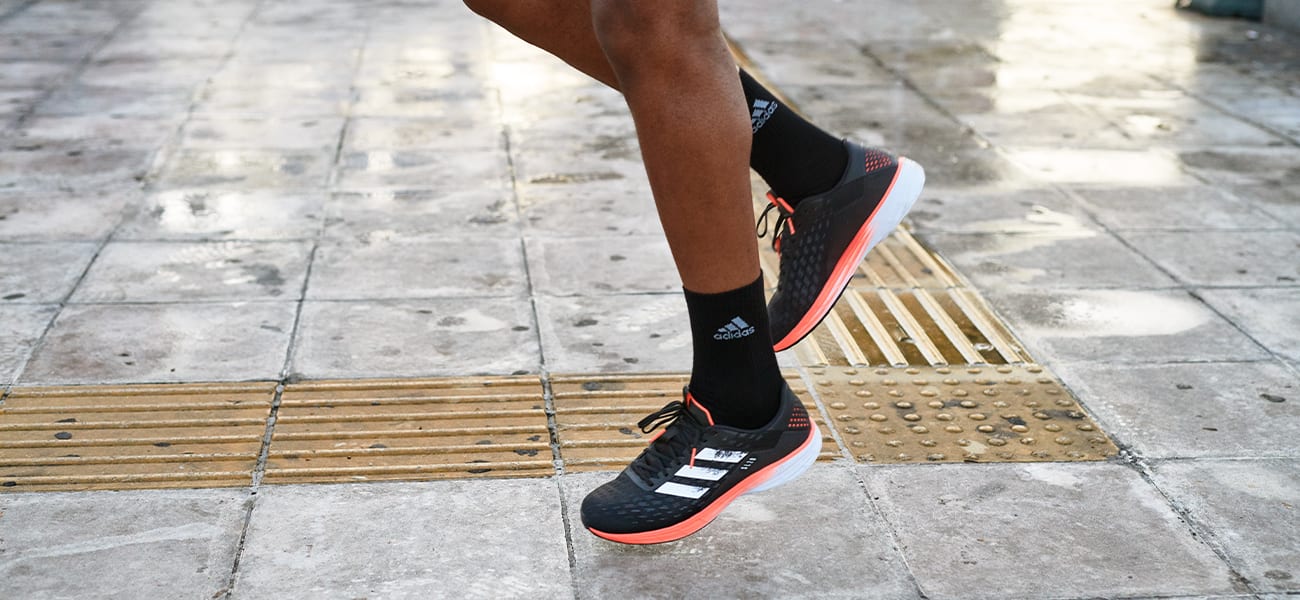 2. How many miles should I run in my marathon shoes?
Answer:
Bergeron's advice on shoes is, "if you
find a pair of shoes
that you enjoy running in, go get two more pairs and rotate through." He loves the Adizero Boston for hitting the pavement during the week. When he's running an average of 30 miles per day, he doesn't wear the same pair of Adizero Bostons twice in a row. By rotating duplicates of his favorite make and model his foot is always acclimated, then "they're still in good shape; they haven't been overused in training." 
You should always train at least 10 miles in the shoe you plan to wear on race day. There are too many unknowns if you wear a shoe that hasn't been broken in. Eliminating as many unknowns for race day is critical to remaining as comfortable as possible. 
3. How do I deal with chafing?
Answer: "Body Glide is a must," says Bergeron. "I've gotten into three miles of a 30-mile run before turning it into a 36-mile run because I had to go back and get Body Glide." 
4. What about outfit swaps?
Answer: Outfit swaps make the most sense for ultra-marathons where there are various points established to pick up your drop bags and make swaps, grab food, or leave items. If needed, take an extra pair of lightweight socks or a t-shirt to swap out when half-way through. That's a decision based on what you're most comfortable with as you've built up your long-distance training. 
Once you cross the finish line, it's time to celebrate your success and recover. If you're training for a race, share your marathon pictures with us by tagging @adidasrunning on Instagram and Twitter.
Stay Updated
Be the first to know all about stories, launches, and events.