How Should A Sports Bra Fit?
Over 90% of women are wearing the wrong size sports bra. We're here to change that with a simple sports bra fit guide to help find your perfect fit.
HOW TO FIND YOUR CORRECT BRA SIZE
An ill-fitting sports bra is not only unhelpful, it's uncomfortable. To find a sports bra with the right amount of support, you first must know your correct everyday bra size.
Studies have found that 90% of women aren't wearing their correct bra size. Luckily, you don't need a tape measure to figure out your best fit. All you need is your regular bra and a mirror to check how your band and cups fit. Here's how to check if a sports bra fits correctly.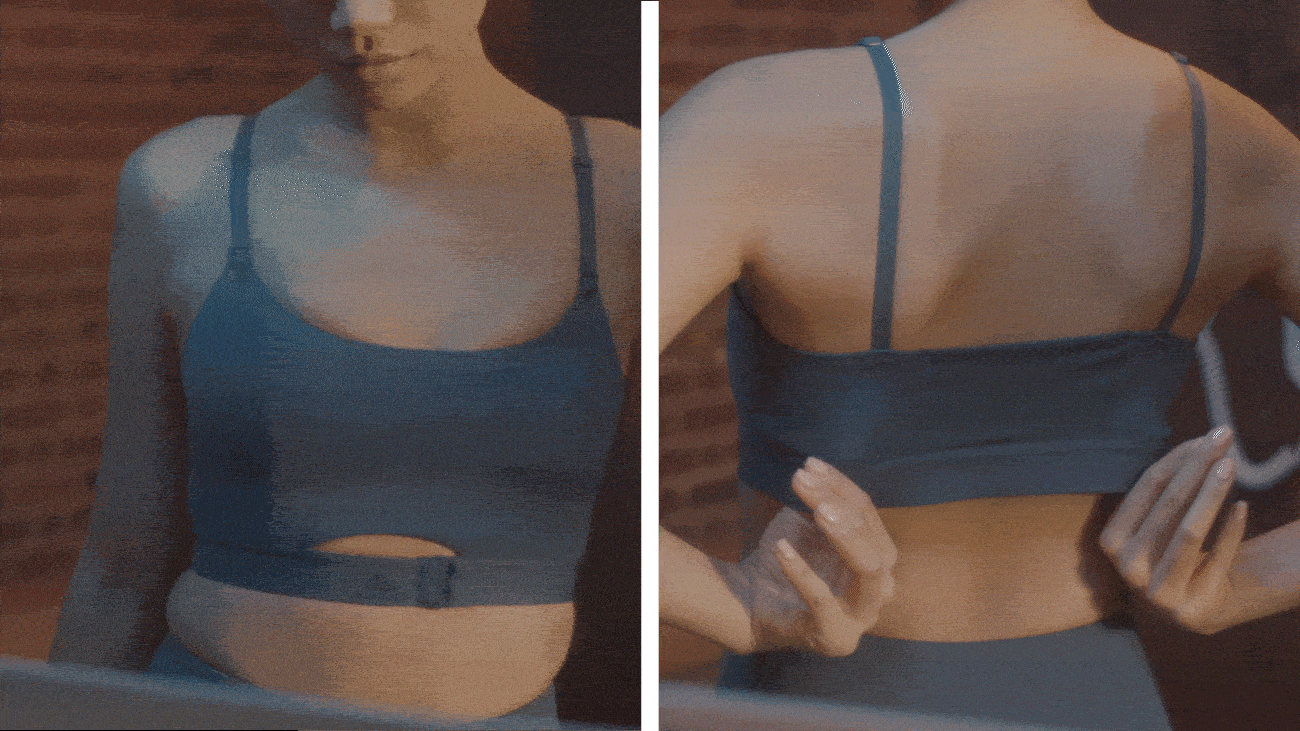 First, see how the band fits.
Your band is responsible for most of the support from your sports bra. If it feels snug but not tight, and sits level around your body, you are wearing the correct band size.
If the band digs into your back, then it's too tight and can leave marks. If the band rides up your back, then it's too loose and isn't providing enough support.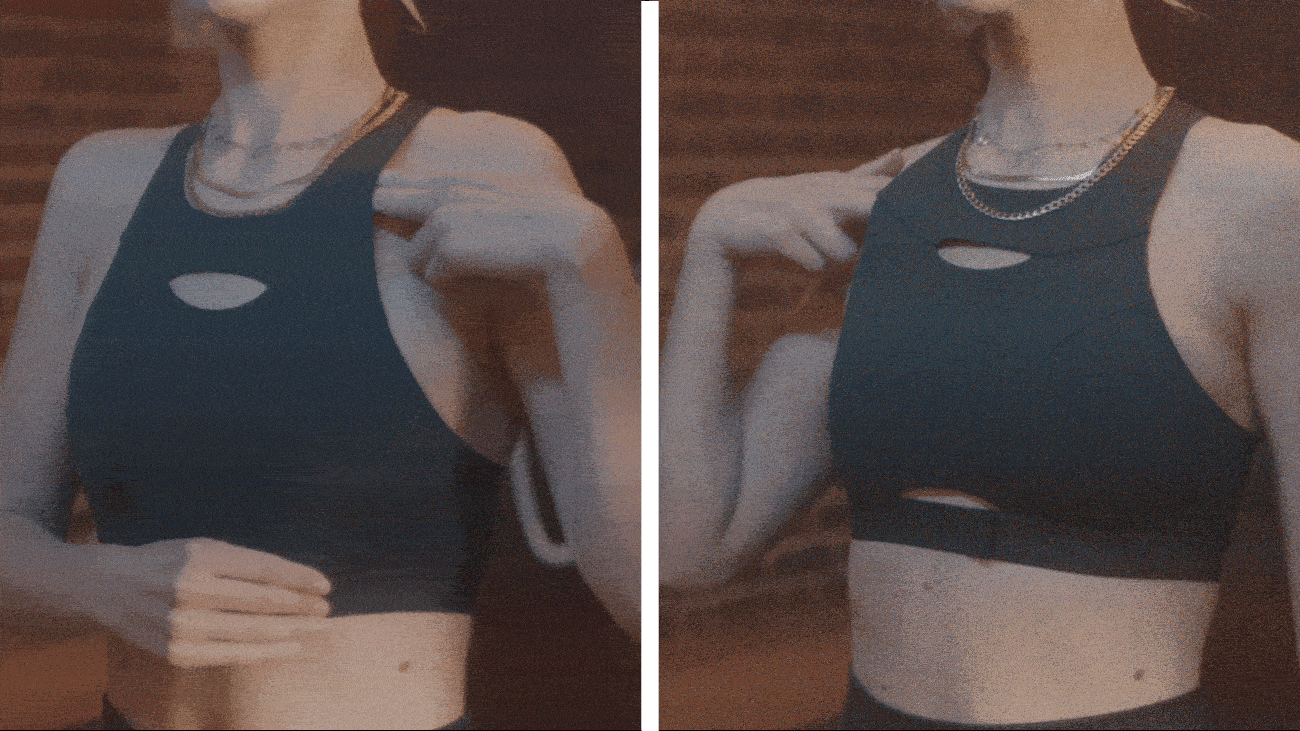 Next, check your straps.
Your straps should sit comfortably on your shoulder without slipping or digging in. When it comes to support, your band does the hard work, while your straps should hold the bra cups in place, close to your body.
If your straps are too tight, they'll dig into your skin and could leave marks. With a bit of resistance, you should be able to fit two fingers between your strap and your shoulder for a good fit.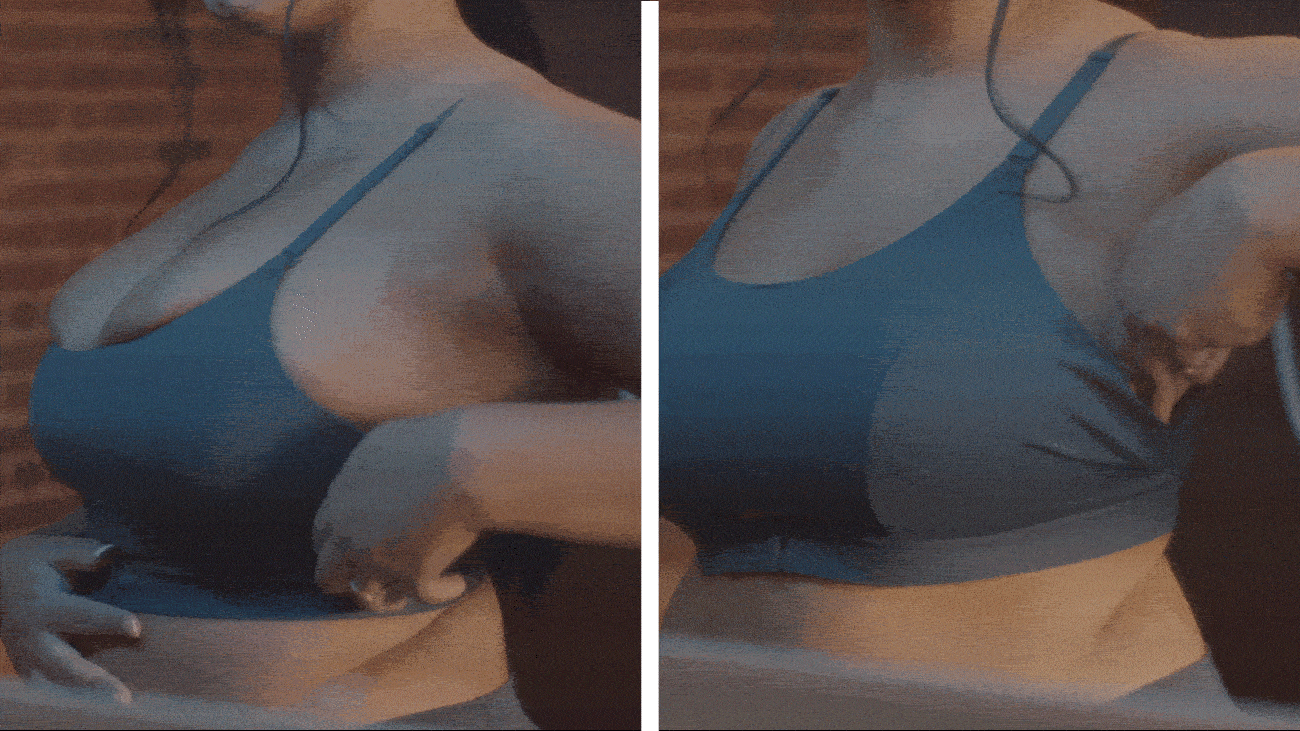 Then check how your cups fit.
If the cups fit perfectly around your breasts and there's no overflow or gaping, your cup size is correct.
Overflow at the top or sides suggests the cup size is too small. If your breasts have extra room inside the cups, your cup size is too large.
THE RIGHT SUPPORT FOR YOUR SPORT
It's not easy to find a sports bra that not only fits and feels comfortable, but also offers the right amount of support for your workout. When choosing a new sports bra, you need to consider your size, your workout and the intensity you train to find your perfect support. The new adidas sports bras come in light, medium and high support, and range in designs made for different levels of impact across activities in studio, training and running. Learn more about each bra design and which support level fits your needs by reading our support level guides.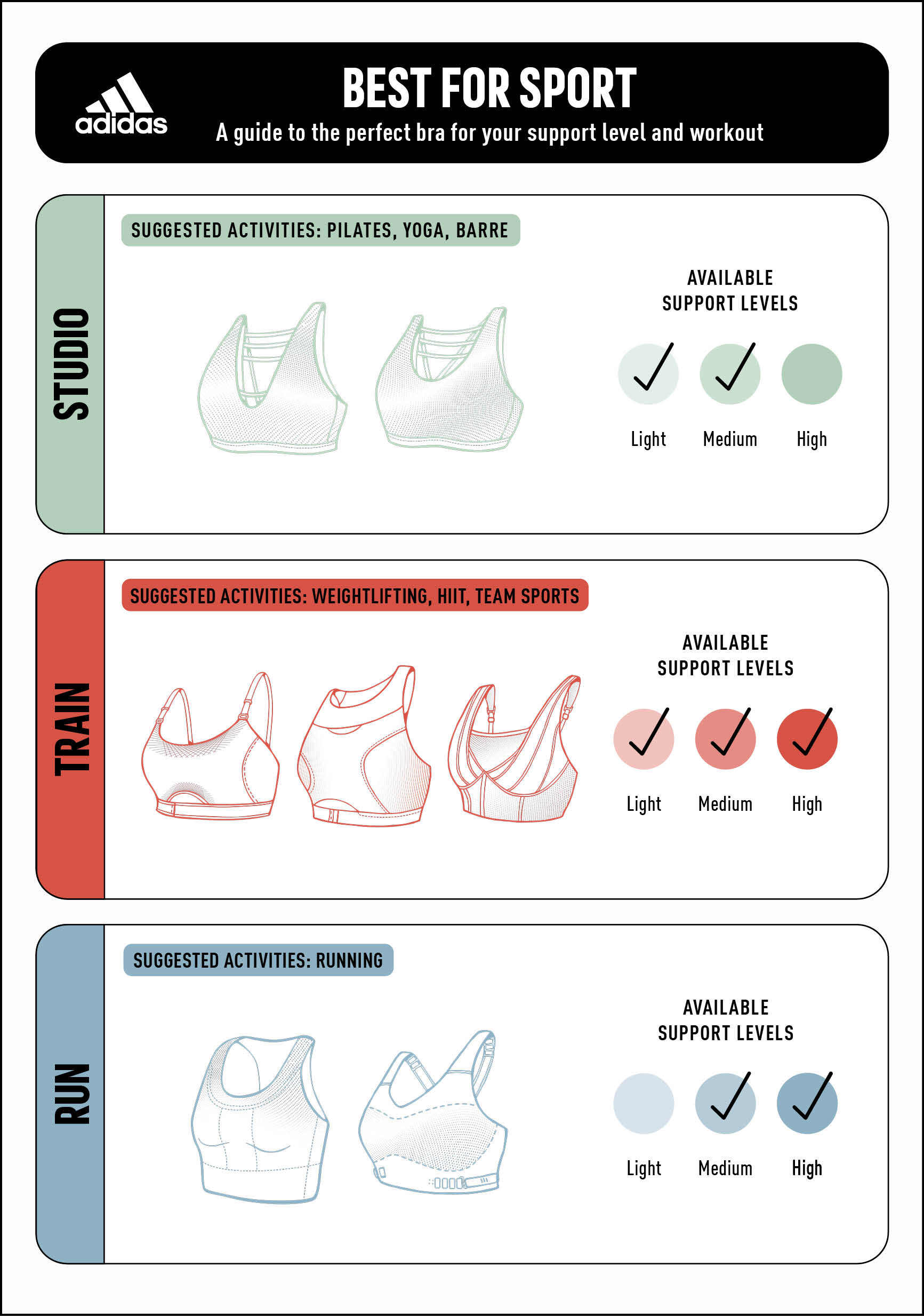 Finding Your Size
To feel even more confident that you're picking the right size, you can also measure yourself using a flexible tape measure. It's best to take your measurements as close to your skin as possible, without a bra on.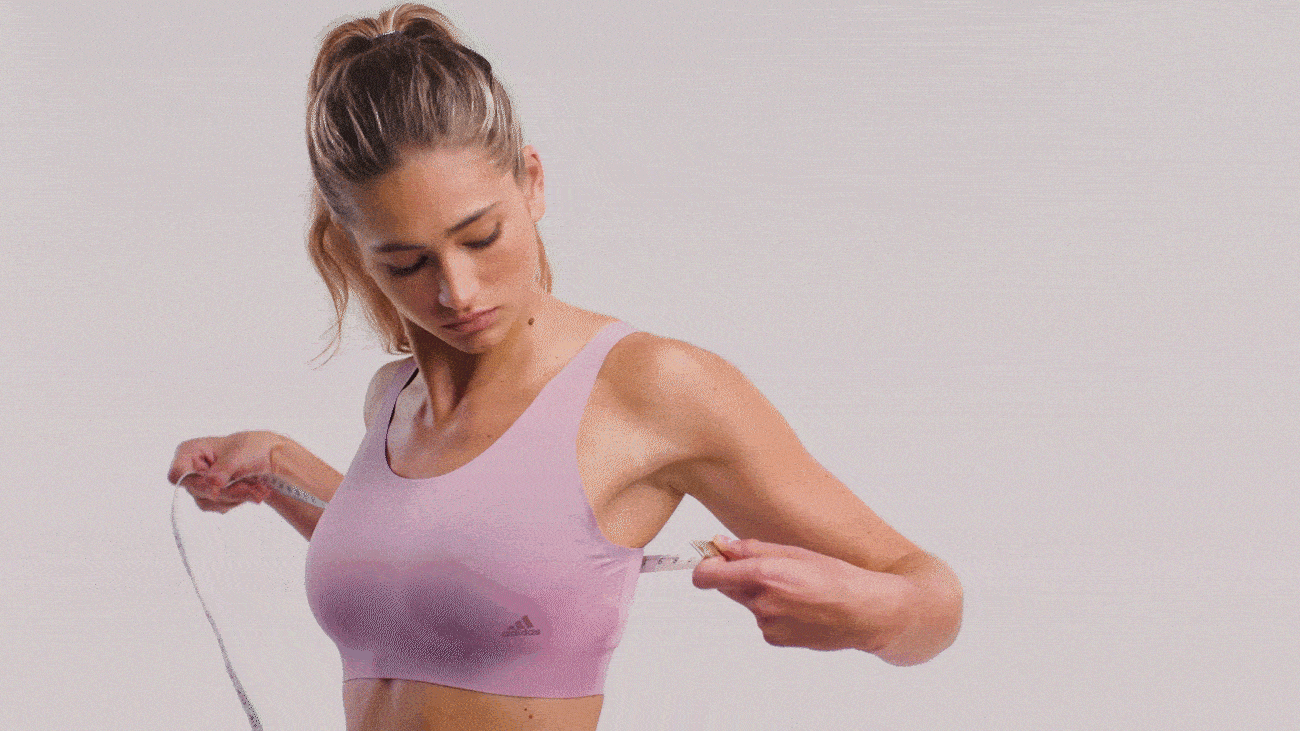 1. Measure your cup size by wrapping the measuring tape around your back and across the fullest part of your bust—this is usually right across the center of the nipple. Be sure that the measuring tape is level. It should be snug while allowing you to take a deep breath comfortably. Take note of this measurement.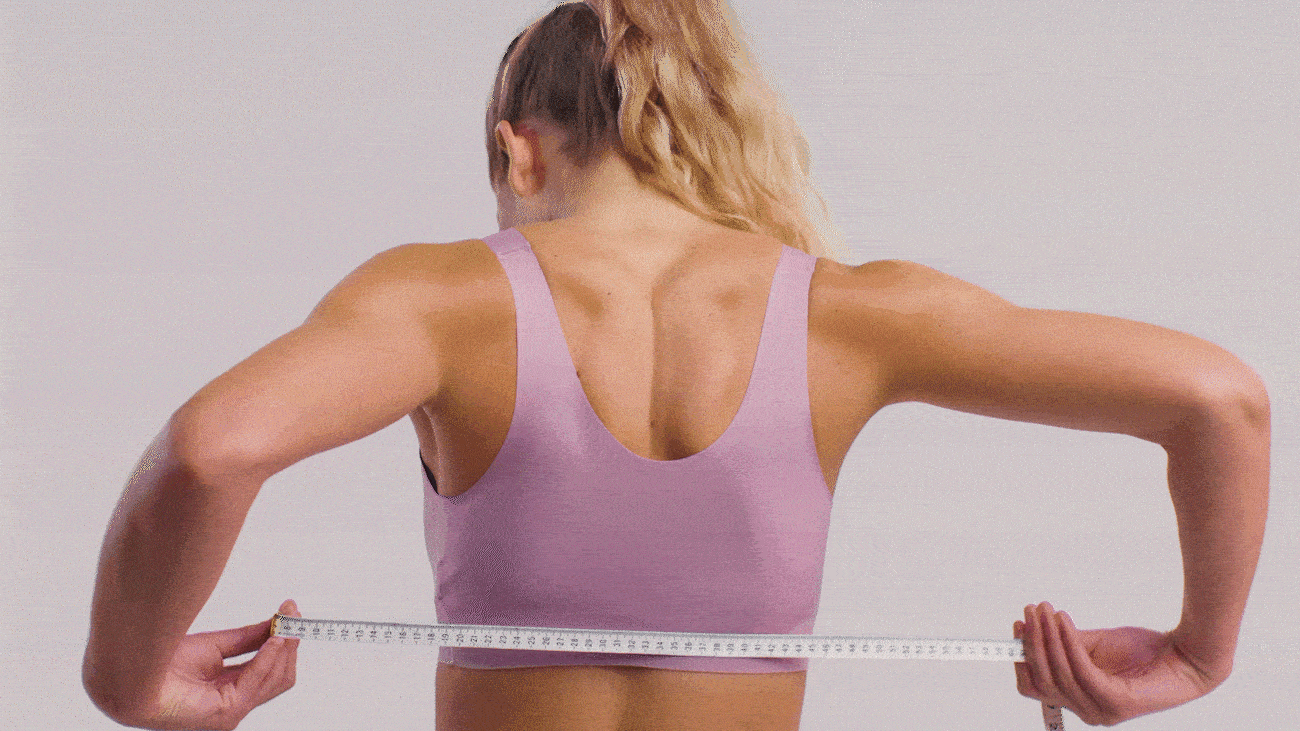 2. Measure your band size by wrapping the measuring tape around your back and under your bust. The measuring tape should be level and flat against your body and not on your breast tissue. You may need to lift your breasts to achieve this. Again, it should be snug while allowing a comfortable deep breath. Note this measurement.
3. Lastly, check these two measurements against our size guide and you will be able to calculate your correct sports bra size. You can also use our bra finder to see a customized selection of bras for you.
Your body is unique, so our tips and guides will help you understand the size and support you need for the sport you love. With over 40 new sports bras, our most inclusive sports bra collection yet is designed for all shapes and sizes. When you find your perfect bra, you'll help unlock your full potential.
Stay Updated
Be the first to know all about stories, launches, and events.