What is Boost?
It's hard to imagine adidas without Boost—the revolutionary performance shoe technology that first hit the pavement in 2013. Boost was unlike anything that came before, and its energy return technology would go on to change the course of running forever. Today, adidas continues to iterate Boost and push the concept even further ahead.
WHAT IS ADIDAS BOOST TECHNOLOGY?
adidas Boost technology is a product of the adidas Innovation Team (AIT) and German chemists BASF. It was created to bring together the formerly contradictory benefits of soft and responsive cushioning. At the time, EVA foam was the industry standard for performance running shoes. Boost was about to change all that, introducing a midsole made from thousands of expanded particles that work together to deliver an uptick of energy return in every stride.
Boost was officially integrated into the adidas running line in 2013. Over the following years, Boost would make a name for itself as an icon of running, eventually becoming so popular that it would break into the world of sports and streetwear culture.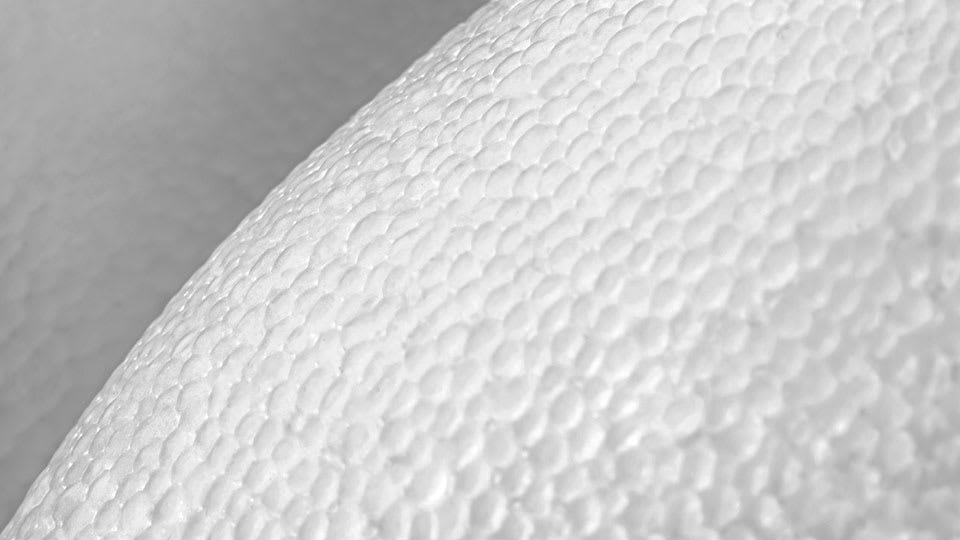 HOW IS BOOST MADE?
To create Boost, thermoplastic polyurethane particles are expanded to form closed cells around tiny pockets of air. The resulting product is known as expanded thermoplastic polyurethane—or eTPU, for short.
WHAT ARE THE BENEFITS OF BOOST?
Boost has always been known for its energy return, but there are actually five Boost benefits that elevate the running experience. Let's start with comfort: the cushioning properties of Boost make it feel like you're running on tiny, precision-engineered clouds. Boost is also designed to cope with a wide range of temperatures, making it the kind of running shoe that can pound through wind, snow, sun, rain—whatever—with no issues.
The third and fourth benefits of Boost are durability and flexibility. Boost is a technology that can hold up for mile after mile without any loss of performance. At the same time, Boost is flexible enough to provide a silky smooth ride—no matter what pace you're setting.
But we can't talk about Boost without talking about energy return—the fifth and most famous benefit of Boost. The power to absorb and return more of an athlete's kinetic output is what changed the performance shoe industry forever. There have been many imitators, but Boost remains the icon of energy return.
THE EVOLUTION OF BOOST
From its first commercial release in 2013, Boost has set new standards for performance shoe technology and constantly pushed that narrative forward with iteration and improvement. Here's a quick timeline of some of the major achievements of Boost.
2013: Energy Boost premieres as the first adidas running shoe with a Boost midsole.
2014: adiZero adios Boost wins the Men's WR at the Berlin Marathon.
2015: Ultraboost becomes a crossover hit of high-performance running and fashion.
2016: Ultraboost X pushes the design even further with a laceless upper and targeted support.
2017: adiZero adios Boost wins the Women's WR at the London Marathon.
2018: Ultraboost x Parley incorporates upcycled and recycled waste into its iconic design.
2019: The story of Boost continues with the release of Ultraboost 19 and Pulseboost HD.
Now, we'll take a closer look at some of the most impactful Boost running shoes.
ADIDAS ENERGY BOOST
First up when talking about the legacy of Boost is the adidas Energy Boost running shoe. Pairing an elastic polyurethane Techfit upper with the adidas Boost midsole, the original silhouette of the adidas Energy Boost introduced the fledgling technology in a lightweight, neutral package.
Energy Boost was the first pair of running shoes that brought Boost to the masses. The shoe's responsiveness and premium cushion finish signaled the start of a new era for adidas.
ADIDAS SUPERNOVA BOOST
In 2015, the adidas Supernova Boost debuted as a supportive shoe for runners who experience over- or under-pronation—rolling the ankle on toe-off or landing. Proving that stability and style can work together, Supernova Boost features an extended medial tab in a neutral, everyday running shoe.
ADIDAS ADIZERO ADIOS BOOST
Made for performance running and competitions, adidas adiZero adios Boost was engineered for athletes and fine-tuned for speed. It was all about results—adidas athletes Wilson Kipsang and Mary Keitany claimed both the men's and women's gold at the 2014 New York Marathon wearing the shoe. The accolades kept coming—in 2017, Mary Keitany became the world's fastest women marathon runner, finishing the London Marathon in 2:17:01 in adidas adiZero Boost.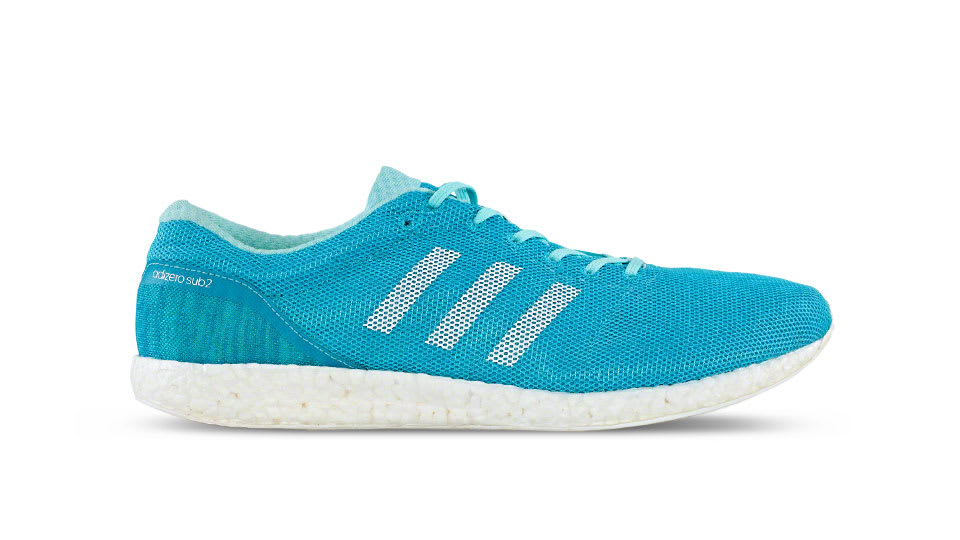 ADIDAS SUB2 BOOST
Out in front as our primary race day shoe, Sub2 Boost is built to break impossible. Developed over several years with the help of top performing adidas athletes, Sub2 Boost was made to do one thing: shatter the 2-hour marathon barrier.
The Sub2 Boost running shoe introduced Boost Light, a Boost compound that shaved 100g from the standard Boost midsole. Despite the streamlined form, Sub2 Boost maintained that famous Boost cushioning for a comfortable, energized ride.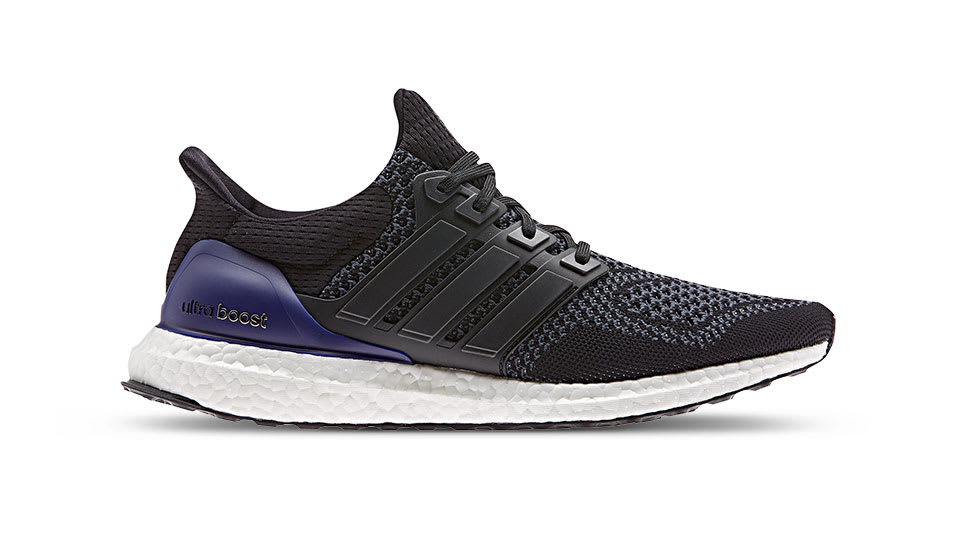 ADIDAS ULTRABOOST
The adidas Ultraboost was a major moment in the evolution of Boost. Launched in 2015, Ultraboost was developed using ARAMIS motion capture technology, which was previously used by NASA for testing the structural integrity of space shuttles. ARAMIS allowed the adidas Innovation Team to look at strain and tension on different parts of the runner's foot—right down to the submicrometer level. This whole new era of performance analysis was what led to the iconic silhouette of the Ultraboost: the Primeknit upper, the separated lace cage, and the heel-to-toe Boost.
A series of short-supply colorways later (including the elusive all-white and reflective glow zone packs worn by Kanye West at his 2015 Billboard Music Awards performance), adidas Ultraboost became the first running shoe to be as popular in the world of high fashion as it was with runners. Today, the Ultraboost lineage features many iconic iterations, including Game of Thrones and Consortium editions.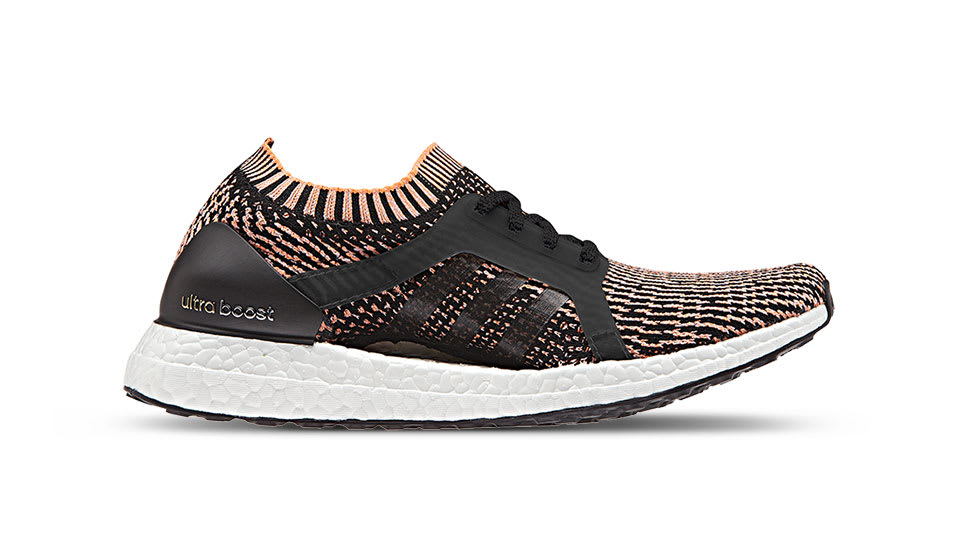 ADIDAS ULTRABOOST X
In response to growing demand from female runners worldwide, Ultraboost X tweaked the original silhouette of the Ultraboost, making it a performance shoe designed for women. Equipped with a laceless Primeknit upper and a distinctive floating arch, the X immediately became an iconic addition to the Boost range. It's a shoe that stands out thanks to its bold elastic band closure that provides targeted support at each moment of the runner's stride.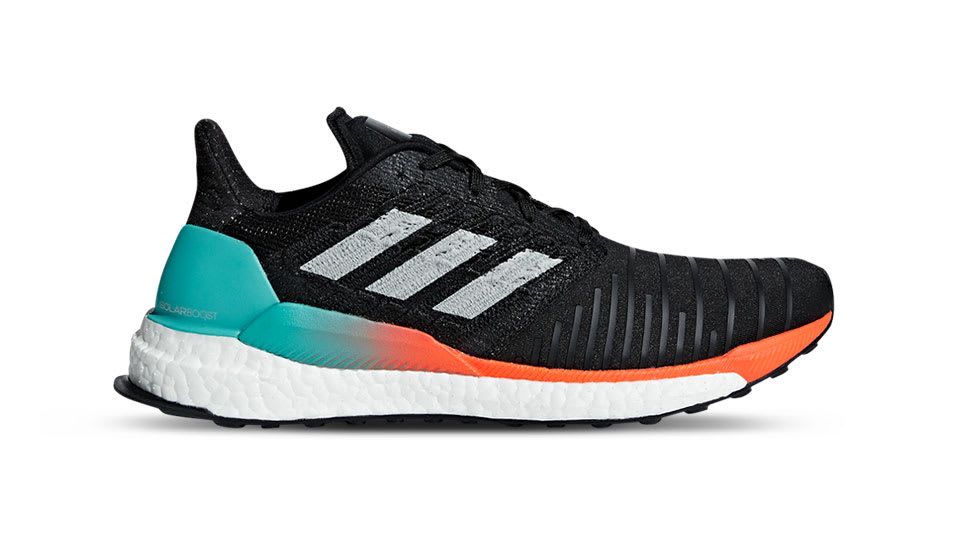 ADIDAS SOLARBOOST
Inspired by aerospace engineering, Solarboost launched in 2018. Built with performance, support, and comfort as top priorities, Solarboost replaced Supernova Boost as the brand's super-supportive running shoe. It was all about distilling high-tech innovation into a simple, performance-first running shoe—featuring Boost technology, of course. Solarboost also had an updated heel construction and an upper made with Tailored Fiber Placement (TFP).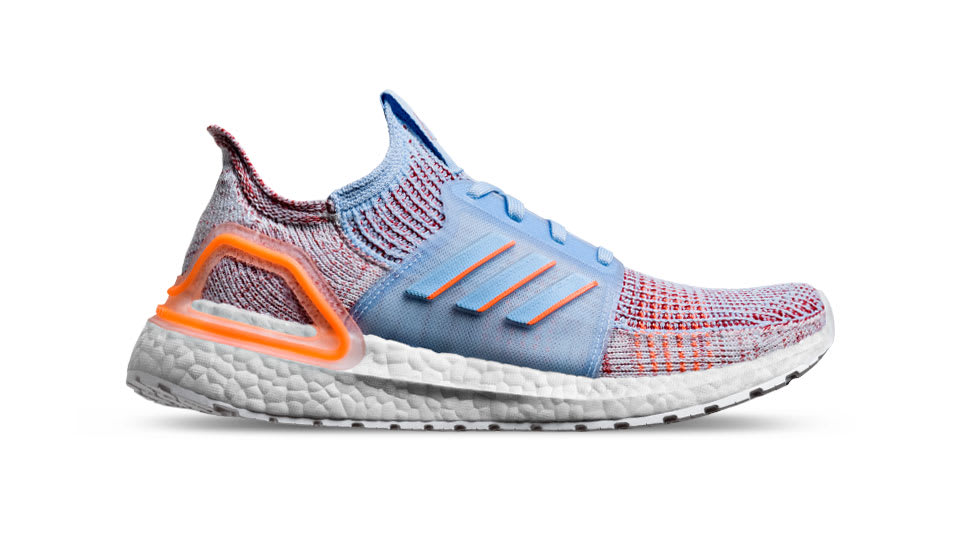 ADIDAS ULTRABOOST 19
To keep pushing the limits of Boost, adidas invited 4,000 runners to help reimagine the ultimate performance running shoe—co-creating Ultraboost 19 from the outsole up. Ultraboost 19 took the 17 components of Ultraboost and refined them to just four: an Optimized Boost midsole, Primeknit 360 upper, Tuned Torsion Spring, and 3D Heel Frame. Each component was finely tuned to maximize the performance output of the shoe for any style of runner. Reinforced with 20% more Boost and a seamless, sock-like construction, Ultraboost 19 became the most responsive running shoe from adidas.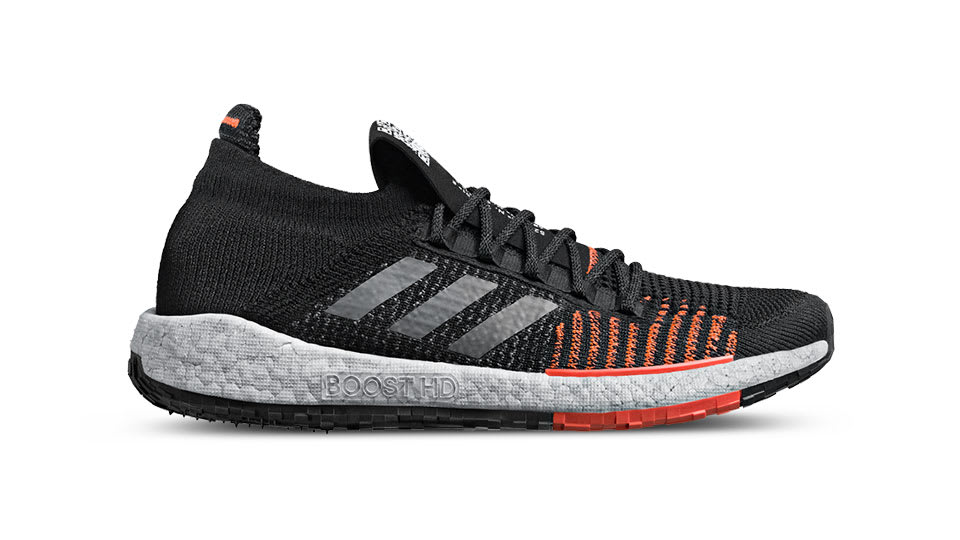 ADIDAS PULSEBOOST HD
City runners: this Boost is for you. In 2019, Pulseboost HD hit the streets with an evolved Boost HD midsole to provide extra stability in the unpredictable urban landscape. Combined with its Adaptive Traxion outsole, Pulseboost HD grips city surfaces in all conditions. It's the new standard for runners who want the comfort and responsiveness of Boost, along with the stability needed to navigate their city. Pulseboost HD keeps the momentum going on any surface, any time, all the time.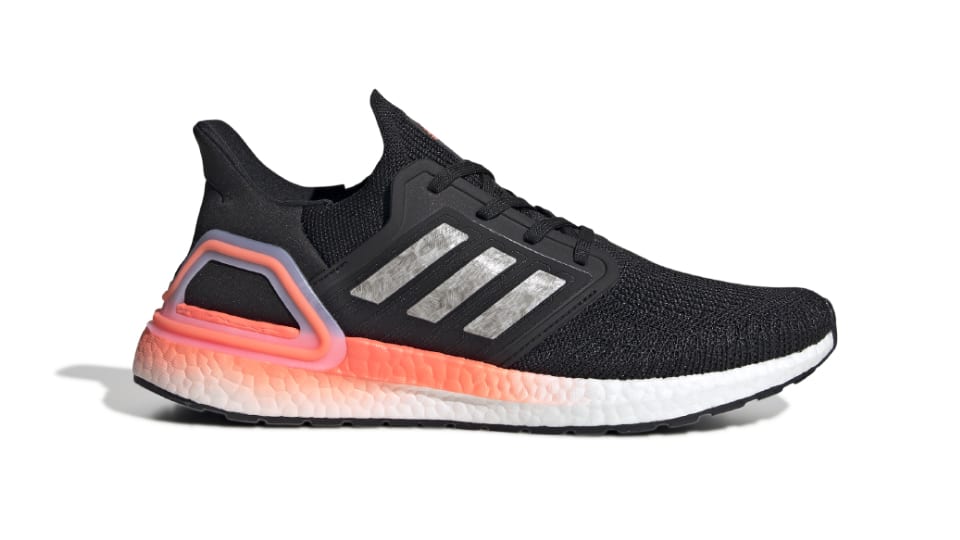 ULTRABOOST 20
Ultraboost 20 isn't just a symbol of innovation. It's innovation in action. The Boost midsole offers 20% more energy return with every step. Feel the precision, thanks to Tailored Fiber Placement stitching, a textile process that calculates yarn density to the millimeter. The motion weave midfoot gives Ultraboost 20 both flexibility and control for a comfortable ride. And finally, the iconic heel frame offers support at launch and landing, making Ultraboost 20 too responsive for this world.
Stay Updated
Be the first to know all about stories, launches, and events.