How to Style an adidas Tracksuit
Comfy and chic, edgy and bold—the adidas tracksuit embodies it all. Get inspired on how to style a tracksuit with adidas ambassador Chinae Alexander.
At the intersection of iconic style and unmatched comfort lies the adidas tracksuit. The tracksuit has ebbed and flowed through decades of culture, bringing new meaning to streetwear with each generation. "The adidas tracksuit is a staple piece. I mean, I can't even think of a tracksuit without thinking of three stripes down my arms, three stripes down the legs. And it's traveled through time and it's really cool that you can style it so many ways," said Rebecca Lux, a professional stylist in New York City. We spent the day with Lux and adidas ambassador Chinae Alexander to show you four ways to style an adidas tracksuit outfit.
As a lifestyle content creator, Alexander finds joy playing with outfits and promoting confidence through it all. "You can choose to be a facet of your personality through your clothing," said Alexander. "And I think that's really the power of being able to kind of express yourself through style. You can really lean into whatever kind of character traits about your own self that you want to bring out that day."
TRACKSUIT STYLING FOUR DIFFERENT WAYS
Here are four ways to create an adidas tracksuit outfit, each with varying styles and personalities. We invite you to get inspired and play with your own versions of these outfits to create a look all your own.
LOOK 01: CHIC WFH
Comfort is key, but there is something to be said for feeling your best in the outfit you're wearing for productivity. Start with a comfortable tracksuit, and elevate it with layers for a professional vibe. For this look, Lux started with a sleek tank beneath the red tracksuit and layered a soft, slouchy blazer over the top. You can leave it open for a relaxed look or belt your waist to create a more tailored silhouette. Finish the look with crisp white Stan Smiths or your favorite shoe, and you've got a look that's ready for home, the office, or a meeting in the city.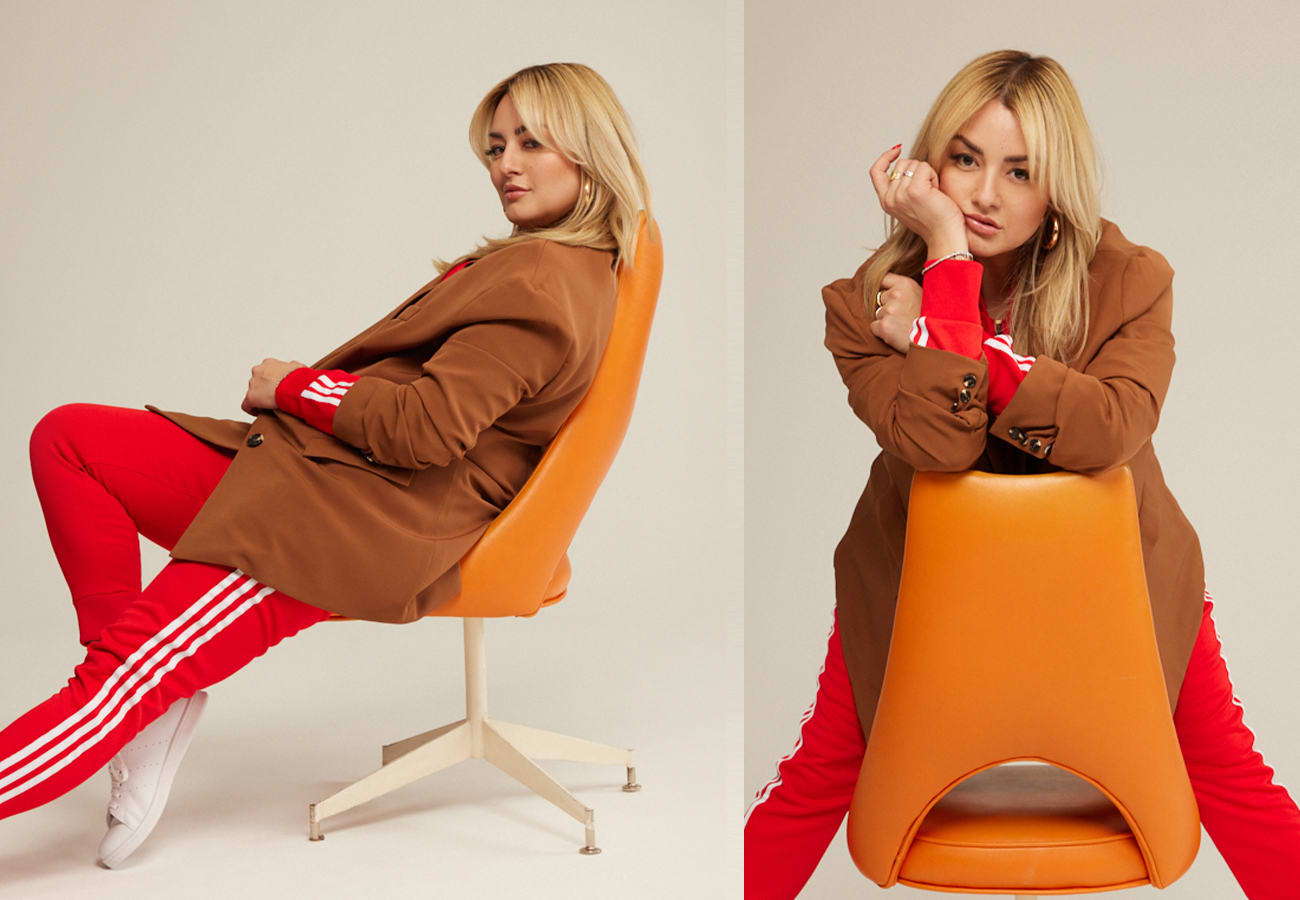 LOOK 02: COZY CASUAL
Casual, comfy and cute—that's the vibe for this snuggly fit. To keep it looking cohesive, Lux recommends choosing colors of three. Here, we started with a tan-colored tee and a cream-toned hoodie to tie in with the olive tracksuit Alexander wore. From there, Lux added olive-toned socks and tan slides in keeping with the clothes up top, and there you have a put-together look ready for lounging. Toss the track jacket over your shoulders for an effortless vibe and scrunch the socks over your track pants for ultimate coziness.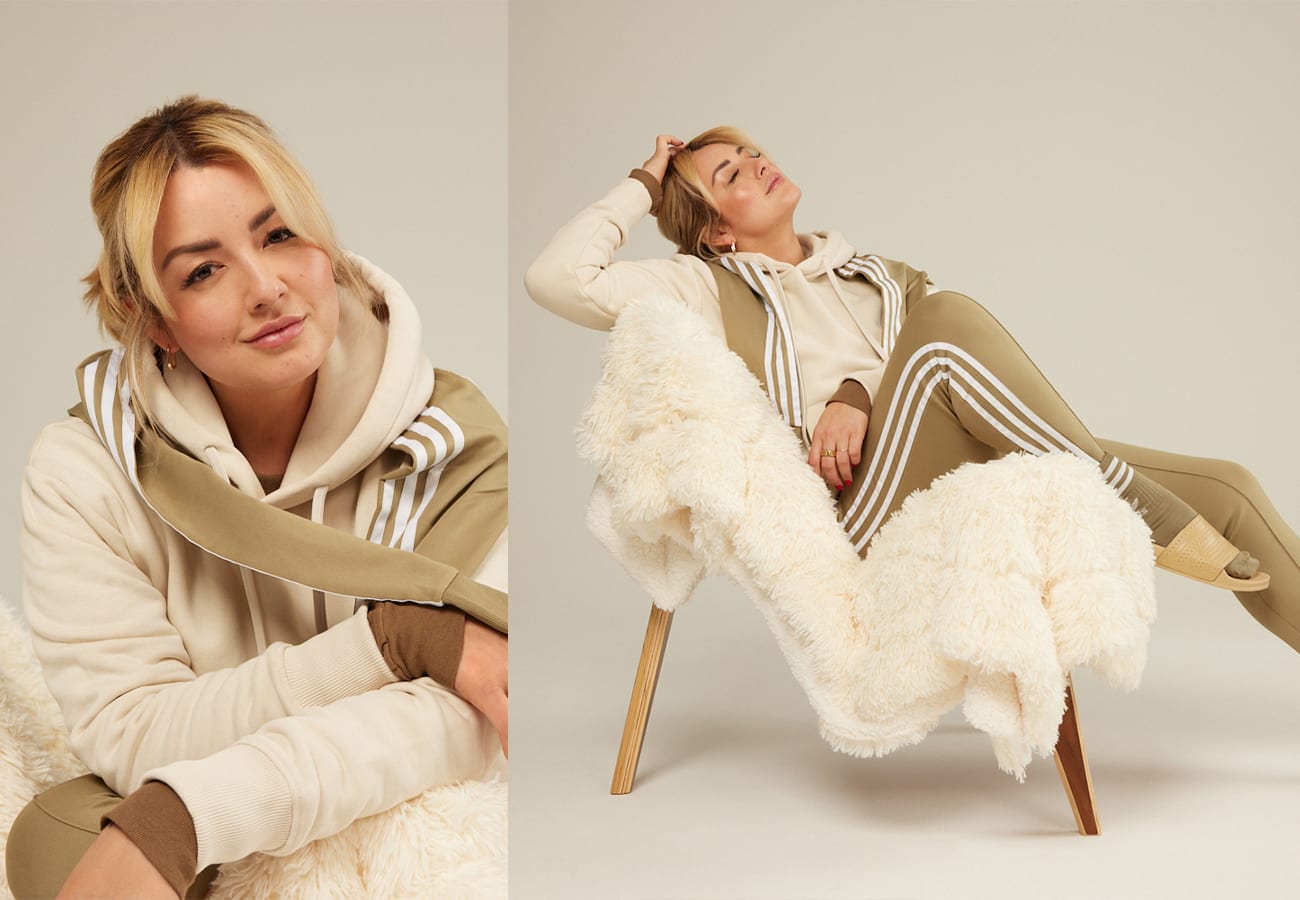 LOOK 03: MONOCHROMATIC
Ready to make a statement? By working with different tones of one color, monochromatic outfits are an easy way to create an eye-catching look. For this fun and flirty take on monochromatic, Lux started with a dusty pink linen button-down shirt. Layered over that is a light pink tank top to create a different texture and shape. Finally, the pink tracksuit brings it all together. Accessories are where you can have fun—here Alexander wore blush shades and pumps to complete the look. Not a fan of pink? This formula can be applied to any color, just pick a few different tones or textures within one color and bam—it's giving monochrome.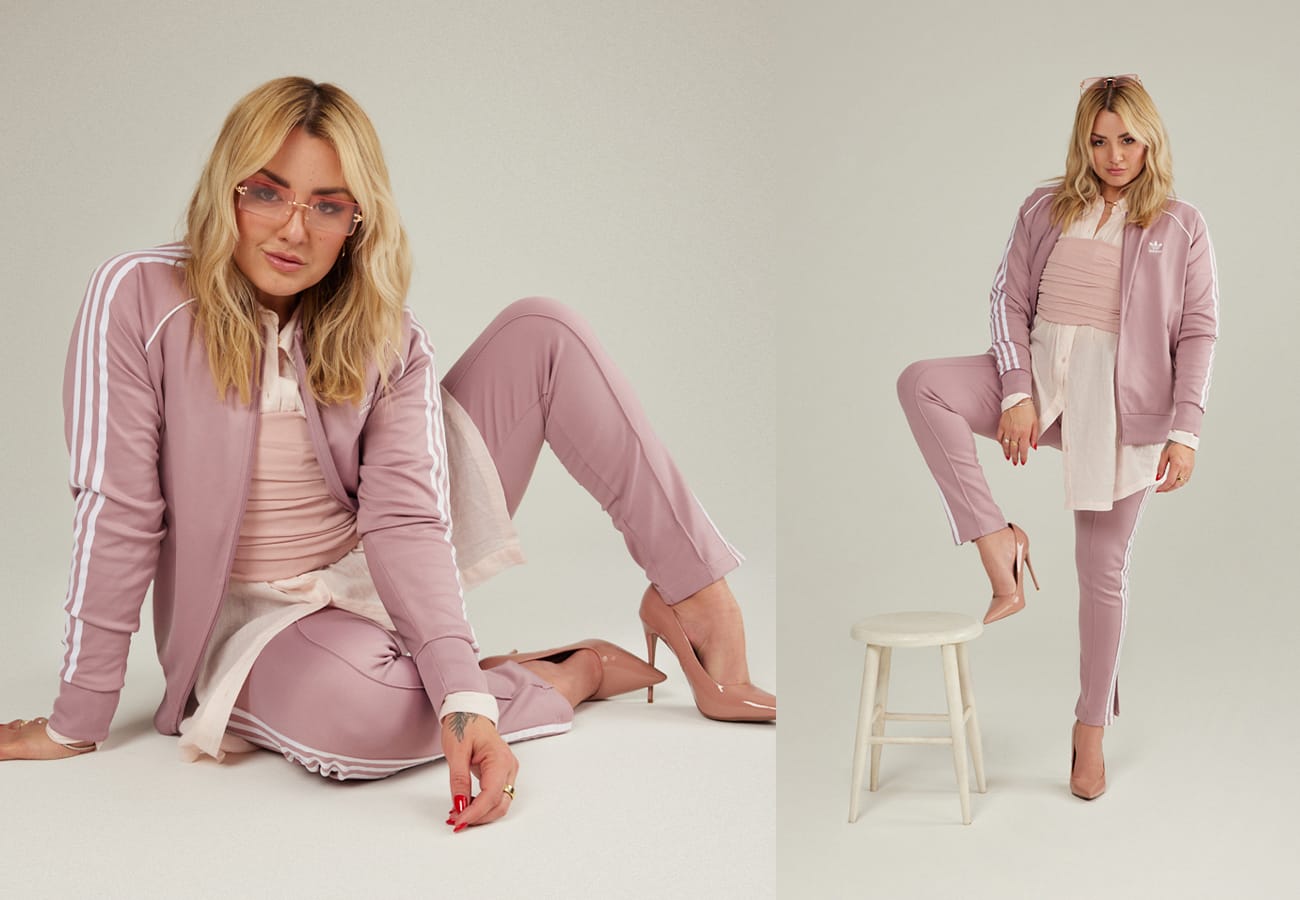 LOOK 04: CITY EDGE
The plans are set. You've got people to see. You're calm, cool and collected, but you've got some attitude. Lux put the edge into this city-ready look by taking a black tracksuit and layering a leather bomber over the top. Alexander wore a cropped black tank underneath and rolled the bomber's sleeves over the track jacket to show off the 3-Stripes detail. To finish, we tucked the track pants into some chunky lug sole boots, but feel free to wear whatever shoes fit your style.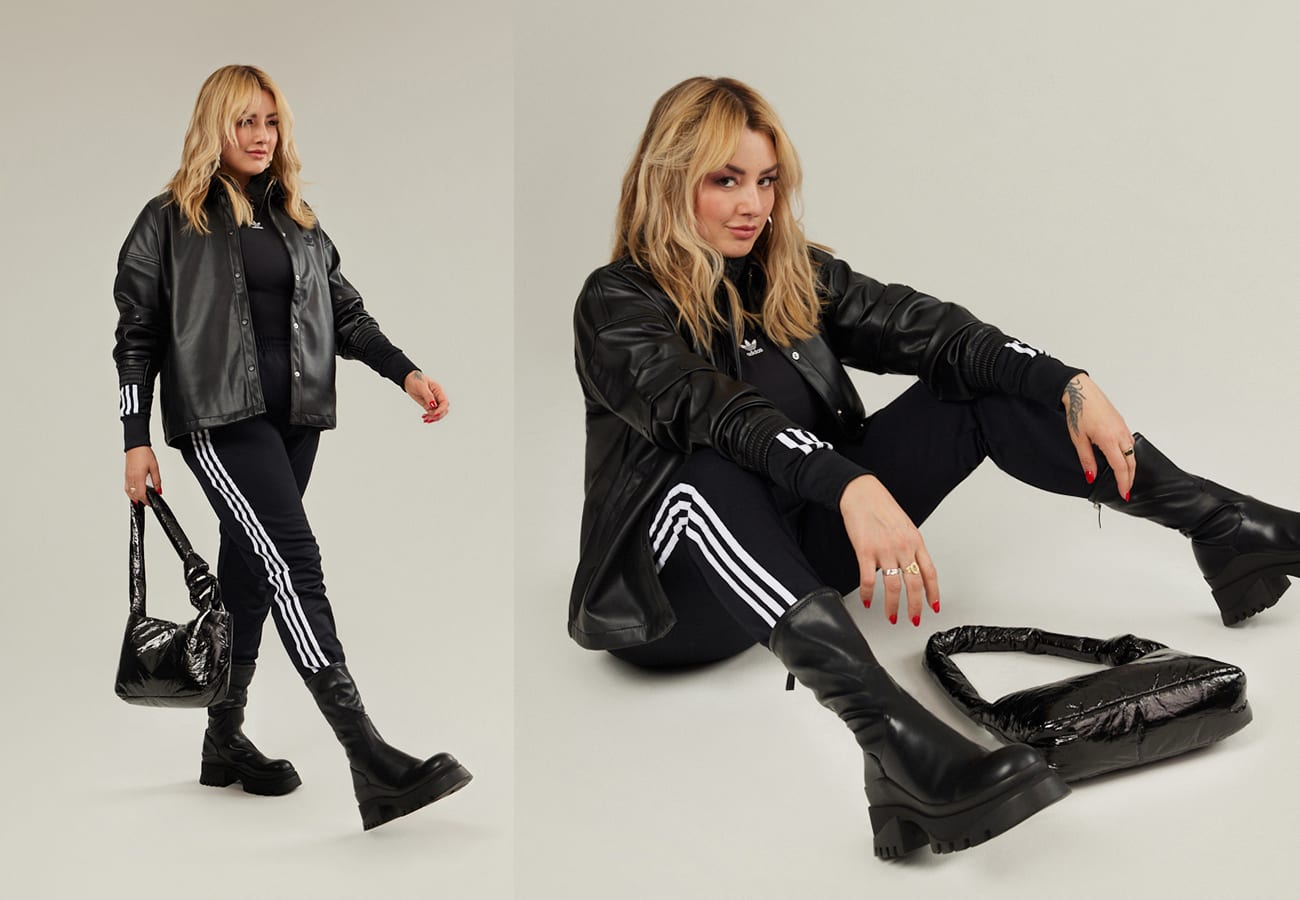 REFLECTING PERSONALITY THROUGH STYLE
It's time to take inspiration from these looks and create your own original tracksuit outfit. Step outside your comfort zone or keep it cozy with a look that is completely you—either way, if you love what you're wearing, it will show.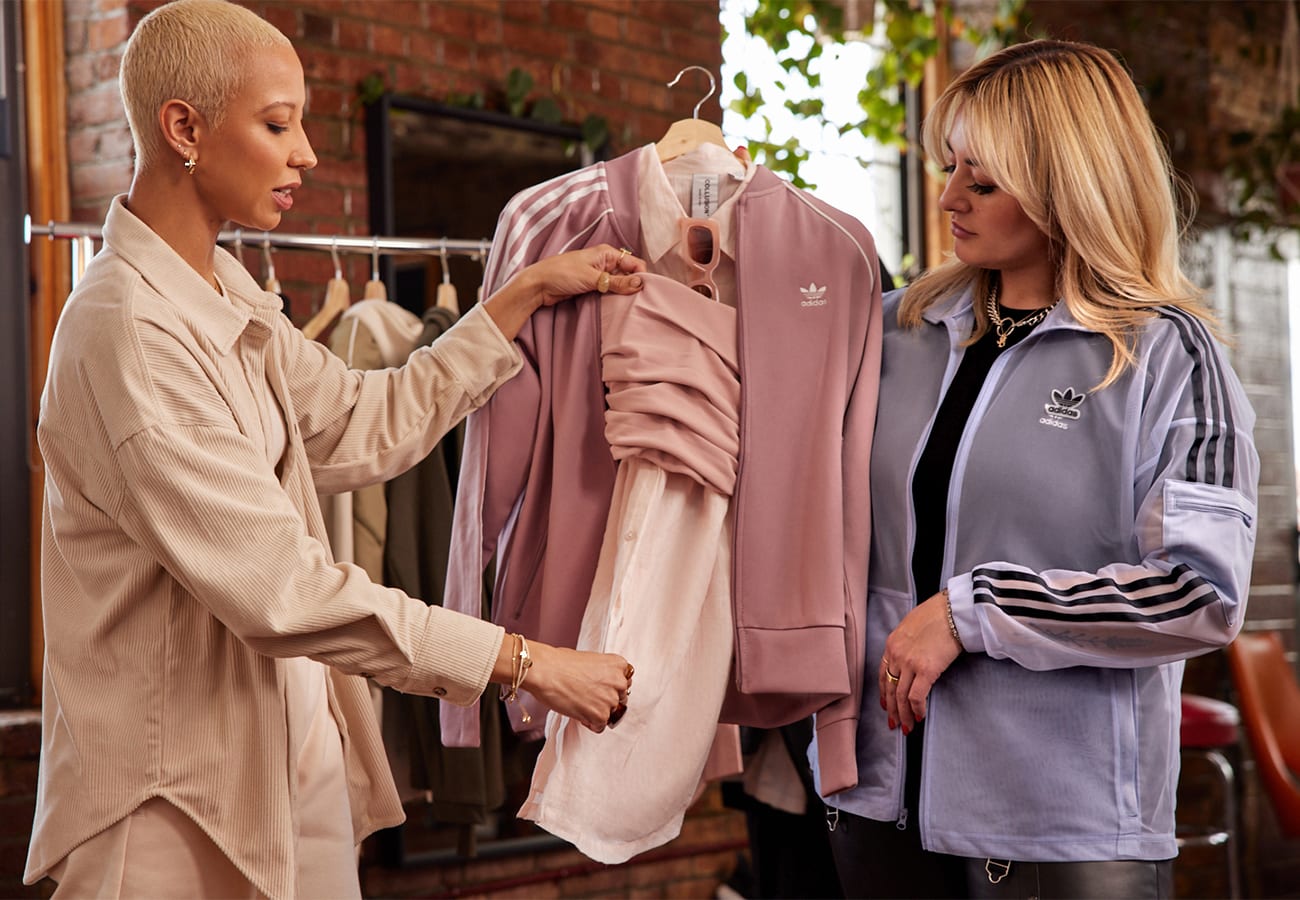 "Wearing things that make you feel better in your own skin, in your own body—things that actually move with you, make you feel comfortable and confident, and that really bring out your best attributes and make you feel good about yourself—that's what's most important," said Alexander.
Shop for a rainbow of adidas tracksuit colors, as well as other Originals apparel, shoes and accessories to complete your new look.
Stay Updated
Be the first to know all about stories, launches, and events.