YOUR CORE IS THE KEY TO PERFORMANCE
Feeling frustrated that your ab routine isn't giving you the look or strength you want? If you're doing an old-school routine of crunches, crunches, and more crunches, you may be putting effort into the wrong things. The problem: Crunches don't work all of the muscles in your pillar (aka your core). It's time to mix it up, save time, and see results.
PLANK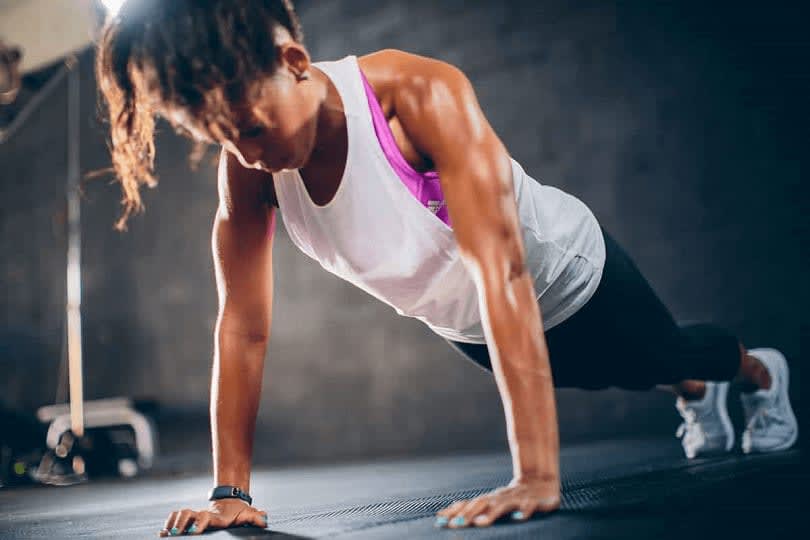 Start in a push-up position with your hands directly beneath your shoulders (or with your forearms resting on the ground) and your feet wider than shoulder-width apart. Keeping your core tight, hips squared to the ground, and feet on the ground throughout the movement, hold for 30 seconds and feel the burn.
STRAIGHT LEG LOWERING
Lie face-up with both legs straight up in the air above your hips with your hands at your sides. Maintaining a tight torso while keeping one leg perpendicular to the floor, slowly lower the other leg down to the floor. Then slowly return your leg to the starting position and repeat with the opposite leg. Continue alternating to complete eight reps on each side.
PLANK – ROLLING
Begin in a push-up position with your feet hip-width apart and your hands directly under your shoulders. Lift one arm toward the sky as you rotate your torso and hips until you're facing sideways and your body resembles a sideways letter T. Return to the starting position. Perform the same movement in the other direction, and continue alternating to complete eight reps on each side.
GLUTE BRIDGE
Lie face-up with your arms at your sides, your knees bent, and your heels on the ground. Lift your hips off the ground until your knees, hips, and shoulders are in a straight line. Hold for 1 to 2 seconds, and then return to the starting position. Continue for 8-10 reps.
Stay Updated
Be the first to know all about stories, launches, and events.