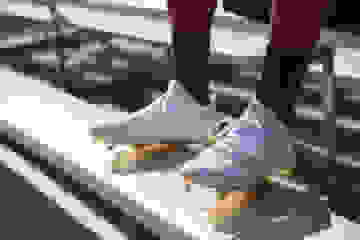 How to Properly Clean Your Cleats
Extend the life of your cleats and keep them in their best condition with our cleats cleaning guide! Read our step-by-step instructions now!
From the pitch to the diamond or the gridiron, knowing how to clean your cleats can help keep your performance tight. Spring, summer and fall, the sports season never ends. Taking care of your spikes will help ensure you're always good to go on gameday.
For athletes, cleats are one of the most important pieces of equipment and they shouldn't be worn unless you're on the field. Hard surfaces like pavement and sidewalks damage the spikes, wearing them down and reducing their edges. Wear sliders on your way to the field and they won't get worn out. But the best way to extend their life is by cleaning them as soon as the game ends so dirt and grime can't damage the integrity of your cleats' performance features, like the upper or the bottom sole frame holds the studs.
Quick Tips:
DO NOT put your cleats into a washing machine or dryer.
DO NOT use direct sunlight, hair dryers or place them next to a radiator/vent to dry.
ALWAYS allow them to air dry indoors at room temperature.
NEVER store them wet. Moisture causes odors and compromises the integrity of the upper.
CLEANING INSTRUCTIONS
When you're learning how to clean cleats, follow these steps:
Step 1
When the game ends, the cleaning process begins. Bang your cleats against each other sole on sole to dislodge dirt, grass and mud. Use a soft brush, like an old toothbrush, to remove remaining dirt.
Step 2
Mix warm water with a drizzle of liquid laundry detergent and use the mixture to wash away dirt and remove stains. Apply with a washcloth or an old toothbrush.
Step 3
Soak a washcloth in warm water to rinse the shoes clean.
Step 4
Air-dry at room temperature and stuff the cleats with old newspapers or paper towels to absorb moisture and retain the shape of the cleats.
Step 5
Insoles and laces should be removed and washed separately in the washing machine on cold and delicate cycles. Use a small amount of laundry detergent and place them within a pillowcase.
Follow these tips on cleaning your Soccer Cleats, Football Cleats, Baseball Cleats. So, you're always good on game day!
Stay Updated
Be the first to know all about stories, launches, and events.